Neighborhood Guide: UP Village, Quezon City (2014 Edition)
New establishments to shake up your Teachers Village trip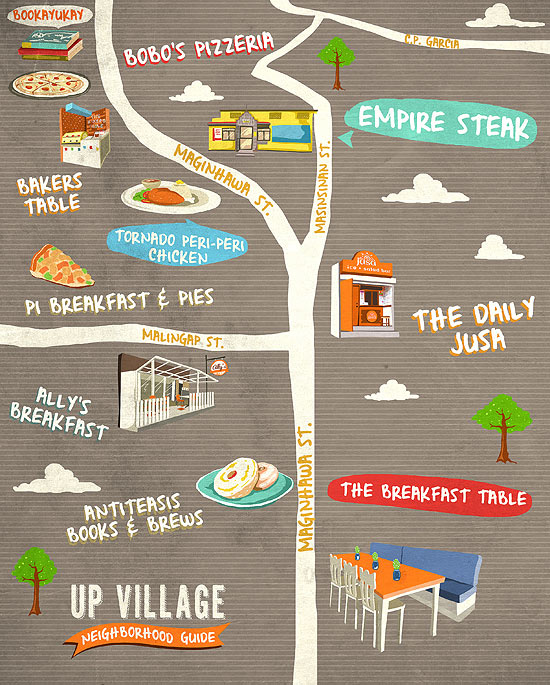 (SPOT.ph) The trend for going out these days seems to be never going farther than your very own neighborhood hangout. UP Village (more commonly known as Teachers Village) is one of those booming, colorful, and comprehensive communities that gives you enough reason to just stay put. In the four years since our last UP Village adventure, a lot of has changed. Here are some of the reasons why residents are perfectly happy where they are-and why we always find ourselves on this side of Quezon City.
Art by Warren Espejo
ALSO READ:
Neighborhoods: UP Village (2010)
Neighborhoods: UP Village, Revisited (2013)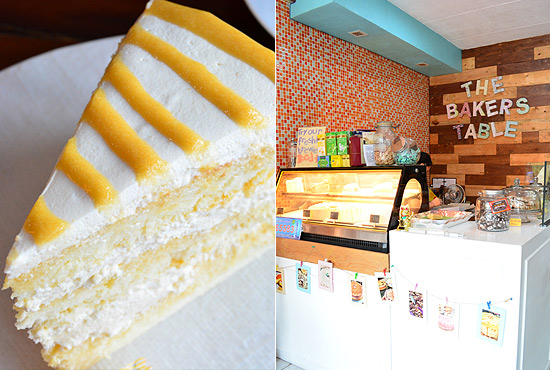 1. Baker's Table
88 Maginhawa Street, UP Village, Quezon City
Tel. No. 0917-576-6001
Open from 12 p.m. to 10 p.m. (Sunday to Monday); 9 a.m. to 10 p.m. (Tuesday to Saturday)
The blue and white awning makes you think of candy. That should be your first hint. Pastry chef Jonnathan Em's specialty is to to convert childhood sweets into luscious cakes. Think along the lines of Haw Haw, Butterball, and Orange Swits. Elementary bells going off in your head now? Nostalgia hits slowly as you browse their selection, then as soon as your palate settles on a choice, the three-table space immediately transports you back to grade school.
Must-tries: Butterball Caramel Cake (P110/slice), Flat Tops Cake (P110/slice), Hany Cake (P110/slice)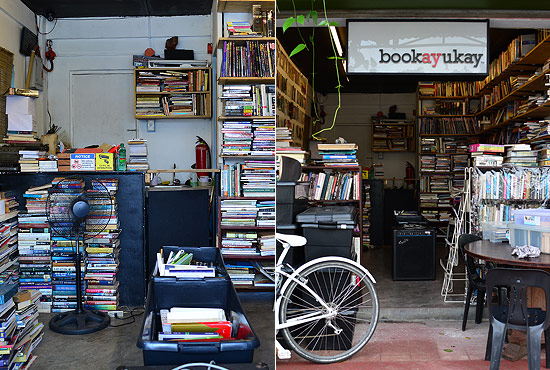 2. Bookay Ukay
80 Maginhawa Street, UP Village, Quezon City
Tel. No. 0905-428-3125
Open from 10 a.m. to 11 p.m. (Monday to Friday)
Bookay Ukay used to be in a building along the same street, but you'll be happy to know that this beloved used-books store has found a newer, more convenient home just a few steps away from the old one! The space may be new, but they still sport the rugged, vintage look that inspires bibliophiles to enter their humble abode and revel in the musty scent of those pre-loved items. Nothing beats the smell of stale paper in the morning.
ADVERTISEMENT - CONTINUE READING BELOW
Also read: Top 10 Secondhand Bookstores in Metro Manila (2014 Edition)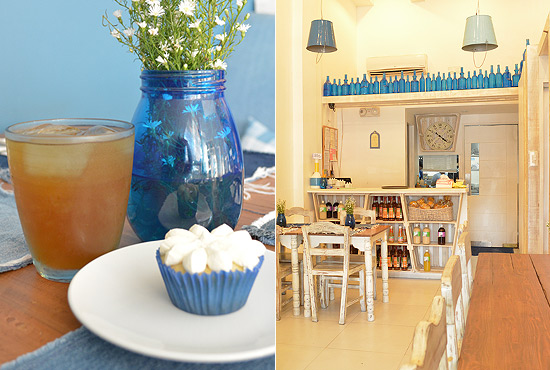 3. The Breakfast Table
189 Maginhawa Street, UP Village, Quezon City
Tel. No. 433-3597
Open from 7 a.m. to 8 p.m. (Tuesday to Sunday)
Breakfast places have mushroomed all around the Metro, but no one's complaining. The bright interiors, mixed with the blue hues all over, gently ease the pain of waking up in the morning. (Plus, don't forget about the food.) Their use of denim patches, empty blue bottles, pails, and whatnot perfectly complement the rustic furniture. The Breakfast Table is the kind of place where you want to while away your day without actually wasting it, yet inspires you to seize the moment at the same time.
Must-tries: Savory French Toast (P180), Eggs TBT (P195), Taho Shake (P99)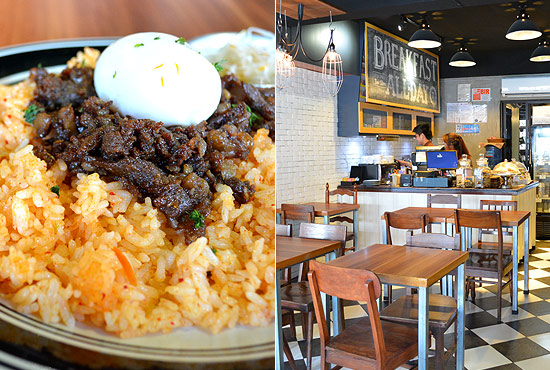 4. Pi Breakfast and Pies
39 Malingap Street, UP Village, Quezon City
Tel. No. 441-1773 (for reservations and pick-ups), 212-1212 (for deliveries)
Open daily from 7 a.m. to 10 p.m.
This is the latest hit from the group that brought us Pino, Pipino, and The BRGR Project. This time around, they zero-in on the most important meal of the day and they bring it to a whole new level of necessity. Chef Ed Bugia simply does breakfast right. Take their Wagyu Beef Sirloin Tapa (P245): they serve it with kimchi rice instead of the usual Filipino sinangag, and instead of a sunny side-up, they do a five-minute egg. It's simple revisions like this that make them stand out. Nothing about Pi is usual; even their interiors are simple, crisp, yet perfectly mismatched. The black and white motif mixed with industrial and wooden elements come together as a visual preview for the gustatory next step.
Must-tries: Caramelized Spam (P245), Huevos Rancheros (P275), Sugar-free Apple Pie (P200/slice)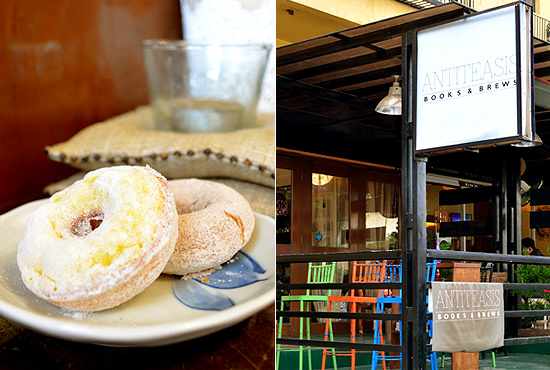 5. Antiteasis Books and Brews
154 Maginhawa Street, UP Village, Quezon City
Open from 1: 30 p.m. to 10 p.m. (Tuesday to Sunday)
ADVERTISEMENT - CONTINUE READING BELOW
This simple tea shop is always jam-packed. Inside, pillows make up the seating and tables are set on the floor. Book cases surround the "hangout area," where there are usually a bunch of people playing cards or students hunched over their laptops chasing deadlines. Seating is more conventional outside and the bright colors that cover the space draw people in. The menu isn't much, but the simplicity and laidback ambiance convey that exact intimate message.
Must-tries: Lemon Mini Donut (P12), Cinnamon Mini Donut (P12), Apple Basil Smoothie (P100)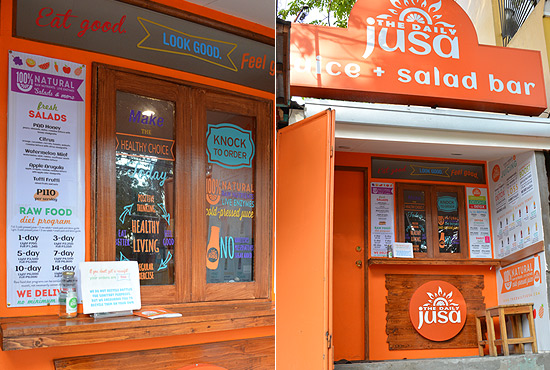 6. The Daily Jusa
111A Maginhawa Street, UP Village, Quezon City
Tel. No. 0917-811-0769
In a neighborhood littered with so many sinful spots, it's only divinely justified to have something to take that edge off. Thank Jusa! It's strategically located in the middle of the foodie strips, with an orange hue that's hard to miss. The Daily Jusa is a juicing service that lets you choose from one-day, three-day, or five-day cleanses. You choose the program that fits your purpose best.
Must-tries: Daily Greens (P150), Red Punch (P150), Green Energizer (P150)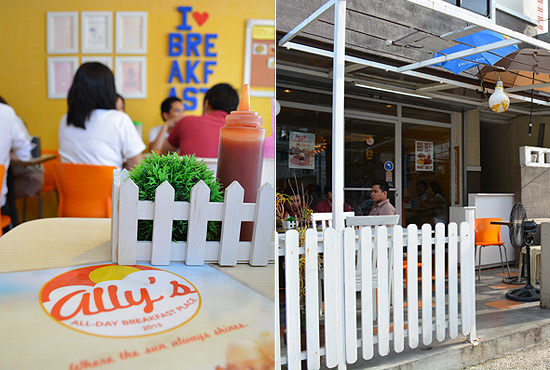 7. Ally's All-Day Breakfast Place
50 Malingap Street, UP Village, Quezon City
Tel. No. 0906-237-3196 
Open daily from 7:30 a.m. to 10 p.m.
Comfort breakfast food. No frills. It's almost how you'd want it done at home, but without the stress of pre- and post-eating chores. You just sit down, check a list of what you want and how you want it (you can name your creation, too), and wait for your plate as if it's being handed to you by mom. Even the venue is decorated like a house, except for that eye-popping sunshine-orange hue that will really wake you up.
Must-tries: Toffee Banana Pancake (P250), When JM is Starving (P350), Freakin' Deep Fried Oreos (P130).
ADVERTISEMENT - CONTINUE READING BELOW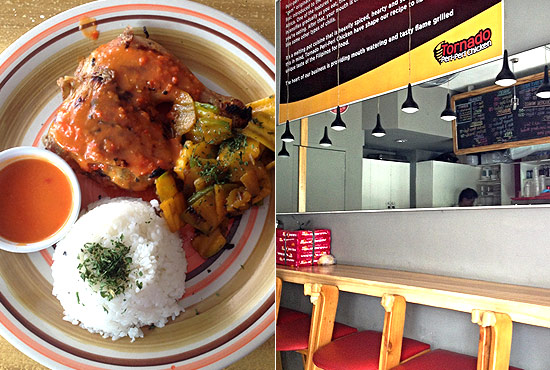 8. Tornado Peri Peri Chicken
104 Maginhawa Street, UP Village, Quezon City
Tel. No. 0917-592-0901 
Open daily from 11 a.m. to 10 p.m.
This tiny chicken space at the newly opened mini-strip alongside Cocina Juan serves up some pretty serious chicken! This isn't just some ihaw-ihaw sa tabi. After an initial try, the spices and seasoning on their affordable grilled meats will leave you craving in the days to come. Their sauces-original, Tiger's Fury, and Dragon's Breath-complement the chicken like they were Andrew Garfield and Emma Stone. If you're not gung-ho about sweating it out, you can opt for takeout, but there's something about eating it right then and there, with the smoke, the heat, and the itty-bitty space that adds to the charm of the place.
Must-tries: Quarter Slab Ribs (P220), Porterhouse Steak (P220), Chicken Wings (P145)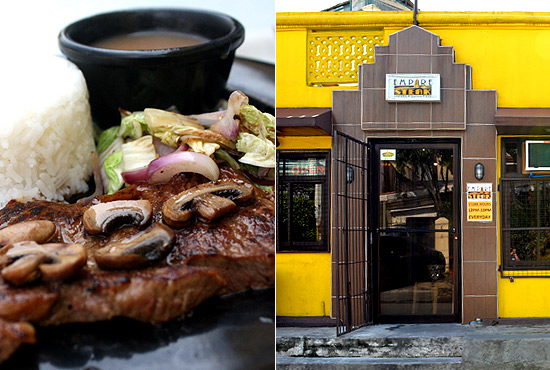 9. Empire Steak
4 Masinsinan Street corner Maginhawa, UP Village, Quezon City
Tel. No. 0917-612-2912, 359-0934 
Open daily from 12 p.m. to 10 p.m.
This hole-in-the-wall may not be much to look at, but it promises a steak fix that won't burn a hole through your wallet. It takes inspiration from New York City, as evidenced by their name and logo. Empire is hard to miss because of its bright yellow façade adorned with a graffiti-esque poster of their specials. Inside, the simple whitewashed walls are embellished with iconic photos of the Big Apple.
Must-tries: King Kong's Steak (P499), Double Steak (P365), Steak & Eggs (P265)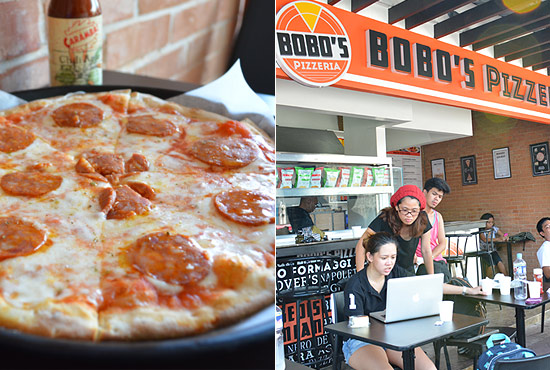 10. Bobo's Pizza
84-8 Maginhawa Street, UP Village, Quezon City
Tel. No. 374-0098
Open from 3 p.m. to 10 p.m. (Monday), 12 p.m. to 10 p.m. (Tuesday to Thursday), 12 p.m. to 11 p.m. (Friday to Saturday)
It's strange to realize that amid all the variety in this area, this is the only pizza joint. The pizzas are cooked in a brick oven, which gives it a distinct smoky taste on top of the flavors that they offer. It's a favorite hangout for students looking to unwind and share a few slices with their crew (or over a project) after school. The prices are extremely reasonable-something even non-students can definitely appreciate.
ADVERTISEMENT - CONTINUE READING BELOW
Must-tries: Bobo's Pizza (P225), All Meat Pizza (P205), Pasta Al Nero Di Seppia (P155)
Your favorite UP Village hangout not here? Check out our previous articles:
Neighborhoods: UP Village (2010)
Neighborhoods: UP Village, Revisited (2013)

(If not, call our attention through the Comments section!)
Load More Stories