10 Fun Walks and Tours to Help You Rediscover Metro Manila
Discover the many new ways to explore the city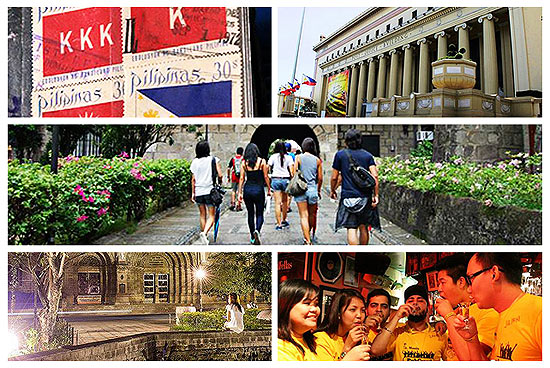 (SPOT.ph) So you've lived in Manila for a few years (probably all your life!) and you think you know everything you need to know about it. The last time you really explored the city was probably back in grade school for a field trip.
If you haven't saved enough money yet to fly to one of our 7,017 islands or even somewhere abroad, rediscover places closer to home in the meantime. Take a cue from the popularity of double-decker jeepneys and Carlos Celdran's Barter Tours, and explore Metro Manila again.
Take your pick from among our list of a new breed of culture and heritage enthusiasts that offer fresh perspectives on the Philippine capital.


This list is not ranked.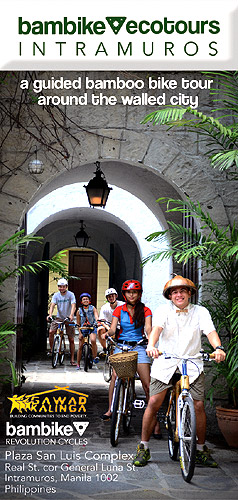 ADVERTISEMENT - CONTINUE READING BELOW
1. Bambike Ecotours

Walking around or riding a tour bus is so overrated. How about a tour on bicycles made out of bamboo? With Bambike Ecotours, you can explore Intramuros on a shock-absorbent bamboo bike made by well-trained and highly skilled Gawad Kalinga villagers. (Part of the proceeds from the tours is actually reinvested for their community development.) Together with capable tour guides, you can check out places that you'd likely miss if you were on a pedicab or kalesa. It's a faster way to get around, plus you get to cover more ground and see more places.
Bambike Ecotours are available from Tuesdays to Sundays. There are two types of tours to try out: The Intramuros Experience (P1,200 inclusive of entrance fees, a bottle of water, a helmet, and rain poncho) and The Bambike Express.
For more information, contact 0918-669-2241 or visit the Bambike Ecotours website.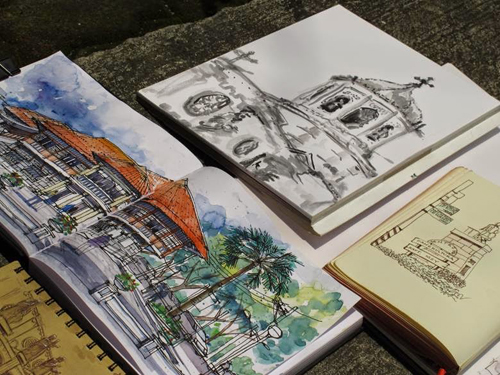 ADVERTISEMENT - CONTINUE READING BELOW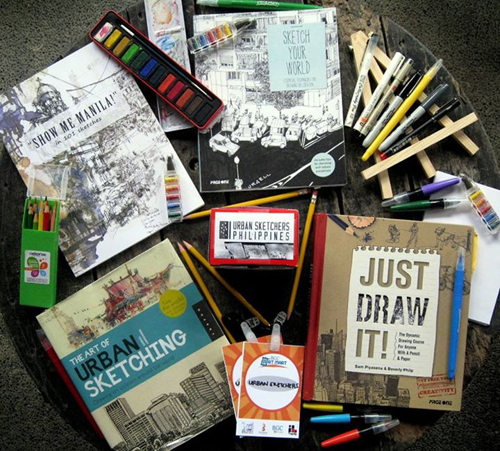 2. Urban Sketchers Philippines
If you have an artistic side and can make magic on paper with a flick of your pencil, then this group is for you. Urban Sketchers Philippines conducts regular "sketch walks" where they tour different cities to recreate sceneries or buildings. Their mission is to "show the world, one drawing at a time."
ADVERTISEMENT - CONTINUE READING BELOW
The Manila chapter is part of a global community, with drawing locations changing every month. Previous trips have included visits to Rizal Park, the Ayala Museum, and Escolta.
They welcome everyone, regardless of background, age, or drawing expertise. The sketch walks are free, just bring your own materials. Walks are held on the 3rd or 4th Saturday of each month, usually in the mornings, from 9 a.m. to 12 p.m.
To get to know the members of Urban Sketchers Manila, join them on Facebook or visit their blog.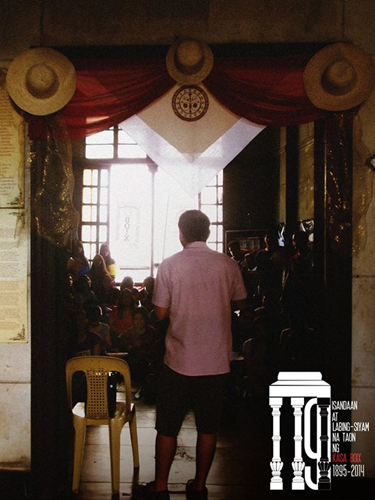 ADVERTISEMENT - CONTINUE READING BELOW
3. Lakbay Lakaran
Quiapo has a reputation for crime but the Kapitbahayan sa Kalye Bautista (KKB) group wants you to experience another side of it: one that's filled with history's hidden treasures.
The area may be daunting to those not familiar with its serpentine streets, but the KKB group, composed mostly of students and professionals who advocate the preservation of heritage and culture, proves to be a worthy guide to show you the beauty of this misunderstood district. Their tour includes a visit to a hidden pagoda and some ancestral homes including Kasa Boix, Zamora Mansion, and the Padilla House.
The KKB group holds regular tours, usually on weekend mornings, which cost P500 for adults and P250 for students. They also have a group promo of P2,000 for five adults. The tour is inclusive of food and KKB souvenirs. Proceeds go to the ongoing efforts to restore Kasa Boix and the Pamana Basic Education Project.
ADVERTISEMENT - CONTINUE READING BELOW
For more info on their upcoming tours (they have one on September 28), visit the KKB Facebook page, or call 0933-925-7861, 0919-859-6118, 0905-354-3913. You can also send an e-mail to kapitbahayansakalyebautista@gmail.com.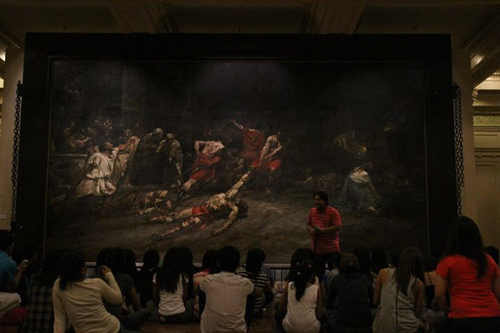 4. Xiao Time Live!
If you're not familiar with the educational segment "Xiao Time" (hosted by) Professor Xiao Chua on PTV4, then prepare to be entertained when he tours you around museums with the same wit and trivia.
ADVERTISEMENT - CONTINUE READING BELOW
The tour is a painting-by-painting or artifact-by-artifact guide through galleries and other historic places in Manila. Historian Michael Charleston "Xiao" Chua has stepped out of the TV screen to give tourists an interactive experience with his well-researched and unbelievably true stories.
Xiao Time Live! A Walking and Talking History is organized once a month on weekends. The package includes museum entrance fees, snacks, and souvenirs. The tour runs for three hours, covering two national museums (Museum of the Filipino People and the National Art Gallery) and thousands of years of Filipino heritage, culture and history. The rate is P350 for students and P450 for adults.
Xiao Time Live! A Walking and Talking History is made possible by Proyekto PH. For updates on their latest tours and talks, visit their Facebook page or blog.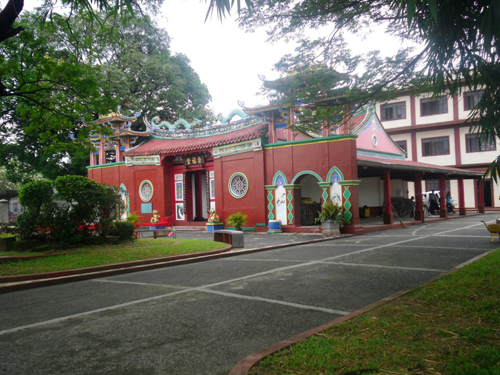 ADVERTISEMENT - CONTINUE READING BELOW
5. Old Manila Walks Chinese Cemetery Tour
Ivan Man Dy of Old Manila Walks specializes in Intramuros, Binondo, and San Miguel tours but did you know that he also offers tours of the Chinese Cemetery? Halloween or not, this walk featuring famous magnates and mausoleums is to die for. Prepare to marvel at eclectic and flamboyant funerary architecture and learn ancient Chinese customs for the dead.
The Chinese Cemetery tour lasts for two and a half hours, priced at P750 per head if you're joining an existing group. There are pre-scheduled open tours (which mean anyone can sign up) every weekend and on select weekdays. You may also choose to open your own tour at any date but this is subject to availability. The tour is usually conducted in English but you can also request one in Filipino or Mandarin. Customizing the tour (perhaps going for a tour combo, which includes a half-day tour of another area), is also possible.
ADVERTISEMENT - CONTINUE READING BELOW
For bookings, visit the Old Manila Walks website or their Facebook page. You can also send an e-mail to fun@oldmanilawalks.com or call 0918-962-6452.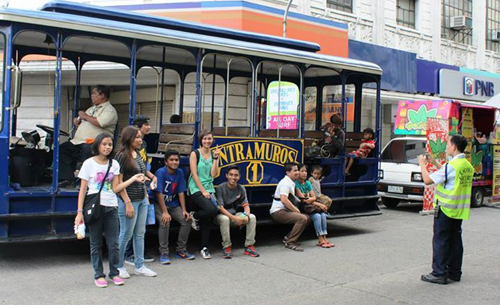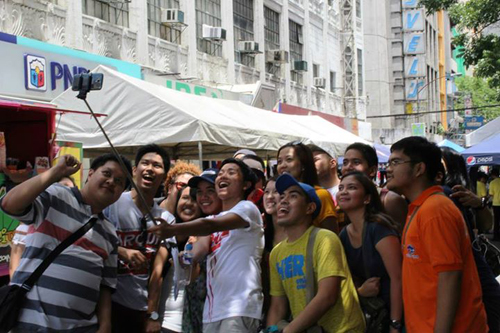 ADVERTISEMENT - CONTINUE READING BELOW
6. #selfiEscolta
Calling all selfie addicts! Originally a street festival where members of the Heritage Conservation Society Youth gave free walking tours of the historic business district, #selfiEscolta has since been established as the official guided tour of Calle Escolta.
The group's aim is to revive the heritage district, which used to be the Queen of Manila Streets, using the power of social media. The tour has a strong following among young people and students who are encouraged to take selfies at specific locations throughout the tour. They are later asked to upload it to on their social media accounts and use the hashtag #selfiEscolta.
The tour lasts for around two hours and for a minimal fee, includes entrance to the Calvo Museum. Aside from getting a history lesson on buildings like the Regina, Burke, and Capitol Theater, the tour also features a peek into the First United Building where Nora Aunor and the late comedy king Dolphy once held offices.
ADVERTISEMENT - CONTINUE READING BELOW
For rates and schedules, visit the Escolta Official Facebook page or e-mail exploreescolta@gmail.com.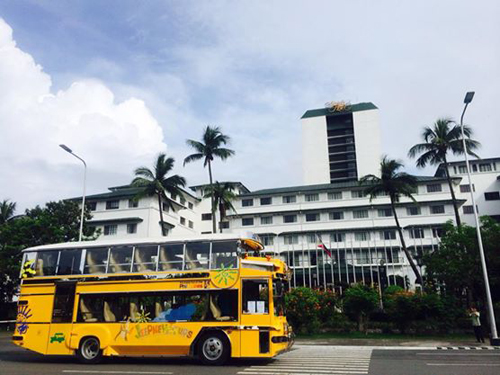 7. Jeepney Tours
No, these aren't the sweltering hot and overstuffed jeepneys you know. You'll feel like you're at a party in these private, air-conditioned ones amped up with a videoke machine and coolers! Jeepney Tours offers several options for parties of up to 20 people, which include the Videoke Jeepney, the Sunset Cruise, Club Mwah Party, and the Children's Party packages.
ADVERTISEMENT - CONTINUE READING BELOW
For the Videoke Jeepney Party, you get to sing on board for P6,000 for three hours. For the Sunset Cruise, it's P19,000 for four hours, inclusive of videoke, dinner and a view of the Manila Bay sunset. For the Club Mwah Party, it's P28,000 for five hours, inclusive of videoke, dinner, and entrance to Club Mwah. For a different kind of children's party, the jeepney can also be rented for P8,000 for four hours, inclusive of videoke, banner and balloons, and entrance to Museo Pambata.
Jeepney Tours has other packages with different themes to choose from: culinary, adventure, spa and shopping, and more. The tours are private and you can make your own schedule when you book the Party Jeepney.
For more information, visit the Jeepney Tours website or e-mail them at info@jeepneytours.com.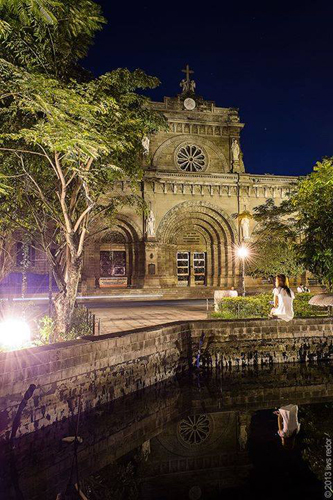 ADVERTISEMENT - CONTINUE READING BELOW
8. Manila by Night Photowalk
Discover the beauty of Manila at night through your lenses. The Manila by Night Photowalk will not just guide you through historic sites around Binondo, Escolta, Intramuros, and Luneta; it will also ignite your passion for photography.
Meet other photography enthusiasts and learn techniques for night photography in this five-hour tour that starts at sunset. Everyone is welcome as long you are fit and have enough energy to travel on foot. The tours are usually free but Powerhouse G5, the photography group behind them, is now planning to charge around P50 per head. Proceeds of the event will go to the restoration of Kasa Boix.
The photowalk is usually done on weekends but they don't have a regular schedule just yet. The next photowalk is planned for the end of the year.
For updates, visit the Manila by Night Facebook page or the Powerhouse G5 website.
ADVERTISEMENT - CONTINUE READING BELOW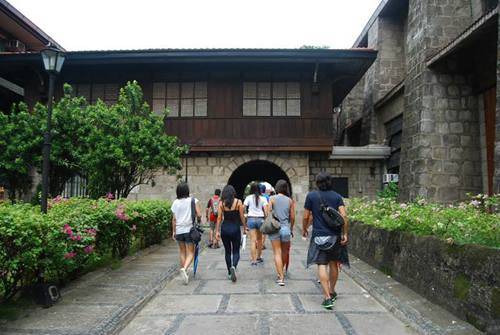 9. MicroAwesome Tours
Tour operators don't normally go around San Juan, Makati, or UP Diliman, but the people of MicroAwesome Tours do. ProoPH, the group behind the tours, focus on things that people barely notice, and their goal is "all about finding what is awesome in the micro."
The tours are very interactive, so be prepared to make friends at the end of the session. They usually last around three to four hours and rates are inclusive of food from each location.
ADVERTISEMENT - CONTINUE READING BELOW
They have two tours featuring San Juan: The historical KKK (Kwentuhan, Kainan, Kilalahan!) tours are usually done on Sundays (priced at P500), while the more media-oriented Jeepney Juan tours are on Saturdays (priced at P800); both run from 2 p.m. to 6 p.m. Every Saturday, tours include UPCAT (UP Culture and Arts) from 9 a.m. to 1 p.m. (priced at P700), and The Streets of Nations tours in Makati from 5 p.m. to 8 p.m. (priced at P1,000).
For bookings, visit the ProoPH website or their Facebook page. You can also contact them at 724-3689, 0917-703-9839, or via e-mail at proophinc@gmail.com.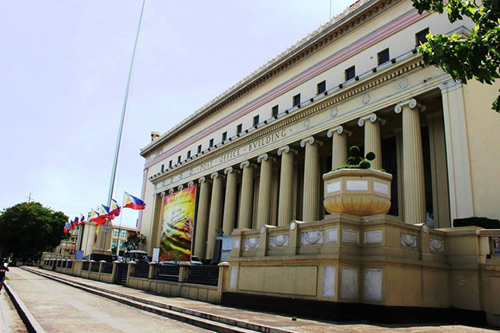 ADVERTISEMENT - CONTINUE READING BELOW
10. Royal Postage Heritage Guided Tour
Unraveling mysteries, nature tripping, and ghost sightings in some of the city's historical buildings are just some of the things you can expect from the Royal Postage Heritage Guided Tour.
The itinerary for this five- to six-hour long tour includes places like the Manila Central Post Office, Arroceros Forest Park, Aduana, Puerta Isabel II Gate, Liwasang Bonifacio, Metropolitan Theater (outside), the Padilla Art Gallery, and Bahay Tsinoy.
The Filipinas Stamp Collectors' Club, organizer of the tour, sometimes gives it for free but donations are highly appreciated. Pre-registration is required, usually done on weekends. Highlights include a showcase of rare Philippine stamps and the Post Office lobby, which might make you feel like you're on a ghost hunt.
For schedules, visit the Royal Postal Heritage Guided Tour Facebook page.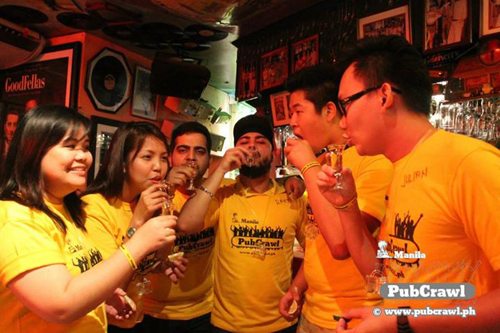 ADVERTISEMENT - CONTINUE READING BELOW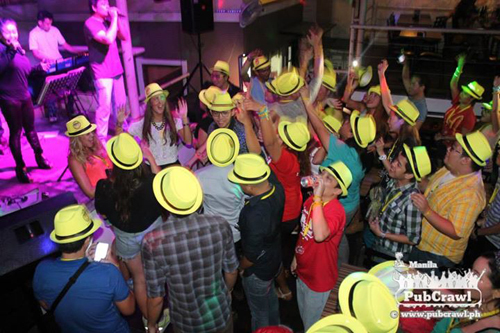 BONUS: Manila PubCrawl
If bar hopping around Manila is more up your alley, then you should try the Manila PubCrawl. Expect to turn strangers into friends, save a lot on drinks and entrance fees, and get to know the best of Manila's social scene. The Party Jeepney (see number 7) will take you from one stop to the next.
ADVERTISEMENT - CONTINUE READING BELOW
The night starts with a free shot of booze. To get to know your fellow pub crawlers, games are played inside the jeepney. Wearing the Manila PubCrawl polo shirt also entitles you to some discounted drinks, such as P50 on selected cocktails or two for P100 drink specials.
Manila PubCrawl is done monthly on weekend nights for about five hours, but once you're at the last bar, you can stay for as long as you want. There are three existing routes: the Makati-Resorts World route, the Makati-Quezon City route, and the Malate route. Early birds can get a discount of P790 for girls and P890 for guys. Once the early bird slots are full, you can still join for P990. This is inclusive of entrance to 10 Shooters, a Manila PubCrawl shirt, shot glass, Manila PubCrawl Baller, four venues, exclusive drink specials, club entrance, transportation between the bars, games to make new friends, and lots of fun.
ADVERTISEMENT - CONTINUE READING BELOW
For bookings and inquiries, visit the Manila PubCrawl website or contact 0917-808-8433.
Photographs courtesy of Jec Carrillo (Xiao Time, Postal Tour, #selfiEscolta); Stephen John Pamorada (Chinese Cemetery); Irvs Redor (Manila by Night); and taken from tours' official websites, blogs, and Facebook pages.
CONTINUE READING BELOW
Recommended Videos
Share this story with your friends!
---
Help us make Spot.ph better!
Take the short survey
Load More Stories