One Day in Manila for P800: Marikina City
So what can you do with a few hundred Pesos in the nation's shoe capital?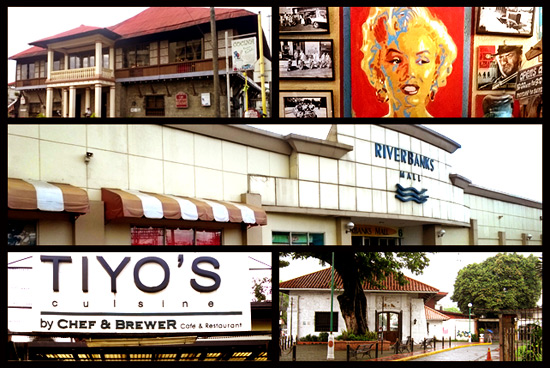 (SPOT.ph) You could consider Marikina the poster town of the ideal Filipino community: best known for having clean and orderly streets and for residents who take pride in their local heritage. It also has a transparent and efficient city government.
Marikina is also a sort of a paradox. It is considered a city yet still looks and very much feels like a charming small town. For some, like us, that's a good thing. Generations have chosen to stay close to their families in the city and most of them still run the same businesses established by their parents (or grandparents). So even if Marikina has welcomed new investors and residents over the years, the friendly atmosphere still pervades.
East of Manila, Marikina is far from the chaos of the capital yet still near enough for a daytrip via the LRT. So if you only have P800 to spend but still want a good time and good eats, head to Marikina Valley.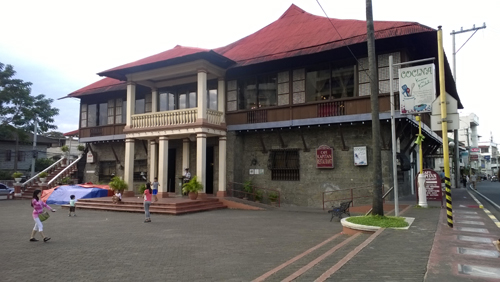 Go on an architour along J.P. Rizal Street.
Marikina City is quite an old town. In fact, it was founded in 1630, the same year when the Jesuits settled in the area. It is along this stretch of J.P. Rizal Street where you can get a glimpse of the city's history. From the changing face of the Santuario y Parroquia del Nuestra Señora de los Desamparados or the San Roque Church; the shoe museum (which used to be an arsenal during the Spanish colonial times); to ancestral houses that now serve as markers of the passing of time.
ADVERTISEMENT - CONTINUE READING BELOW
Budget: Free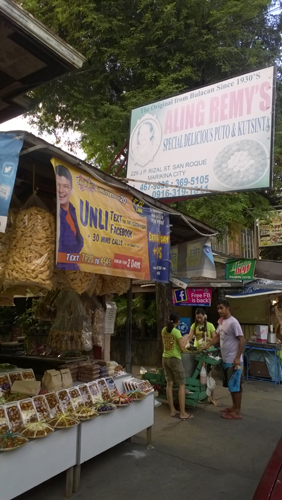 Munch on Aling Remy's Special Delicious Puto and Kutsinta.
Aling Remy's special puto and kutsinta is a local favorite, as well a source of pride. Buy a tray and find out why. Walk to the small plaza of Kapitan Moy and sit on one of the benches. Pop those delicious rice cakes into your mouth as you watch children play and locals go about their everyday lives.
Budget: P65 per tray (30 pieces)
Aling Remy's Special Delicious Puto and Kutsinta is at 229 J.P. Rizal Street, San Roque, Marikina City.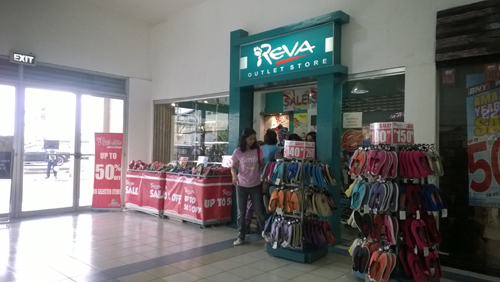 Shop for footwear at Riverbanks Mall.
Your Marikina tour wouldn't be complete without getting a pair of shoes at Riverbanks Mall. The city boasts shoe outlets almost on every corner so it's easy to score a deal. There are a number of shoe stores that have set up outlets at Riverbanks Mall, so that's a nice place to start. But it's also rewarding to venture into neighborhoods where some cobblers sell footwear in their own workspaces or garages.
Budget: P140 for a pair of comfy flats
Riverbanks Mall is at Riverbanks Center, Barangka, Marikina City.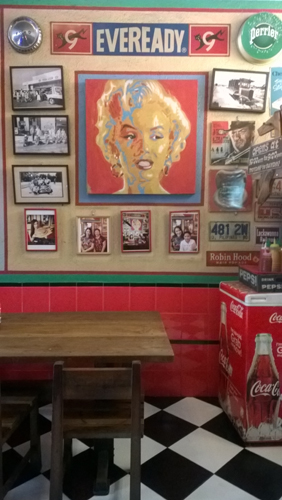 Get curious at Mama Chit's Coffee House.
At first glance, Mama Chit's seems to be a diner with its black-and-white checkered floor and Coca-Cola memorabilia. But in lieu of classic diner booths and stools, guests sit on wooden chairs and tables, while the walls and shelves are filled with vintage signs, collectibles, and antiques. Black-and-white photographs of old Manila grace its walls, including those of the glamorous Escolta, the old Nielson Tower (Manila International Air Terminal, now Blackbird), and the starting point of the 1959 Tour of Luzon. For a quick diner experience, sip on a root beer float (P80) and order some criscut fries (P80) as you pass the time longing for the good ol' days.
ADVERTISEMENT - CONTINUE READING BELOW
Budget: P160
Mama Chit's Coffee House is at 234 J.P. Rizal Street, San Roque, Marikina City (646-8547). Open from 10 a.m. to 9 p.m. (Monday to Sunday).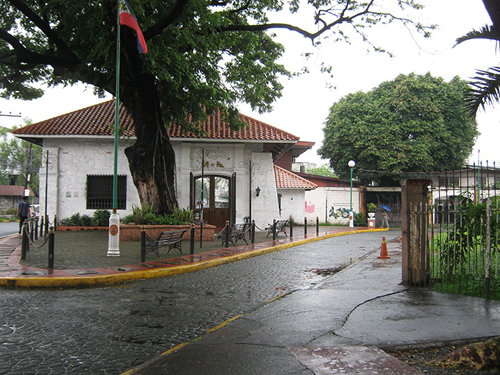 Marvel at shoes at The Shoe Museum.
The Shoe Museum is one of the city's famous attractions and it holds an impressive collection of footwear that belonged to former presidents, ambassadors, political figures, and celebrities. Among them are the 749 pairs previously owned by former First Lady Imelda Marcos. This extensive collection features shoes for all occasions by both foreign and local brands and gives a glimpse of the different roles a first lady takes on.
Budget: Entrance is priced at P50.
The Shoe Museum is at J.P. Rizal Street, San Roque, Marikina City. Open from 8 a.m. to 5 p.m. (Monday to Sunday, except holidays).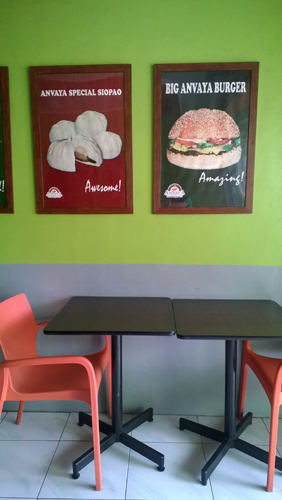 Go on a burger run.
Looking for a snack? Head to Anvaya Bread and Deli. Satisfy that craving with their Anvaya Big Burger-a hefty 1/3 pound of beef, lettuce, tomato, onion, sandwiched in an herb and wheat sesame bun, for just P95. This al fresco place is rather simple and straightforward, just the way we like our burgers.
Budget: P95
Anvaya Bread and Deli is at 36C Gil Fernando Avenue, San Roque, Marikina City (0922-844-7092). Open 24 hours.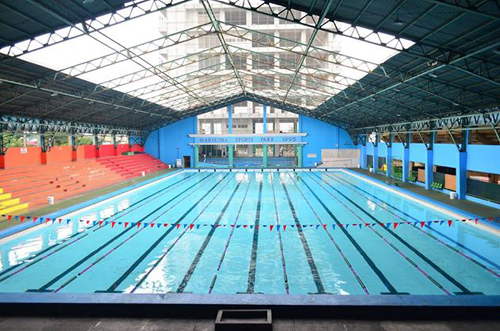 Stretch your muscles at the Marikina Sports Center.
Get your heart rate up (or maybe just sit back while others do their thing) at the Sports Center. Also known as the Marikina Sports Park, it has a swimming pool, track oval, and other facilities that cater to all health buffs. It's only P10 to get in but should you decide to come back, there are lots of activities you could sign up for (at a minimal fee), just make sure you register before your visit.
ADVERTISEMENT - CONTINUE READING BELOW
Budget: Entrance is priced at P10.
Marikina Sports Center is at Sumulong Highway, Barangay Sto. Niño, Marikina City (682-9573).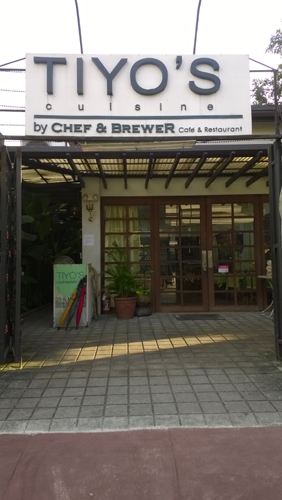 Have dinner at Tiyo's Cuisine, topped off with a cup of P1 brewed coffee.
Still find yourself hungry come night time? Head over to Tiyo's Cuisine, a fine-dining establishment operated by the people behind the popular Ortigas watering hole, Chef & Brewer. Situated within the residential area of Markina East Subdivision, it is a dressy yet relaxed restaurant, perfect for a romantic evening. For dinner, order their bestselling Creamy Garlic Chicken, a pasta dish of fettuccine, cream, garlic, and chicken. And if you still have some spare change, enjoy a cup or two of their P1 brewed coffee.
Budget: P280 for Creamy Garlic Chicken, P1 for a cup of coffee
Tiyo's Cuisine by Chef & Brewer is at 29 Almond Nut Street, Marikina East Subdivision, San Roque, Marikina City.
Also read:
One Day in Manila for P800: Pasig City
Erratum: The first version of this article attributed free entrance to the Marikina Sports Center. This has been corrected.
Load More Stories