One Day in Manila for P800: San Juan
See what you can do in San Juan other than shopping.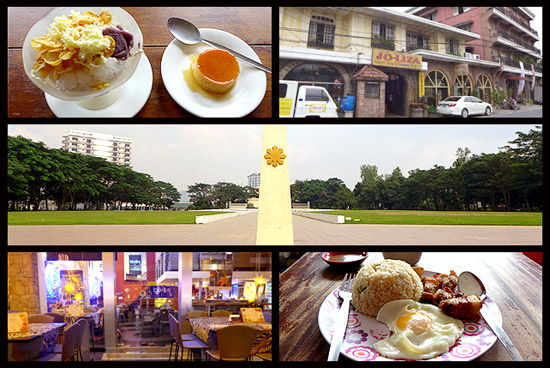 (SPOT.ph) Mention the city of San Juan and probably the first thing that comes to mind is the Greenhills Shopping Center. Beyond the stretch of tiangges, San Juan has a story to tell-it only asks for patience and curiosity as you slowly discover what the city is truly all about.
It was once the municipality of San Juan del Monte named after Saint John the Baptist and the hilly terrain on which it's situated. Converted into a highly urbanized city in 2007, it is predominantly residential and commercial, but the city remains conscious of preserving its cultural treasures such as historical landmarks and heritage homes.
Right in the heart of Metro Manila, jeepney (Cubao, Divisoria, Crame, and Taytay) and bus (Quiapo going to Cainta, and vice versa) routes pass through the city. LRT2's J. Ruiz or V. Mapa stations can also be transport options; you just need to catch a jeep or bus going to San Juan afterwards.
ADVERTISEMENT - CONTINUE READING BELOW
Working wtih an P800 budget, we have lined up a list of activities to occupy a full day in the city of San Juan.
Also read:
One Day in Manila for P800: Marikina City
One Day in Manila for P800: Pasig City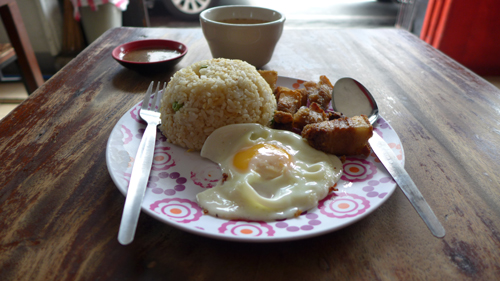 Have brunch outside the Little Baguio area.
Long before all sorts of restaurants peppered the streets of Wilson, P. Guevarra, and J. Abad Santos, Aling Banang's has been the go-to eatery of San Juan residents for Filipino comfort food. Get the Lechonsilog (P60) if you can't decide on which to have from their list of silogs-because hey, it's never too early for lechon kawali. Follow up with the Halo-halo (P45) and be in for a pleasant surprise after tasting how grated cheese and cornflakes add zing to the usual mix.
Budget: P105
Click here for a list of Aling Banang's branches. Open from 7 a.m.  to 12 a.m. (Monday to Saturday).
ADVERTISEMENT - CONTINUE READING BELOW
Also read: Top 10 Dinuguan in Metro Manila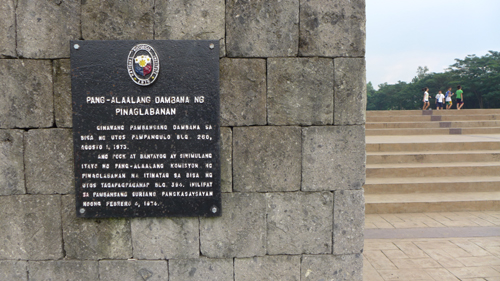 Take a stroll at the Pinaglabanan Memorial Shrine.
San Juan City is notable as the venue of the Philippine Revolution's first battle for independence from Spain. The Pinaglabanan Memorial Shrine marks the location of an attack made by the KKK movement to besiege El Polvorin (a Spanish ammunition storage facility) in an attempt to amass weaponry for the revolution's purposes. Make sure to check out the brass sculpture by Eduardo Castrillo, which stands to commemorate the bravery of Katipuneros who fought and died in the battle.
Budget: Entrance is free!
The Pinaglabanan Memorial Shrine is at Pinaglabanan Street, San Juan City.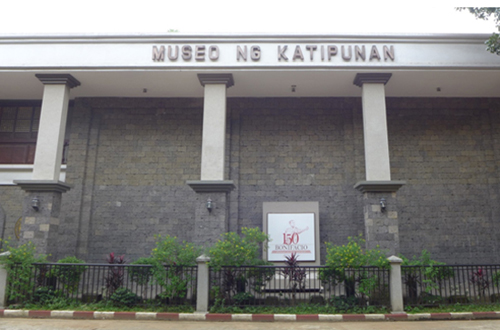 ADVERTISEMENT - CONTINUE READING BELOW
Linger at the Pinaglabanan Shrine grounds and learn more about the KKK.
If you found it a struggle to sit through Philippine History class, then maybe the Museo ng Katipunan might renew your interest in the revolutionary movement against Spanish colonial rule.  The museum is dedicated to Andres Bonifacio and the Katipunan, and showcases centuries-old relics such as anting-anting and bolo. By the way, did you know Andres Bonifacio was a theater actor?
Budget: Entrance is free!
Museo ng Katipunan is at Pinaglabanan Street, San Juan City (576-4336). Open from 8 a.m. to 5 p.m. (Tuesday to Sunday).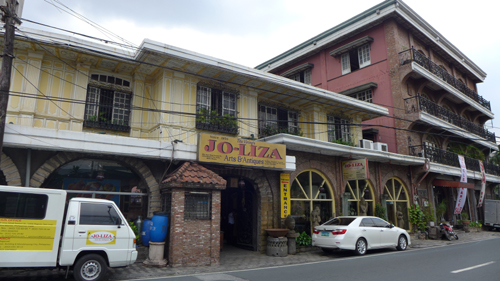 Go vintage window shopping.
Get lost in each of the four floors and marvel at Jo-Liza Arts & Antiques shop's vast collection of antiques, furniture, and paintings. Established by the late Severina "Viring" de Asis in 1972, the shop is named after her two daughters, Jo-Ann and Liza. Start at the ground floor, where the shelves are lined predominantly with orientalia such as Buddha heads and Indian mosaic lamps. The succeeding floors are meticulously furnished to mimic a living space, but do take time to admire modern art gracing the wall space.
ADVERTISEMENT - CONTINUE READING BELOW
Budget: It's free, but don't expect to get away with making snow angels on the beds for fun.
Jo-Liza Arts & Antiques is at 664 Jose Abad Santos Street, Little Baguio, San Juan City (724-6151, 727-2397). Open from 8 a.m. to 7 p.m. (Monday to Saturday).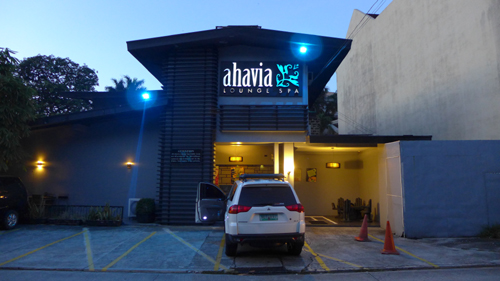 Get a body massage for less.
Give yourself a break from walking all day with Ahavia Lounge Spa's Oriental Ritual massage therapy.The massage oil is just right: It doesn't feel sticky and doesn't smell like somebody poured eucalyptus oil all over you. Other options are the Western Blend and Point Pressure.
Budget: P299 for 60 minutes
Ahavia Lounge Spa is at 579 Mariano Marcos Street corner Allenby Street, San Juan City (655-9267, 748-7930). Open daily from 12 p.m. to 4 a.m.
Also read: Neighborhood Guides: Little Baguio in San Juan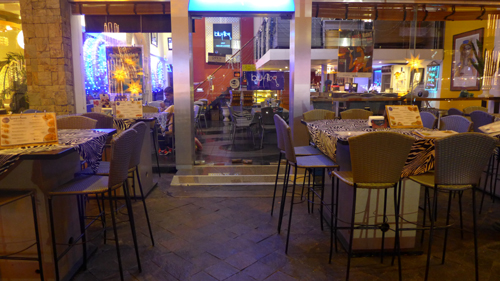 ADVERTISEMENT - CONTINUE READING BELOW
Go wild with Blufrog's Buffalo wings.
Turn away from the crowds and head to Blufrog at Promenade for a plate of their Wild Chicken Wings.The blue cheese dressing that comes with it complements the wings' hot and tangy taste. With or without the alcohol, chill out upstairs where the lounges are located.
Budget: P265
Blufrog is at 2/F Promenade, Greenhills Shopping Center, San Juan City (531-3539). Open from 10 a.m. to 2 a.m. (Monday to Saturday) and 10 a.m. to 12 a.m. (Sunday).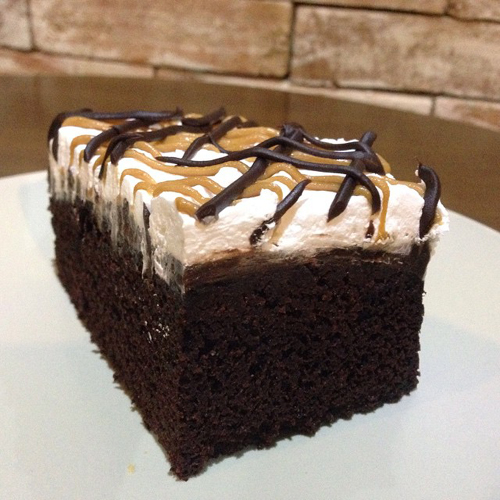 Photo from The Sweet Studio's Facebook page
Satisfy your dessert cravings.
The Sweet Studio (also known as Ada's Sweet Studio) may have the answer, especially if you're looking for something sweet after dinner. Go for their Happy Cakes-either the Cookie Butter Mad Mud Cake or Sea Salt Nutella Torte. You can worry about your weight another day.
Budget: P130
The Sweet Studio is at Unit 7, 8 Jade Building, Santolan Road, Greenhills, San Juan City (584-7273, 844-1793).
ADVERTISEMENT - CONTINUE READING BELOW
Also read:
One Day in Manila for P800: Marikina City
One Day in Manila for P800: Pasig City
Load More Stories