PHOTOS: City of Dreams' Crown, Nobu, and Hyatt Hotels
A virtual trip to their luxury amenities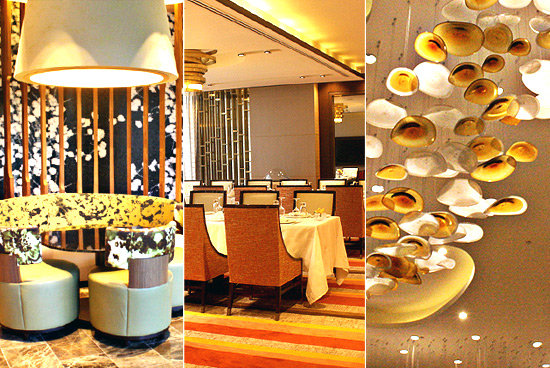 (SPOT.ph) Three hotels make up the golden megalopolis that is City of Dreams, the latest casino resort in Parañaque that had its soft opening in December 2014. There's Nobu Hotel, a hip Japanese hotel inspired by the equally trendy, eponymous restaurant by Chef Nobu Matsuhisa. It's the 32nd branch of the restaurant, but only the second Nobu Hotel in the world.
The Hyatt, which transplanted itself from Malate to become the first branded hotel in Asia, is cool and casual. The contemporary and straightforward setting is ideal for city travelers looking to explore Manila. It's the busiest of all three hotels, with the lobby already crowded with people checking in and out.
If Hyatt is your gateway to the City of Dreams experience, then Crown Towers, which is, no pun intended, the crown of the resort, is the pinnacle of luxury. The deep brown and gold space is a picture of opulence. Unlike the other two, Crown is not open yet, with the staff continuing to fine-tune the rooms and service. According to General Manager Brett Hickey, the number of elements in one Crown room is equal to that of an entire floor in other hotels. Impressive? Wait until you see it.
City of Dreams spared no expense in ensuring only the highest level of hospitality. And we're giving you a virtual tour of the hotels-as well as a sneak peek of the highly anticipated Crown Towers.
City of Dreams' grand opening will be in February.
ADVERTISEMENT - CONTINUE READING BELOW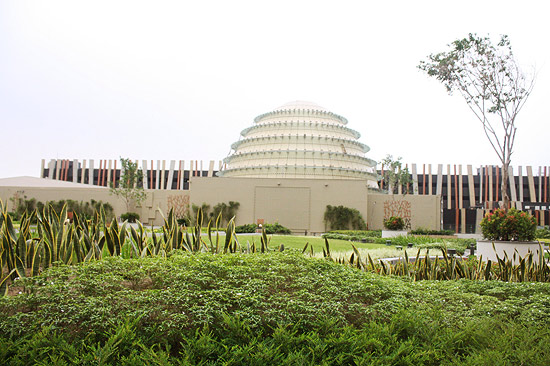 CONTINUE READING BELOW
Recommended Videos
The Fortune Egg
The 411:
All rooms have 44-inch television sets equipped to allow guests to watch movies, order room service, and even check billing.
Each hotel has its own fitness center equipped with the latest Life Fitness gear and complete with a trainer. The Nobu Fitness Center even loans workout shoes to their patrons.
There are three pools. Nobu and Hyatt guests may use each other's pool, while the Crown pool is exclusive to Crown guests. Crown guests have the privilege of using whichever pool they want.
Each hotel has their own casino, as well as entrance to the common recreational area or the Fortune Egg. The Fortune Egg houses Pangaea (the night lounge), Chaos (the club), the Shops of the Boulevard, more gaming, Dream Play by Dreamworks, and restaurants.
Every room comes with a Nespresso machine (and capsules), fresh fruit, and a fully stocked mini bar.
Instead of signs, guests only have to press buttons to inform hotel staff if they want the room to be made up or if they don't want to be disturbed.
City of Dreams has five main entrances that lead to different parts of the building.
ADVERTISEMENT - CONTINUE READING BELOW
Click on the next page for Nobu Hotel.
Nobu Hotel

This celebrity-inspired abode has 321 rooms that range from 36 to 68 square meters. Each room is minimalist, in a way that only the Japanese can achieve so well, with a vase of orchids offering a pop of color and custom calligraphy mural representing chi or "flow of energy."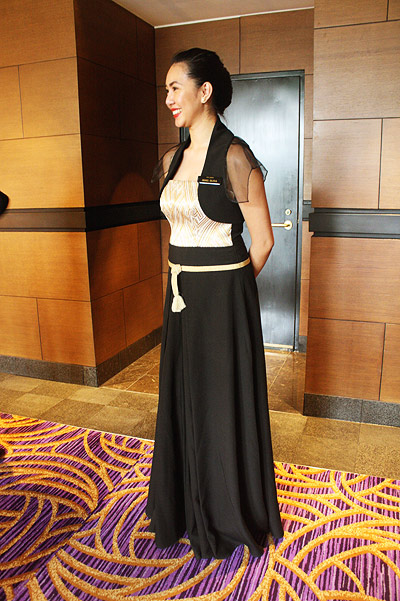 These convertible uniforms were designed by Rajo Laurel. Underneath that skirt are four-inch heels, a requirement at City of Dreams.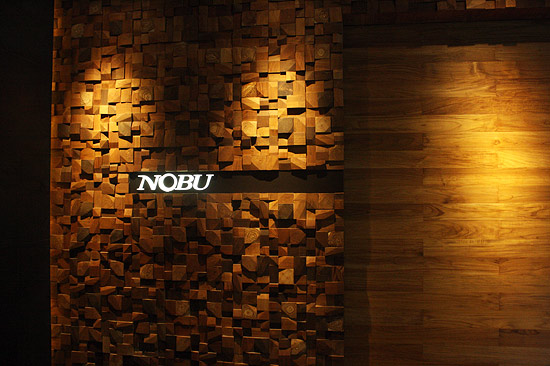 ADVERTISEMENT - CONTINUE READING BELOW
Nobu Restaurant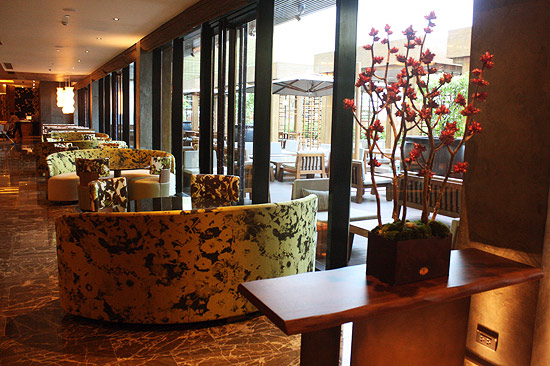 The restaurant is open for breakfast for Nobu Hotel guests. Otherwise, it's only open from 6 p.m. to 11 p.m.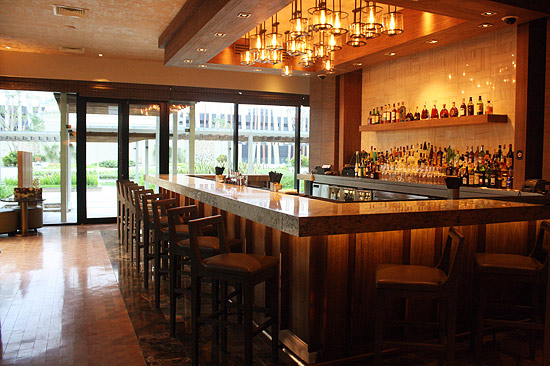 The bar for Nobu customers waiting for their seat or waiting to complete their party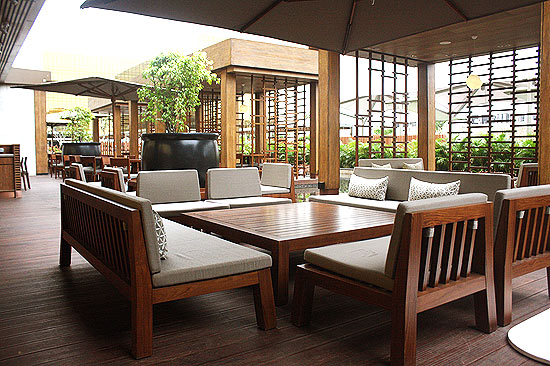 ADVERTISEMENT - CONTINUE READING BELOW
The al fresco area of Nobu Restaurant has the most coveted seats. It's especially picturesque at night.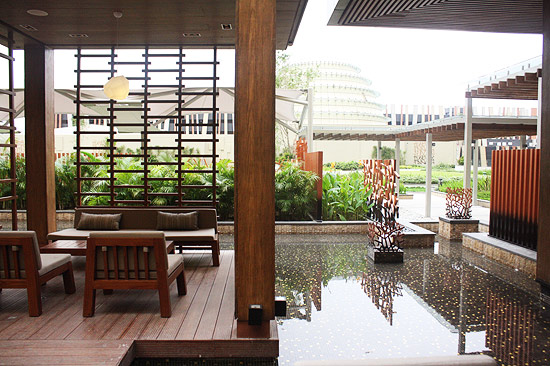 You also get a view of the Fortune Egg.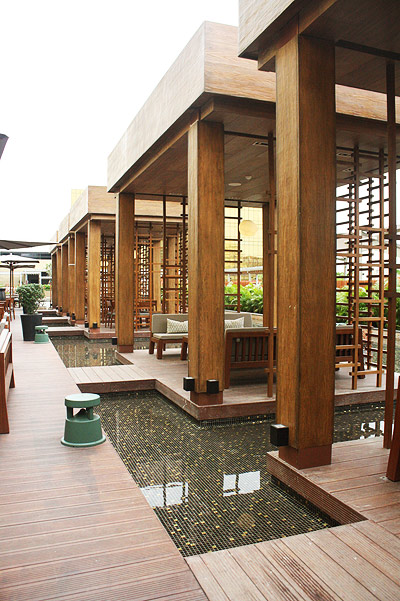 This deck connects Nobu's signature restaurant, spa, fitness area, and whiskey bar, Waves.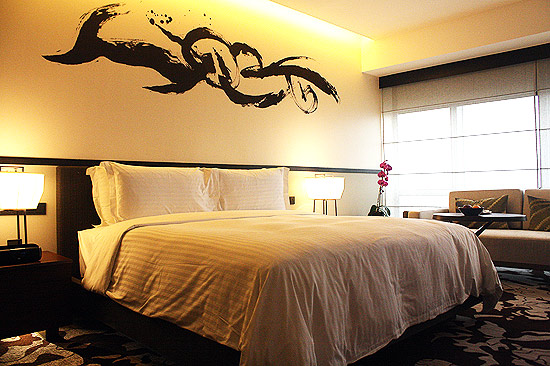 ADVERTISEMENT - CONTINUE READING BELOW
The 36-square meter Deluxe Room has an introductory price of P9,888 valid until the end of February.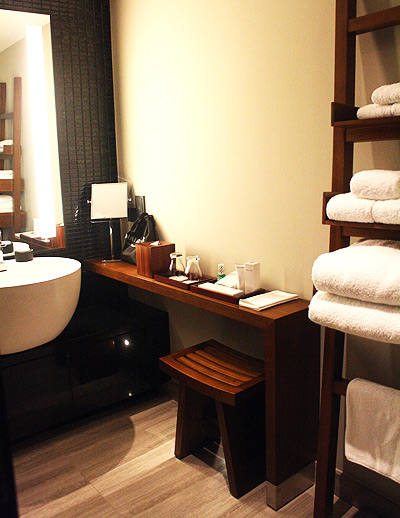 The Deluxe room's bathroom (half of it, anyway)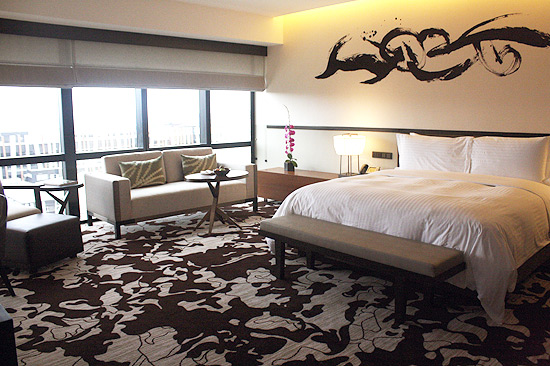 The 46-square meter room is P10,888 (again, introductory price). You can see the chi calligraphy over the bed.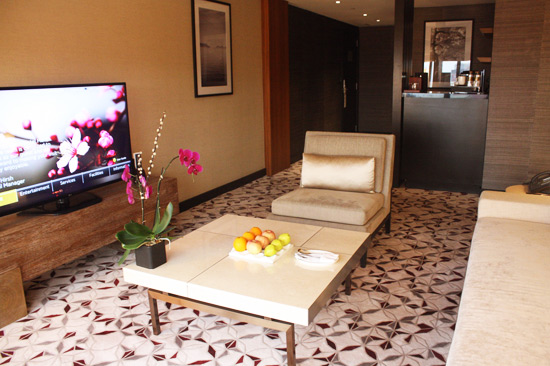 ADVERTISEMENT - CONTINUE READING BELOW
Nobu's Suite is 68 square meters.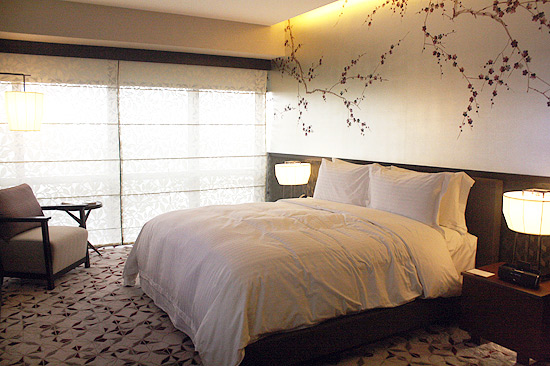 The mattresses for all beds are custom-made Simmons, a world-renowned bedding brand.
Click on the next page for Hyatt Hotel.
Hyatt

Hyatt has the most number of rooms, with 365. The most casual of the three hotels, it aims to be witty and inviting. It has two wings, one offering smaller and more intimate rooms and the other housing more luxurious amenities-the difference in terms of price and size though is slim. The wood-lined hotel is modern (look for the installation by Impy Pilapil), with snazzy red details.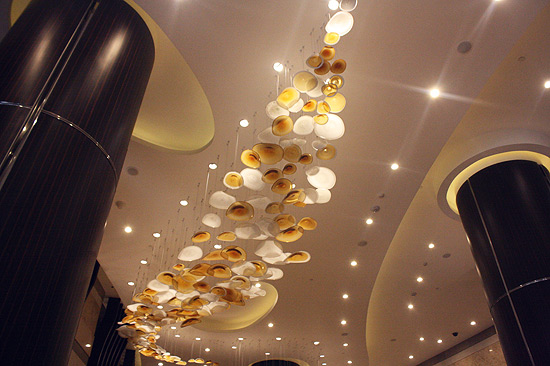 ADVERTISEMENT - CONTINUE READING BELOW
This ceiling installations take inspiration from jellyfish. They're made of mother-of-pearl and glass.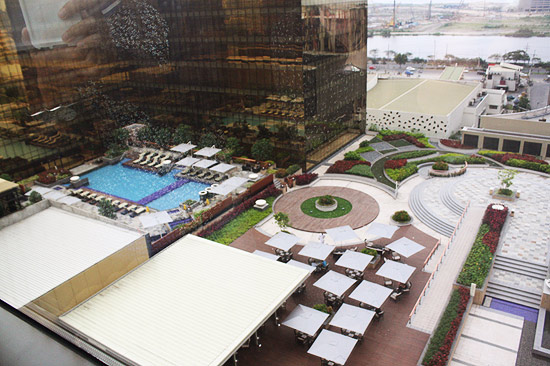 Hyatt has a more family-friendly pool compared to Nobu's four-foot lap pool.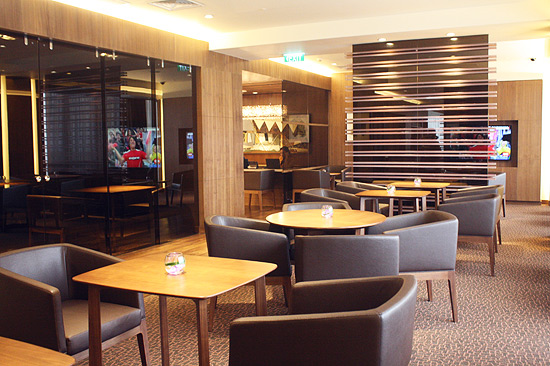 The Club Lounge, available for those on the club floor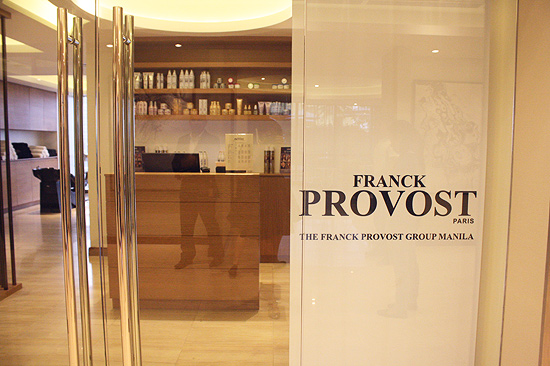 ADVERTISEMENT - CONTINUE READING BELOW
Some luxury pampering care of Franck Provost, accessible at Wing 2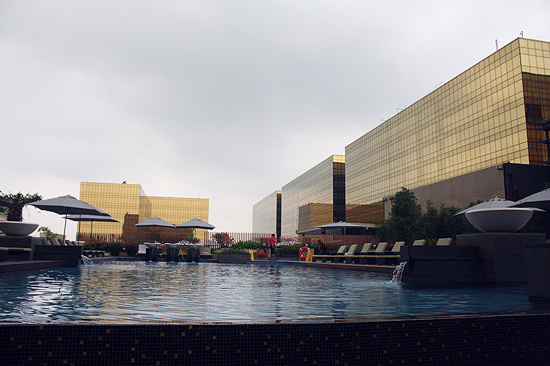 This infinity pool offers a view of the entire space. That's Crown in the background and Nobu on the left.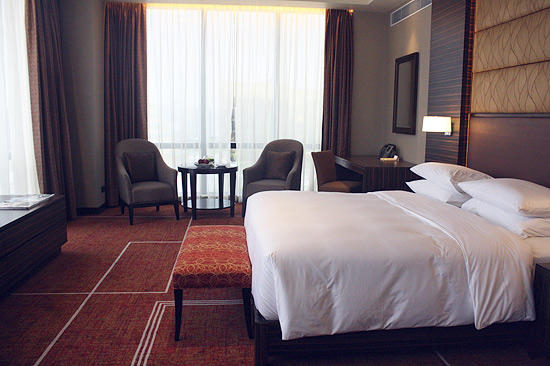 Hyatt's luxury 85-square meter suite costs P16,800++.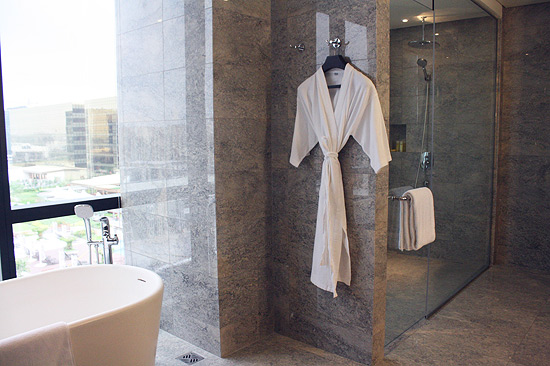 ADVERTISEMENT - CONTINUE READING BELOW
This bath tub is cool, offering a view of the city below.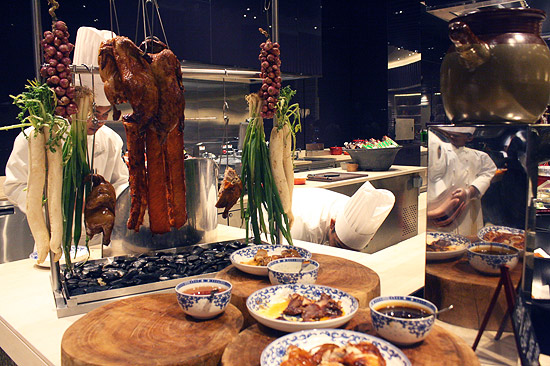 Hyatt's buffet, The Cafe, has five culinary stations-each with its own substations.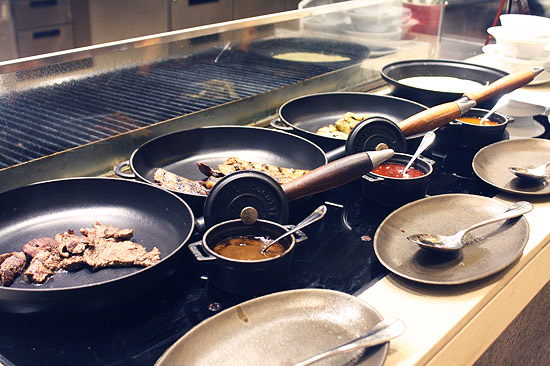 The buffet costs P588 (for checked-in guests) to P1,888.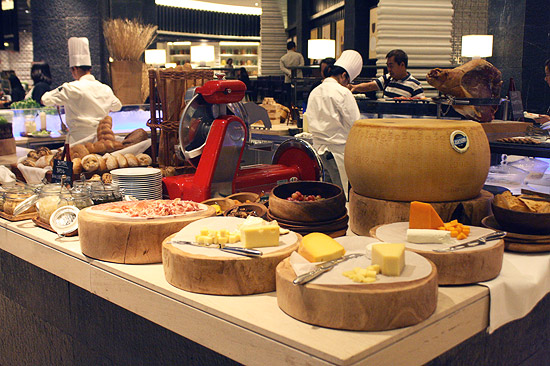 ADVERTISEMENT - CONTINUE READING BELOW
F&B Director Stijn Van Leeuwen said this was the longest buffet table around.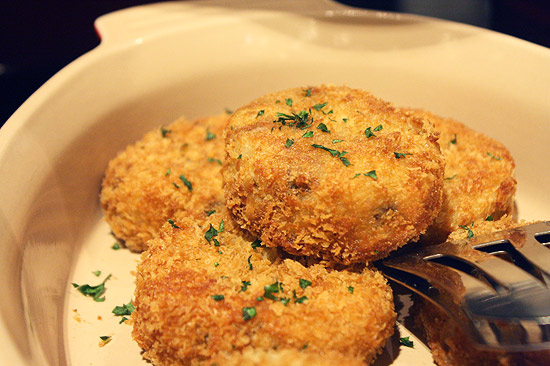 Risotto Cake
Click on the next page for Crown Towers.
Crown Towers
If Ferrero Rocher chocolates ever became a building, Crown would be it. The elegant mix of gold and brown will stop you in your tracks when you step inside the lavish lobby. Similar to Hyatt, Crown has two wings or, in this case, towers. Tower 1 has smaller rooms that resemble Nobu's in size while Towers Suites on the left feature bigger accommodation-suites and villas from 55 to 548 square meters. There are 254 rooms, and according to general manager Brett Hickey, the average room size for Crown is 109 square meters.
The pool wasn't completely ready during our visit (neither were the villas), but we heard that if you left your sunglasses at home you need not worry. Crown will loan you Christian Dior shades for the meantime.
ADVERTISEMENT - CONTINUE READING BELOW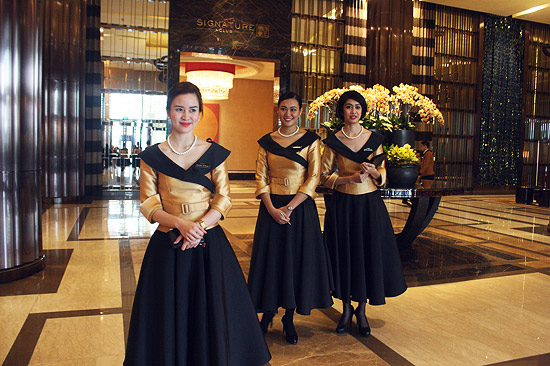 More Rajo Laurel dresses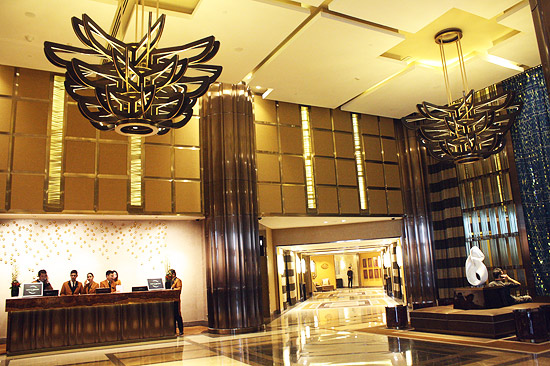 The lobby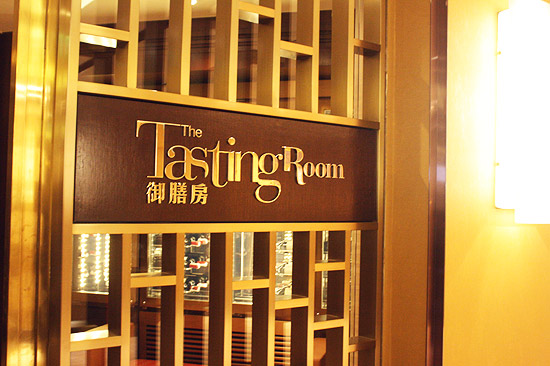 ADVERTISEMENT - CONTINUE READING BELOW
The Tasting Room is one of Crown's restaurants. Its main selling point is a do-it-yourself tasting menu.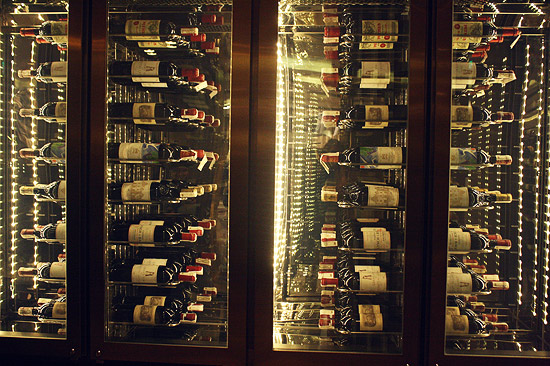 Collector-type wines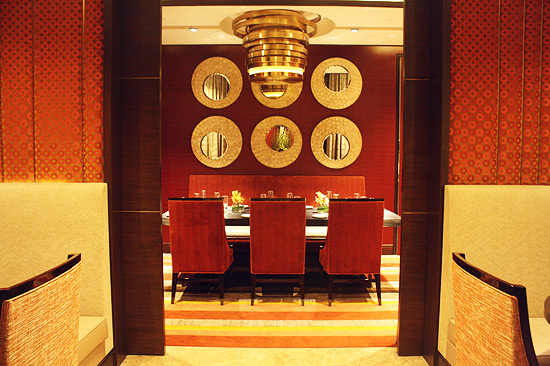 One of The Tasting Room's private setups. They have two.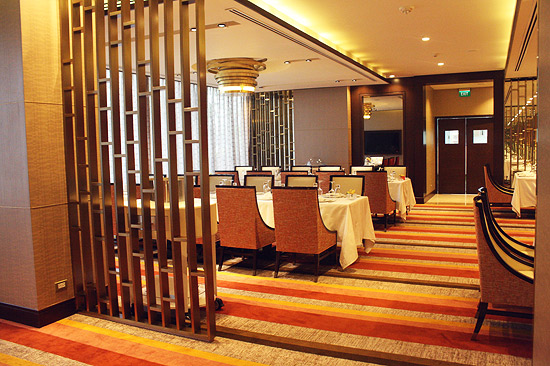 ADVERTISEMENT - CONTINUE READING BELOW
The interiors create a relaxed tone. (Get the 52-degree egg or the foie gras terrine.)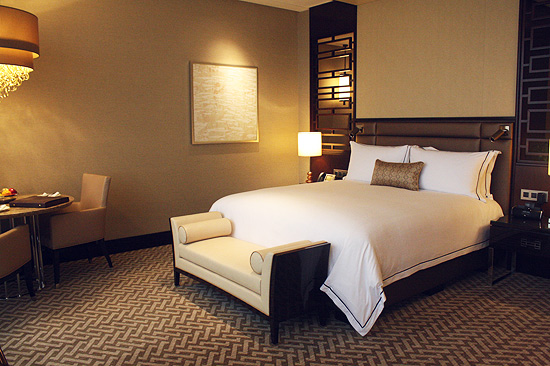 Crown has nine room categories-and this 66-square meter Premiere King is one of the lower ones already.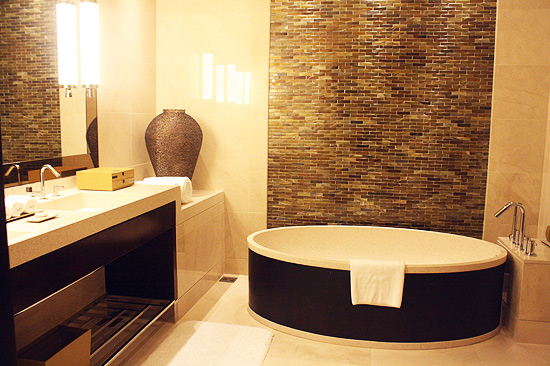 Another gorgeous bathroom complete with bath salts. The shower and toilet are on the other side, in separate compartments. For your toiletry requirements, you can choose from eight brands, including L'Occitane, Hermes, and Chopard.
ADVERTISEMENT - CONTINUE READING BELOW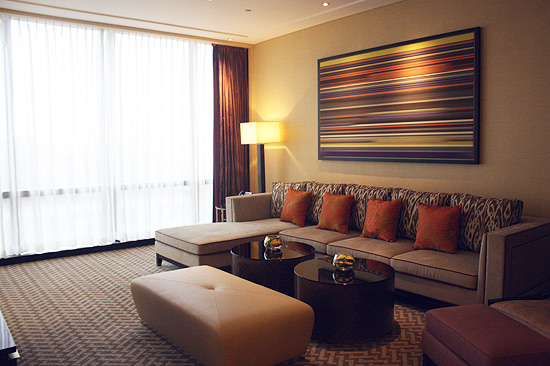 Crown has 80 classically trained butlers. Your appointed butler is on call 24/7.  Enjoying your room too much to shop? Buzz in your butler and have him/her bring a selection of luxury items to your suite for your choosing.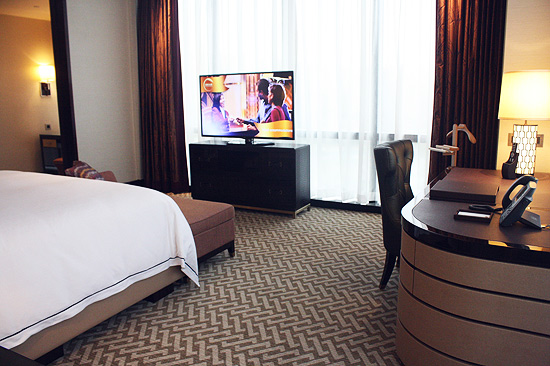 This room could be linked with two other spaces, which could further be closed off from the rest of the hotel. It's like your own private home.
ADVERTISEMENT - CONTINUE READING BELOW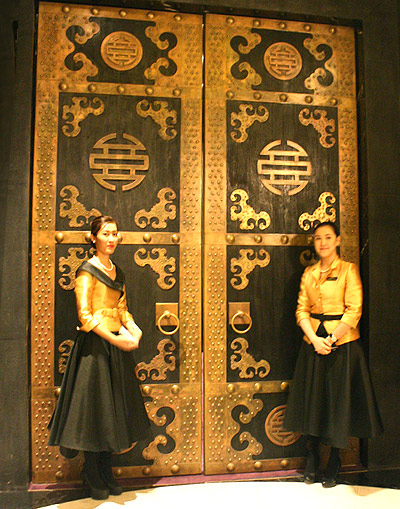 The doorway to their premiere Chinese restaurant, Crystal Dragon
City of Dreams is at Roxas Boulevard, Parañaque City
Share this story with your friends!
---
Help us make Spot.ph better!
Take the short survey
Load More Stories