Neighborhood Guide: South Triangle, Quezon City (2015 Edition)
A fresh look at a bustling neighborhood that has everything from good eats to cheap thrills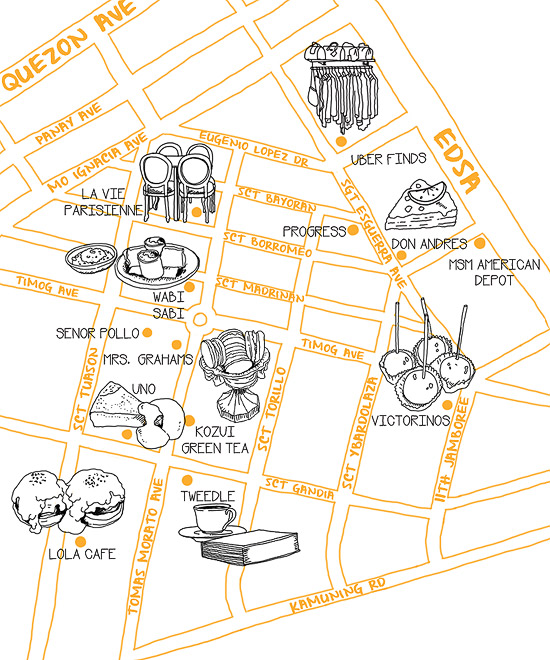 (SPOT.ph) Strictly speaking, South Triangle, Quezon City, is the area bordered by Quezon Avenue, Timog Avenue, and EDSA. This laid-back and unpretentious neighborhood-and the surrounding Scout streets-is home to the two leading local TV networks, and teeming with interesting restos and eclectic establishments. From classic favorites like vegetarian resto Greens to new culinary stars like Livestock (currently SPOT.ph's No. 1 Crispy Pata restaurant), the area is a haven for avid foodies, curiosity seekers, as well as families simply out to enjoy a good meal. Dropping by the North soon? Here's a quick guide to the spots to check out in South Triangle and its environs:
Also read: Neighborhood Guide: Tomas Morato and Timog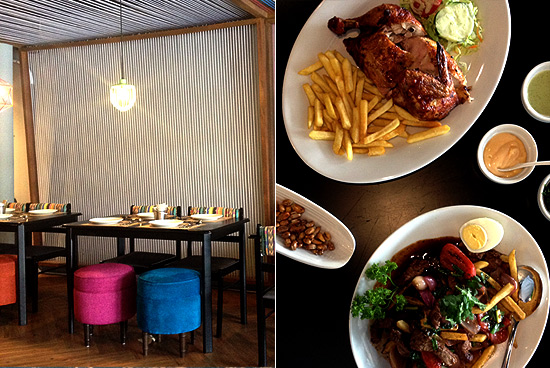 That's Don Andres ½ Pollo Con Papas Fritas and Lomo Saltado
Don Andres Peruvian Kitchen
26 The Courtyard Building, Sergeant Esguerra Avenue
Contact: 364-4145; 0916-406-7000 
Open daily from 5 p.m. to 11 p.m.
Vibrant interiors, chill music, and decently priced, downright delicious food (thanks to a Peruvian chef for authenticity, no less) make this our favorite new find in the area.
ADVERTISEMENT - CONTINUE READING BELOW
Must-tries: Pulpo al Olivo (P290-makes for tasty pica-pica), the signature Pollo a la Brasa (Peruvian rotisserie chicken; P165 for a quarter chicken with rice or fries and three sauces), Lomo Saltado (P320), Ceviche de Pescado (P280), Arroz con Mariscos (P340), and Pie de Limon (P120)...basically, everything on the menu!
Perfect for: Dining with family or kicking back with friends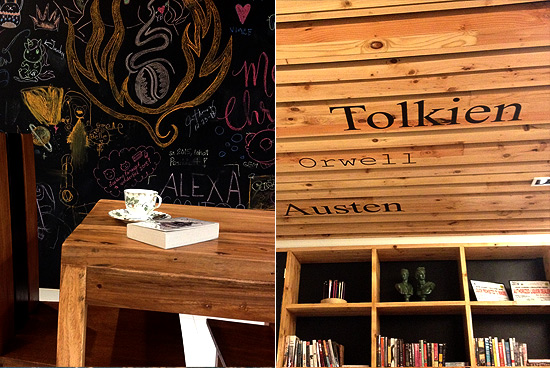 CONTINUE READING BELOW
Recommended Videos
Tweedle Book Café
106 B Scout Gandia
Contact: 0922-805-1688 
Open from 10 a.m. to 12 a.m. (Monday to Friday); 10 a.m. to 1 a.m. (Saturday and Sunday)
Bookworms will love the card-catalog inspired counter, literary "Easter eggs" in the décor, and cozy feel of this library, coffee shop, and wine bar. Browse the modestly sized but good selection of books while enjoying decadent beverages or even a fine meal (just don't get any food on the pages!). Don't forget to leave a note/doodle on the blackboard wall!
Must-tries: TCC Hot Chocolate in Salted Caramel (we're so happy to discover that Tweedle carries fine quality chocolate brand TCC from Cebu!)
ADVERTISEMENT - CONTINUE READING BELOW
Perfect for: Bibliophiles, coffee dates, cocktails, and inspiring conversation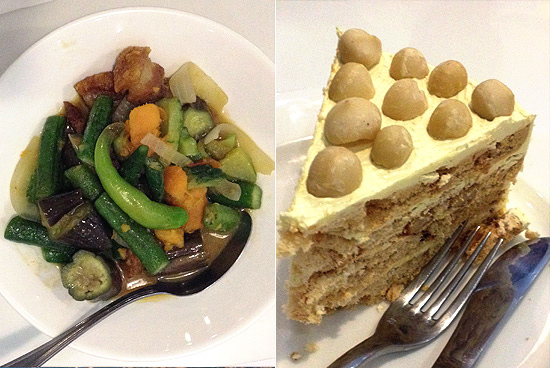 Victorino's Pinakbet ala Apo Lakay and Macadamia Sansrival
Victorino's
114 Scout Rallos Street corner 11th Jamboree
Contact: 922-8558
Open daily from 7 a.m. to 10 p.m.
Situated in a lovely home, this restaurant exudes rustic elegance and serves up classic Ilocano dishes alongside contemporary culinary treats and dessert by Chef Heny Sison. Bonus: Browse the market section to take home Vigan longganisa, bottled delicacies, and quaint and cozy Ilocos blankets (on display in a vintage aparador).
Must-tries: Ilocos Empanada (P95), Bagnet (P330), Poqui Poqui (P150), Pinakbet ala Apo Lakay (P250), Kinirog (P180) or Adobo Rice (P175), and finish off with native kakanin, a slice of Lemon Torte (P180) or Macadamia Sansrival (P175)
Perfect for: A leisurely lunch, balikbayan get-togethers, and special occasions (book a function room on the second floor!)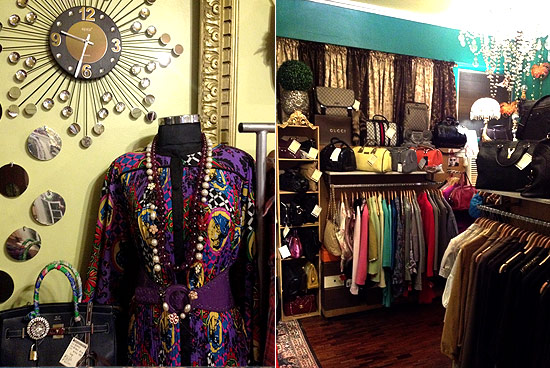 ADVERTISEMENT - CONTINUE READING BELOW
Uber Finds
42 Sergeant Esguerra corner Eugenio Lopez Avenue
Contact: 412-3444 
Open from 2 p.m. to 10 p.m. (Monday to Saturday) and 1 p.m. to 7 p.m. (Sunday)
Tucked away in an inconspicuous alley, this little shop is a favorite of the celebs and stylists from the nearby TV studios. It features a range of finds, from thrifted apparel for men and women to vintage pieces, but it's best known for their pre-loved designer bags (skip the repros and request for the authentic pieces kept in the back).
Perfect for: Bargain hunters, vintage lovers, and bagaholics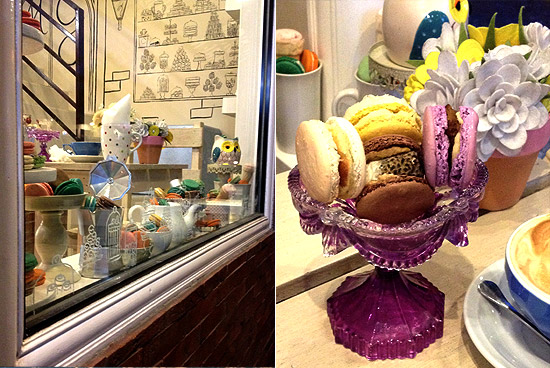 Mrs. Graham's Macaron Café
51c Scout Rallos Street
Contact: 351-5115
Open daily from 11 a.m. to 11 p.m.
The perfect pit-stop on lazy weekends, this dainty little café features inventive macarons, baked goods, TWG tea, and local coffee. Also on offer: arts and crafts supplies and knickknacks by ELTL Shop, Kneutral, Pour Vous Designs, Krafty Pirate, Hodge Podge, and Create by truelovefound, among others.
ADVERTISEMENT - CONTINUE READING BELOW
Must-tries: Bibingka and Salted Egg (P50), Inside-out S'Mores (P50), or Ensaymada (P50) Macarons
Perfect for: Your dessert fix, afternoon tea, and crafty sessions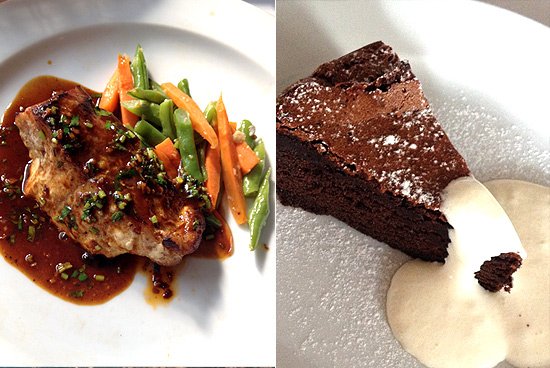 Uno's Baked Tamarind and Chili Rubbed Snapper with Lemongrass and Ginger Butter Sauce and famous Fallen Flourless Chocolate Cake
Uno
195 C Tomas Morato Avenue corner Scout Fuentebella
Contact: 374-0774
Open daily from 11 a.m. to 9:30 p.m.
This Italian-inspired, casual dining restaurant is practically an institution in Quezon City. With crisp tablecloths and spartan furnishings, the consistently good food (menu changes every so often) takes center stage, complemented by attentive service and a pleasantly quiet ambiance. Bring cash.
Must-tries: The specials of the day whipped up by the chef-owner, dessert (try the Fallen Flourless Chocolate Cake and delectably rich cheesecake), and take home their excellent homemade bread
Perfect for: Classy first dates, closing business deals, birthdays, and family functions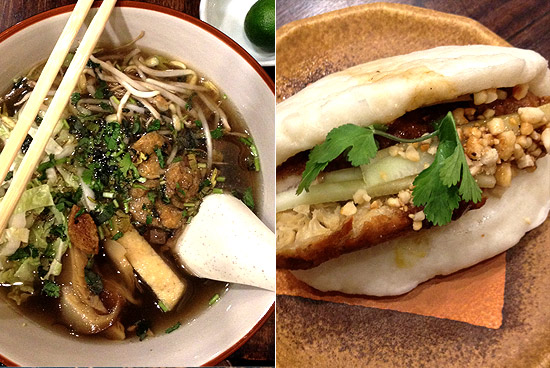 ADVERTISEMENT - CONTINUE READING BELOW
Pho and Kuapao
Wabi Sabi Noodle House and Vegetarian Grocery
POS Building (across Il Terrazzo), Scout Madriñan
Contact: 0918-962-2935
Open from 12 p.m. to 9 p.m. (Tuesday to Sunday)
Though Wabi-Sabi is not a Quezon City original (its predecessor is located at The Collective in Makati), it's a welcome addition to the neighborhood with its veggie Asian offerings and cozy hole-in-the-wall feel. (We wanted to see more of the "grocery" part, though.)
Must-tries: Banh Mi (P150/whole; P75/half) Viet Pho (P115), Kuapao (P65), Summer Rolls (P75), Lemongrass Iced Tea (P50)
Perfect for: A light snack, feel-good meals, and dates with your vegetarian friends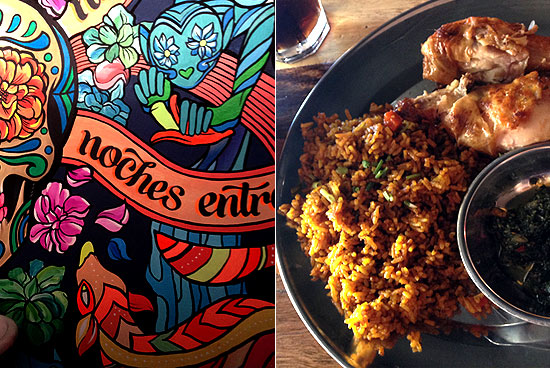 The famous mural and the famous roast chicken
Señor Pollo
F7 Building, Scout Rallos Street
Contact: 0917-833-1033
Open from 11:30 a..m. to 12 a.m. (Sunday to Thursday); 11:30 a.m. to 2 a.m. (Friday to Saturday)
Run by the same group behind El Chupacabra in Makati, this happening joint is a popular choice for a satisfying (but somewhat smoky) lunch, cocktail hour, and beyond. Plus the funky glow-in-the-dark Dia de los Muertos-themed bathroom mural makes it possibly the most-Instagrammed loo in Manila. Señor Pollo also has a second branch in Makati.
ADVERTISEMENT - CONTINUE READING BELOW
Must-tries: Señor Pollo Roast Chicken (P209/a quarter roast with choice of two tasty sides-Patatas Bravas and Mac and Cheese, please!), Quesadillas (P114 to P158), Margarita (P150), and the Dark Chocolate Mousse (P200)
Perfect for: Your weekday chicken fix (weekends can be challenging), or a fun hangout with friends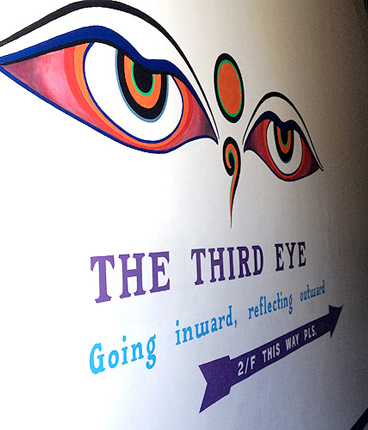 The Third Eye Wellness
F7 Building, Scout Rallos Street
Contact 351-5395; 0925-588-7535
Open from 11 a.m. to 9 p.m. (Tuesday to Sunday)
Finally, QC residents no longer have to travel to The Third Eye at the Fort for their Reiki and Theta Healing sessions. Apart from alternative healing modalities and services (prosperity meditation, past life regression, or Tarot card reading, anyone?), this serene sanctuary also features a gift shop (books, crystals) and a health café (Chakra Café). Plus it offers one of our 10 Must-try Spa Treatments in Manila.
Must-tries: Start your life detox with a Theta session and a cold-pressed, organic smoothie
ADVERTISEMENT - CONTINUE READING BELOW
Perfect for: Exploring the esoteric, balancing your chakras, eating healthy, and gaining a better understanding of the universe and yourself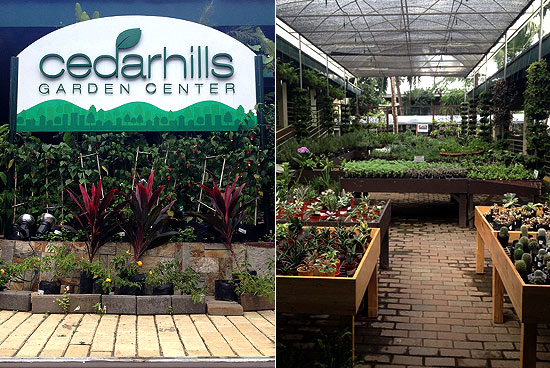 Cedar Hills Garden Center/Hillside Café and Juice Bar
57 Mother Ignacia Street
Contact: 9299310 
Open daily from 11 a.m. to 10 p.m.
Green thumbs will enjoy visiting Cedar Hills Garden Center, which features garden plants, herbs, flowers (including Waling orchids from Davao), seedlings, succulents, as well as garden tools, seeds, and fertilizer. Take a break from your garden shopping by popping into the adjacent Hillside Café and Juice bar, where you'll find delish veggie treats and fresh-pressed juices.
Perfect for: Nature lovers, gardening buffs, and health-conscious foodies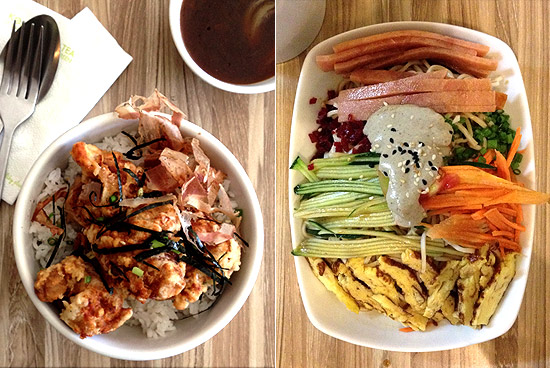 ADVERTISEMENT - CONTINUE READING BELOW
Karaage Don and Hiyashi Chukka
Kozui Green Tea
258 B Tomas Morato Avenue
Contact: 413-2705
Open from 9 a.m. to 12 a.m. (Sunday to Thursday); 9 a.m. to 1 a.m. (Friday to Saturday)
Aside from refreshing green tea drinks and sweets, this beloved QC spot serves up budget-friendly Japanese/Asian eats in a cheery space.
Must-tries: Roasted Matcha Latte (P100), Spicy Dan Dan Noodles (P180), Hiyashi Chukka (P180), and Special Takoyaki Balls (P120). Pick up some Kozui loose leaf tea blends to enjoy at home.
Perfect for: Tea time, group study dates, and when you're craving for a light, refreshing bite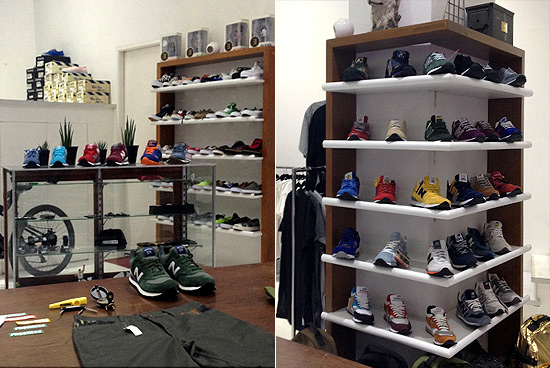 Progress
El Jardin del Presidente Condominium, 41 Sergeant Esguerra Avenue corner Scout Bayoran Street (across Livestock)
www.prgrss.com
Get your funk on with logo tees, long-sleeved polos, and limited edition collabs by Manila-based streetwear brand Progress, New Balance kicks for men and women, and a smattering of accessories for the QC urbanite.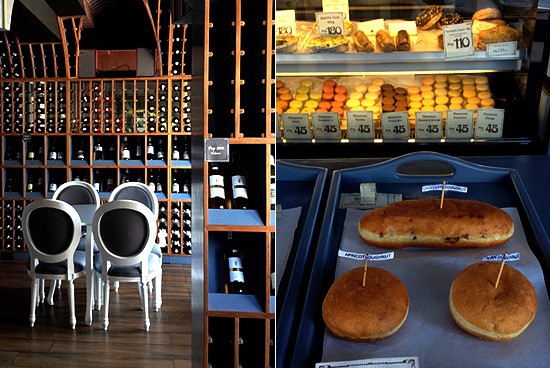 ADVERTISEMENT - CONTINUE READING BELOW
A sampling of treats
La Vie Parisienne
G/F Rembrandt Hotel, 26 Tomas Morato Extension
Contact: 949-9457 
Open daily from 7 a.m. to 2 a.m.
This charming, low-key QC discovery (it's originally from Cebu) is a French bakery, deli, and wine library. Seating is limited in this cozy space (best to make a reservation on weekends), and dining right in the wine cellar makes you feel like you're enjoying a delicious secret rendezvous. La Vie Parisienne is also included in our Top 10 Places for Afternoon Tea.
Must-tries: Deli items flown in from France, and the wine, of course!
Perfect for: Croissant breakfasts, coffee dates, and after-dinner drinks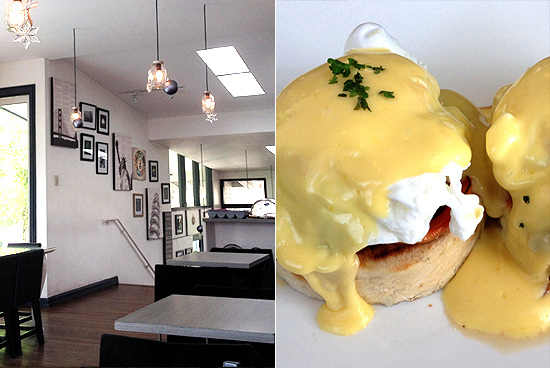 LoLa's house-inspired setup and Tapa Benedict
L?La Café + Bar
99 Scout Lozano Street
Contact: 501-2620
Open from 11 a.m. to 11 p.m. (Tuesday to Thursday); 11 a.m. to 1 a.m. (Friday to Satuday); and 11 a.m. to 10 p.m. (Sunday)
The chic and charming interiors, comfort food, and cozy feel make this sun-dappled, split-level space a lovely dining venue.
ADVERTISEMENT - CONTINUE READING BELOW
Must-tries: Beef Salpicao (P320), Veggie Hummus (P150), Tapa Benedict (P350), Chicken Fajitas (P260), and Banoffee Pie (P150)
Perfect for: Leisurely dinners, barkada get-togethers, and drinks with friends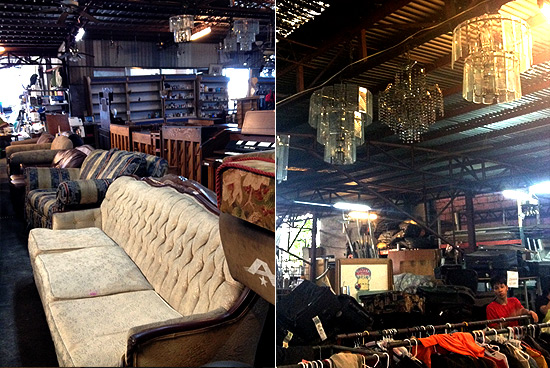 MSM American Surplus
809 EDSA corner Scout Borromeo
Contact: 929-9221
If you see diamonds in the rough in other people's junk, you'll love rummaging through the piles and piles of furniture, décor, clothes, children's toys, bikes, electronics and miscellaneous knickknacks at this warehouse-sized second-hand shop. FYI: They take credit cards.
Perfect for: Thrift store junkies, ukay fans, repurposing projects, and furnishing your home/movie set on a budget
Special mentions:
There's obviously not enough space to list all the gems in Quezon City, but in case you're doing some major food-tripping, you might also want to check out: delish Thai cuisine at the chic Thai Pan, Korean goodness at Chung Mi Rae, Taiwanese hand-pulled noodles at Kanzhu, satisfying burgers (try the Truffle Burger!) at Backyard Burgers across ABS-CBN, and "couture cocktails" at Poppins.
ADVERTISEMENT - CONTINUE READING BELOW
Also read: Neighborhood Guide: Tomas Morato and Timog
Share this story with your friends!
---
Help us make Spot.ph better!
Take the short survey
Load More Stories