The Wander List: 10 Places That You Must See This Year
So many long weekends in 2015! Have you booked your trips yet?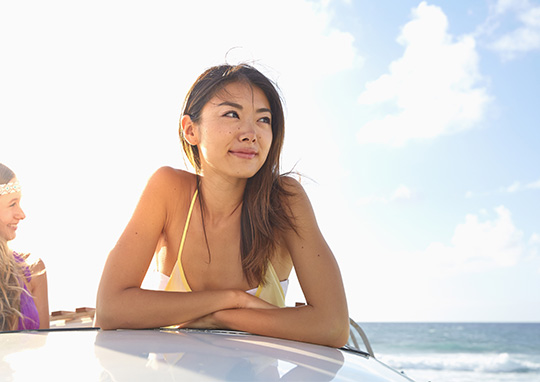 Whether you're ticking off destinations in your travel bucket list, need to get out of the city for much-needed me time, or just want to make the most of this year's long weekends, there are numerous destinations waiting to host your next big adventure.

Unsure where to jet off to? Here, 10 places for every kind of vacation and traveler:
1. Batanes
Whether you're traveling with a group of friends or going solo, Batanes will not disappoint: the picturesque Instagram-worthy views, the laidback country living, and the absence of crowds make you feel like Manila is another planet altogether. Choose to bike around the islands, venture to the beach in Basco, or just wander aimlessly without an itinerary and marvel at the pastureland- the "Marlboro country" will charm you with its serenity.
2. Palawan
Skip Laboracay altogether and opt for a more laid-back, just-the-sea-and-me island experience: Palawan's crystal blue waters, diving sites, and serene silence will lure you in.
3. Davao
Davao is a destination for the nature-lover: there's a beach less than an hour away from the city, nature parks for ziplining and camping, and strong waters for river rafting.  Never seen an actual Philippine eagle? Now is the time to see one!
4. Siem Reap, Cambodia
If you were ever inspired by Lara Croft to visit the Angkor region, a trip to Siem Reap is definitely in order. Siem Reap is the jump off point for the UNESCO World Heritage site, Angkor Wat, and other numerous temples. Siem Reap has become host to charming hotels and dining places for every budget and travel inclination.
ADVERTISEMENT - CONTINUE READING BELOW
5. Myanmar
Now is the perfect time to hie off to Myanmar now that it has opened its doors to international visitors. Take the road less traveled and soak in the culture: the gilded pagodas, the absence of fastfood chains and Starbucks outposts, and endless rice fields offer a different perspective of Asia.
6. South Korea
It is possible to fill one's itinerary to the brim when planning a trip to South Korea-there is just simply too much to see and do! Interested in culture? You won't run out of temples to visit. History buff? Be adventurous and go on a tour to see the North Korean and South Korean border, Panmunjom: the trip to the demilitarized zone is worth it. A beauty product fanatic? You will be spoilt for choice in Myeongdong with its numerous shops. Want to try skiing or snowboarding? Plan a trip and head to the slopes of Mt. Seorak when temperatures drop and book a lesson or two.
CONTINUE READING BELOW
Recommended Videos
7. Japan
Been longing to see the Sakura (cherry blossom trees)? Spot a real-life geisha? Or walk the famous Shibuya Crossing? Japan is home to a bustling metropolis, culture steeped in tradition, and a seemingly futuristic world. One more reason to go: visitors can even build a whole itinerary around Japanese cuisine!
8. Australia
If you want a taste of everything-mountains, beaches, reefs, and hip cities-Australia has it. The more difficult decision is choosing which city to wander in: Sydney combines the beach life with hip boutiques and watering holes while Melbourne will please art lovers.
ADVERTISEMENT - CONTINUE READING BELOW
9. Los Angeles, United States
A trip to the US is like a choose-your-own-adventure story-every city and state offers a different experience. But for big fans of Hollywood, bright lights, and shopping, set your sights on Los Angeles (and the possibility of seeing your fave movie actor!). Rodeo Drive-shopping may be a tad too indulgent for your budget, but it's still fun to walk around and soak in the sights. A foodie? Don't leave without trying out a few Bourdain-approved spots such as Tacos Villa Corona.
10. Madrid, Spain
Fancy going to the places our heroes visited during their stint in Spain? Or looking forward to see the museums and parks of Spain's beating heart? While you're at it, satisfy your palate with traditional Spanish Paella, your morbid curiosity with a bullfighting match and your spirituality with a visit to Spain's old gothic cathedrals.
Need help to plan your next vacation? Drop by The Great BDO Travel Sale from January 30 to February 1 at SM Aura Premier's SMX Function Rooms 1 & 2. Both international and domestic travel options will be offered, complemented by an extensive range of travel requisites-complete tour packages, cruise options, visa application and processing assistance and other services offered by BDO's partner airlines and travel agencies. Exclusive discounts and deals await BDO Rewards, Debit and Credit Cardholders.
To know more details about this exciting travel offer, click here.

ADVERTISEMENT - CONTINUE READING BELOW
Share this story with your friends!
---
Help us make Spot.ph better!
Take the short survey
Load More Stories