Weekend Escape: Sea Breeze Café at Boracay Regency
This buffet will redefine your beach body-and you'll love it.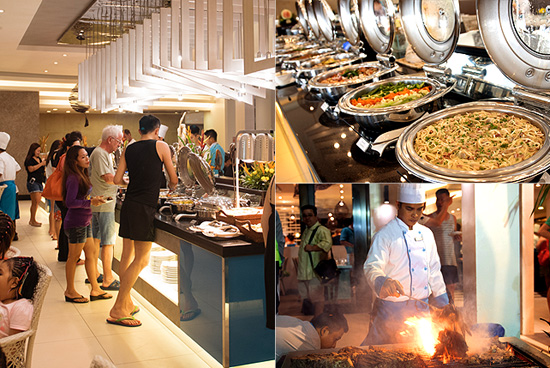 (SPOT.ph) There are two obvious lures to going to Boracay: the gentle murmur of crystal-clear turquoise waters and the soft squish of powder-fine sand under your feet. As many other international lists would tell you, the Aklanon island is a prime spot for a relaxing getaway where you leave the pressures of the present and just...vacation (yes, a verb)-a significant part of which is eating.
Favorites have been developed throughout the years: smoothies in plastic bottles, Spanish nooks deep in the town, that chef-backed nightclub. But along the beachfront stretch of restaurants and stalls is a space that attracts a little extra attention, either from the chefs dancing fervently to K-Pop hits (choreography to "Gangnam Style" and "Nobody But You") by the hour or the tornado of smoke that's threatening to consume any passerby in meat-scented fog.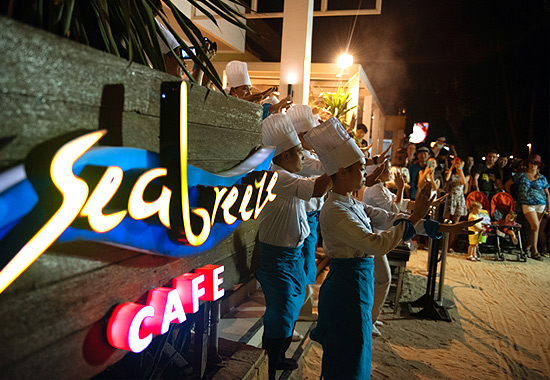 ADVERTISEMENT - CONTINUE READING BELOW
You get a little theater, too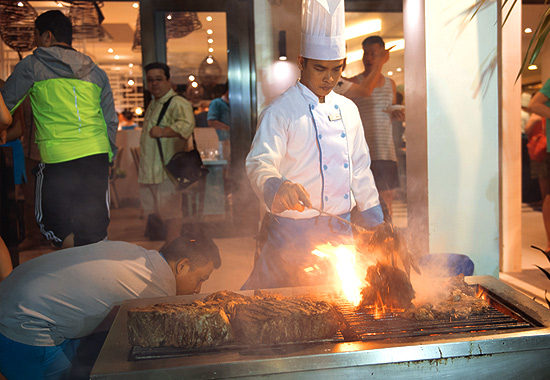 The prized steaks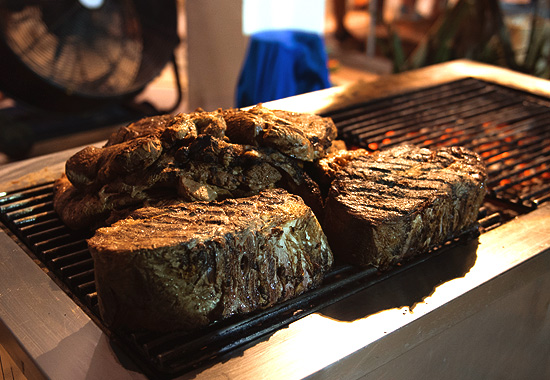 ADVERTISEMENT - CONTINUE READING BELOW
We should have attempted to get one.
The barbecue that fronts Sea Breeze Café, Boracay Regency's signature buffet restaurant and only one from their wide selection, is guilty of this delicious smoke-belching. The menu and the venue have recently received an upgrade, but the steaks are staple. Inches-thick, two-pound beef chucks await their turn for a kiss on the grill-a juicy medium-rare result perfect for this leaner type of cut. It's almost as if the smoke curls in the shape of a finger beckoning onlookers to come over.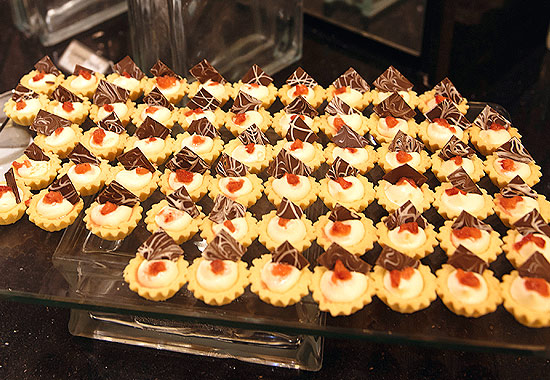 ADVERTISEMENT - CONTINUE READING BELOW
Nibblers for a taste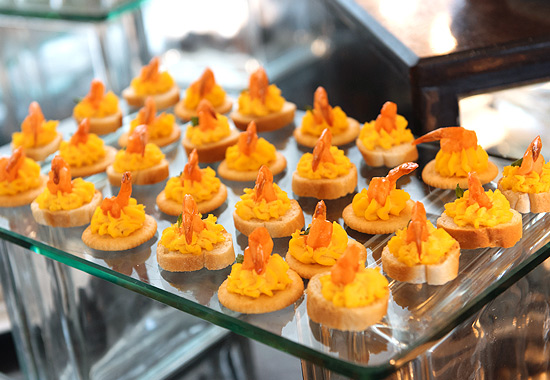 Hors d'oeuvres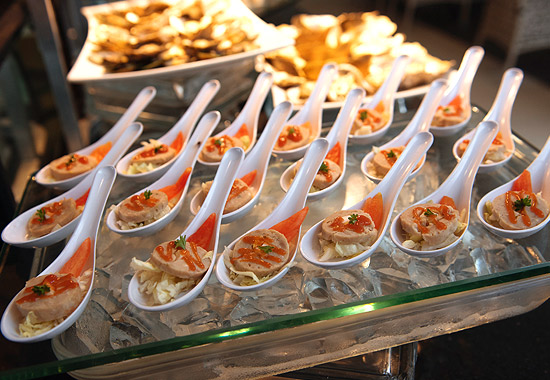 ADVERTISEMENT - CONTINUE READING BELOW
Actually pretty hefty for a bite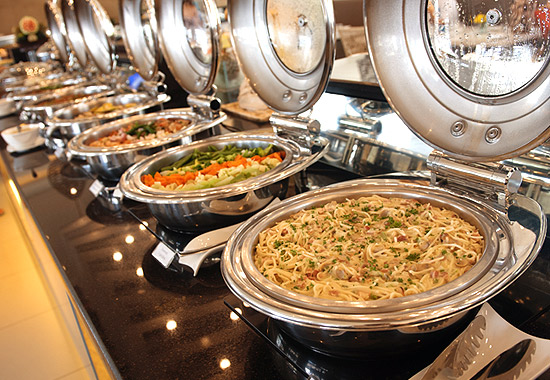 International favorites
This is only a preview, however, to the actual international selection. Boracay Regency has the biggest buffet restaurant on the island, with a total seating capacity of nearly 500 (including the main dining hall, poolside, and al fresco). You know that means free-flowing grub, right? The food is anchored in a double-sided row that extends to an area for desserts and another as a live station. According to Dindo Salazar, Boracay Regency's resort manager, the menu has a seven-day cycle. One day, it was a merry mix of fish ceviche, grilled chicken tandoori, and sushi-looking tidbits in soup spoons. Another time, choices were decidedly Filipino in flavor: kare-kare, kalderetang kambing, and our favorite kamote preened to a yummy "fried sweet potato."
ADVERTISEMENT - CONTINUE READING BELOW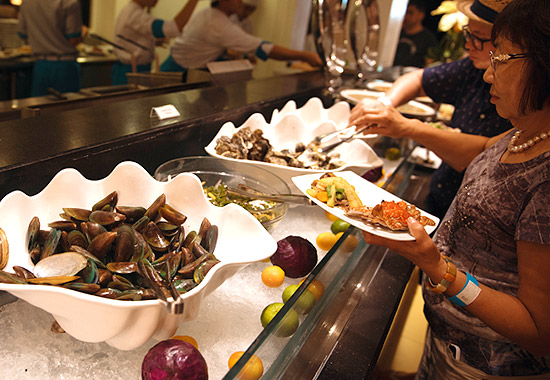 The buffet is open to everyone.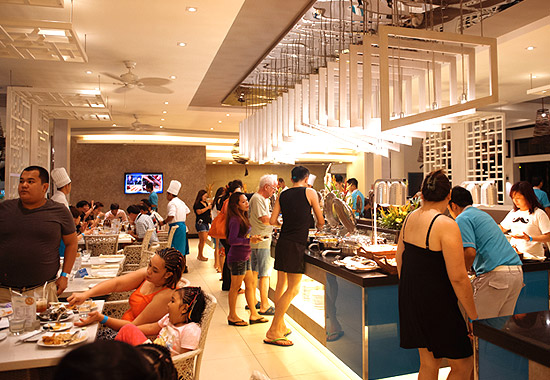 ADVERTISEMENT - CONTINUE READING BELOW
It serves breakfast, lunch, and dinner.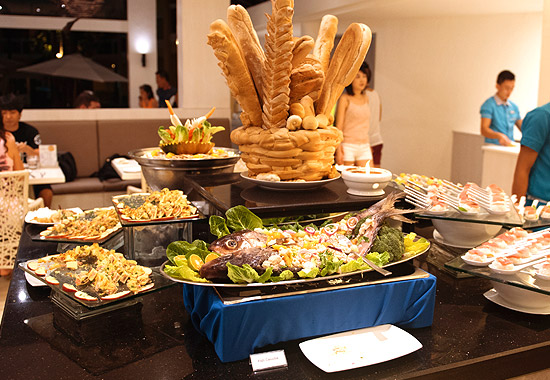 Fish section
For lunch, at one point, the soup pot was filled with something as universal as beef and cabbage soup (which is infinitely more delicious than it sounds), only to be refilled come dinner time by a lip-smacking pork sinigang sa sampalok that made foreign tourists do a double buffet run. Both soups, by the way, are generously flavored and chock-full of goodies, including substantial bits of ground meat for the beef and cabbage, and chunks of pork belly and vegetables for the sinigang.
ADVERTISEMENT - CONTINUE READING BELOW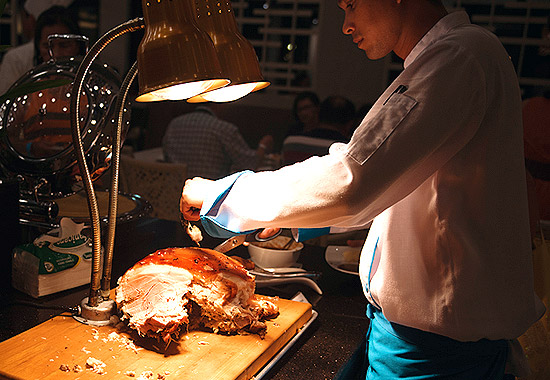 The lechon
The pressure was on when lechon was presented on Friday; a weekend reward of glistening pork glory in ruby-orange that melted like butter in the mouth. How could one top this the next day? The answer, it turned out, was lechon kawali. A Filipino tradition that's impeccably roasted into layers of bubbly brown skin, dissolving threads of fat, and the tenderest pork. To top it off, Sea Breeze displayed it as a two-foot edifice-sheets of belly held up by skewers. This mouthwatering tower is apparently a restaurant that tries to outdo itself every time.
ADVERTISEMENT - CONTINUE READING BELOW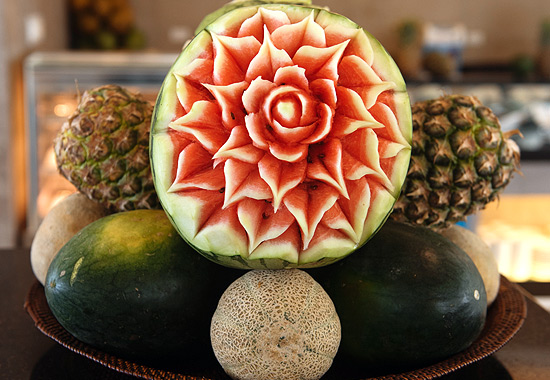 Watermelon Art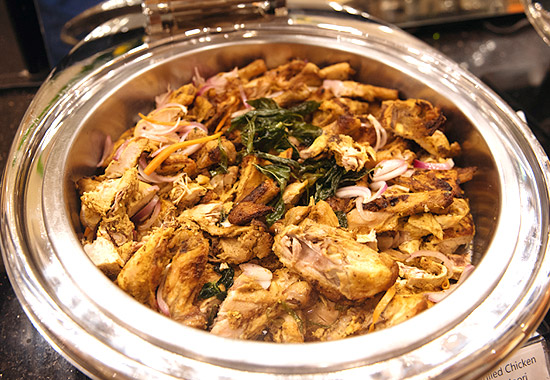 ADVERTISEMENT - CONTINUE READING BELOW
Chicken Tandoori
But the rest of the food-though in more humble places on the buffet table-are simple sensations in their own right. The pan-fried fish in Thai lemon sauce is positively zingy (though very bare next to roast pork), the assortment of seafood braised in coconut milk stellar (pick out the squid if no one's looking), and even the modest buttered vegetables exhibit enough flair to compete with the other dishes.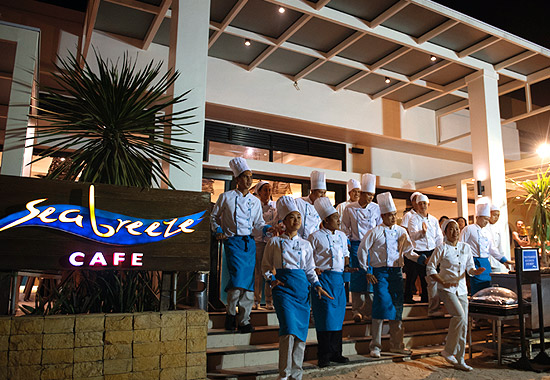 ADVERTISEMENT - CONTINUE READING BELOW
Dancing cooks
But listen past your merry chewing to the band singing by the beach. "Third Crew," said Mr. Dindo-though there were five of them, four ladies and a man who manned the board, supplied back-up vocals, and sang a solo song or two. They belt occasional karaoke hits and some remixed K-Pop, but they're reliable with Top 40 tunes from Ed Sheeran to Maroon 5 to Taylor Swift. They were crooning ABBA's "Chiquitita" (we didn't hear "Dancing Queen") before swiftly transitioning to Nicki Minaj's fast-paced "Anaconda" without missing a beat. Celine Dion was followed by Ariana Grande, and Journey by Sia.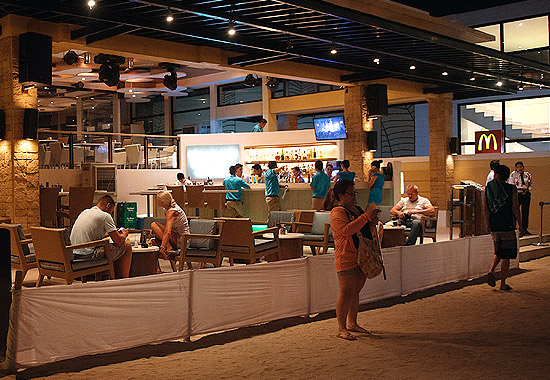 ADVERTISEMENT - CONTINUE READING BELOW
Wave Bar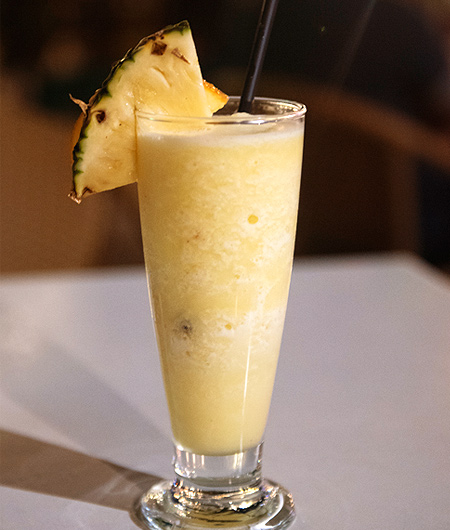 Non-alcoholic Perfect Eight Smoothie (P200)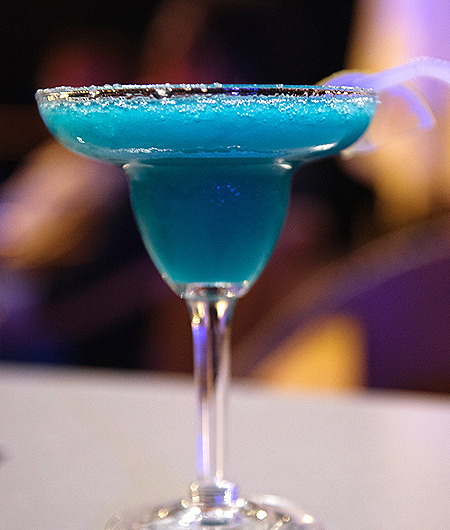 ADVERTISEMENT - CONTINUE READING BELOW
Frozen Margarita (P220)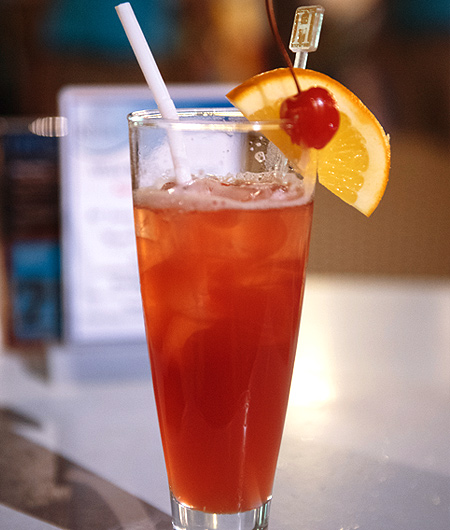 James Bond (P200)
Their renditions aren't altered covers that leave you looking at your roast chicken wondering whether you liked the version or not. Third Crew goes for a more direct approach, and they do it well-enough that you'll want to move next door to Boracay Regency's Wave just to listen for more over the bar's signature Frozen Margarita (P220).
ADVERTISEMENT - CONTINUE READING BELOW
Buffet and bikini don't seem to mix well, but you're on vacation. If you must jeopardize that beach bod, you might as well do it where it counts. Sea Breeze, perhaps?
Breakfast at Sea Breeze Café is priced at P400+, lunch is at P450, and dinner is at P620. Sea Breeze Café is at Boracay Regency, Station 2, Boracay, Aklan. For inquiries, contact (36) 288-6111 to 17 or e-mail rsvn@boracayregency.com. The restaurant is open to the public.
CONTINUE READING BELOW
Recommended Videos
Share this story with your friends!
---
Help us make Spot.ph better!
Take the short survey
Load More Stories