15 Must-Visit Places in Maginhawa Aside From the Restaurants
There's more to the neighborhood than food!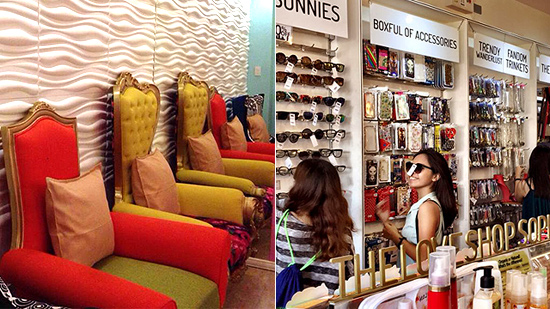 (SPOT.ph) Maginhawa is often associated with food parks, concept cafes, and cheap but super sulit food. With more people flocking to this lively street, other businesses have also taken the opportunity to take a slice of the pie that this place offers. But once you've had your fill of all the food in the neighborhood, you might want to unwind or even do something out of the ordinary (like getting a tattoo, perhaps?).
Here are some of the non-food establishments you need to check out on your next Maginhawa adventure.
Arts and Culture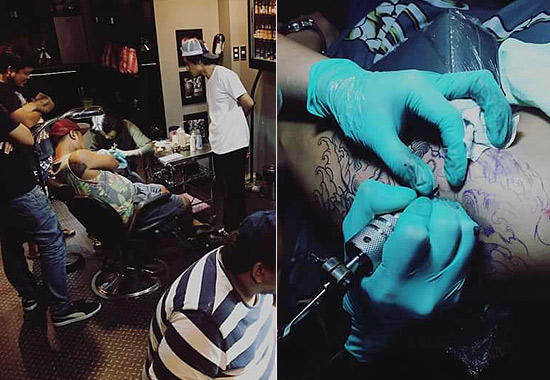 55 Tinta
2/F Luisa 2 Building, 107 Maginhawa Street
Contact: 435-3383; 0908-873-3871; 55tinta@gmail.com
FB: facebook.com/55TintaPilipinas
Open from 1 p.m. to 10 p.m. (Tuesday to Saturday) and 1 p.m. to 8 p.m. (Sunday)
Wondering where to get your very first tattoo? Or are you an ink enthusiast who wants to get a new tat? 55 Tinta may be the place for you. Known for their artistic designs, this tattoo shop is well-known among connoisseurs and meticulous patrons. A black and gray tat that's less than three inches and limited to simple text or line work will cost you about P2,000; for colored ones of the same specifications, it's P3,000. A lot of musicians are actually regular patrons of this shop so it's not unusual to bump into your favorite artist while getting your tattoo.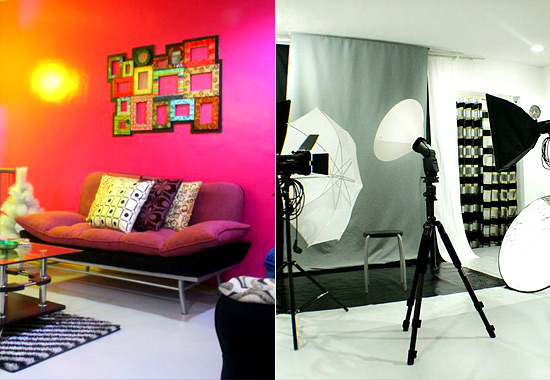 Kiaroscuro House of Art and Photography
Unit D, 63 Maginhawa Street
Contact: 343-8252, 0925-589-5559, 0922-847-6223; kiaroscuro_2012@yahoo.com
Website: kiaroscurophotography.weebly.com
FB: facebook.com/kiaroscuro.online
Open from 9 a.m. to 9 p.m. (Monday to Sunday)
ADVERTISEMENT - CONTINUE READING BELOW
Kiaroscuro is a home-based art business that offers art and music workshops for kids and adults. Their workshops range from P3,300 to P4,500, depending on the number of sessions. They also have an art gallery that is open to the public for professional and aspiring artists. Their photography studio located at the topmost unit also offers photoshoot packages and services, including graphic design and multimedia solutions. Rates for photo shoots range from P450 to P500 per hour and video shoot rates are P500 to P550 per hour.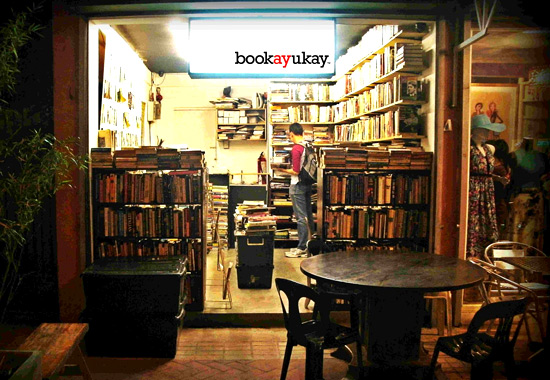 Bookay Ukay
78 Maginhawa Street
Contact: 0917-647-4956; 0905-428-3125; bookayukay@gmail.com
FB: facebook.com/bookayukay
Open from 10 a.m. to 11 p.m. (Monday to Sunday)
This is a book tiangge at its best! You can find a wide variety of books here, from foreign classics, to bestsellers, to our very own local titles. With a homey yet artistic façade, Bookay Ukay also serves as a literary hub for young independent publishers who want their self-published works to find the right market.
Usually, if they have a supply of "new" books, the titles will be posted on their Facebook page. If you have an old book sitting on your shelf, you can also sell or trade it here! Too busy? They also do deliveries for an additional P60 to P90 depending on your location. Book prices can go as low as P100, so it's perfect for book lovers who are on a tight budget.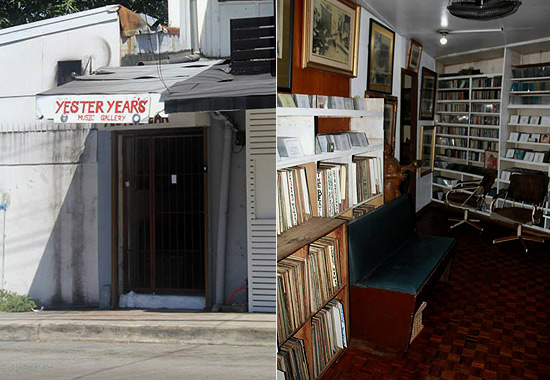 ADVERTISEMENT - CONTINUE READING BELOW
Yesteryears Music Gallery and Vinyl Store
87 Maginhawa Street corner Magiting Street
Don't judge its bodega-looking façade. Not only will you find sculptures made by the likes of Guillermo Tolentino, but you can also explore a wide array of OPM vinyls and cassette tapes of classics, including releases by the country's first recording artist, Maria Carpena. Entrance is free and you can also listen to the records! This place is definitely a haven for music history students and those on the hunt for vintage records. And hey, why not bring your date for a different kind of music trip?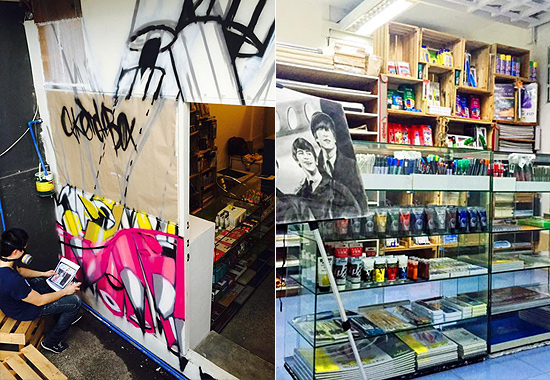 Sketchbox.ph
120 Maginhawa Street
Contact: 0917-501-2956; sketchbox@yahoo.com
Website: sketchboxph.com
FB: facebook.com/SketchBoxph-721685304591871
Open from 8 a.m. to 8 p.m. (Monday to Friday) and 8 a.m. to 4 p.m. (Saturday)
Fans of Sketchbox in the North no longer need to trek to Malate to buy art supplies. Their Maginahawa shop sells acrylics, oils, water colors, animation papers, Copic markers, and more! They sell calligraphy pens for as low as P56, artist brushes for P50, and Copic multiliners from P300 to P1,150. You can also order online and check their stock via their Facebook page. They deliver for an additional P120 to P200. This place is perfect for art students and enthusiasts, or those who want to take up sketching, doodling, or calligraphy.
Beauty and Relaxation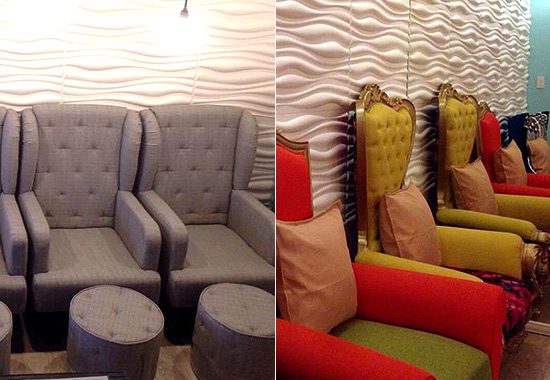 Madame Flamingo Nail Boutique
164-B Maginhawa Street
Contact: 0927-672-8363; 994-2810
FB: facebook.com/madameflamingonailboutique
Open from 1:30 p.m. to 10 p.m. (Tuesday to Saturday)
ADVERTISEMENT - CONTINUE READING BELOW
It's all fun and games until someone breaks a nail but Madame Flamingo believes that the fun shouldn't stop even then. Their manicures cost P140 and pedicures are P160. Their Greater Flamingo Package, which includes a Foot Spa Peppermint treatment plus manicure and pedicure costs P600, while the Foot Spa for Callus treatment plus manicure and pedicure costs P650. They take pride in their Madame Flamingo Signature Foot Spa, which relaxes tired legs and feet but also makes sure it's pretty and polished for the next night out. It's an eight-step foot spa that includes a soak, scrub, mask, cleanse, oil, massage, butter, and mist. All of that for only P350 to P400! Make sure to follow their social media pages for regular promos.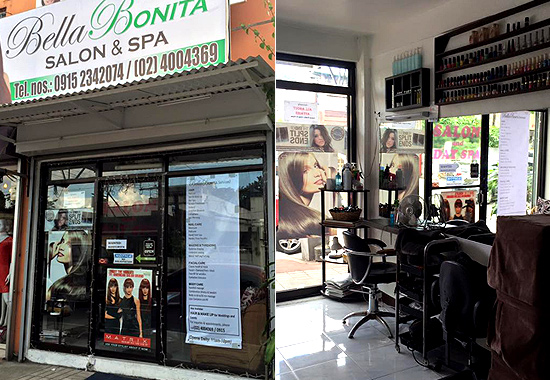 BellaBonita Salon and Spa
78 Maginhawa Street
Contact: 287-2811; amto1980@gmail.com
FB: facebook.com/bellabonitasalonspa
Open from 11 a.m. to 10 p.m. (Monday to Sunday)
If you spent the whole day walking along Maginhawa and you feel like getting some pampering or massage to soothe your muscles, BellaBonita is one of the many salons and spas you can visit. They offer almost everything, from hair and nails to a pampering massage and other body treatments. They're a one-stop shop for relaxation and beauty. Prices are very affordable, starting at P50 for nail care, P100 for hair, and P150 for facial care. Their massage treatments start at P250.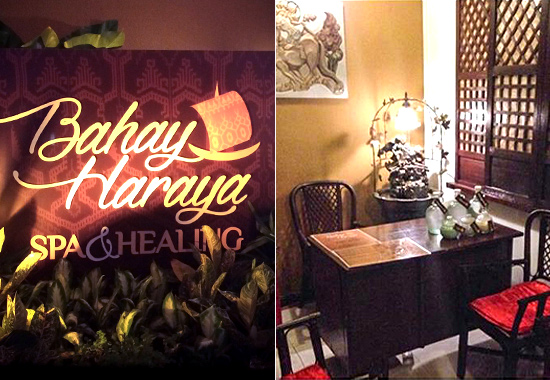 Bahay Haraya Spa and Healing
ADVERTISEMENT - CONTINUE READING BELOW
63-A Maginhawa Street
Contact: 0916-711-7889; bahayharaya@gmail.com
Website: bahayharaya.com
FB: facebook.com/bahayharaya
Open from 3 p.m. to 12 a.m. (Monday to Friday) and 12 p.m. to 12 a.m. (Saturday to Sunday)
Want to try a traditional kind of massage with a little twist? Bahay Haraya is here to help heal your body from the stress of city life. Using the traditional chiropractic technic called hilot, you can enjoy the feeling of relaxing out of town in the middle of the city. Prices for their hilot start at P350. This is perfect for professionals working or living nearby who may want to rejuvenate and end their day with a bit of relaxation.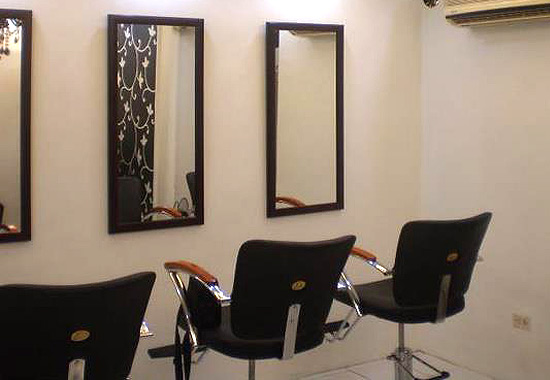 Strictly Sonny
81 Maginhawa Street
Contact: 0939-297-2103; strictlysonny@yahoo.com
FB: facebook.com/Strictly-Sonny-193619720668312
Open from 10 a.m. to 10 p.m. (Monday to Sunday)
If you need to get a trim, drop by Strictly Sonny and ask for the latest hairstyle. They offer different kinds of treatments for men and women depending on your needs, with haircuts starting at P100. Most of their customers are actually students who need to glam up for a night out or for important occasions like their graduation or debuts.
Shopping and Accessories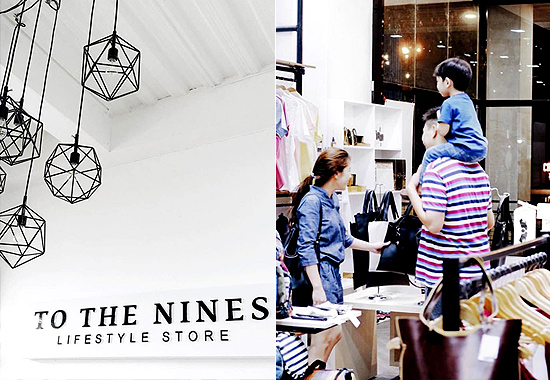 To The Nines
80 Maginhawa Street
Contact: 0995-096-2940, 0928-146-0975; wearetothenines@gmail.com
FB: facebook.com/tothenines.ph
Open from 1 p.m. to 10 p.m. (Tuesday to Sunday)
Love fashion and all things local? Big-name stores are not the only ones supporting local-made clothes and accessories. To The Nines is a clothing and accessories store that sells proudly Pinoy tees, onesies, leather goods, temporary tattoos, jackets, sandals, sunglasses, and more. They also have chic swimsuit pairs for just P1,194 to P1,400! You can also order via SMS and have your items shipped straight to your doorstep. Just make sure to follow their social media pages for delivery instructions and style inspirations.
ADVERTISEMENT - CONTINUE READING BELOW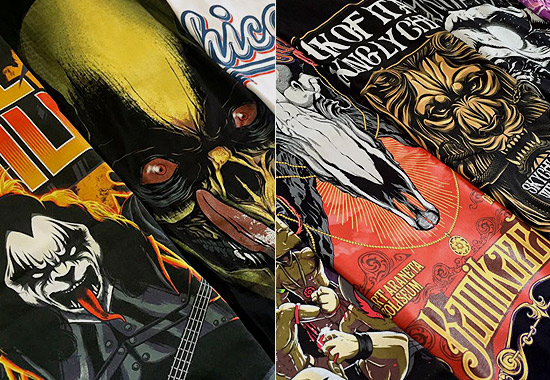 Evil Genius Clothing Co.
107 Maginhawa Street
Contact: evilgeniuscc@gmail.com
FB: facebook.com/evilgeniusmadcreations
IG: instagram.com/evilgeniusclothingco
Open from 12 p.m. to 8 p.m. (Monday to Saturday)
Want to wear something that your favourite local artist is wearing? Or do you want to show your support for your favorite local band by wearing their band shirt? Evil Genius has got you covered with their variety of local band shirts. They always come out with new designs and post it on their Facebook and Instagram pages. Their edgy shirts usually sell for around P600 and their tees for P500. This shop is perfect for music lovers, especially those who are immersed in the local indie music scene.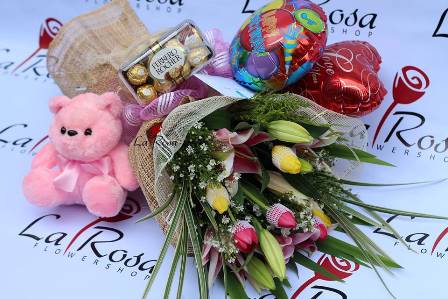 La Rosa Flower Shop
88 Maginhawa Street
Contact: 0906-269-1504, 0999-705-3531
Website: larosaflowershop.com
FB: facebook.com/larosaflowershop
Open 24 hours
La Rosa Flower Shop claims to be one of the industry's pioneers in delivering fresh and well-arranged flowers for all occasions. They also have a wide range of flowers, from roses, gerberas, carnations, tulips, lillies, and even tropical flowers. Their bouquet of flowers range from P1,800 to P5,500. You can even have add-ons like balloons, chocolates, or stuffed toys. Needless to say, this store's pretty popular during Valentines.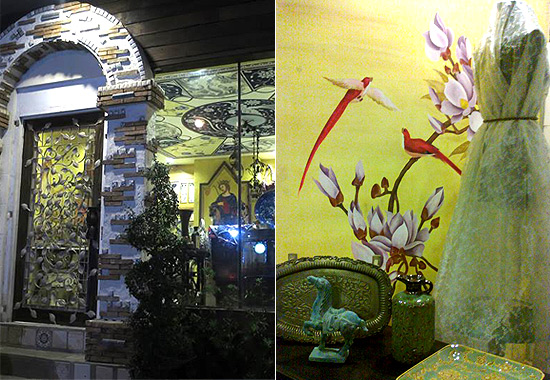 When Uan Met Sally
39-B Maginhawa Street
Contact: 434-2056; 0916-527-8105
FB: facebook.com/WhenUanMetSally
Open from 11 a.m. to 11 p.m. (Tuesday to Sunday)
This art store is filled with vintage finds, one-of-a-kind jewelry, and cool clothes. They also have a café inside the store so you don't have to go hungry while checking out their items. This whimsical store describes itself as an "artstory" where you can find that even their displays have a story to tell. For example, their backyard has a bottle collection made into a creative piece. Their ceiling, on the other hand, is decorated with an installation of a phoenix and lights. 
ADVERTISEMENT - CONTINUE READING BELOW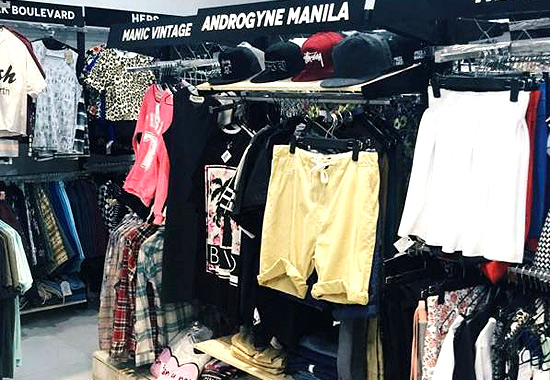 Zaril
97 Maginhawa Street
Contact: 431-2161
Website: zaril.net
FB: facebook.com/zaril.lifestyle
Open from 12 p.m. to 9 p.m. (Monday to Sunday)
Zaril is a lifestyle concept store that aims to collaborate with youth-oriented brands by giving these labels a physical space wherein they can showcase their products. Going inside the store gives you a taste of modern culture via their wide array of products from emerging online stores. They offer makeup and clothes, gadgets and decor, and even food! The rates are student-friendly as well. One of their retailers, Cosmic Concept, sells shirts for around P250 to P350. For food, they stuff like Trader Joe's Inner Bean and Inner Peas for P150 each.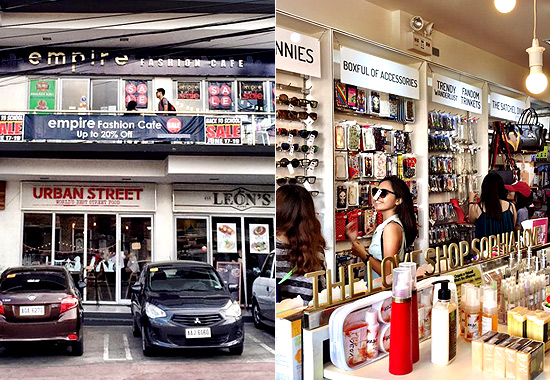 Empire Fashion Café 2.0
141 Maginhawa Street
Contact 954-3811; joinus@empirefashioncafe.com
FB: facebook.com/empirefashioncafe
Open from 11 a.m. to 10 p.m. (Monday to Thursday) and 11 a.m. to 10:30 p.m. (Saturday and Sunday)
If you've ever experienced shopping at a mall during a sale, then you know how chaotic and stressful it can get. This café in Maginhawa just provided an alternative. Like Zaril, Empire Fashion Café's got a wide variety of clothes and dresses and they also have some novelty items. They host different brands like Hapee Jonee swimwear (P280 to P1,400), Clothes Rock tees and streetwear (P250 to P400), High Five Brands' Bangkok street fashion (P350 to P450), Deity Couture (P188 to P999), The Lush Closet's dresses and pullovers (P199 to P399), Etsy Manila's locally made ladies' shoes (P699 to P1,299), Cordes and Totes' drawstring bags (P270 to P550), and so much more!
ADVERTISEMENT - CONTINUE READING BELOW
Load More Stories