10 Hangout-Friendly Green Spaces in Manila
SPOT.ph goes green-minded as we take a stroll through 10 city parks!
(SPOT.ph) First, let's state the obvious: Manila is not a city of parks.
Aside from Rizal Park and the Quezon Memorial Circle, public greenery is hard to find in our concretized metro. Manila is not New York, or Munich, or Melbourne. There's not much incentive, it seems, to create free, open-to-all, urban oases-not when it could be paved into a high-rise or another parking lot, anyway. So we commend these developers and planners-both public and private-for fighting the good fight to save small snatches of our city from the encroaching asphalt.
We came out with a list of parks three years ago, but this year, we've decided to update it with some new spaces, or overlooked gems. Naturally, we won't include any of the parks we've already featured. The parks in this list are also completely public-no parks with entrance fees, or parks inside exclusive gated communities.
On to our list!
Greenfield District Park
Location: United St. (beside MRT 3 Shaw Station), Mandaluyong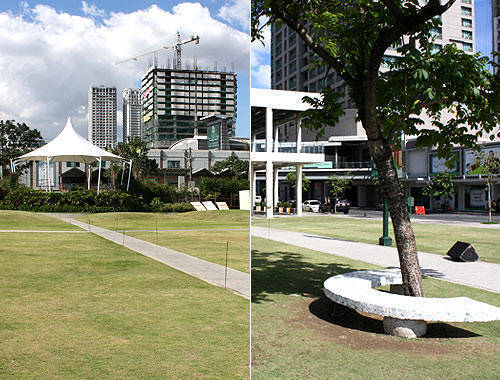 ADVERTISEMENT - CONTINUE READING BELOW
So is this where Greenfield gets its name from? The open, grassy space in Greenfield District isn't so much a park as a very big, very green lawn, and it serves as the center hub of that fast-growing commercial center just off the MRT's Shaw Station. The grass is roped off (even on a Saturday), but nobody seems to mind if you jump the barrier.
There are hardly any trees in Greenfield District, so on hot days, it can get very punishing to hang out here. There's a large, elevated pavilion on one end, but it doesn't seem to be accessible, and there are very few trees to provide shade. The mood is also somewhat ruined by the hip-hop music piped in from the nearby restos. Still, when the day is cool, sitting down on the lush, well-maintained grass can be quite relaxing.
CONTINUE READING BELOW
Recommended Videos
Balara Filters Park
Location: Along Katipunan Ave., Quezon City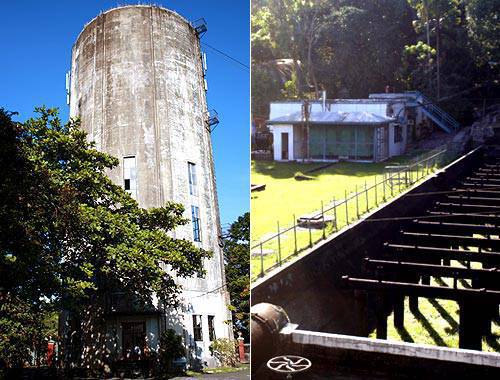 ADVERTISEMENT - CONTINUE READING BELOW
One of the city's oldest green spaces, walking along the grounds of Balara Filters Park is an exercise in nostalgia for a city long gone. Take, for example, the park's Anonas Amphitheater: once a complete outdoor theater, complete with orchestra pit, movie projection shed, and band stage shaped like a giant shell, the Amphitheater is now all overgrown and falling into ruin (and padlocked behind a gate, when we last visited).
Still, recent initiatives by the city government and MWSS have tried to rehabilitate a park already immortalized in old postwar postcards. Picnic grounds overlook a reservoir, the old water tower makes for some great photo backdrops, and the downhill walk to the pool area is very picturesque. Even the aging, dilapidated condition of the classic A. Gideon Playground hasn't diminished its fun factor-during our last visit, it was packed with kids.
Centris Walk
Location: Quezon Ave. corner EDSA, Quezon City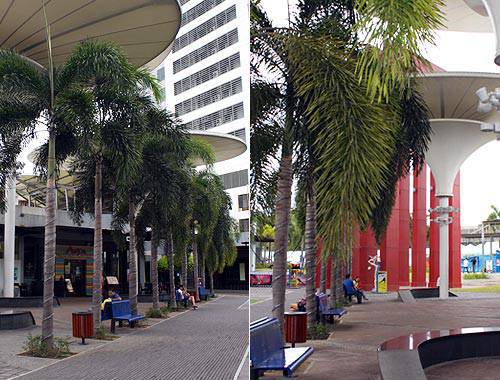 ADVERTISEMENT - CONTINUE READING BELOW
"Green" in this case is highly debatable, as much of the grass at Centris Walk is actually astroturf, which is not the best surface to have a family picnic on. The aesthetics of the World's Fair-slash-Men in Black-esque UFOs looming over you are also highly questionable.
But our favorite part about Centris Walk? It does not discriminate against skateboarders, who are treated as second-class citizens in most public parks. Sure, the skate park may be small, but we have to tip our hats at the effort. Props, too, to the modernist look of the restaurants, plus the variety of activities lined up, like the bungie trampoline, a small jungle gym, pseudo-Segway rides, and a weekend market.
Burgos Circle
Location: Forbestown Rd., Bonifacio Global City, Taguig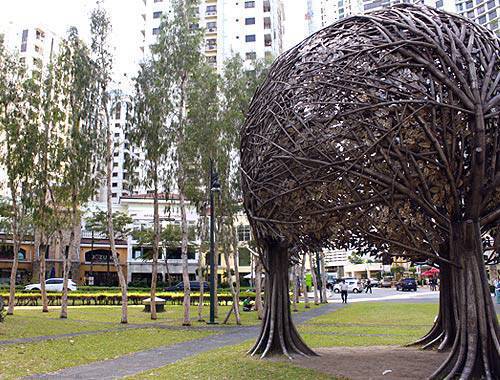 Thanks to the ring of restos and residences around Burgos Circle, this diminutive park is always packed full of people and pets, who sit, nap, take amateur photoshoots, or frolic with their dogs under the shade of Burgos Circle's trees. One "tree" in particular: the "Circle of Life" sculpture by Reynato Paz Contreras.
ADVERTISEMENT - CONTINUE READING BELOW
It's actually quite awe-inspiring (if a little dusty; there's almost no grass under it) to stand under the canopy of those intricate, interconnected branches. The sculptor adds his own commentary in a nearby plaque: "May this sculpture remind everyone of the need to preserve the environment to sustain life and development, not just today, but for the future as well." Amen.
Puerto Real Gardens
Location: Muralla corner General Luna Sts., Intramuros, Manila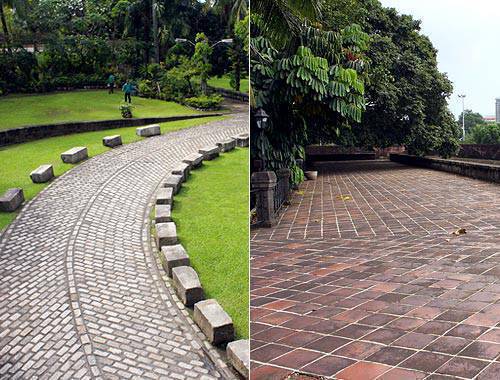 We mentioned Intramuros already in our old list of parks, but in this list, we dig a bit more deeply. Not a few residents frowned in puzzlement when we asked for directions to this park. You can't actually enter Puerto Real through the inside of Intramuros-you have to go outside the Walled City, via General Luna Street, through a thin old moat and a stone archway.
Well-tended, quiet gardens and lawns abide in this hidden oasis, especially along the path to the main city gate (which, unfortunately, is padlocked all of the time, so you can't go inside the city through the gardens). You can go up the city walls for a commanding, calming view of the neighboring golf course, or just lounge around the terrace for a view of the central plaza. As in all places in Intramuros, the security is dressed in picturesque, Guardia Civil blue.
ADVERTISEMENT - CONTINUE READING BELOW
Track 30th
Location: Along 30th St., Bonifacio Global City, Taguig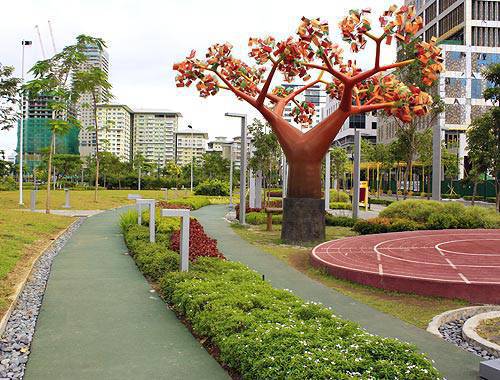 Fitness junkies crowd Track 30th as the sun dips behind the high-rises of Bonifacio Global City, and with good reason. A long and winding track, bisected into smaller rings for those who don't have the fitness, time, or energy to do a full circuit (hey, they don't discriminate), runs throughout the entire perimeter of the block-long park. On the northeastern end is an art installation of leaning telephone poles that also moonlight as push-up or sit-up benches. Steel bars strung between some poles are available for all your pull-up needs.
What makes this running route very picturesque is the giant orange tree sculpture in the center of the park. Perfect backdrop for the obligatory Facebook exercise photo. Beside it is a raised disc made out of recycled rubber and marked like a running track. We actually prefer to rest our aching legs here than in the meditation garden in the southeastern end.
ADVERTISEMENT - CONTINUE READING BELOW
ASEAN Garden
Location: Anda corner Muralla Sts., Intramuros, Manila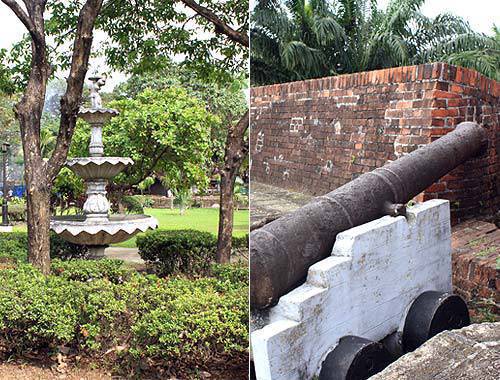 Slightly larger than the Puerto Real Gardens, the ASEAN Garden can be found in the Puerto del Parian in Intramuros. Unlike Puerto Real, you can enter from both inside Intramuros (the Puerto del Parian fronts the Walled City Dormitory along Muralla), or from outside (via Anda Street, across Liwasang Bonifacio). We recommend the latter route, as it allows you to cross under the Intramuros walls.
The Garden's main attraction are the busts of various ASEAN leaders, with Jose Rizal and Ho Chi Minh taking top billing via elevated busts. A small canal wends through the garden, so you can cross over a mini-bridge or two. Climb up the Intramuros walls to pose with some replica cannon-if you can get over the fact that real-life versions of these cannons were aimed straight at the Chinese community hundreds of years ago.
Terra 28th
Location: Along 28th St., Bonifacio Global City, Taguig
ADVERTISEMENT - CONTINUE READING BELOW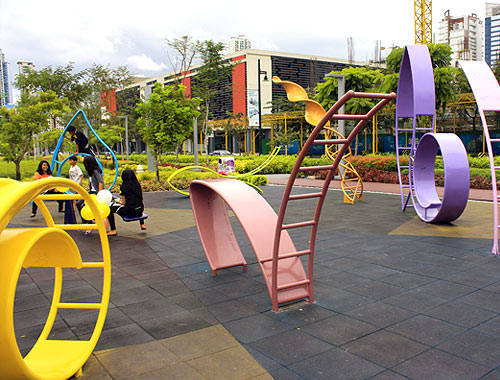 If Track 30th is an athlete's haven, its sister park Terra 28th is more of a family affair. That wonderfully demented playground-twisted and boldly-colored, the slides and swings and seesaws taking on the shape of cresting waves, snail shells, or DNA-is the park's centerpiece, and it's an absolute kiddie magnet.
We salute Terra 28th, too, for promoting classic Pinoy street games. There are lawns for piko, habulan, and luksong baka, plus two patintero grids and a holen area. They're all on the smallish side, so expect the fun to spill out of the assigned boundaries. There's art, too, if you want it, like an incongruous installation of steel poles, and a very fun interactive chameleon structure where you can change the color of the scales. The other end of the park doesn't have as much going on-we expect it's for the grown-ups who want to escape their tots.
ADVERTISEMENT - CONTINUE READING BELOW
Campos Park
Location: Along 3rd Avenue, Bonifacio Global City, Taguig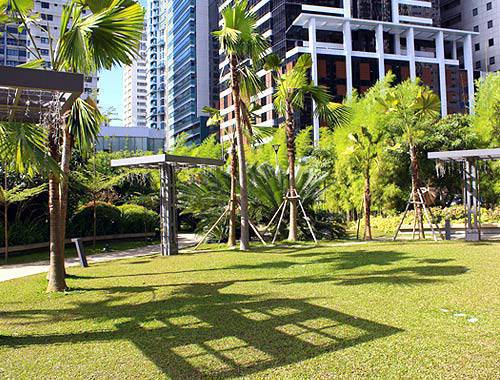 As BGC crawls inexorably towards total Makati-fication, it's good to know that their parks are there to give all that asphalt a break. While its next-door neighbor, the Mind Museum, commands most of the attention, unassuming Campos Park-a no-frills oasis-may be the most relaxed, laid-back BGC park yet.
Chalk it all up to the seclusion it offers. A busy intersection is just a few paces away, but the screen of greenery makes it seem like almost another world. Unlike Terra 28th or Track 30th, there's also not a lot of people. For the office drone who wants to get away from it all during the all-too-short lunchbreak, you can lounge around the central circle, under the gaze of Jose Y. Campos' sculpted eye, but the smaller circle off to the side is less open and more secluded. Park your kids in neighboring Science Park (P100 entrance, though), and enjoy the peace and quiet.
ADVERTISEMENT - CONTINUE READING BELOW
UP Diliman
Location: Diliman, Quezon City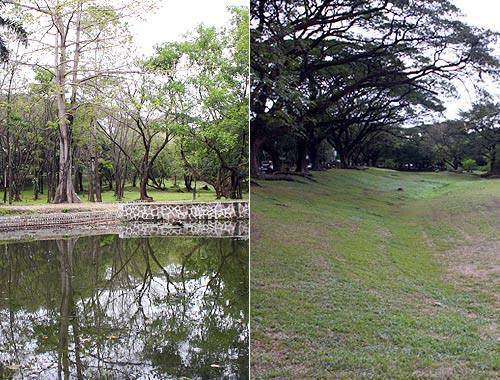 We know the students of UP Diliman won't be insulted if we call their university one gigantic park. In fact, the greenery of UPD is one of the campus' best qualities. Best of all, unlike most other universities, it's completely open to the public. Every Sunday, the central Sunken Garden of UPD comes alive with joggers, bikers, dog walkers, soccer players, cosplayers, frisbee throwers, flag footballers, family, friends, more-than-friends-people of every stripe, class, and persuasion, much like the student body of the university itself.
Without even straying far from the main Academic Oval, you could take a walk through UPD's legendary lover's lane, the UP Lagoon, stare at FPJ Senior's physique via the Oblation, take a pic with the giant chicken feet outside Vargas Museum, or wander through the grounds around the Carillon. Or you could just go for broke and take a stroll all over the UPD campus-you won't want for any green spaces there. You might even run into Zorro.
ADVERTISEMENT - CONTINUE READING BELOW
Photos by Lio Mangubat
Share this story with your friends!
---
Help us make Spot.ph better!
Take the short survey
Load More Stories