10 Swimming Pools With Stunning Views
Beat the heat in these summer spots.
(SPOT.ph) As the summer temperatures rise, a dip in a pool sounds perfect. But there's something even better: lounging in a pool with a killer view. From north to south of the country, here are 10 fabulous pools that will get you soaked and stoked.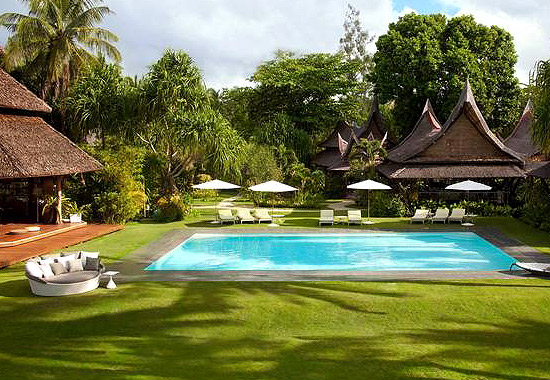 Dedon Island Resort, Surigao del Norte
ADVERTISEMENT - CONTINUE READING BELOW
CONTINUE READING BELOW
Recommended Videos
This resort landed in Conde Nast Traveler's 2016 list of top 10 resorts around the world. The rates are pricey and the pool looks fairly simple, but there's abundant beauty all around, starting with the shimmering Philippine Sea fronting the pool. Pretty huts nestled amid tropical flora and inviting features such as cozy cocoon lounge nests hanging from trees make this the ideal luxury getaway. There's a children's village within the compound for restless junior jetsetters which make Dedon Island the favored retreat for guests with a taste for barefoot luxury.
Dedon Island Resort is at 8419 Malinao Road, General Luna, Surigao del Norte; 0917-701-7820. Visit Dedon Island Resort's website for more details.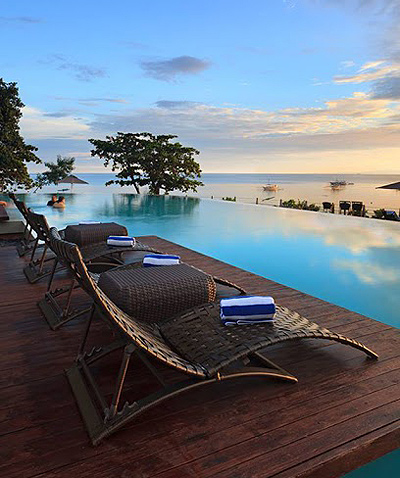 ADVERTISEMENT - CONTINUE READING BELOW
Amorita Resort, Bohol 
Nestled on a cliff that looks out to the splendor of the Bohol Sea and bordered by the resort's verdant landscape, Amorita's swimming pool is certainly one of best places to unwind. You can daydream all day: There's a nearby bar and restaurant that will ensure you don't go hungry or thirsty from breakfast until dinner time. Just a 45-minute drive from Tagbilaran Airport, it's perfect for families or couples who prefer a quieter destination that comes with all the comforts of a luxury resort. Just in case you feel the need to party, the stretch of bars and restos along Alona Beach are just a short stroll away.
Amorita Resort is at 1 Ester Lim Drive, Barangay Tawala, Panglao, Bohol; (038) 502-9002. Visit Amorita Resort's website for more details.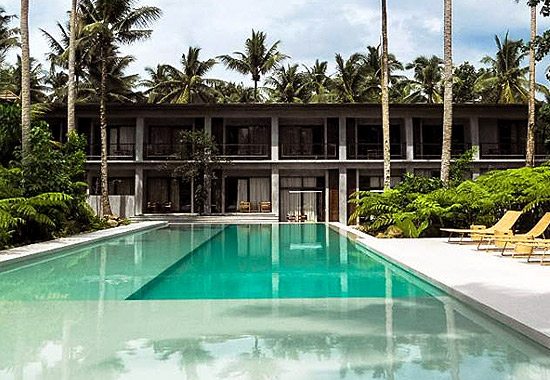 ADVERTISEMENT - CONTINUE READING BELOW
Siama Hotel, Sorsogon   
The hotel's pool lies cradled by Sorsogon's lush, native fauna. If you want a meditative commune with nature, this is the perfect place where you can soak in the pool's cool waters while listening to the rustling of the leaves and the chirping of birds that inhabit Siama's trees. This gem amid the jungle is ranked by Trip Advisor as the number one boutique hotel in Sorsogon. Book your ticket and you'll see why.
Siama Hotel is at Sitio San Lorenzo, Bibincahan, Sorsogon City; 0917-881-6497. Visit Siama Hotel's website for more details.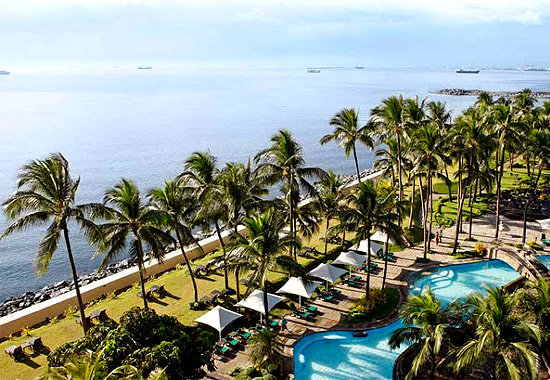 ADVERTISEMENT - CONTINUE READING BELOW
Sofitel Philippine Plaza Manila
The hotel's pool is located right beside Manila Bay, one of the best seats in the house where you can watch day turn into night. Once in a while, you'll chance upon fishermen gliding across the sea. This is one hardworking pool designed to please both junior and adult guests. It features a slide for kids and another one for guests 12 years and older. For adults who need more than a just a shot of adrenalin, there's a bar nearby. The pool is designed like a lagoon, making guests feel that they're splashing about in a lake outside of the Metro—a perfect destination for families in need of a quick respite without hopping on a plane.
Sofitel is at CCP Complex, Roxas Boulevard, Manila; 551-5555. Visit Sofitel's website for more details.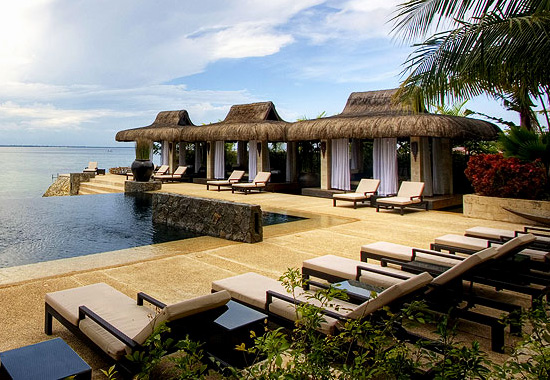 ADVERTISEMENT - CONTINUE READING BELOW
Abaca Boutique Resort, Mactan Island
Abaca sits atop Mactan Island, offering a view of Cebu far away from the noise of the city below. While the award-winning restaurant has already made a name locally and abroad, their infinity pool overlooking the ocean is another memorable highlight for travelers. And since there are just six suites and three villas throughout the property, every trip should feel extra exclusive—you'll get spoiled with round-the-clock personal butler service. Once you find yourself back in the city, check out the Abaca group's other noted restaurants, Maya and Tavolata.
Abaca Boutique Resort is at Punta Engano Road, Mactan Island, Lapu Lapu City; (032) 495-3461, (032) 236-0311. Visit Abaca Boutique Resort's website for more details.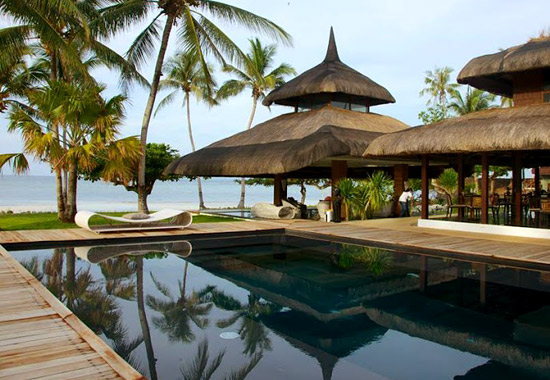 ADVERTISEMENT - CONTINUE READING BELOW
Ananyana Beach Resort and Spa, Bohol 
With just a few rooms available for guests, Ananyana is favored by visitors who want a more intimate setting and personalized services. The pool faces the sea and on some days when the water's flat, you might even get to see some dolphins frolicking in the distance. We suggest getting a pool-side massage late in the afternoon, after which a staff can hand you your favorite cocktail while you enjoy the dolphins' aquatic performance or the intense summer sunset. From the pool, you can also see Ananyana's bamboo bed by the beach, and a floating bamboo raft with gossamer drape—a popular venue for romantic proposals.
Ananyana Beach Resort and Spa is at Lot C, Doljo Beach, Panglao, Bohol; 0912-594-7486. Visit Ananyana's Facebook page for more details.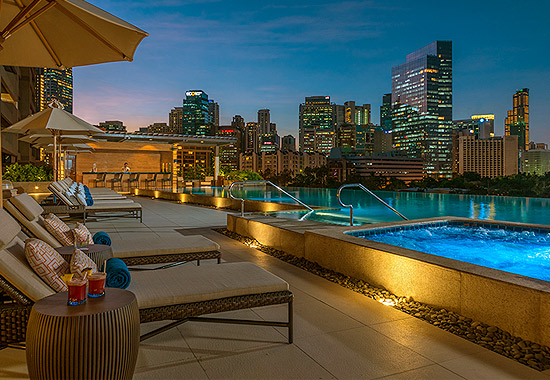 ADVERTISEMENT - CONTINUE READING BELOW
Discovery Primea, Makati City
At Discovery Primea, you can have a unique experience straight out the pages of a sci-fi novel, without leaving the city. Its infinity pool at the hotel's third level gives guests a view of the Metro's fast-changing skyline. After a few laps, it would be great to order a drink before settling back in the water to witness the city's twinkling lights herald the end of another day. Its waters are heated too, just to make sure that you stay warm while living out a surreal fantasy.
Discover Primea is at 6749 Ayala Avenue, Makati City; 955-8888, 988-2988, 0917-679-4567. Visit Discovery Primea's website for more details.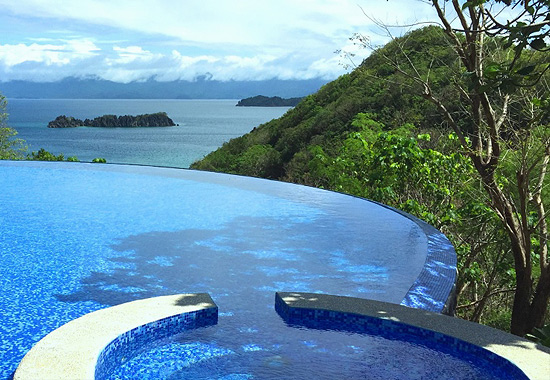 ADVERTISEMENT - CONTINUE READING BELOW
Tugawe Cove Resort, Caramoan
Most people still attest to the untouched beauty of Caramoan in Camarines Sur, long after it rose to fame for being featured in the reality show, Survivor. For travelers who wouldn't mind disconnecting for a few days (phone service can go on and off), Tugawe Cove Resort is a quiet getaway surrounded by white, powdery beaches and IG-worthy rock formations. You can take in the views from your hilltop cabana, or mull over your life in the swimming pool surrounded by lush greens and majestic mountains. It's a welcome rest in between days of island hopping, kayaking, and other activities available throughout your stay.
Tugawe Cove Resort is at Barangay Colongcogong, Caramoan Peninsula, Camarines Sur; 0918-965-7885; 0917-501-6711. Visit Tugawe Cove Resort's website for more details.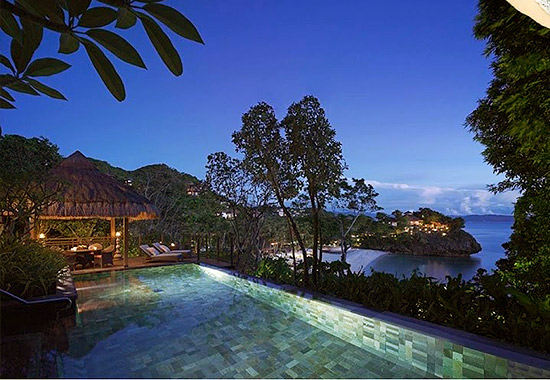 ADVERTISEMENT - CONTINUE READING BELOW
Shangri-La Boracay Resort and Spa, Aklan
This resort is certainly one of the most luxurious getaways with several pools designed to wash your worries away. The common pool looks out to the resort's private white sand beach. But we recommend the Ocean View Villa with a private pool from where guests can survey the resort's lush forest-like surrounds and the gorgeous beach down below. Located away from the crowd and noise of Boracay's party stations, the Shangri-La Boracay Resort and Spa is a favorite destination of honeymooners and couples who want a romantic vacation.
Shangri-La Boracay is at Barangay Yapak, Boracay Island, Aklan; (036) 288-4988, (036) 288-5088. Visit Shangri-La Boracay's website for more details.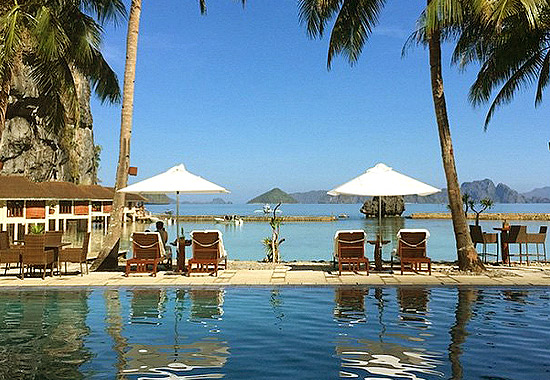 ADVERTISEMENT - CONTINUE READING BELOW
Lagen Island, El Nido Resorts, Palawan  
Lagen Island is situated in one of the most densely forested areas in Palawan, surrounded by the province's spectacular limestone cliffs and unbelievably clear, turquoise waters. The view from the pool is worth the resort's pricey rates: Guests are rewarded with picture-perfect scenery that leaves them breathless. There's a lot to do after you've had your fill of the pool and its calming views—take the whole family or friends for a dream holiday that will energize you for life's daily grind.
Lagen Island, El Nido Resorts is at El Nido, Palawan; (032) 902-5980. Visit El Nido Resorts' website for more details.
Photos from the official websites and Facebook pages of Dedon Island Resort, Amorita Resort, Siama Hotel, Sofitel, Abaca Boutique Resort, Ananyana Beach Resort and Spa, Discovery Primea, Tugawe Cove Resort, Shangri-La Boracay, and El Nido Resorts
Load More Stories