25 Things to Do in Quezon City
"Kyusi" is the place to be.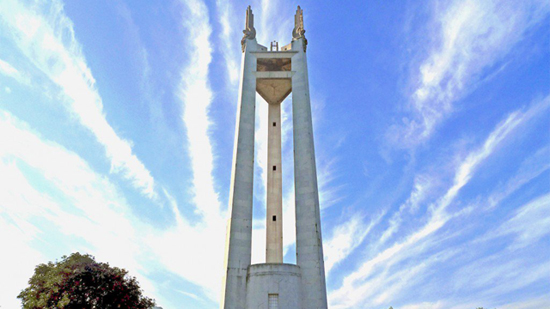 It is the largest city in Metro Manila. There's lots of traffic, but QC folks have gotten used to it. With malls, condominiums, and commercial centers opening at every corner, and a combination of traditional and modern culture, Quezon City is not only a fast-growing metropolis but also a vibrant megacity worth checking out. And because of its sheer size, we're giving you 25 things to do in the nation's former capital.
1. Get to the Quezon Memorial Circle from Quezon City Hall by walking through the Belmonte Underpass.
2. Walk or jog the entire circumference of the Quezon Memorial Circle.
3. See the sarcophagus of the late President Manuel L. Quezon in the Quezon Memorial Shrine.
4. Check out the interactive galleries in QCX at the Quezon Memorial Circle.
5. Drive from Elliptical Road to the border of Quezon City and Manila at the famous Welcome Rotonda.
6. Visit San Francisco del Monte Church, the oldest church in Quezon City, and see the Holy Cave of Saint Pedro Bautista.
7. Read or borrow a book in Quezon City Hall's Public Library.
8. Go around UP Campus by taking the UP Ikot or UP Toki jeepneys.
9. Have different kinds of isaw at Mang Larry's in UP Campus.
10. For breakfast, try the classic tapsilog at the original branch of Rodic's at the UP Coop.
11. Walk along UP's University Road when the sunflowers are blooming.
12. Check out the restaurants in UP Town Center's Urban Turf along Katipunan Avenue like the branches of Friuli Trattoria and Chocolate Kiss.
ADVERTISEMENT - CONTINUE READING BELOW
13. Attend the annual Quezon City Food Festival held all over Maginhawa Street.
14. Check out the affordable and unique offerings at the StrEat Food Park in Maginhawa Street.
15. Bump into the former members of the band Kamikazee and get a tattoo at 55 Tinta, also in Maginhawa Street.
16. Have a healthy meatless meal at Pipino in Malingap Street.
17. Feast your eyes on the collection of paintings at the Ateneo Art Gallery.
18. Have a mami and siopao dinner at Ma Mon Luk in Quezon Avenue.
19. Try Trellis' famous version of sisig at the corner of Kalayaan Avenue and Matalino Street.
20. Have a steak dinner at Alfredo's, one of the oldest restaurants along Tomas Morato.
21. Witness the parade of roasted pigs during the Lechon Festival of La Loma.
22. See the statue of Emilio Aguinaldo inside Camp Aguinaldo.
23. Have a fun time taking pictures with the collection of 3D art at Art In Island in Cubao.
24. Purchase some cheap boots and other affordable footwear at Cubao Expo.
25. Have an Italian meal at Bellini's, also in Cubao Expo.
Read the full article, "50 Things to Do in Quezon City," on TravelBook.ph. Minor edits have been made by the SPOT.ph editors.
Load More Stories