10 Beautiful Garden B&Bs Around the Philippines
Look at all the flowers!
(SPOT.ph) Unless you have a secret garden behind your house, bright and colorful flowerbeds are hard to come by these days especially in Metro Manila. What we have are a lot of parking spaces, glass-covered skyscrapers, and building photobombers that spoil the beautiful sunset view.
In an effort to escape all these even just for a weekend, we round up 10 bed and breakfasts where you can, as they say, stop and smell the flowers. They offer sumptuous meals to jumpstart your day, too!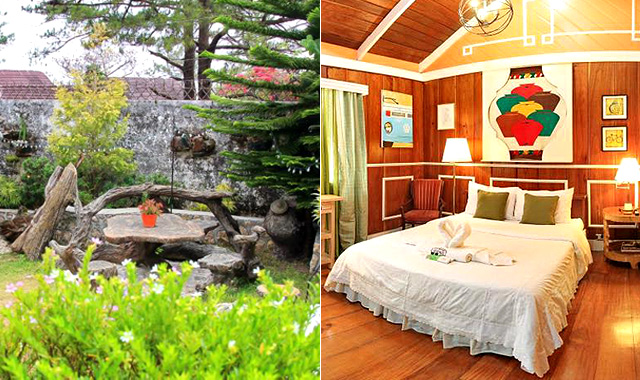 Guesthaven Baguio Bed and Breakfast
9 Justice Village, Marcos Highway, Baguio City
Contact: (074) 422-9935, 0998-198-9303
Room rates start at P2,860
www.guesthaven.com
Baguio City is blessed with weather that's perfect for flowers, so you can expect that most of their bed and breakfasts (B&Bs), hostels, and hotels have pocket gardens. Guest Haven can attest to this with its spacious grassy area just outside the restored house built in early '70s. It has four bedrooms with Hebrew names: Aleph, Beth, Gimmel, and Dalet, all furnished with locally made cabinets and chairs and floorings made of narra wood panels. The high ceiling and fireplace complete its Baguio cabin feel.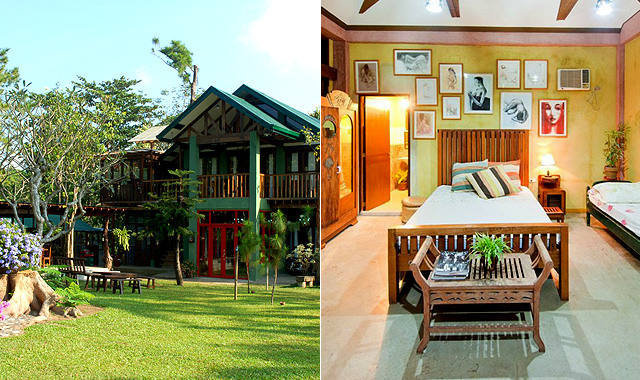 Casa San Pablo
Gomez Compound, San Roque, San Pablo City, Laguna
Contact: 0917-812-6687, 0920-967-5277
Rates start at P1,300 per head
www.casasanpablo.com
Casa means house and Casa San Pablo owned by Boots Alcantara makes you feel that you're just at home. All the Southern Tagalog dishes are cooked the same way the owner's mother did it for her kids. No two rooms are alike and they're furnished with antique items such as a charcoal iron and old chairs and interesting finds like Hot Wheels collectors' items and an oil painting by Reb Belleza. The B&B has an outdoor lounging space where you can relax on a hammock—the best place to read, sleep, or do nothing at all. It also has two swimming pools situated in a lush garden where you can hang out and cool off.
ADVERTISEMENT - CONTINUE READING BELOW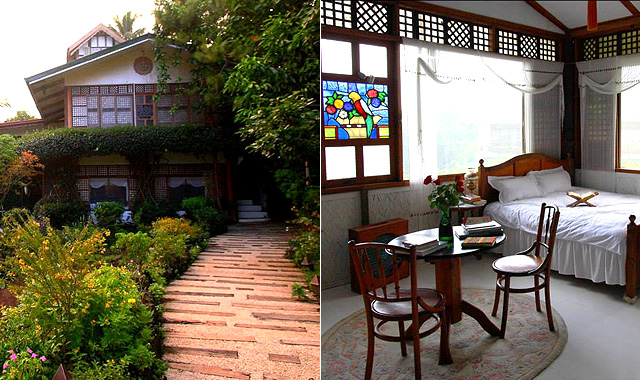 Sonya's Garden
Buck Estate, Alfonso, Cavite
Contact: 0917-533-5140, 0917-503-1080
Room rates start at P6,800
sonyasgarden.com
You'd have to go through a winding road just to get to Sonya's Garden but it's worth the trip. It is a sanctuary not only for butterflies and fireflies but also to guests who are looking for respite in its 14 cottages surrounded by flowers in full bloom. Since Sonya's is mostly garden, chances are that what's on your plate came from its own backyard. Expect a lot of salad!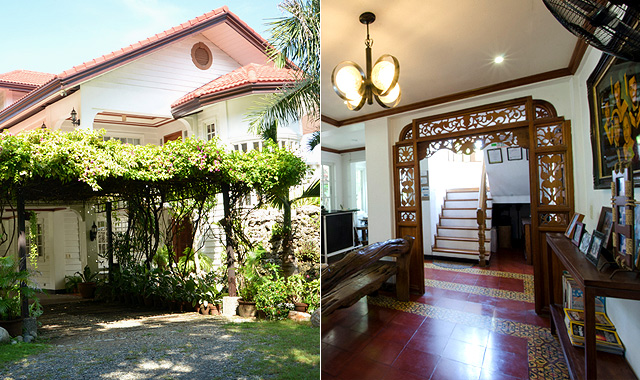 Urbiz Garden Bed and Breakfast
134 Beachfront Urbiztondo, Urbiztondo, La Union
Contact: 0917-590-8256
Room rates start at P3,000
www.urbizgarden.com
Urbiz Garden was built as a summer vacation house in 2001. It reflects the aesthetics of American colonial architecture because the owners worked and lived in California. Rooms started to be rented out to guests and walk-ins six years later. Though situated in the Surfing Capital of the North, it is a bit far from the surf spot, which makes it one of the best kept secrets in the area. It prioritizes guests' requests, such as additional provisions for senior citizens and pregnant mothers. They even have pet-friendly rooms!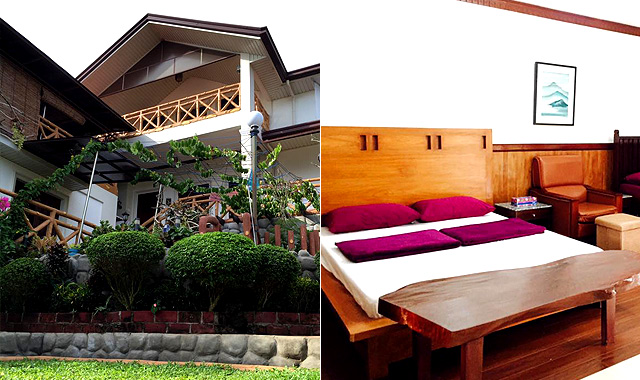 Casa Kalouna
9008 Generosity Street, Maglabe Drive, Guinhawa South, Tagaytay City
Contact: 884-2751
Room rates start at P2,500
www.facebook.com/CasaKalounaTagaytay
Casa Kalouna is a family weekend home that was turned into a B&B. Totally hands on with the operation, the owner personally takes care of guests and serves them an all-Filipino breakfast every morning. Rooms can fit three to five people and are provided with water heaters, towels, and coffee and tea. Taking a break? Fusbol and darts are available in the common area.
ADVERTISEMENT - CONTINUE READING BELOW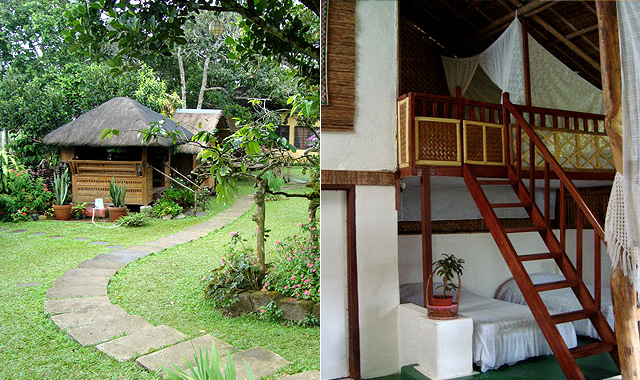 Hangin Garden
Heroes Farm, Kaybagal South, Tagaytay City
Contact: 0932-640-8272
Rates start at P850 per person
www.facebook.com/hangin00garden
If you're looking to have a private moment with your special someone, then Hangin Garden is your best bet. They book only one group at a time to ensure the privacy of the guests. Their breakfast menu varies since the ingredients are dependent on what the garden itself can provide for the season.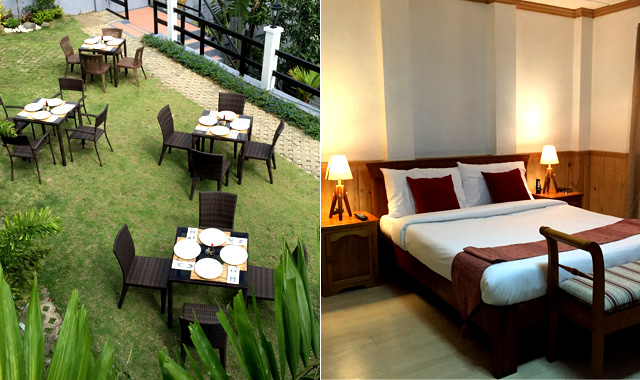 Chateau Beatrice
333 Tagaytay-Calamba Road, Tagaytay City
Contact: 957-4725, 0915-868-7928
Room rates start at P3,000
www.chateaubeatrice.com
Perched on the ridge of Tagaytay, this country-style bed and breakfast gives guests an amazing view of Taal Lake. Their in-house restaurant, Wicked Waffle, serves all-day breakfast and comfort food such as sandwiches, burgers, and pastas. It only has seven rooms, promising a quiet stay for the weekend.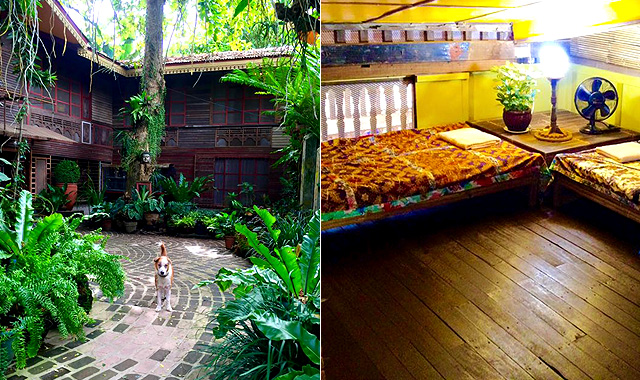 Patis Tito Garden Cafe
285 Sta. Cruz (Putol), San Pablo City, Laguna
Contact: 0906-443-9092
Room rates start at P7,991
www.patistito.com
Patis Tito Garden Cafe, formerly Kusina Salud, was established in 2011 by designer and artist Patis Pamintuan Tesoro with her husband Tito. It is known for its interesting take on Filipino food such as pancit bihon guisado and suman croquetas a la mode, as well as the rustic ambiance provided by the provincial house and tropical garden on which it stands. In 2015, it was turned into a full blown B&B, much to the delight of their patrons. Their family room can accommodate eight persons.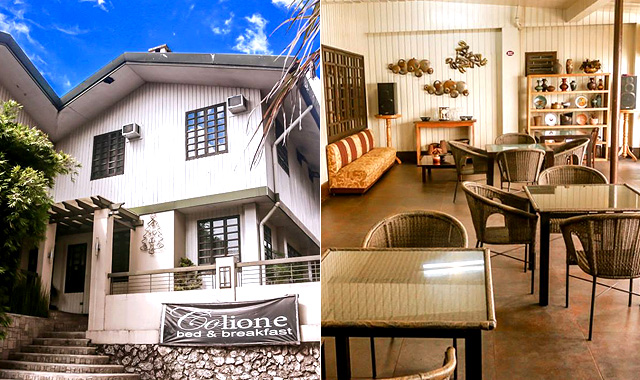 Colione Bed and Breakfast
ADVERTISEMENT - CONTINUE READING BELOW
40 Easter School Road corner Manzanillo Subdivision Road 2, Guisad, Baguio City
Contact: (074) 424-1868
Room rates start at P1,700
www.colionebb.com
Colione Bed and Breakfast is a bit on the minimal side, for its bedrooms at least. The linens and sheets are mostly white while the bathroom is Zen-inspired. The dining room is the total opposite as it's filled with bric-a-bracs, clay pots, and ceramic figures. Its perimeter is lined with garden benches where you can while the afternoon away.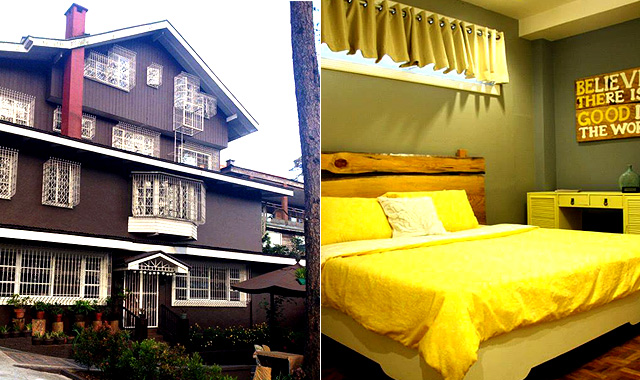 Lucia's Bed and Breakfast
7 Navy Base Extension, Baguio City
Contact: 0917-530-3623
Room rates start at P2,800
www.facebook.com/Lucias-Bed-and-Breakfast-634803813244991
The use upcycled materials for the decor here, giving it a shabby-chic appeal. Aside from its eco-friendly furnishings, it also takes pride in its breakfast dishes that are made from Baguio's freshest ingredients in true farm-to-table fashion. There are no television sets, which leaves you no choice but to bond with family and friends by the bonfire. It can accommodate a total of 19 guests.
Photos courtesy of Guesthaven Baguio Bed and Breakfast, Casa San Pablo, Sonya's Garden, Urbiz Garden Bed and Breakfast, Casa Kalouna, Hangin Garden, Chateau Beatrice, PatisTito Garden Cafe, Colione Bed and Breakfast, and Lucia's Bed and Breakfast.
Load More Stories