12 Places to Geek Out in Manila
Great spots in the Metro where you can let your geek flag fly.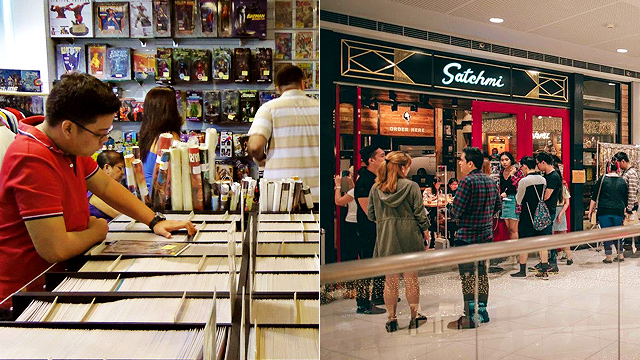 (SPOT.ph) There used to be a time when being called a geek was a bad thing, when it was a black spot on your social standing. But those dark days are long gone. The world has finally come around and recognized that obsessing over comic books, gadgets, and other collectibles is actually pretty cool (with the likes of Captain America or Game of Thrones becoming more mainstream). In other words, geek is now chic.
That said, it's still hard to find places in Metro Manila that specifically cater to this community. So we've gone ahead and asked around to find the places Metro Manila's geek population frequent.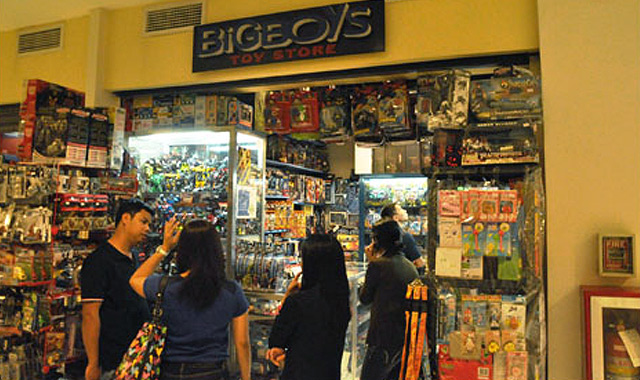 Toy Shops at Greenhills Shopping Center
Ortigas Avenue, Greenhills, San Juan City
Open from 1 p.m. to 8 p.m. (Sunday to Thursday) and 1 p.m. to 9 p.m. (Friday to Saturday)
We know Greenhills Shopping Center for the bargain buys, but it's also a mecca for toys and collectibles. Whether you're looking for Lego sets, Funko Pops, or super-detailed scale models of your favorite anime characters, there's a good chance you'll find it here. And possibly, at a bargain, too. 
Pro-tip: Although you can find toy stores throughout the center, your best bet is to head directly to the third floor of Shoppesville Mall, where you'll find Big Boys Toy Store and Cool Republic Toy Shop.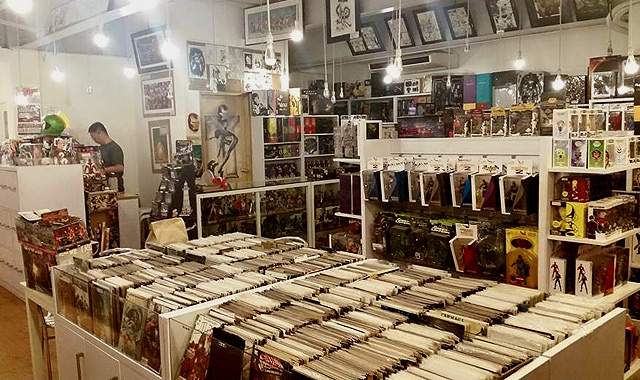 DK Collectibles (Druid's Keep)
3/F The Fort Strip, 28th Street, Bonifacio Global City
Contact: 519-1611
Open from 1 p.m. to 7:30 p.m. (Tuesday to Saturday) and 1 p.m. to 6 p.m. (Sunday)
ADVERTISEMENT - CONTINUE READING BELOW
Druid's Keep, now known as DK Collectibles, is a comic book and collectibles store which has an impressive catalog of current comic book titles and back-issues, not to mention toys, posters, memorabilia, and original artwork. Hold on to your wallets.
Pro-tip: DK Collectibles keeps very specific store hours, so if you want to drop by, make sure to schedule it before your visit.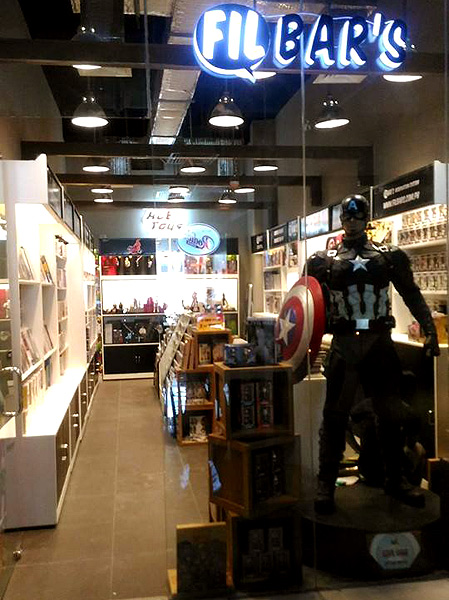 Filbar's
See a list of Filbar's branches
While they started out selling comic books and magazines, Filbar's has recently expanded their inventory to geeky merchandise such as posters, toys, and collectibles, even apparel and accessories such as bags, pins, and keychains.
Pro-tip: If you're a big fan of the British TV show Doctor Who, Filbar's has a lot of the official show merchandise in stock.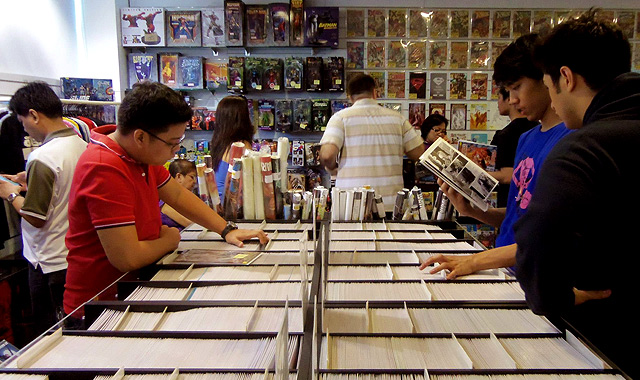 Comic Odyssey
See a list of Comic Odyssey branches
Though they do sell games and other collectibles, Comic Odyssey is a direct-market comic book store at heart. That means if you want to get your comic book fix the same day they do in the U.S., all you need to do is visit one of their branches on Wednesdays. 
Pro-tip: If you want to follow a particular comic book series and you don't want to run out of copies, subscribing through Comic Odyssey ensures that you'll have a copy even if you miss New Comic Book Day.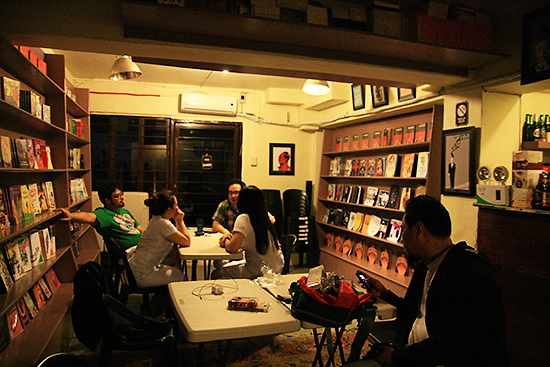 Uno Morato
GYY Building, 1 Tomas Morato, Quezon City
Open from 3 p.m. to 12 a.m. (Tuesday to Sunday)
ADVERTISEMENT - CONTINUE READING BELOW
If you're a literary geek and you're looking to get into independently published Filipino books, then Uno Morato might be your kind of place. A bookstore-café, Uno Morato, also hosts writing workshops, Hero Clix game nights, stand-up comedy open mic nights, and comic book readings.   
Pro-tip: Some authors hang out at Uno Morato, so if you're lucky you might actually get a book signed on the spot.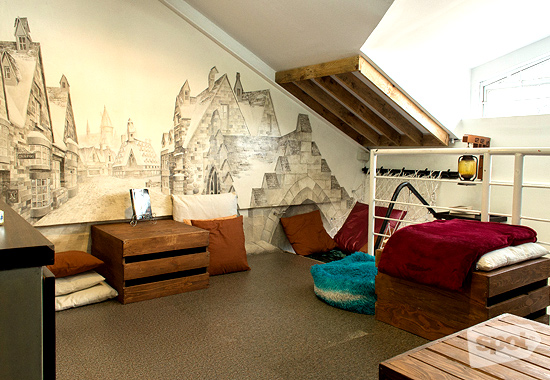 The Nook Café
164A Maginhawa Street, Sikatuna Village, Quezon City
Open from 11 a.m. to 10 p.m. (Tuesday to Saturday)
Inspired by the Harry Potter series, The Nook Café offers patrons the chance to recapture the magic of the books and movies. The café has Loads of Harry Potter memorabilia, as well as a mural inspired by the Diagon Alley. It's the perfect view to look at while having a Butterbeer.   
Pro-tip: The lines for this tiny café can get long, so we suggest making a reservation ahead of time.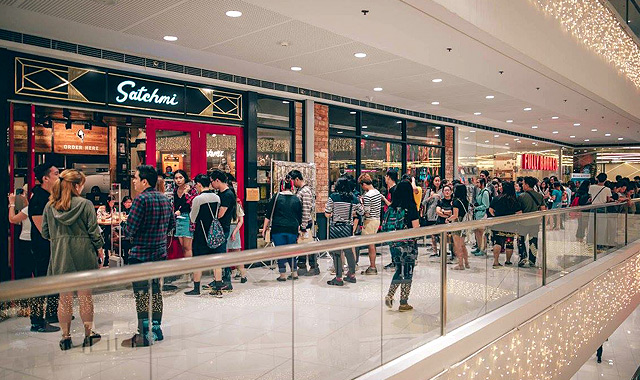 Satchmi
4/F Mega Fashion Hall, SM Megamall, Mandaluyong City
Open daily from 10 a.m. to 10 p.m.
Music fans, rejoice! This is the perfect store for you. Satchmi is a café and music store in one, selling turntables and vinyl records. There's even a listening booth where you can try the audio equipment.    
Pro-tip: The store recently updated their menu, so you can now have a late breakfast or early dinner in the café.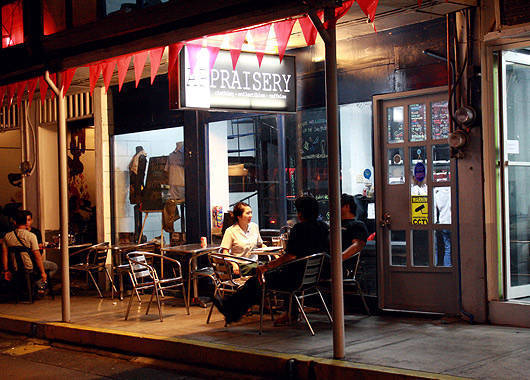 The Appraisery
61-62A Cubao Expo, Gen. Romulo Avenue, Quezon City
Open from 3 p.m. to 12 a.m. (Tuesday to Thursday and Sunday) and 3 p.m. to 2 a.m. (Friday to Saturday)
ADVERTISEMENT - CONTINUE READING BELOW
One of the very first table-top gaming cafes in Metro Manila, The Appraisery has an excellent selection of panini and, of course, table top games. The store also sells games and occasionally hosts game nights and tutorials for certain games, both for advanced players and newbies.
Pro-tip: Located at the laid-back Cubao Expo, The Appraisery offers a good choice of alcoholic drinks too.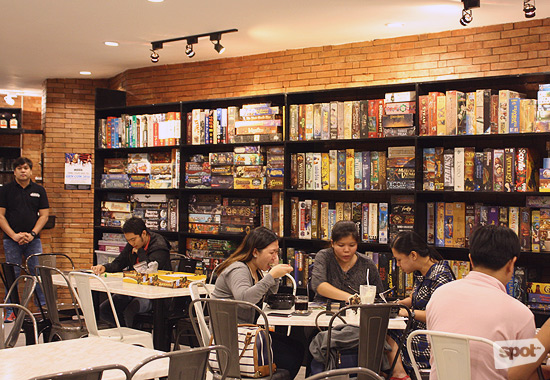 Ludo
See here for a list of Ludo branches
Ludo has an impressive collection of board games, both for sale and for playing. The cafe's QC branch is very spacious, making it ideal for big groups. Their menu is Japanese-inspired dishes and they have a good selection of beer, too.
Pro-tip: Ludo's Makati branch looks equally spacious as the one in Quezon City.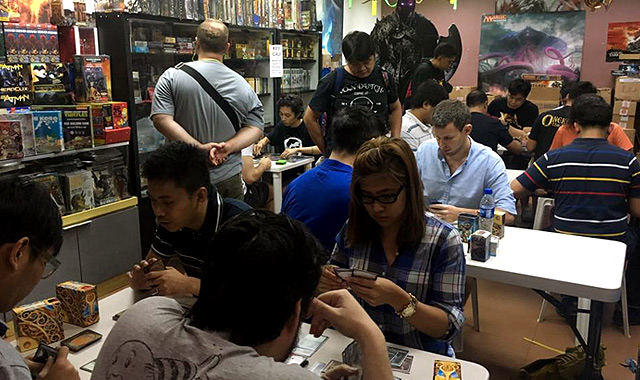 Neutral Grounds
See here for a list of Neutral Grounds branches
If you're looking to buy a game, be it a board game, collectible card games, deck-building games, or tabletop RPG, there's no better place than Neutral Grounds. They have branches all over the Metro (and even one in Cavite and Cebu). So even if there isn't a gaming café near you, you can always buy the game for yourself.
Pro-tip: Some of their big branches, such as the one in Centris, hosts tournaments where you can cut your teeth.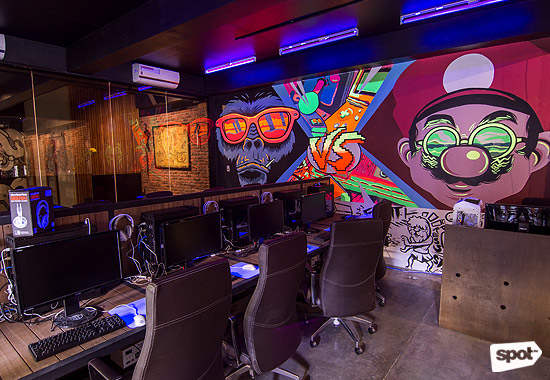 Game Over
31 Xavierville Avenue, Loyola Heights, Quezon City
Open from 12 p.m. to 10 p.m. (Sunday and Monday), 11 a.m. to 1 a.m. (Tuesday to Thursday), and 11 a.m. to 2 a.m. (Friday to Saturday)
ADVERTISEMENT - CONTINUE READING BELOW
If you're a digital gamer, Game Over at Xavierville is the place for you. A consumable hourly fee entitles customers to play on a variety of consoles, including an Atari. There's also a section for those who prefer their games with a mouse and keyboard.
Pro-tip: Game Over has recently started offering a membership card that entitles holders to discounts on both food and game rentals, as well as free access to board games and retro game consoles.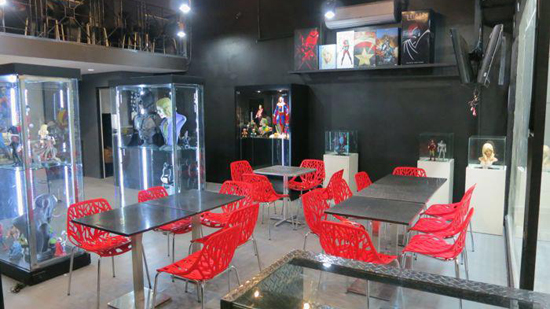 Heroes Concept Store 
Unit B-6 971 Building 6, Bonifacio High Street, Bonifacio Global City
Open from 11 a.m. to 11 p.m. (Monday to Thursday), and 11 a.m. to 12 p.m. (Friday to Saturday) 
To a collectible toy fan, hanging out at Heroes Concept Store at Bonifacio High Street is probably a preview of what heaven is like. Customers of this toy store slash café get to dine under the watchful eye of their favorite comic book, TV, and movie heroes. Not a bad way to spend a few hours.
Pro-tip: The toys here are a bit on the higher-end, so expect to shell out five, maybe even six, figures on a piece.
Load More Stories