5 Unusual Backpacker Essentials
Trust us when we say you're going to need these.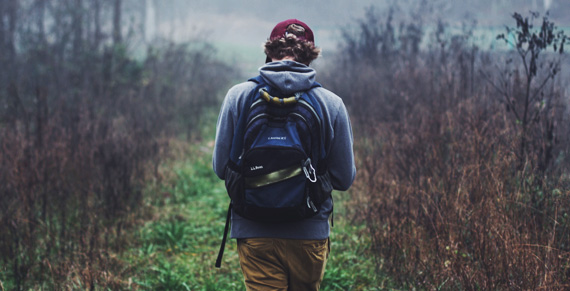 Preparation is key to a hassle-free and enjoyable trip. Especially with backpacking, it is essential to be ready for any situation that may arise. Listed below are some unusual backpacker essentials that you should add to your checklist.
Two wallets
It's very useful to carry two wallets when you travel: one contains your IDs and money, while the other acts like a decoy—with only a small amount of money and a few old cards to make it more convincing. Your "fake wallet" will come in handy in some places where local police can just flag you down and ask for money if you're traveling in a motorbike alone. In these instances, it's advisable to haggle the "fine" with the police. Showing your second wallet with just a few bills would help in lowering it.
ADVERTISEMENT - CONTINUE READING BELOW
Bag organizer
Bag organizers have revolutionized how we keep track of our stuff especially when traveling. Place your absolute essentials in the bag organizer: passport, money, and a power bank should be on top of your list. Having a bag organizer is convenient because you no longer need to transfer your things from one bag to the other.
An extra backpack
Bringing your huge backpack could get very inconvenient and tiring when going around your destination. Here's a tip: Upon checking in at your accommodation, leave your main backpack and transfer your essentials into a smaller backpack that you can easily bring around. A foldable backpack or a drawstring bag would be perfect because it occupies only a small amount space.
Padlocks
With no real masterminds behind the "tanim-bala" scam identified, we have no idea when it will strike again. Wiith thieves on the prowl in almost any part of the world, we should always keep the contents of our luggage secure. Aside from having your backpack wrapped in plastic, add an extra layer of protection by securing its zippers together with padlocks to ensure that it won't get opened.
ADVERTISEMENT - CONTINUE READING BELOW
Resealable plastic bags
Aside from keeping sandwiches fresh, resealable bags are also useful in waterproofing important documents, money, and your phone, especially if you will go camping or trekking. Even if you're attending an event like a music festival and it starts to rain, you'll have no problem if you have your valuables sealed in plastic. 
Read the full article, "9 Unusual Backpacker Essentials" on Travelbook.ph. Minor edits have been made by the SPOT.ph editors.
Recommended Videos
Load More Stories