It's Time You Saw a Different Side of Quiapo
Bukas Quiapo isn't your ordinary kind of tour.
(SPOT.ph) A lot comes to mind when one thinks of Quiapo—and it isn't all good. From wholesale goods to less wholesome goods, you can buy pretty much whatever you want at the busy shopping district. This also means though that this downtown district isn't exactly known for being the safest place to linger. As people usually put it, Quiapo is one of those places where you walk around with your bag placed in front of you, wary of any possible danger that could come from anywhere. But there is one tour that hopes to get rid of that stigma by asking people to bond with the community that calls the colorful area home: the Bukas Quiapo Tour.
So-called because it opens the district up to people, the Bukas Quiapo Tour is the brainchild of two main organizations: the Fundacion Santiago and the San Sebastian Basilica Conservation and Development Foundation, Inc.
ADVERTISEMENT - CONTINUE READING BELOW
"We want to highlight San Sebastian but within the context of this community," says Samantha Pacardo of the San Sebastian Basilica Conservation and Development Foundation, Inc. in a conversation with SPOT.ph. "For us, it's maximum impact if we get people involved, so right now our priority is awareness," she adds.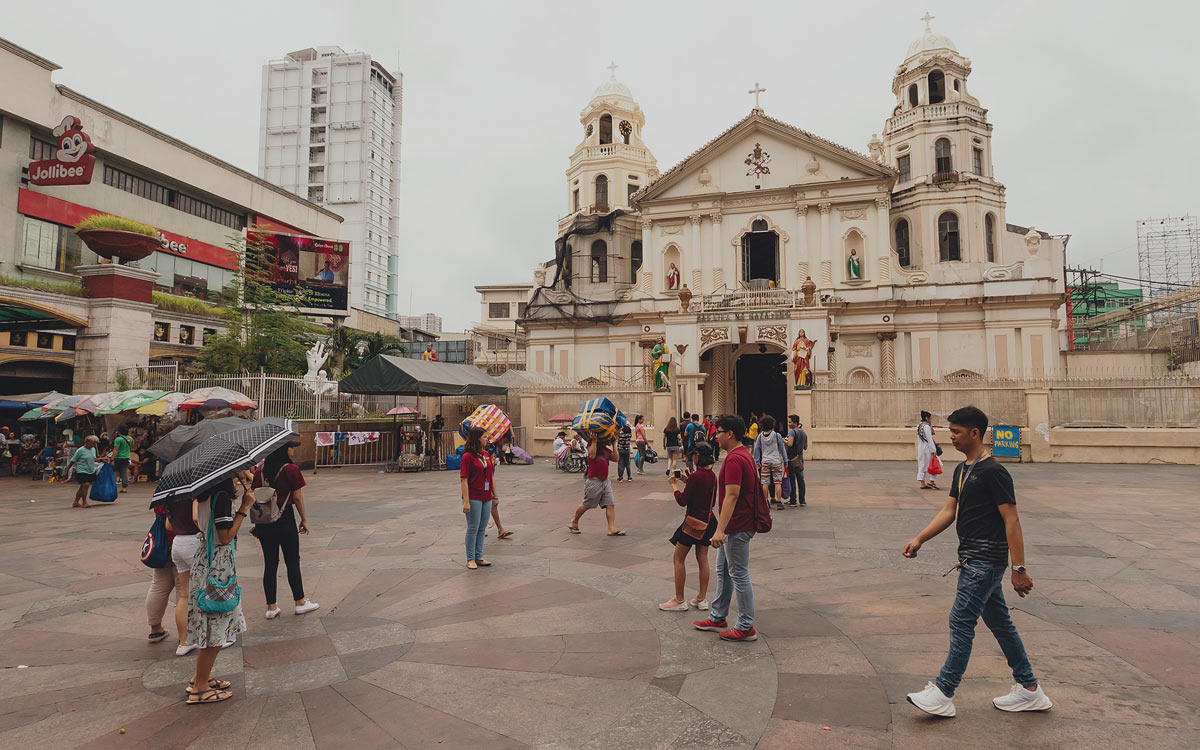 The Quiapo Church is more than just a symbol of the area—it is arguably the community's center.
PHOTO:

Jilson Tiu
Working With the Community
To really get that maximum impact going, the two foundations have been working closely with the people of Quiapo for around two years now to curate a truly unique and open experience. Not only will you get to tour the place in an air-conditioned van—which is yes, a very important detail in the tropical heat—they've partnered with many of the community's figures to really go beyond the surface level. Two very special Quiapense were tapped to lead the tours: Dennis Barcelo and Annabel Hatol.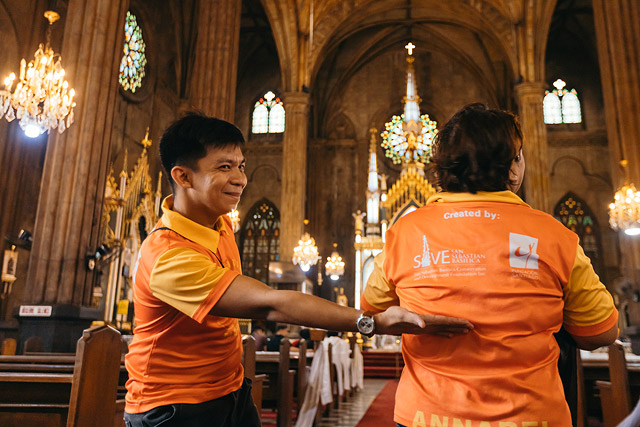 ADVERTISEMENT - CONTINUE READING BELOW
Recommended Videos
Barcelo is a true Quiapense—he lives right behind San Sebastian Basilica—and he's very happy to be part of the project. "'Yon ang passion ko, doon ako alive: anything that is Old Manila, anything antique, that is very—dusty ba, pwede ko bang sabihin dusty?" jokes Barcelo. But despite his lighthearted quips, he takes Quiapo very seriously. Barcelo has lived in Quiapo for so long that he remembers a time when the streets were graced by beautiful colonial-era houses. Unfortunately, he tells SPOT.ph, most of those houses have been lost over time so he's working to raise awareness on what's left. "Para mas makilala pa ng mga Pilipino kung anong meron sa Quiapo na wala sa iba," he adds.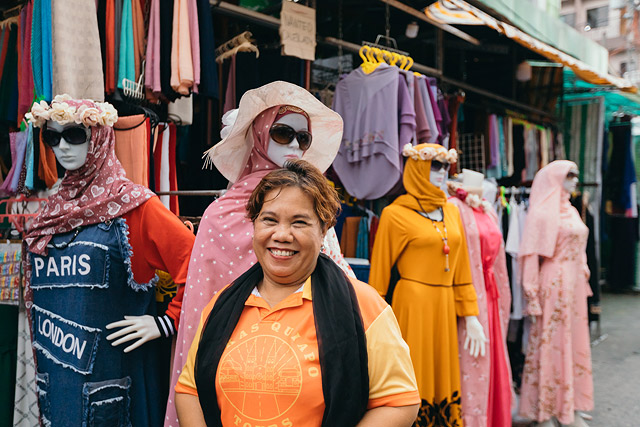 ADVERTISEMENT - CONTINUE READING BELOW
Hatol, on the other hand, was a regular parishioner at the San Sebastian Basilica when she was somewhat serendipitously roped in to help lead the tours. She has lived in Quiapo for most of her life, "Kahit saan mo ako dalhin sa Quiapo, kahit anong itanong mo sa akin regarding Quiapo, masasagot ko kasi 33 years na ako dito," she says proudly. Hatol has already raised her family in Quiapo, but now with an empty nest, she has moved on to what she calls her "second career." It is her way of giving back the community, explains Hatol, "'Yong pagmamahal ko sa Quiapo, kaya ako nandito."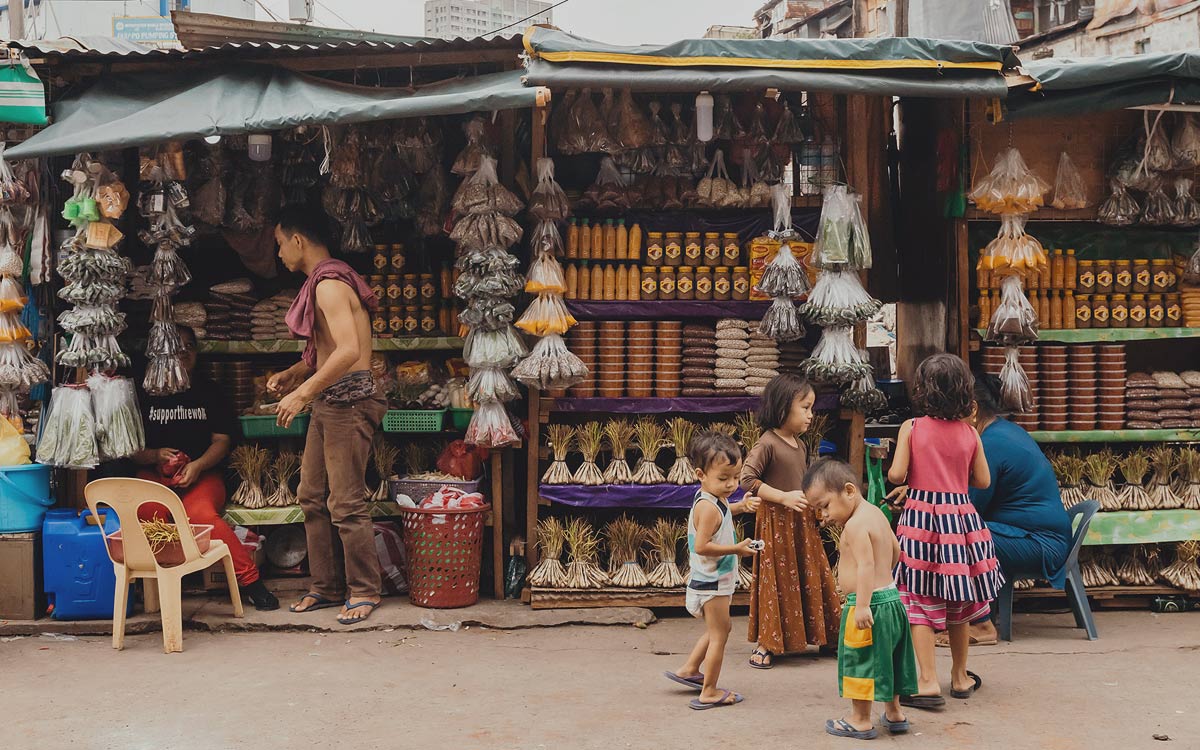 A scene outside the Golden Mosque

.
PHOTO:

Jilson Tiu
Quiapo, the Melting Pot
Barcelo and Hatol are your main guides to Quiapo's inner workings, but the tour has also made countless other partners in the community. One of which is Bahay Nakpil-Bautista, an ancestral home built in 1914 and is now a heritage site. Of course, you might remember the surname from Julio Nakpil, composer and second-in-command to the Katipunan revolution's Supremo Andres Bonifacio, and his wife, Gregoria de Jesus, Lakambini of Katipunan. The extraordinary couple also called the Quiapo site home, where they lived with Julio Nakpil's sister Petrona. The house—built by Petrona's husband, Dr. Ariston Bautista—is a wonderful bahay-na-bato that stands apart from its colonial-era predecessors thanks to its Art Deco influences.
ADVERTISEMENT - CONTINUE READING BELOW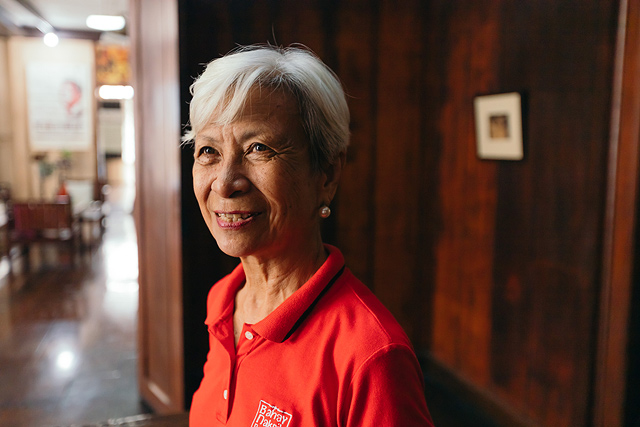 "This house—if it could talk—it can tell you many stories," says Bobbi Nakpil Santos-Viola, grandchild of Ariston and Petrona Bautista-Nakpil and current President of Bahay Nakpil-Bautista Foundation, Inc. She recounts the many tales her elders had told her of what it was like to live in Quiapo, a pivotal place throughout history. Standing a few meters away from Quiapo Church, the house was once witness to the Fiesta ng Nazareno, which used to pass right by the home's doors. It was the last leg of the procession, she says, and her family used to place an altar in front of their house for the passing devotees.
ADVERTISEMENT - CONTINUE READING BELOW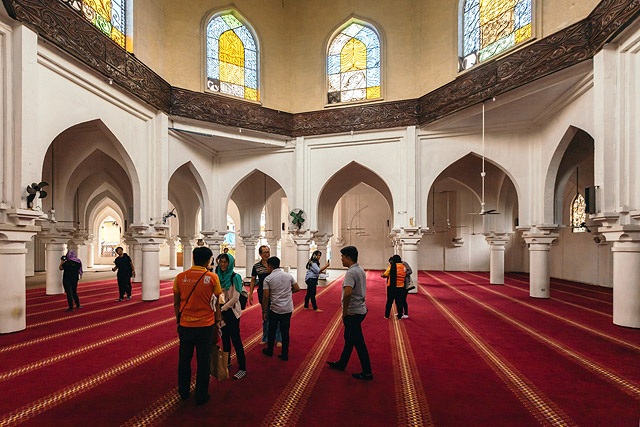 Another stop on the itinerary is the Manila Golden Mosque, one of the two main mosques in all of Metro Manila (the other being the Blue Mosque in Taguig). The huge structure sits right in the center of a thriving Islam community—living and breathing proof of the many cultures that blend together in Quiapo. "The Bukas Quiapo Tour is providential because it provides us with the venue to highlight the dialogical aspects of Muslims' and Christians' relationship here in this community," says Rummel Ihan Santos, representative of the Interfaith Office of the Quiapo Church. According to Santos, the church has been working with this community since 2011.
ADVERTISEMENT - CONTINUE READING BELOW
This Muslim community has called Quiapo home since the 1970s, and the Bukas Quiapo Tour takes you to visit not just their religious center, but also the lively area they've made their own. Right outside the Golden Mosque are streets lined with colorful shops and small restaurants that serve up delicious Halal dishes. People are everywhere too, and they're more than happy to welcome you in.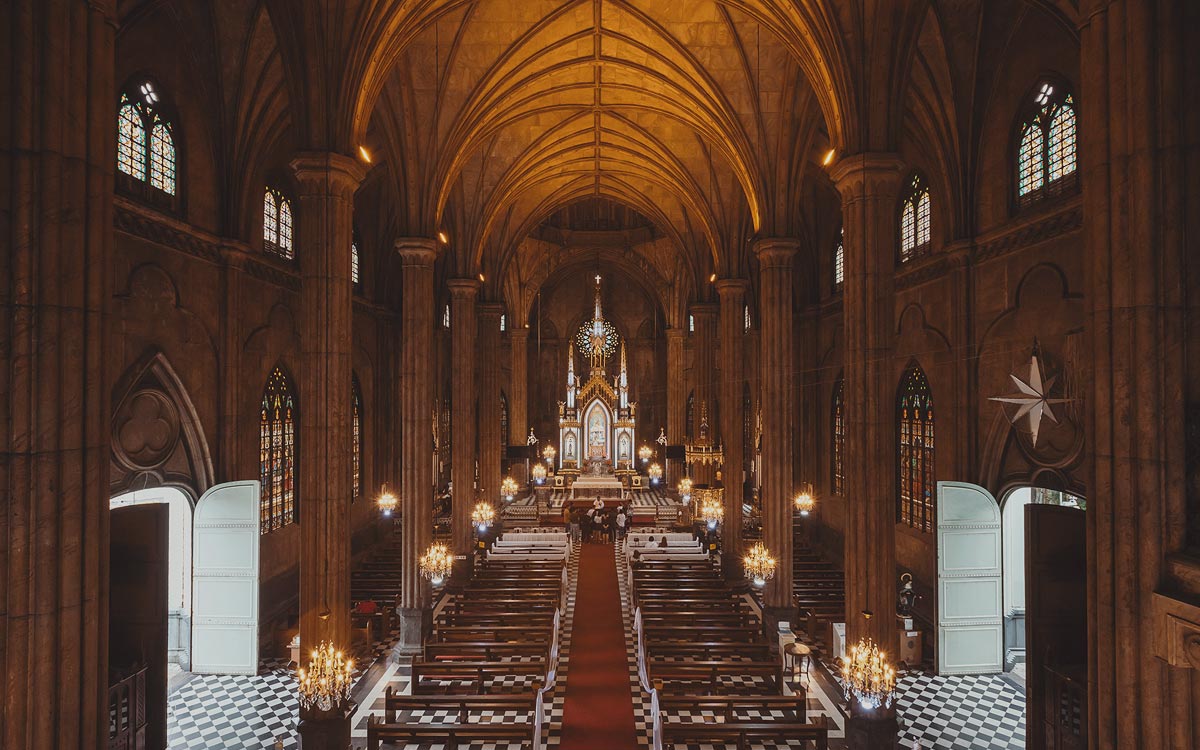 The interiors of the San Sebastian Basilica stand as a testament to time.
PHOTO:

Jilson Tiu
Back to the Beginnings
Not to be missed on the itinerary is, of course, the San Sebastian Basilica—one of the oldest churches in the Philippines, and possibly the only all-steel structure of such a size in Asia. According to Pacardo, the San Sebastian is truly a mark of the rich and multi-cultural history of Quiapo. Built with the efforts of different nations and cultures—designed by a Spanish engineer, with steel structures fabricated in Belgium, stained glass done by Germans, paintings by Filipino artists, among others—the Basilica still stands with as much magnitude as it always has, perhaps just not the same glory.
ADVERTISEMENT - CONTINUE READING BELOW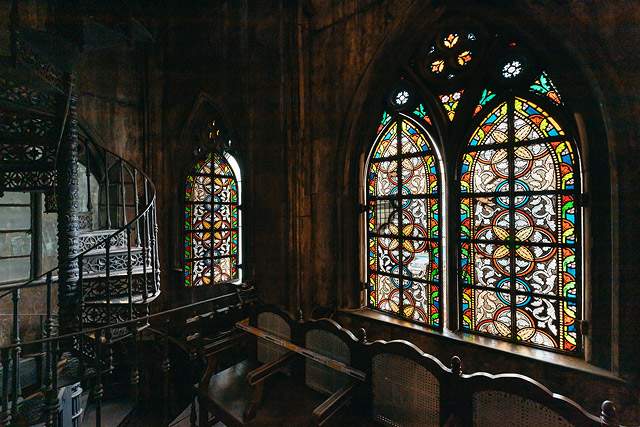 "Because we're developing a conservation management plan, [our work] goes beyond this as a site," says Pacardo. "It's already a place in the community," she adds, saying that if people don't understand why it's important, then all the conservation work the Basilica is undergoing will have no real effect. While Bukas Quiapo will bring you to at least a dozen sites in the area, this is the main takeaway its organizers want you to have, and it's really pretty simple: just a deeper understanding of the worth of Quiapo and its people.
ADVERTISEMENT - CONTINUE READING BELOW
There have been so many tours made to honor the wonders of our nation's capital: food trips in Binondo, walking tours in Intramuros, and the like, but to find one with the same foundation as Bukas Quiapo is rare. This isn't your ordinary sit-back-and-watch type of tour; it asks you to open yourself to Quiapo as much as it opens itself to you—just how much you're willing to give is up to you.
Bukas Quiapo Tours have a starting price of P1,500 per head. For more information, follow Bukas Quiapo Tours on Facebook.
Photos by Jilson Tiu