(SPOT.ph) Travelers often say that in order to truly get to know a place and its people, one has to dig in and try the local cuisine. The Philippines' Department of Tourism is taking this idea to the next level with its latest promotional campaign, "Eats. More Fun in the Philippines." A joint effort with local food giant Jollibee, the project aims to introduce the world to the numerous culinary delights of the Philippines.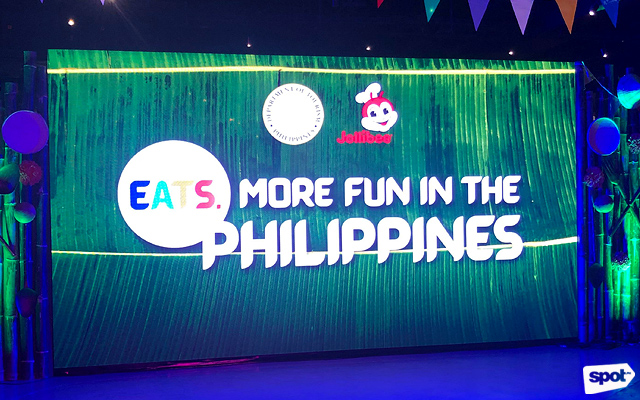 ADVERTISEMENT - CONTINUE READING BELOW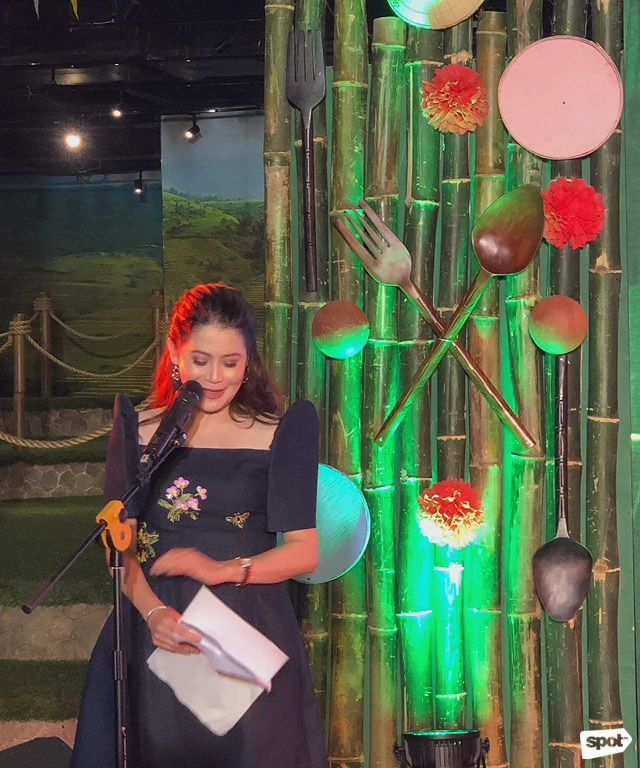 "Filipino food is an act of honoring every single person involved in giving us sustenance. From the farmers that toil the land, to the butcher that cuts our meat to the home cook mothers and titas who knead and mold and bring us mouthwatering meals that not only satisfy our appetites but bring us lasting memories," shared Tourism Secretary Bernadette Romulo-Puyat during the launch event on August 31 at Islas Pinas in Pasay City. 
ADVERTISEMENT - CONTINUE READING BELOW
Recommended Videos
At the core of the campaign is an online video that goes live on September 1 at 2 p.m. It features three Filipino personalities: Chef JP Anglo of Sarsa fame, Chef Jordan Andino of Adoborito, and YouTube content creator Mikey Bustos. The clip showcases the different ways that locals enjoy food and how certain dishes are a reflection of the nation's one-of-a-kind characteristics. Three 10-second videos were released online on August 30 at 5 p.m.
"We are highlighting the many dishes that not just represent the Filipino taste but more so our rich Filipino culture, Filipino food culture and heritage. And who better to tell everyone about them then our famous Filipino personalities?" expounded Jollibee's chief global marketing officer Francis Flores.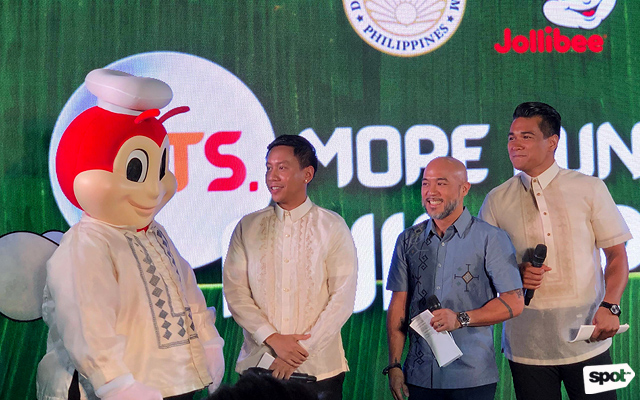 ADVERTISEMENT - CONTINUE READING BELOW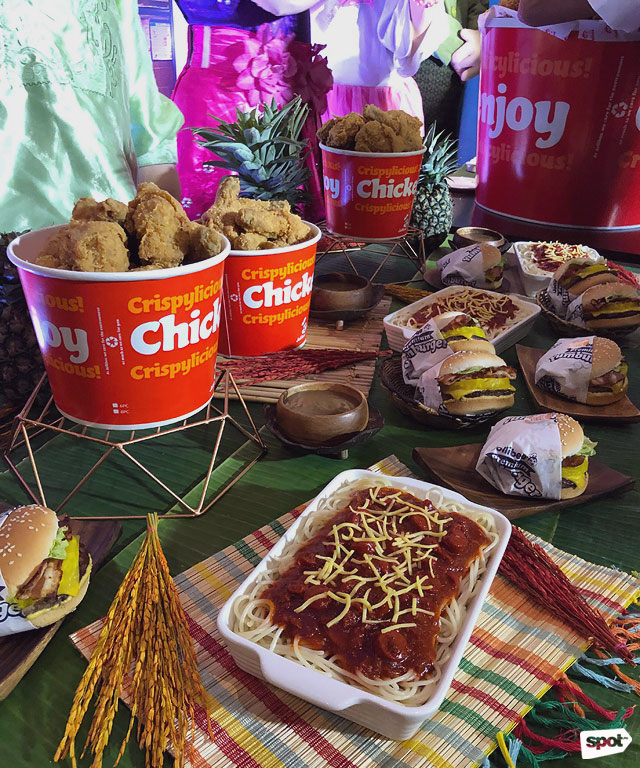 Anglo is all about pushing Visayan dishes into the international limelight. He has particular fondness for binakol. "It's a dish that needs to be recognized more. We have such an abundance of coconut and we don't really cook with it. Binakol is basically protein cooked in coconut water, and it's amazing," the celebrity chef said.
ADVERTISEMENT - CONTINUE READING BELOW
Bustos, who hails from the province of Tuguegarao, has a particular fondness for pansit patil batong. "It's basically the halo-halo of pansit. There's everything you can imagine on it and it's super masarap," he shared.
Andino, who's spent most of his life in the U.S. and Canada, revealed that his connection to Filipino food is tied to his grandmother, "Prior to my coming here, my only real authentic palette and flavors came from family. So my lola is [from whom] I learned all my technique from," he said.
The biggest star of the video and the campaign, however, is a character we're all familiar with—the Jollibee mascot who owns a special place in every Filipino's heart. Their signature meals, such as Chicken Joy and Jollyspaghetti, are front and center in the online video.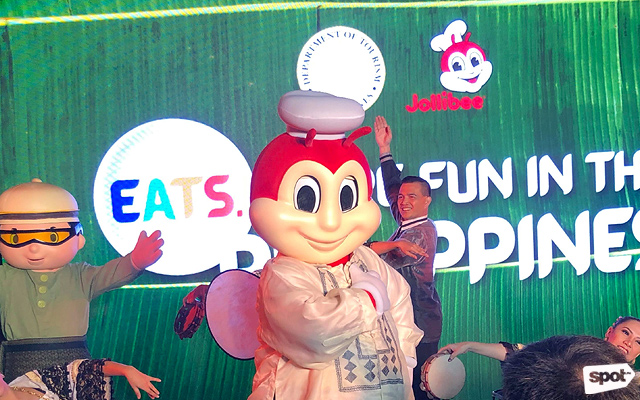 ADVERTISEMENT - CONTINUE READING BELOW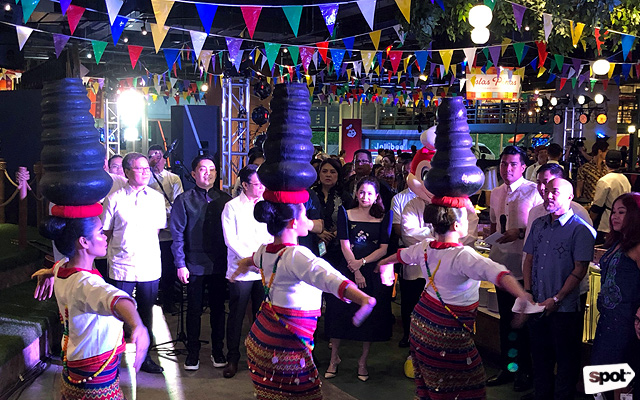 The launch event ended with mini-tour around Islas Pinas. The first stop featured a short performance by Bale Dancers and a quick sampling of Kalinga Coffee. The second stop allowed the event's guests and celebrity hosts to sample lechon in a quaint bahay kubo setting. The final stop featured a Filipino buffet with a large bucket of Chickenjoy and other Jollibee treats.
ADVERTISEMENT - CONTINUE READING BELOW
Aside from the three-minute clip, the campaign's 30-second video will also be aired as a television commercial all over the world. Billboards and out-of-home advertisements are also set to be shown across the globe. What's even more exciting is the revelation that this just the first phase of the collaboration between the Department of Tourism and Jollibee. "This is just the beginning of what I will feel will be a long time collaboration," the tourism secretary concluded. "Eats More Fun in the Philippines," indeed. 
UPDATE (September 1, 2 p.m.): Eats. More Fun in the Philippines by the Department of Tourism, in cooperation with Jollibee, is now live on YouTube and Facebook.
Share this story with your friends!
---
Help us make Spot.ph better!
Take the short survey
Load More Stories