(SPOT.ph) Admit it: There are probably times you wish you were a kid again—when your life's biggest cause of distress was having to take afternoon naps between playtime (oh, what we'd give to have those back!). If you miss having your imagination run wild while making pillow forts or building cities out of bricks, here's one place that can bring you back to your childhood: LEGOLAND Malaysia Resort.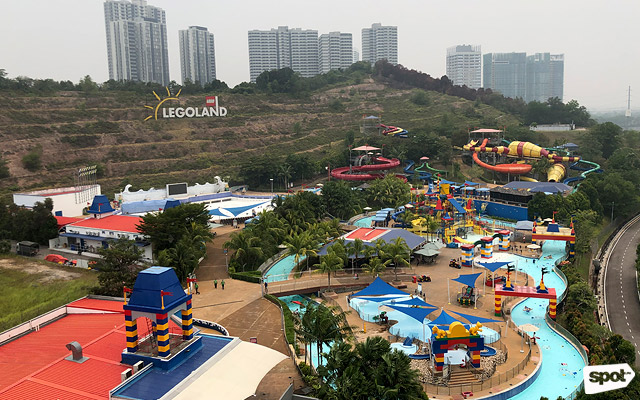 ADVERTISEMENT - CONTINUE READING BELOW
Located in Johor Bahru (just across the causeway from Singapore), LEGOLAND Malaysia Resort has four main areas. There's the Theme Park where you can take on thrilling LEGO-themed rides, the Water Park which is the largest water park in the world, the Hotel where you can go on fun adventures (more on that later), and SEA LIFE, which just opened in May 2019, where you can explore the underwater world without actually going underwater. It's all equal to the size of more than 50 football fields put together, which is pretty huge—so consider spending at least two days in the resort to get the most out of your stay.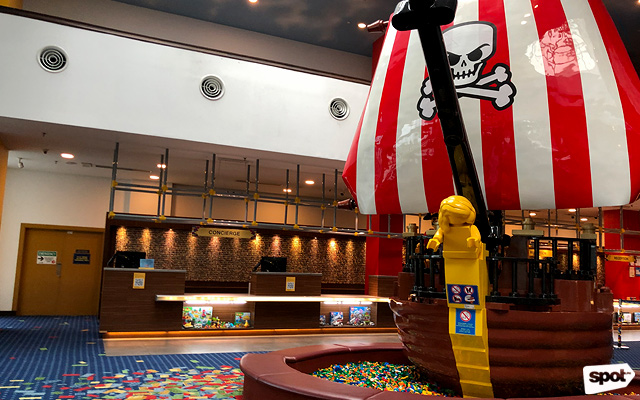 ADVERTISEMENT - CONTINUE READING BELOW
Recommended Videos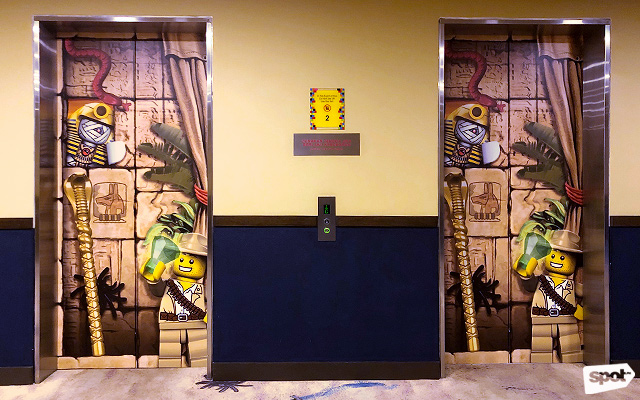 Word of caution, though: Children are king at LEGOLAND and they take "Everything is awesome!" very seriously. You may or may not be overwhelmed by the cheery music (their elevators are equipped with disco lights and speakers), the amount of LEGO bricks everywhere (Fun fact: there are over 15,000 LEGO models made from over 60 million LEGO bricks in the resort), and kids (and maybe even some adults—not saying it's us!) running haywire out of excitement. One thing's for sure—you'll have a serious case of LSS once you leave. Cue: "Everything Is Awesome" theme song. 
ADVERTISEMENT - CONTINUE READING BELOW
Here are 10 things you shouldn't miss at LEGOLAND Malaysia Resort: 
Feel like a giant while exploring Asia's landmarks in Miniland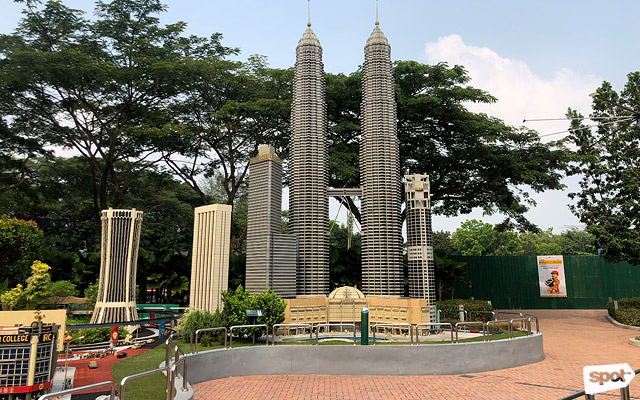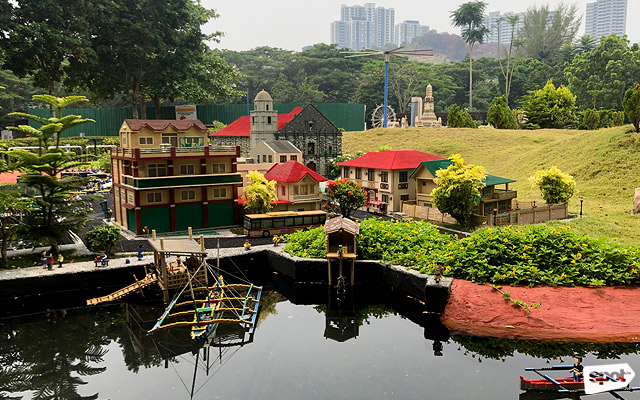 ADVERTISEMENT - CONTINUE READING BELOW
Every LEGOLAND Theme Park has Miniland as its centerpiece, and the one in Malaysia is the largest in the world. Here, you can spot miniature models of some of Asia's popular landmarks like the Taj Mahal, Angkor Wat, and the Petronas Twin Towers. The Philippines' very own Bolinao, Pangasinan, also gets a cool miniature display at Miniland!
Get a 360-view of LEGOLAND Malaysia Resort at the Observation Tower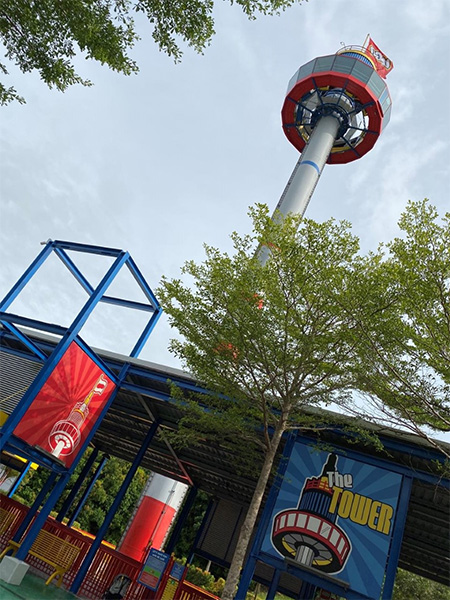 ADVERTISEMENT - CONTINUE READING BELOW
Standing 61 meters high, the top of the Observation Tower in the LEGOLAND Theme Park is the highest point in the entire park. It's the best place to get a 360-degree view of the LEGOLAND Malaysia Resort because it can lift you 41 meters above ground. Here, you'll get to see all the rollercoasters you can ride in the theme park, a view of the water park, the LEGOLAND Malaysia Hotel, as well as the LEGOLAND logo on the mountains that looks like the Hollywood sign.
Shop till you drop at The Big Shop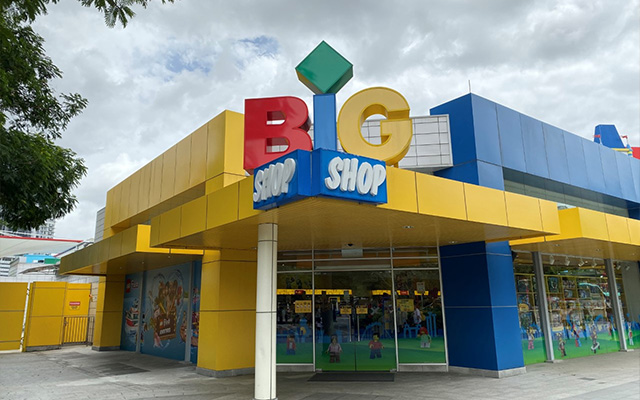 ADVERTISEMENT - CONTINUE READING BELOW
Upon entering the Theme Park, the first thing you'll see is The Big Shop a.k.a. the largest LEGO store in the whole of Southeast Asia. LEGO enthusiasts will go crazy browsing through shelves upon shelves of coveted LEGO sets, Mini Figures, keychains, and more. You can shop the most coveted LEGO sets and even have some of the accessories personalized with your initials.  
Explore marine life at SEA LIFE Malaysia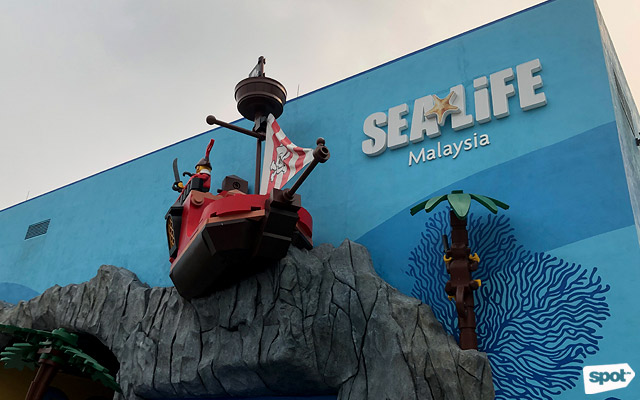 ADVERTISEMENT - CONTINUE READING BELOW
The newest addition to the resort, SEA LIFE Malaysia gives you a closer look at thousands of sea creatures from 120 species. The 2,123-square-meter (that's about eight times as big as a tennis court) indoor aquarium features 25 display tanks and 11 habitat zones like the Shoaling Ring, Malaysian Rainforest, Seahorses, Stingray Bay, Coral Reef, Jellies, Ocean View, and Ocean Tunnel so you can explore marine life without actually going underwater—great for those who have a fear of the ocean. Expect to see stingrays, zebra sharks, blacktip reef sharks, seahorses, jellyfish, and more. 
Snap double tap-worthy pics at the Ocean Tunnel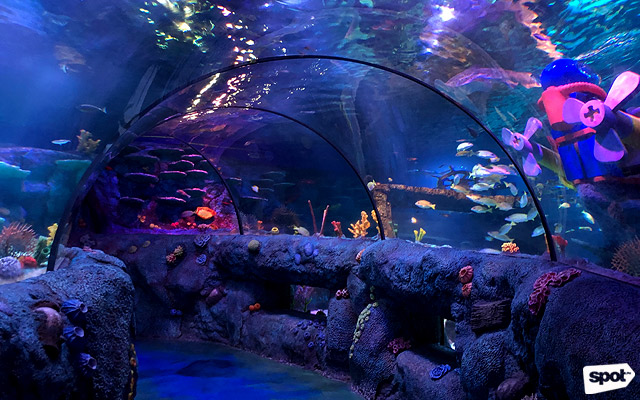 ADVERTISEMENT - CONTINUE READING BELOW
Make sure you don't leave SEA LIFE Malaysia without going through the Ocean Tunnel. It's the largest tank in the aquarium, and you can take videos and snap cool pictures with hundreds of different sea creatures floating right above your head. 
Break out your swimsuits at LEGOLAND Water Park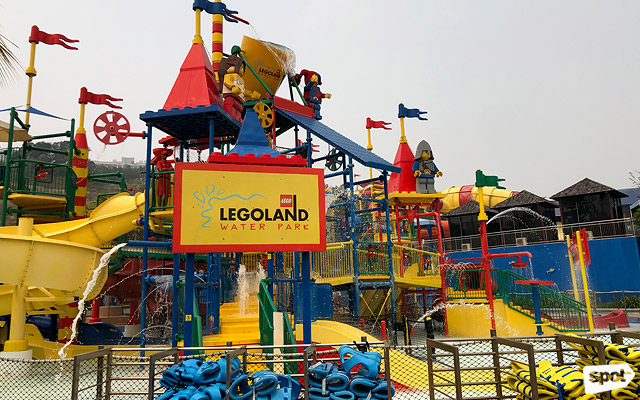 ADVERTISEMENT - CONTINUE READING BELOW
Nothing screams "fun" louder than a water park, and a LEGO-themed one makes it even more exciting. Plus, the LEGOLAND Water Park in Malaysia is the largest LEGOLAND Water Park in the world, so it's worth checking out. It features over 20 unique water slides you can go on as well as other attractions you can find in other LEGOLAND Water Parks around the world. One of them is the Joker Soaker, an interactive attraction that has water cannons you can play with while a giant bucket from above splashes 350 gallons of water on everyone in the area.
Test your building skills at Build-A-Raft Lazy River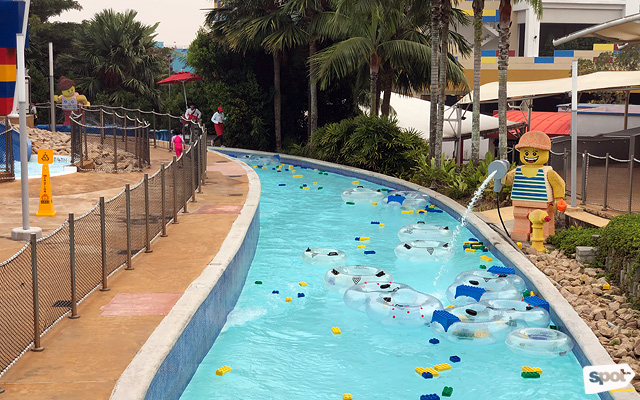 ADVERTISEMENT - CONTINUE READING BELOW
For those who prefer a chill activity, you can customize your own raft using soft LEGO bricks so you can float around the lazy river and bask under the sun. It's a good way to relax while also exercising your creativity! If you've got nieces and nephews with you, this attraction would be a big hit. 
Make the most out of  your LEGO-themed room at LEGOLAND Hotel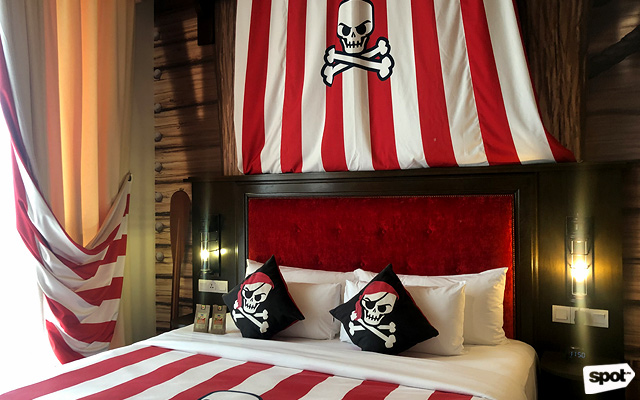 ADVERTISEMENT - CONTINUE READING BELOW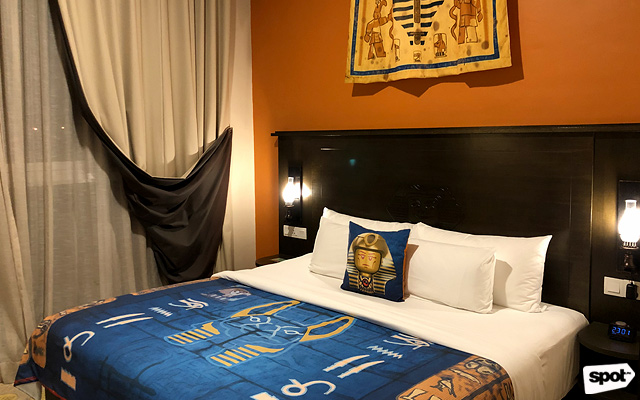 The hotel has 263 themed rooms where you can choose to train like a ninja, play like a pirate, rule a kingdom, or go on an adventure—whichever you choose, you'll be in for an experience because each room has interactive features like a cool treasure hunt. The rooms all have a locked treasure chest, and once you solve the puzzle, you get to bring home whatever's inside the treasure chest as a prize.
ADVERTISEMENT - CONTINUE READING BELOW
Have a good look at the wall full of Mini Figures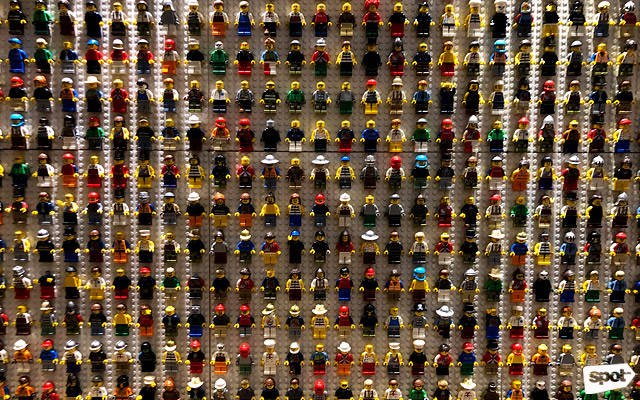 Aside from the huge play area in the hotel lobby where kids can explore the knight's castle and play with over 100,000 LEGO bricks, LEGO fans will immediately notice the huge wall that's lined with thousands of Mini Figures—there are exactly 12,528 Mini Figures on display. You'll find endless combinations of LEGO Mini Figures, it's almost mind-blowing to see different they all are yet still so similar. In case you're itching to pick one out, you can make your own Mini Figures at the store, which is just a few steps away.  
ADVERTISEMENT - CONTINUE READING BELOW
Drool over Bricks Family Restaurant's selection of food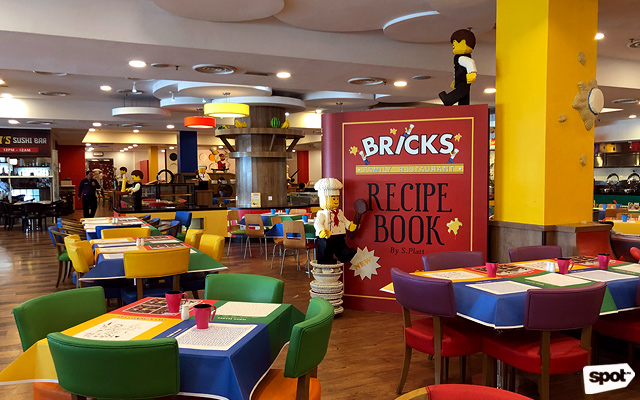 This all-day dining restaurant offers breakfast, lunch, and dinner, so in case you're starving after your adventure-filled day, you can cap it off with a buffet dinner. The restaurant serves a variety of cuisines, from Asian fare to Western food so you're sure to find something your taste buds will thank you for. Since it's in a family hotel, the buffet caters to people of all ages. There's an egg station, a pasta station, a selection of cheese, fresh juices, and even alcoholic beverages if you want to unwind after a long day. 
ADVERTISEMENT - CONTINUE READING BELOW
How to get there: There are regular flights from Manila to Kuala Lumpur, but the easiest way to go to LEGOLAND Malaysia Resort is via Changi Airport in Singapore. Upon arriving in Singapore, get on a bus bound for Johor Bahru in Malaysia. From there you can get on the causeway link bus to LEGOLAND Malaysia Resort. 
LEGOLAND Malaysia Resort is at No 7, Jalan Legoland, Iskandar Puteri, Johor Bahru District, Johor, Malaysia. It is open from 10 a.m. to 6 pm. Admission fees start at 89 Malaysian ringgit (for SEA LIFE Malaysia), 146 Malaysian ringgit (for LEGOLAND Water Park), and 199 Malaysian ringgit (for LEGOLAND Theme Park). One-day ticket for all three starts at 329 Malaysian ringgit. For more information, visit LEGOLAND Malaysia Resort's website. 
Share this story with your friends!
---
Help us make Spot.ph better!
Take the short survey
Load More Stories