A Comprehensive Guide to Traveling to Boracay During the Pandemic
Plus, find out if your favorite Boracay spots are still open.
(SPOT.ph) To say that Boracay has been through a lot is an understatement. The residents of the Philippines' most famous island, which relies heavily on tourism to survive, were just getting back on their feet after its shutdown in 2018, and when the pandemic forced the island to close yet again in the first quarter of 2020. 
But the island is determined to bounce back. On October 1, 2020, the island reopened to tourists from all over the country, albeit with strict protocols. Hotels are also offering promo rates to entice travelers to revisit their white sands and blue waters. 
Boracay opened only to Western Visayas residents starting on June 16, 2020 with a strict age restriction, where visitors below 21 or older than 60 were prohibited from entering the island. On July 23, 2020, the Department of Tourism's request to lift the age restriction was approved by the Boracay Inter-Agency Task Force. It wasn't until October 2020 that people from all over the country were allowed on the island. 
ADVERTISEMENT - CONTINUE READING BELOW
Your Step-by-Step Guide to Planning a Trip to Boracay 
Expect that planning a trip to Boracay during the pandemic will not be as easy as it used to be, but it's for everyone's safety. Unfortunately, the Philippines does not have a uniform, nationwide set of protocols yet—each travel destination frequently updates advisories on various platforms every month via social media, their local government unit's official websites, and letters distributed to various agencies and media outlets. 
The Philippines has yet to develop one user-friendly tourism website that must be updated regularly with a uniform set of protocols for the entire country and clear answers to FAQs. While the DOT's Travel Philippines app and website are colorful upgrades, we ended up researching for more updated info from other sites and social media pages. 
As of June 3, 2021, this is the step-by-step process for tourists visiting Boracay. We added tips to help you travel responsibly. 
ADVERTISEMENT - CONTINUE READING BELOW
Recommended Videos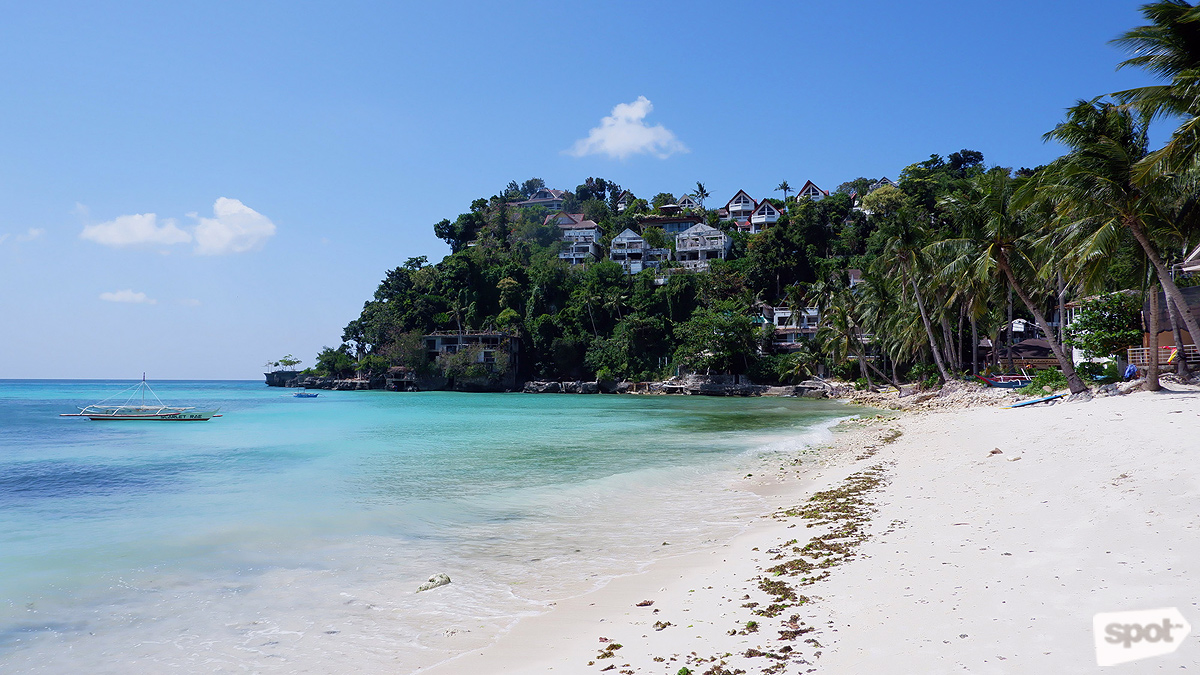 Diniwid Beach
PHOTO:

Kate Alvarez
Here's an updated list of Boracay travel requirements (as of June 2021):
Step 1: Book a roundtrip plane ticket. 
Make sure the airline lands in Godofredo Ramos Airport in Caticlan (port of entry for tourists only), and not Kalibo International Airport (port of entry only for locally stranded individuals, overseas Filipino workers, returning overseas Filipinos, authorized persons outside residence, and other emergency travelers). Get a rebookable ticket in case you test positive for COVID-19 and you need to cancel or rebook the trip. One-way tickets will not be accepted for boarding. If you don't mind shelling out more for extra safety, do what the celebrities do: Book a private charter to Boracay. 
Step 2: Book at an accredited hotel. 
Don't forget to check the Department of Tourism's (DOT) list of accredited accommodation establishments in Boracay. It's best to choose a hotel that allows rebooking, transferring, or refunding in case you test positive for COVID-19. Most hotels will ask you to fill up an online booking form before they give you the booking documents. 
ADVERTISEMENT - CONTINUE READING BELOW
Also Read: 10 Places to Stay in Boracay for Every Budget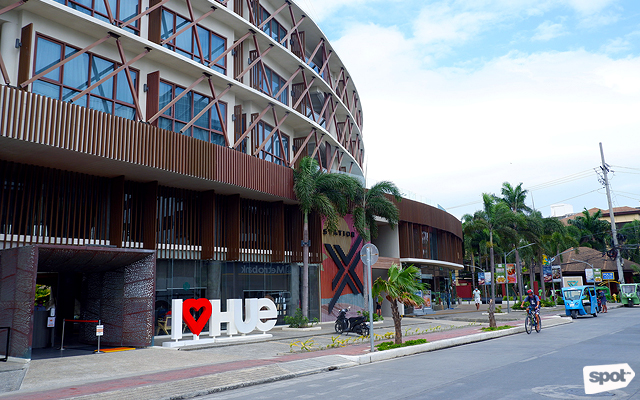 Step 3: Get a negative RT-PCR (Reverse Transcription-Polymerase Chain Reaction) test result. 
Other types of COVID-19 tests—like the rapid antibody test and rapid antigen test—will not be accepted. Your RT-PCR test, either through nose swab or saliva specimen, must be done no more than 72 hours before your travel date. For example, if you took the test on March 1 and got a negative result on March 2 to 3, you can only travel to Boracay on March 4 or earlier, but not on March 5 or later. The test is not required for children two years and younger. Your test result will be validated and the Aklan police will arrest you if you submit fake test results.
ADVERTISEMENT - CONTINUE READING BELOW
Also Read: Boracay Drops COVID-19 Test Requirement for Fully Vaccinated Travelers Again
Step 4: Register through S-PaSSS.
S-PaSS or Safe, Swift, and Smart Passage is required when heading to the different provinces in the Philippines. Aklan, specifically Malay, is using S-PaSS as of March 2021. To register, just follow the prompt and the instructions in applying for a Travel Coordination Permit.
Also Read: Everything You Need to Know About S-PaSS
Step 5: Secure a health declaration card from Boracay. 
Go to touristboracay.com, click on Boracay, and fill out the form. When you're done, screencap the confirmation page before exiting the webpage or lose the confirmation form forever! That screencap is your health declaration card. 
Step 6: Submit the following to touristboracay@gmail.com:
The screencap of your health declaration form
Negative RT-PCR result
Hotel booking form
Valid ID with proof of Philippine residency
Roundtrip flight details
E-mail subject must be "OHDC – Last Name, First Name" 
ADVERTISEMENT - CONTINUE READING BELOW
Step 7: Wait for touristboracay@gmail.com to e-mail you back with your tourist QR code. 
It takes about 12 hours or less to receive your QR code. The QR code is a mandatory requirement before boarding, before checking into a hotel, and before getting a boat ticket at the ports. No QR code, no travel. The tourist QR code expires 12 hours after your checkout time. If you want to extend your trip, you need to e-mail your new hotel and flight booking details to touristboracay@gmail.com and wait for a new QR code. 
Step 8: See if your hotel also has a list of requirements that they need you to e-mail, which is most likely the same as the list on Step 5. 
Step 9: Save all the travel documents (plane tickets, hotel booking documents, and most especially the tourist QR code) on your phone and be ready to present at the airports, hotels, and ports. 
You may print them, but in the time of a pandemic, it's best to go paperless and contactless. You still need to show a valid ID on top of the other requirements. They will also ask you to briefly take off your mask at the airport so that they can verify that it's you on the ID photo. 
ADVERTISEMENT - CONTINUE READING BELOW
Step 10: Download the Traze App (a nationwide contact-tracing app) and register your info before you get to the airport. 
You won't be allowed to check-in for your flight without showing proof that you've registered on the Traze App. In case you forget to download the app, you will need to step aside to download and register before being allowed to fall in line at the airline counter. If you don't have mobile data, you can connect to the airport WiFi. For those without a smartphone, there's a help desk in the airport that will help you register for contact tracing. 
Also Read: Everything You Need to Know About the Traze App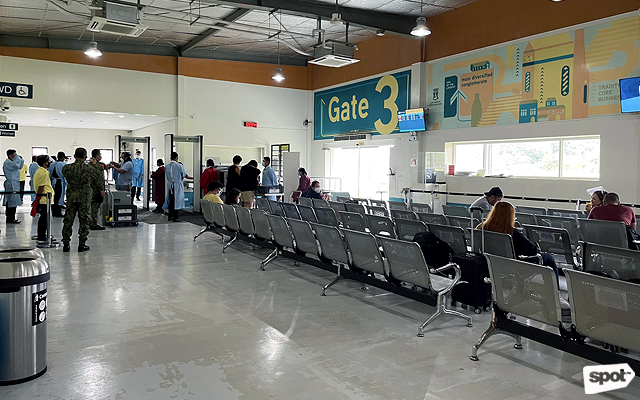 ADVERTISEMENT - CONTINUE READING BELOW
Step 11: Be at the airport two to three hours before your domestic flight. 

Some travelers have reported problems with verifying their QR codes at the airport, so they were not allowed to board until they received a new e-mail from touristboracay@gmail.com or enlisted the help of the hotel they booked. Make room for delays. 
Step 12: You must wear your face shield and mask at the airport and airplane, except when eating.
Flight attendants are vigilant in calling people out for not wearing masks and shields properly. 
Step 13: Keep the phone numbers of your hotel concierge in your phone in case you run into mishaps and need their help. 
Step 14: For transfers (Caticlan Airport to Jetty Port, Jetty Port to Boracay Island Port, and port to hotel), you may just pay and ride as you get there. 
But if you're the type that likes everything pre-arranged, ask your hotel to book arrangements for you. 
ADVERTISEMENT - CONTINUE READING BELOW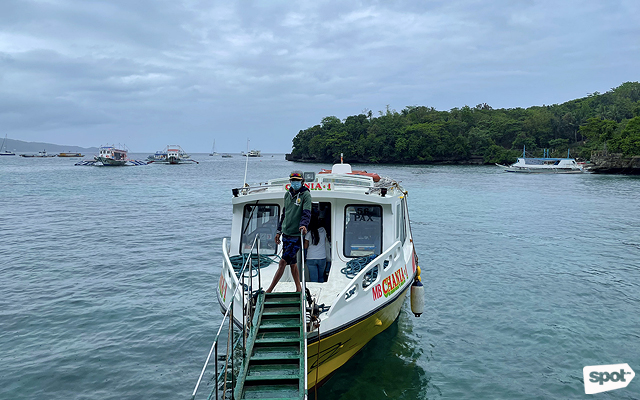 COVID-19 Test Options 
Boracay only accepts test results from accredited laboratories. Your hotel can refer you to their partner labs. Each RT-PCR test goes from P4,500 to P7,500 in private labs, depending on how fast you want the results or if you want a home-service test. For public labs like the Red Cross, it's P3,800 per RT-PCR test. The National Kidney and Transplant Institute is offering a special rate of only P391, but you need to submit some requirements. 
ADVERTISEMENT - CONTINUE READING BELOW
Subsidized RT-PCR tests for Manila-based tourists are available through the University of the Philippines – Philippine General Hospital at P900 and the Philippine Children's Medical Hospital at P750. 
On March 18, the Boracay Inter-Agency Task Force approved their resolution to allow the saliva test for inbound travelers.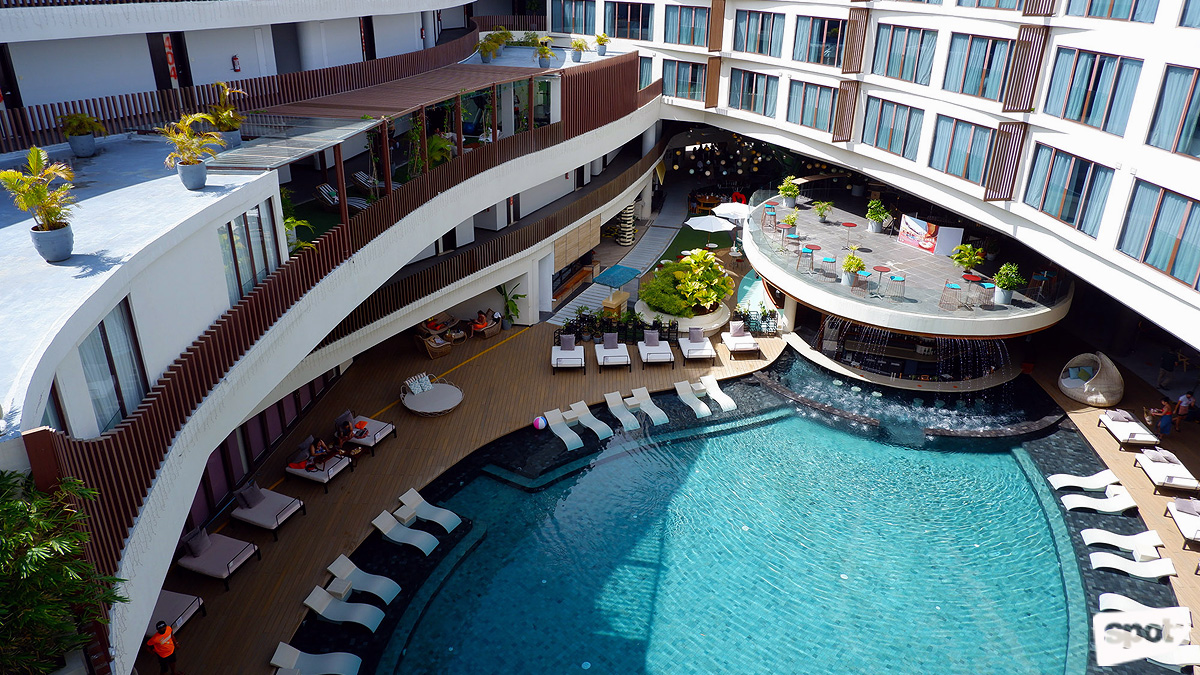 Hue Hotel's mostly open-air facilities will make you feel secure about your stay during the pandemic.
PHOTO:

Kate Alvarez
Choosing a Hotel 
Book only from DOT's list of accredited hotels. Most hotels are offering discount prices and promos to entice more visitors. Rooms that used to cost P8,000 to P10,000 are now only P3,000+ a night.  
Boracay's Health Protocols 
When you get to the island paradise, it's easy to forget that there's a pandemic ravaging the planet. Don't let your guard down. Follow all health protocols, like washing and sanitizing your hands regularly, wearing a mask in public places, and social distancing. Each establishment is required to follow basic protocols like a foot bath and temperature check before entry, but others go the extra mile to make their customers feel safe. For your peace of mind, choose establishments that go beyond basic protocols.   
ADVERTISEMENT - CONTINUE READING BELOW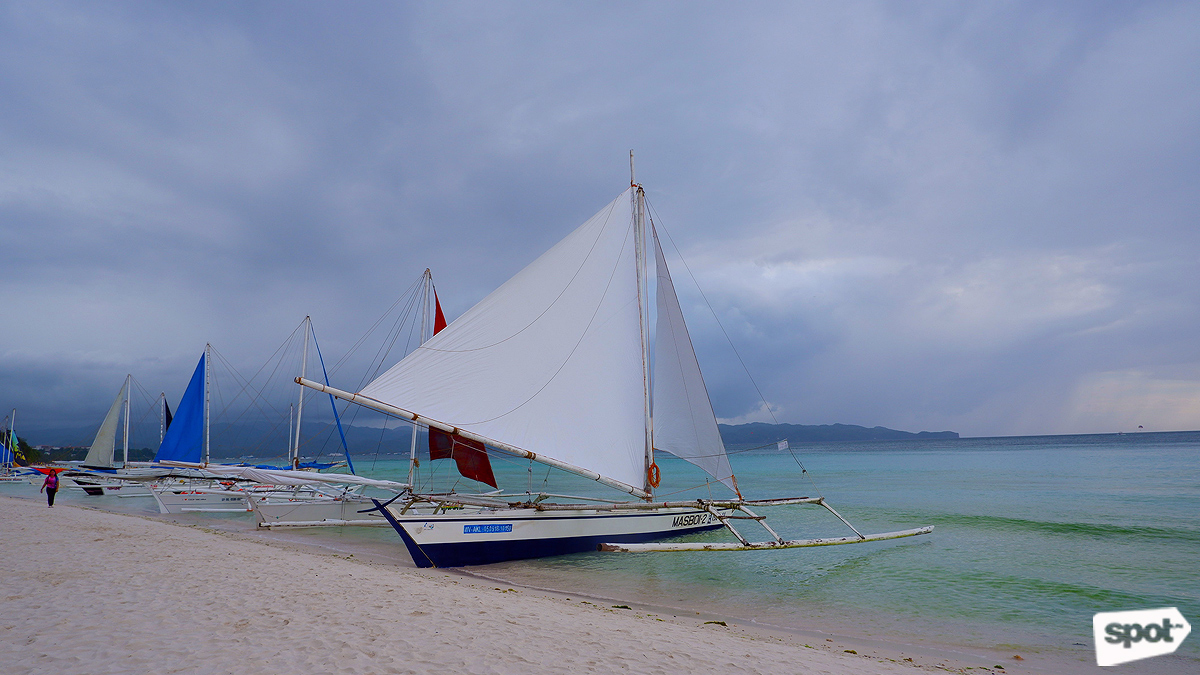 Water activities are now regulated. Sunset sailing, for example, now follows socially distanced seating.
PHOTO:

Kate Alvarez
What Changed in Boracay? 
The biggest thing you'll notice when you step foot on Boracay island is that more than half the establishments are closed. Unless they've made the official announcement on their Facebook page or a sign on the door, it's hard to tell if the dilapidated building is just temporarily closed, about to be renovated, completely abandoned, or part of the erring buildings that had to be knocked down or pushed back to create a 32-yard buffer zone away from the shoreline, which was part of the 2018 facelift. 
The island already went through major changes after the 2018 closure—no more bean bags and other decor cluttering the beachfront, no more sandcastle sculptures. There's an organized system for water activities and vendors, and stricter environmental protocols for establishments. E-trike rides are now P20 per person (it was P10 pre-pandemic) because they can only allow half the usual number of passengers. 
ADVERTISEMENT - CONTINUE READING BELOW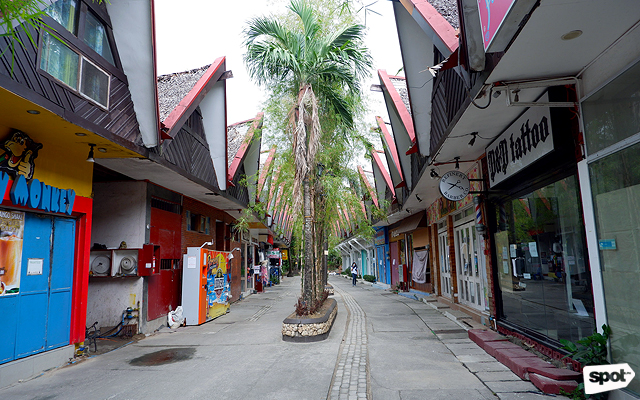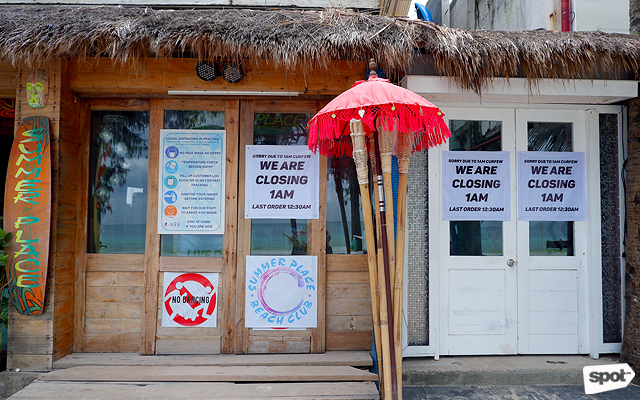 ADVERTISEMENT - CONTINUE READING BELOW
Many restaurants are closed by 8 p.m., while some bars and souvenir shops maximize the 1 a.m. island curfew. If you've been to Boracay before, you'll notice that White Beach, which used to be dotted with foreign tourists from around the world, is less than half full—or more than half-empty, depending on your point-of-view. 
Are Your Favorite Establishments Still Open? 
Yes and no. Classics from the '90s like Real Coffee and Jony's Fruit Shake will probably survive beyond the pandemic. Hot spots like Epic, Summer Place, and Coco Bar are still up and running, but with restrictions. Dos Mestizos moved to Station 1. True Food, Manana, and Aplaya folded during the pandemic. SpiceBird has reopened on March 19.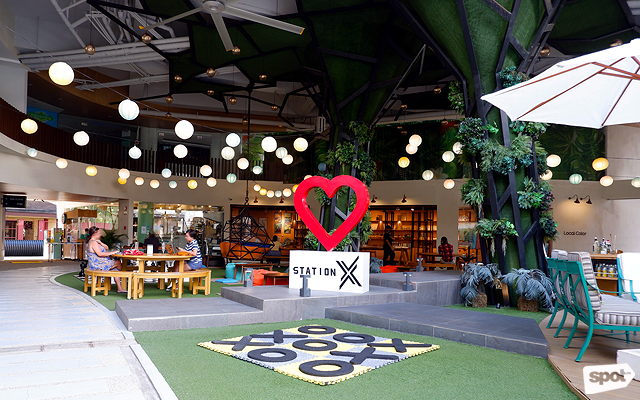 ADVERTISEMENT - CONTINUE READING BELOW
D'Mall and Talipapa are still there, but more than half the shops are closed. Franchises—such as Starbucks, Max's, KFC, Pizza Hut, one of the two McDonald's, and many convenience stores—are closed. Budget Mart survived, but the shelves aren't as stocked as they used to be. Jollibee and Yellow Cab survived. The malls are still there.
In Station X, famous food joints such as Little Wave, Coco Mama, and Nonie's continue to serve the island's Instagrammable favorites. Supermagic Burgers and Ice Cream reopened on March 15, while The Sunny Side Café reopened as a pop-up, also on March 15.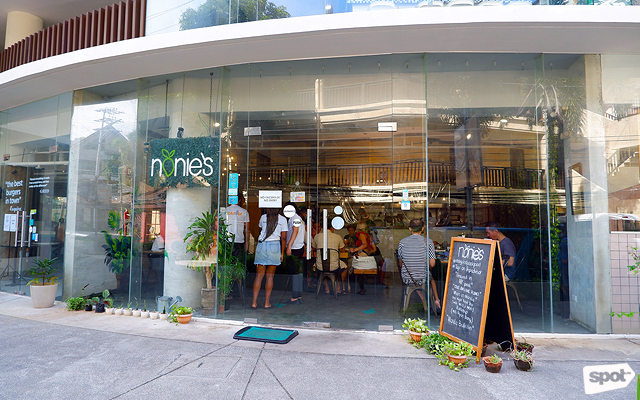 ADVERTISEMENT - CONTINUE READING BELOW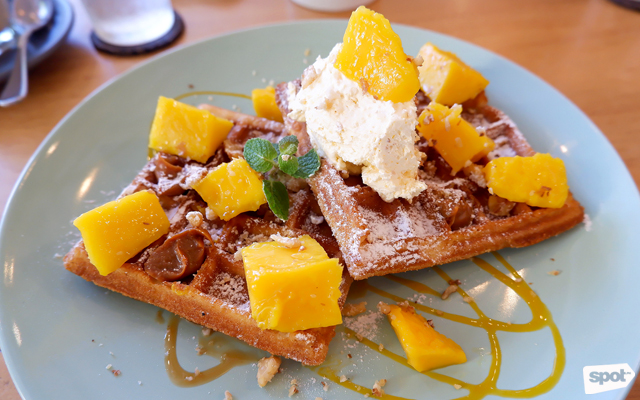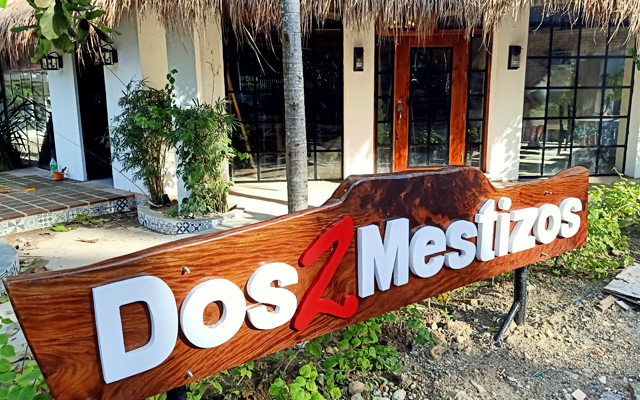 ADVERTISEMENT - CONTINUE READING BELOW
Because Boracay's tourist influx is only 5 to 15% of what it used to be, it's now faster to walk from Station 1 to 3 without the foot traffic. Your heart will break at the sight of faded signages and abandoned buildings, and at the same time feel a sigh of relief when you find printouts taped on the door telling you that the place is just under renovation, has moved to a different station, or will reopen soon. 
Nothing compares to Boracay's powdery white sand, and their sunset is just as picturesque as you remember. The locals are happy to have their tourists back—just don't leave your mask at the hotel and make sure you follow social distancing.
UPDATED (June 3): This article has been edited to include the S-PaSS travel requirement.
Hot Stories You Might Have Missed
Hey, Spotters! Check us out on Viber to join our Community and subscribe to our Chatbot.
ADVERTISEMENT - CONTINUE READING BELOW