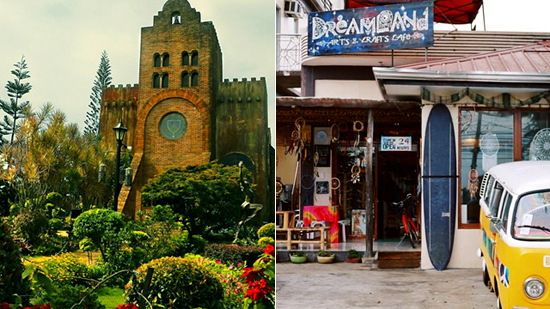 (SPOT.ph) Tagaytay is practically everyone's go-to weekend getaway destination, and it's easy to see why. It's only a two-hour drive from the city, the climate is cooler, and there's a laid-back vibe to the place. While you already have your tried-and-tested favorites (think Good Shepherd, Bag of Beans, Sonya's Garden, Balay Dako, Nurture Spa, and the like), you may be surprised to learn that there are a lot more secret gardens and hidden gems you have yet to discover and explore.
CITY LANDMARKS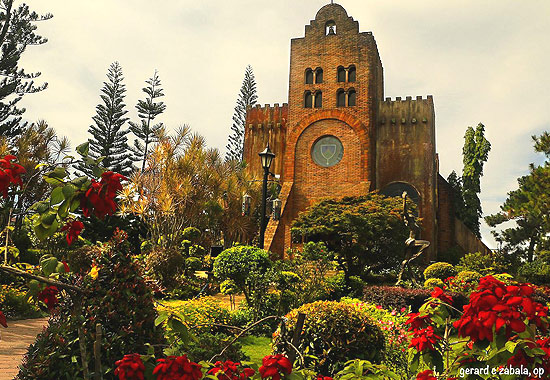 Caleruega
Caleruega, Batulao, Nasugbu, Batangas
Contact: 706-0348; 0921-270-9890
Email: caleruega_philippines@yahoo.com
FB: facebook.com/Caleruega-Philippines-297176393659680
 
If you want to do a bit of Visita Iglesia during your trip, drop by Caleruega. There's more here than just the famous Chapel of Transfiguration. In and around the grounds you can follow the Way of the Cross on Manaoag Drive, check out the extensive koi pond, cross the hanging bridge, and make your way up to the Tent Chapel on the hill. It has a beauitful view of the sunset, too!
ADVERTISEMENT - CONTINUE READING BELOW
WHERE TO STAY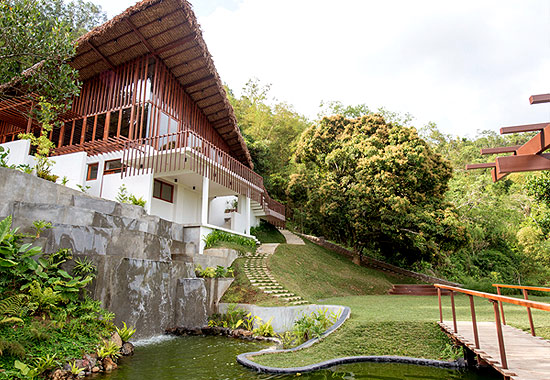 Narra Hill
Laurel, Batangas
Contact: 0977-840-4936
Email: info@narrahill.com
Website: www.narrahill.com
More popularly known as a wedding and events venue, Narra Hill also operates as a boutique bed and breakfast. You can book one of their four rooms on Airbnb. The view is gorgeous, the grounds are beautiful, and the place is secluded. So if you're looking for a respite from the frantic pace and frenetic energy of the city, Narra Hill might just be the place for you.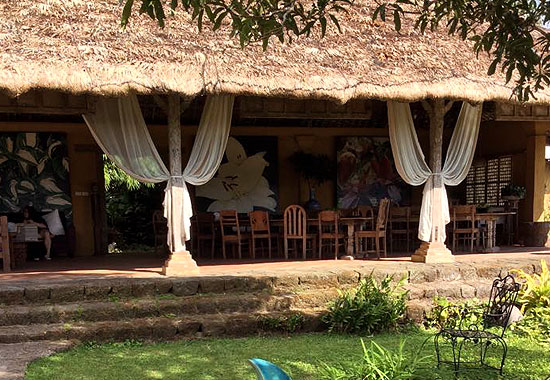 ADVERTISEMENT - CONTINUE READING BELOW
Recommended Videos
Moon Garden
SVD Road
Contact: 0939-913-9097
Email: moongardentag@gmail.com
FB: facebook.com/MoongardenTagaytay
This rustic and charming bed and breakfast will make you feel like you stepped into a secret garden. There are two stone cottages surrounded by lush greenery that you can rent, perfect for a romantic weekend with your SO. Make sure to request to have your breakfast in one of the huts by the lily pond.
WHERE TO EAT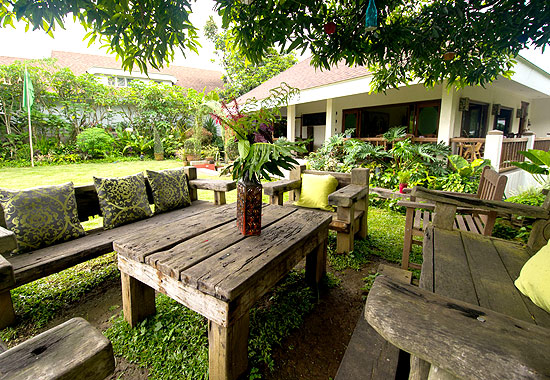 Lime and Basil Thai Restaurant
Sikat Road, Alfonso
Contact: 0915-627-6393
Website: www.limeandbasil.ph
Open from 11 a.m. to 9 p.m. (Wednesday to Sunday)
Love Thai food? Drop by Lime and Basil for some authentic Thai cuisine. These guys take farm-to-table quite literally, harvesting some of the herbs they use in their dishes from the garden just beside the restaurant. While waiting for your food to be served, you can walk around their Songkran Edible Garden and check out the herbs (basil, lemongrass, and coriander are staples in Thai cooking) and the other vegetables growing there.
ADVERTISEMENT - CONTINUE READING BELOW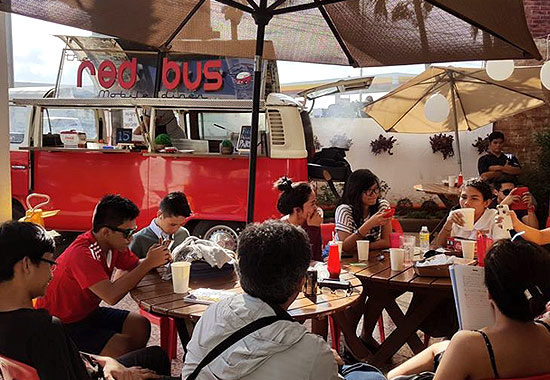 The Red Bus Mobile Diner
One Destination Hotel,Tagaytay-Nasugbu Highway
Contact: 0908-899-3708
Email: theredbusfoodco@gmail.com
FB: facebook.com/TheRedBusMobileDiner
Open from 2 p.m. to 12 a.m. (Monday to Wednesday); 10 a.m. to 12 a.m. (Thursday to Sunday)
If you're looking for a unique place to rest your tired feet after a day of sightseeing, just look for the red Volkswagen Kombi. We hear their huge, fresh-grilled gourmet burgers and Ground Beef Burrito in this hole-in-the-wall (more like the bus on the corner) diner are all sorts of win.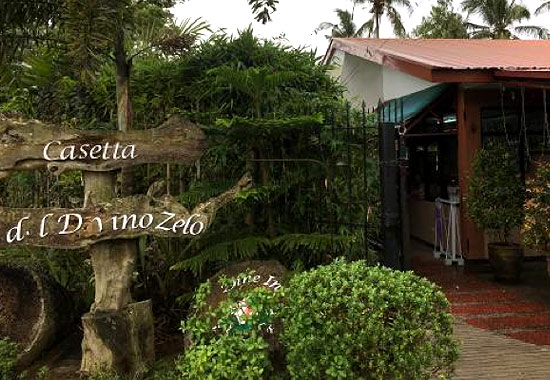 ADVERTISEMENT - CONTINUE READING BELOW
Casetta del Divino Zelo
Km. 47 Lalaan 1, Emilio Aguinaldo Highway (near Ilog Maria's Honeybee Farm)
Open from 10 a.m. to 5:30 p.m. (Wednesday, Saturday, and Sunday)
This quaint pizza and pasta place is run by nuns from the Daughters of Divine Zeal (hence the name) and the head of the kitchen is Italian nun Mother Isabela (hence the menu). The pizza here is cooked in their very own brick oven, giving it that special crunchy, chewy crust. Make sure to finish off your meal with classic Italian desserts like tiramisu and ciambella cake (lemon pound cake), or something a little more homegrown—their mango-pineapple tart.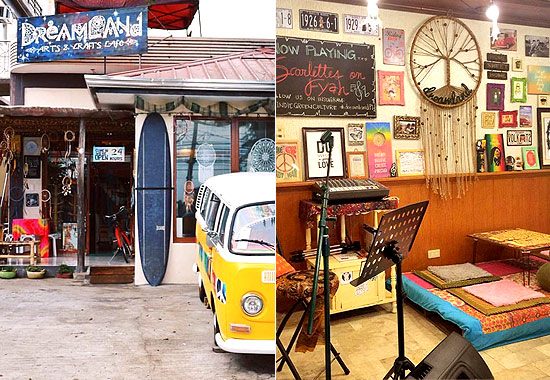 Dreamland Arts and Crafts Café + Bed and Breakfast
Purok 157, Calamba Road
Contact: 0977-826-3271
FB: facebook.com/Dreamland-Arts-Crafts-Cafe-Bed-Breakfast-Tagaytay-515802881913894
Open 24 hours
Here you'll find "handmade goodies for the indie soul" as well as food that feeds the soul. The place is definitely a dreamland for crafters. They sell artsy stuff, and in this WiFi-free café, you are encouraged to disconnect from your gadgets and reconnect with your creative self. You can read a book, do some crafting, or just hang out with friends while you enjoy the place and yummy food. 
ADVERTISEMENT - CONTINUE READING BELOW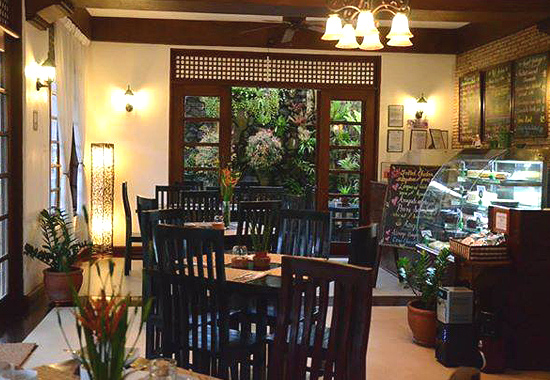 Café Carmencita
Aguinaldo Highway, Barangay Kaybagal South
Contact: 0915-416-9159
FB: facebook.com/cafecarmencita
Open from 10 a.m. to 9 p.m. (Tuesday to Thursday); 10 a.m. to 10 p.m. (Friday to Sunday)
Coffee chains are a dime a dozen in the city, so we're always on the lookout for cozy local cafés to try out, like this homey coffee shop in Tagaytay. It looks like a family home because it is, except the first floor has been turned into a café. Other than baked goodies, they also serve dishes like roast beef and turtle pie.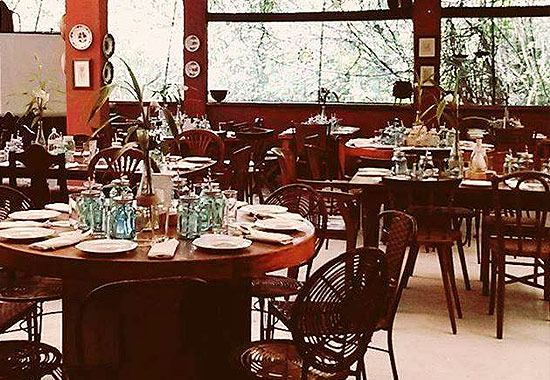 ADVERTISEMENT - CONTINUE READING BELOW
Chateau Hestia Garden Restaurant
J. Hernandez Street, Purok 5, Barangay Bukal, Silang
Contact: 0929-711-3289; 0905-352-4636
Email: dine@chateauhestia.com
FB: facebook.com/chateauhestia
Open daily from 9 a.m. to 10 p.m. 
Austrian owner Johannes Zehethofer's goal was to serve delicious European dishes in a place that made his diners feel right at home. Mission accomplished! The menu includes Austrian sausages, goulash, gravlax, and pastas among many others. There's a laid-back feel to the place, thanks mostly to the lush garden just outside the dining area. There's also a deli right in front of the restaurant, if you want to buy wines, cheeses, and cured meats.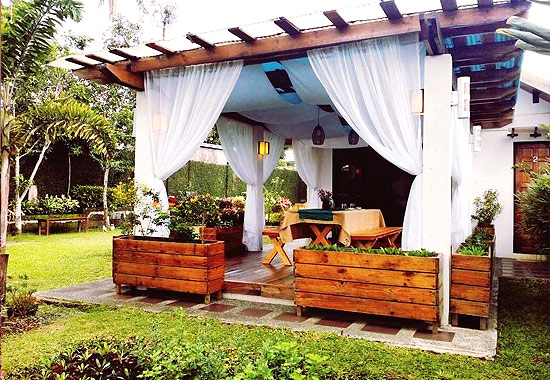 Milagros Private Kitchen
1640 Maglabe Drive, Barangay Guinhawa South
Contact: 0917-465-4617; 0906-204-3248
Email: milagroshomecooking@gmail.com
Website: milagrosph.com
Celebrating a milestone or looking to get together with the whole family? Make a reservation (three to five days ahead) at Milagros Private Kitchen for a "unique home-cooked dining experience" in a gorgeous al fresco dining area.     
ADVERTISEMENT - CONTINUE READING BELOW
WHERE TO GO SHOPPING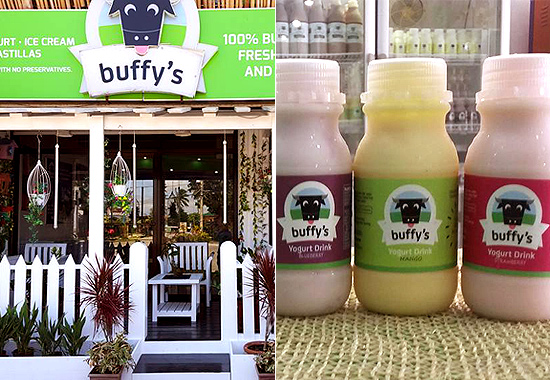 Buffy's Milk
Santa Rosa-Tagaytay Road, Silang
Contact: 0917-506-9531
FB: facebook.com/officialbuffysmilk
Open from 9 a.m. to 7 p.m. (Monday to Friday); 8 a.m. to 8 p.m. (Saturday and Sunday)
Looking for something other than buko pie to bring home as pasalubong? Check out Buffy's Milk for fresh, all-natural dairy products made from carabao's milk. Aside from fresh milk, they have flavored yogurt drinks, ice cream, kesong puti, and flavored pastillas! Don't worry about spoilage, beccause they also sell cute containers where you can keep your pasalubong purchases so they stay fresh on your drive home.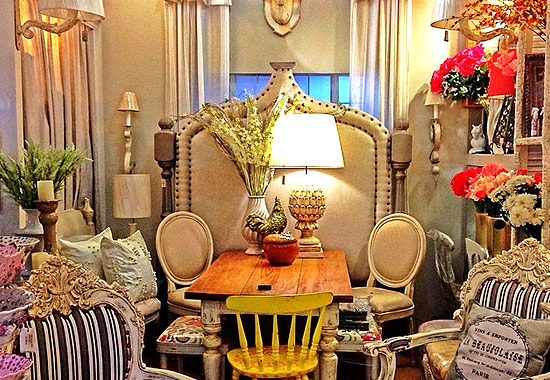 ADVERTISEMENT - CONTINUE READING BELOW
Lucina Home at Serin Mall
Santa Rosa-Tagaytay Road, Silang
Email: info@lucina.ph
Website: www.lucina.ph
Open daily from 10 a.m. to 7 p.m.
Looking to furnish your home? Find one-off furniture, home decor items, and art in this delightful shop! Think shabby chic meets rustic. If that's your home's look and feel, this is the perfect place to get that accent chair or vanity.          
WHERE TO RELAX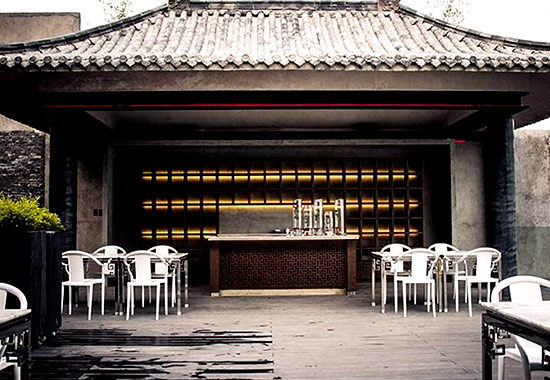 QiWellness Living Tagaytay Spa, Restaurant, and Tea Room

Aguinaldo Highway, Barangay Maharlika East
Contact: 0917-522-6969
Email: info@qiwellnessliving.ph
Website: qiwellnessliving.ph/bathhouse
If you're looking to pamper yourself, this is the place to visit. The climate, the view, the food, their yin and yang hydrotherapy dipping pools, and massage services all contribute to help you achieve the ultimate state of relaxation.
Share this story with your friends!
---
Help us make Spot.ph better!
Take the short survey
Load More Stories