A science circus, costume run, gastronomic festival + more things to do this weekend
Plus a teen con, lechon-and-beer fair, and more.
(SPOT.ph) We know you're already looking forward to the weekend. We zero in on the events you shouldn't miss.
Check out SPOT.ph's Gig Guide: Gigs and Parties to Go to for Halloween 2016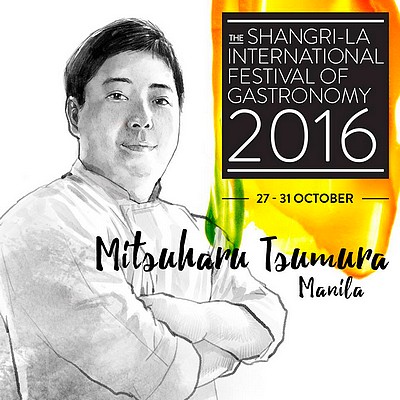 The acclaimed Shangri-La International Festival of Gastronomy returns for a second year at Shangri-La at the Fort from October 27 to 30. The worldwide gastronomy festival puts the spotlight on famous chefs from all over the world and their remarkable talents and techniques as they elevate guests' dining experiences through culinary artistry and excellence. Relax poolside at Samba with a stunning panoramic view of one of the most upbeat and picturesque enclaves of Manila. Enjoy Chef Mitsuharu Tsumura's delicate, simple Nikkei dishes that combine fresh ingredients from Japan and South America to create plates perfectly suited for the balmy evening.
For inquiries or reservations, go to the Shangri-La International Festival of Gastronomy website.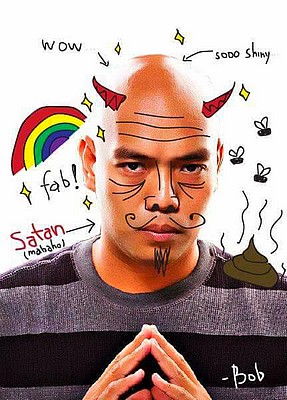 ADVERTISEMENT - CONTINUE READING BELOW
Short + Sweet Theatre Festival Manila 2016 marks the third season of the festival from October 21 to 23, 28 to 30, and November 4 to 5 at the Power Mac Center Spotlight in Circuit Makati. Featuring 30 plays, 30 directors, and nearly 100 actors, the festival consists of 10-minute productions that have been handpicked from over 400 plays and thousands of scripts. Tickets are priced at P550 for the Main Play and P420 for the Wildcard Play (October 29 and 30). 
For ticket inquiries or reservations, call 0918-877-0011.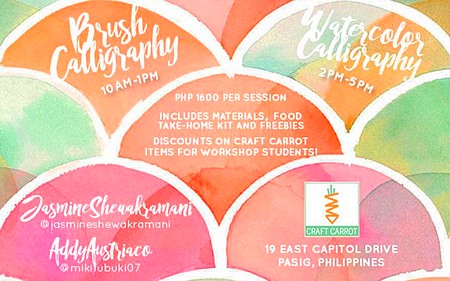 End the month on a fun, colorful note with Brush Calligraphy and Watercolor Calligraphy classes with Jasmine Shewakramani and Addy Austriaco on October 29, 10 a.m., at Craft Carrot. Workshop fee is P1,600, inclusive of a complete take-home kit, snacks, and freebies. Those who sign up also get to purchase Craft Carrot's awesome art stuff at a discount! Slots are limited. 
To sign up, e-mail jasmineshewakramani@gmail.com or addy.austriaco@yahoo.com, or contact 0925-863-2266.
ADVERTISEMENT - CONTINUE READING BELOW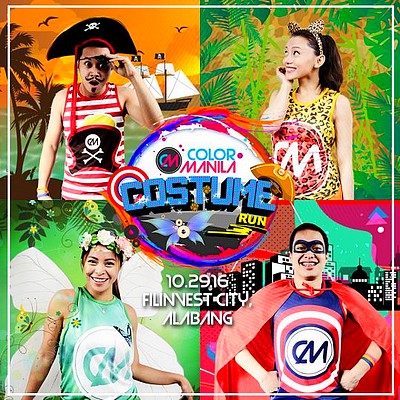 Celebrate Halloween in fitness and style! Join the country's first ever Costume Run by Color Manila, happening on October 29, 7 p.m., in Filinvest City. Registration is priced at P1,200 with costume and P950 if you want to create your own costume. Sign up at the any of the following sites:
RUNNR Trinoma
RUNNR Bonifacio High Street
RUNNR Alabang Town Center
Toby's SM Mall of Asia
Toby's SM Megamall
Toby's SM Aura
Toby's Glorietta
For more information, go to the Color Manila website.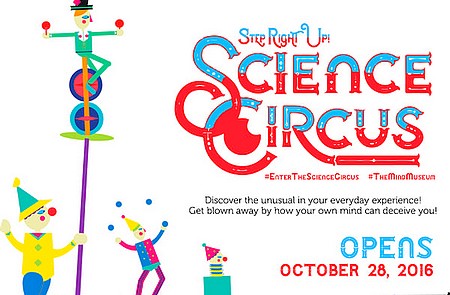 ADVERTISEMENT - CONTINUE READING BELOW
Science Circus: Step Right Up! is the latest traveling exhibition of The Mind Museum, kicking off on October 28. This exciting shwocase explores the amusing, the peculiar, and the extraordinary in our everyday experiences in the form of interactive exhibits that deceive the senses and boggle the mind. There are three "Circus Rings" with different themes: Deception Perception, Pieces of Incredible Engineering, and Encounters with the Masters. Passes are priced at P200 (P750 includes a three-hour tour of the Museum).
For inquiries, call 909-6463 or e-mail inquiry@themindmuseum.org.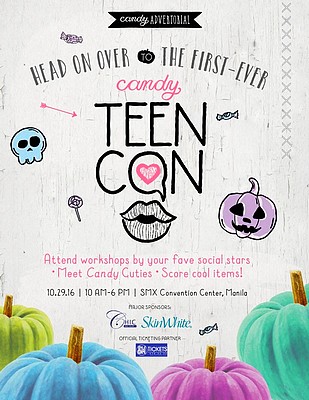 After 10 years of holding the annual Candy Fair, Candy Mag is changing it up this year by introducing the Candy Teen Con, happening on October 29, 10 a.m., at the SMX Convention Center. Expect helpful talks and workshops by some of the most followed celebrities, this year's Candy Cuties, and awesome guests! Tickets are priced at P250.
For more information, go to the Candy Mag website.
ADVERTISEMENT - CONTINUE READING BELOW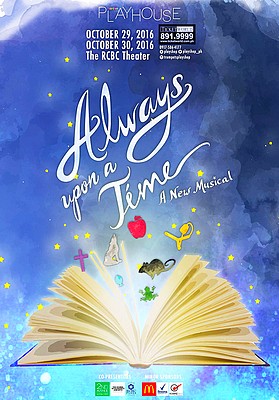 Playshop Playhouse launches its very first original musical, Always Upon A Time. Inspired by Fables and Parables by director and writer Freddie Santos, the production is a completely new and original material, equipped with an entirely new script and beautiful new songs. Tailor-suited for families, it tells the story of siblings, Tommy and Danny, who take their Dad up to the attic to find the book of wonderful stories their Mom used to read to them to sleep. Catch it on October 29 and 30 at the Carlos P. Romulo Auditorium. Tickets are priced at P627 and P836.
For ticket inquiries or reservations, call 891-9999.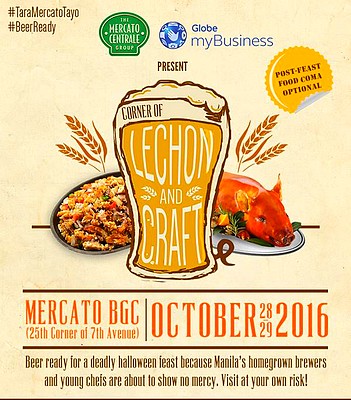 ADVERTISEMENT - CONTINUE READING BELOW
This month, Mercato Centrale puts the cherry on top of your Octoberfest on October 28 and 29 with Corner of Lechon and Craft at Mercato BGC. This is a party that's sure to make your pork-and-beer fantasies run wild. Manila's best home-based craft brewers and young chefs are about to show no mercy in bringing you tons of lechon, thousands of liters of craft beer, and loads of fun to match!
For more information, go to the Mercato Centrale Facebook page.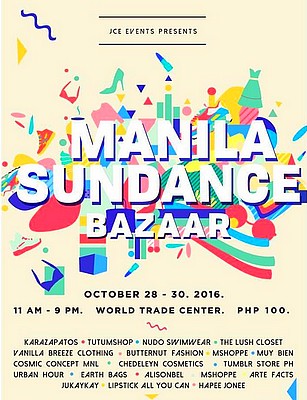 Spend the Halloween weekend at the Manila Sundance Bazaar from October 28 to 30 at the World Trade Center. Enjoy up to 80% off on your favorite online brands and yummy eats. There will be exciting treats, live music, and crafty workshops for everyone, too! Also a first is a special mommy fair pop-up that's in partnership with Mommy Mundo. Tickets are priced at P100.
For more information, go to the Manila Sundance Bazaar Facebook page.
ADVERTISEMENT - CONTINUE READING BELOW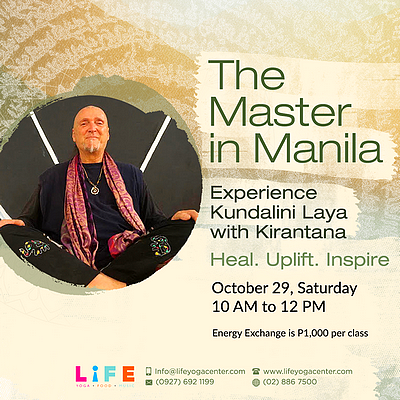 Kundalini Laya Yoga is a powerful tool for personal excellence and self-growth, and engaging the stress and uncertainty of these times. Its fundamental objective is to awaken the power of the individual to excel, experience their Infinity, and fulfill their personal destiny. Catch Kundalini Master Teacher Kirantana Khalsa at LiFE Yoga on October 29, 10 a.m., as he shares his powerful teachings. The workshop fee is P1,000.
For more information, go to the LiFE Yoga Facebook page.
Load More Stories