The SPOT.ph Guide to Bantayan Island
Think Boracay-like white sand, but without the overwhelming, partying crowd!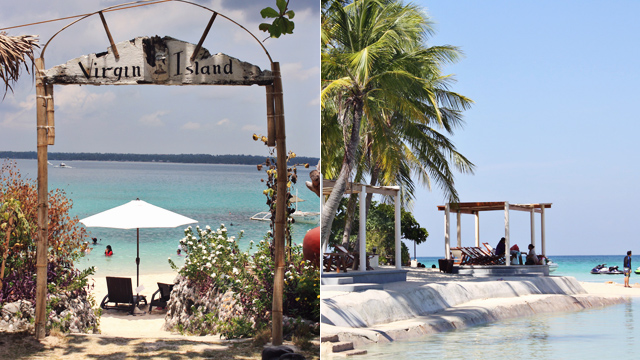 (SPOT.ph) When you think of Cebu, you're often met with images of mouthwatering lechon or the colorful festivities during Sinulog every January. Those are all pretty good reasons to visit the Queen City of the South, but with a little more effort and patience, you'll find a picturesque little island that's worth the extra mile.
Once a sleepy town north of Cebu, Bantayan Island has become a refuge for travelers who want to experience the quaint island life—sans the crazy crowds that beaches like Boracay and Zambales often draw every summer. This lovely patch of land is surrounded by pristine, turquoise waters and powdery white-sand beaches lined with coconut trees. The laid-back island is small enough that you can explore most of it within a weekend. In fact, a lot of its beaches are often just a few minutes away from each other so resort-hopping will be a breeze.
ADVERTISEMENT - CONTINUE READING BELOW
Round up your fellow beach bums and get ready for a weekend filled with sun, sand, and plenty of breathtaking sea.
WHERE TO GO
Obo-ob Mangrove Garden
Bantayan, Cebu
The Obo-ob Mangrove Garden was built to preserve the island's lush mangroves, as well as promote environmental awareness and conservation. Pay a small entrance fee of P50, and you can explore the garden two ways: take a stroll down a bamboo boardwalk (don't worry, it's not rickety!) or hop on a kayak if you're feeling adventurous. At the end of the boardwalk is a bamboo tower, which you can climb for a more IG-worthy view, as well as some resting huts where you can cool off from the sun. There's also an in-house restaurant if all the kayaking has made you hungry.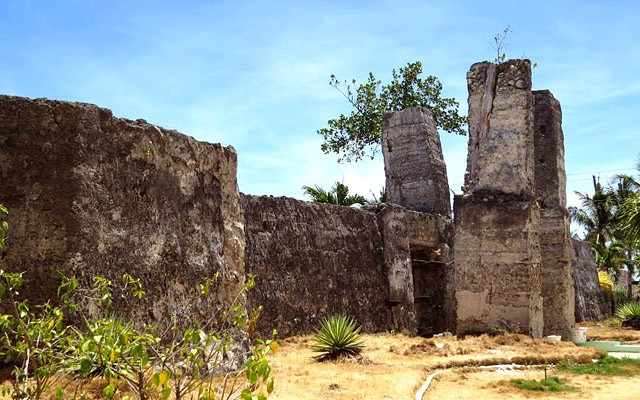 CONTINUE READING BELOW
Recommended Videos
Kota Park
Madridejos, Cebu
You'll need to take an inland trip—by tricycle, jeep, or habal-habal—to visit this historical site. Kota Park was built in 1790 by the Spaniards to serve as a military camp and watch tower. Thanks to its strategic location in the northernmost part of the island, it was also used as protection from pirates. After the Spanish occupation, it was turned into a public cemetery and many years later, was renovated as a park that houses historic relics. While you're there, head to the Bontay Baywalk—a 187-meter footbridge famed for its spectacular view of the sunset. Take a peek at the water below, and you'll see plenty of colorful marine life...including jellyfish!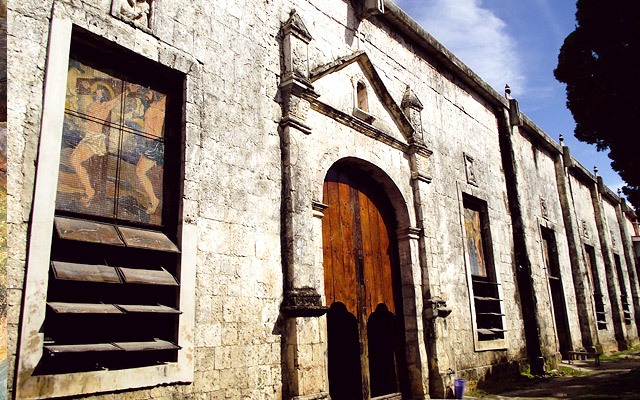 Saints Peter and Paul Church
Bantayan, Cebu
Built in the 15th Century, Saints Peter and Paul Church is considered the oldest parish in Cebu. The original structure was destroyed by the Moros, and its present façade—with walls made of coral stones—was constructed in 1839 and completed in 1863. Inside the church, you can gaze at centuries-old, life-sized statues of saints, marvel at the beautiful stained glass windows, or visit its in-house museum. You can hear its church bell toll as early as 5 a.m. even if you're miles away.
ADVERTISEMENT - CONTINUE READING BELOW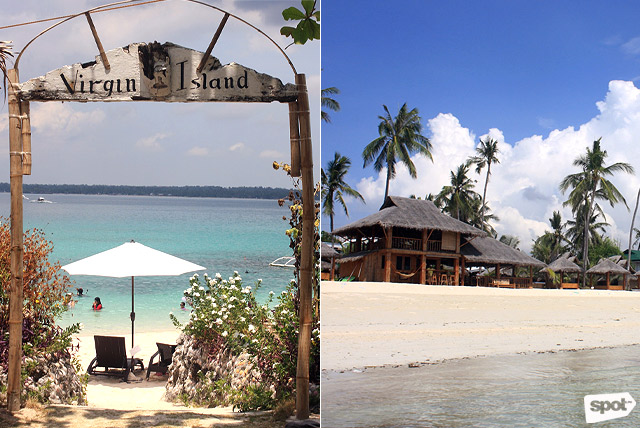 Virgin Island
Santa Fe, Cebu
If your ideal vacation is to just relax by the beach, you'll love this picturesque paradise. From Bantayan's public beaches, take a 20-minute boat ride (rates start at P1,500) to Virgin Island. Pay an entrance fee of P500 (for two people, and P100 per extra head), and you'll have complete access to its crystal clear waters and soft white sand. Rent snorkeling gear, play volleyball, or just lounge by the shore in one of their huts. Pro-tip: Skip the restobar and instead, ask your boatman to whip up some delicious seafood to really get a taste of the island life. You can also opt to stay overnight, as there are cottage and tent accommodations available.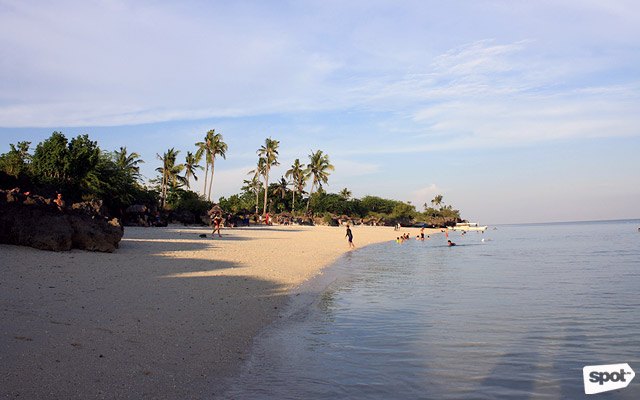 ADVERTISEMENT - CONTINUE READING BELOW
Paradise Beach
Santa Fe, Cebu
In need of some privacy? This secluded island getaway is hidden behind a lengthy and very rocky trail that would take about 10 minutes to walk. The main shore is virtually untouched, save for a handful of small huts and a lush, cliffside garden overlooking the water. The beach is open from 9 a.m. to 5 p.m., and you'll need to pay a P50 entrance fee.
WHERE TO EAT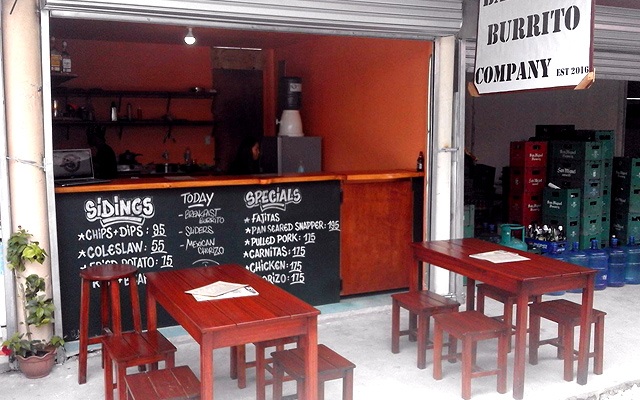 Bantayan Burrito Company
MJ Square, Sante Fe, Cebu
Contact: 0995-366-7452
www.facebook.com/BantayanBurritoCompany
Open from 10 a.m. to 11 p.m. (Monday to Tuesday and Thursday to Sunday)
Yes, you can always have your fill of Tex-Mex in Manila, but hear us out. If you've satiated yourself with all the seafood you can handle, Bantayan Burrito Company is a godsend. People come here in droves to feast on hefty tacos and burritos (we hear the Notorious P.I.G. is a must-try). You and your friends can also split their famous XXL Nachos while you're at it. The owners are very friendly, so you're in for a good time; their margaritas are a big plus, too!
ADVERTISEMENT - CONTINUE READING BELOW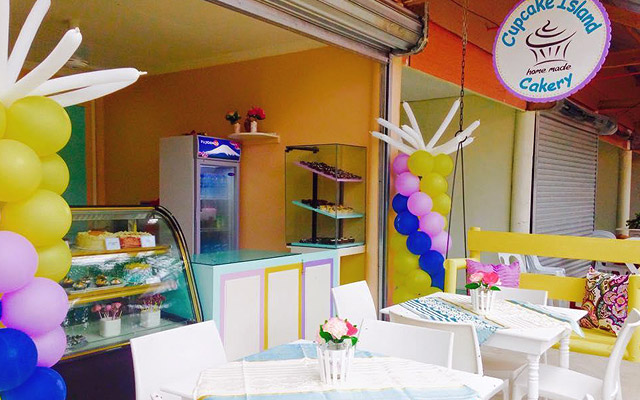 Cupcake Island Cakery
MJ Square, Santa Fe, Cebu
www.facebook.com/cupcakeislandcakery
Open from 10 a.m. to 10 p.m. (Monday to Sunday)
For folks who can't resist dessert, Cupcake Island Cakery has affordable treats that will satisfy any sweet tooth. Cool off with a glass of their shakes or share a slice of any of their delectable cakes with a friend. It's also worth noting that people rave about their carrot cupcakes, which you can pair with a good cup of coffee.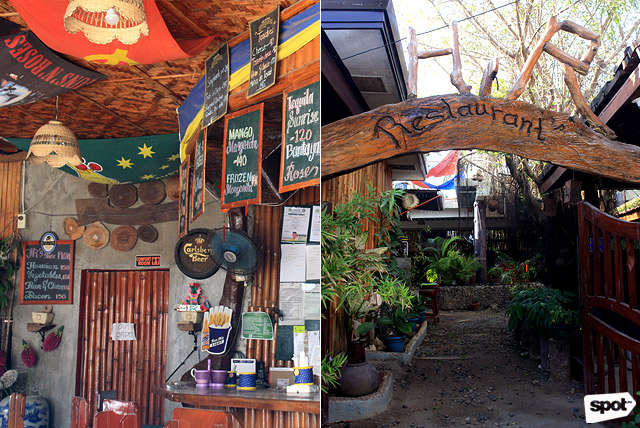 ADVERTISEMENT - CONTINUE READING BELOW
HR Music Bar & Native Restaurant
Poblacion, Santa Fe, Cebu
Contact: 0949-710-3442
www.facebook.com/HR-Music-Bar-Native-Restaurant-154458891384642
Open 24 hours daily
Although they serve a variety of international cuisines, you need to make plenty of room for their Filipino fare—especially the grilled and seafood options. The juicy and buttery scallops are downright addictive, and you'll be going through a plate of it in no time. Best of all, their servings are large enough for sharing at a very budget-friendly price.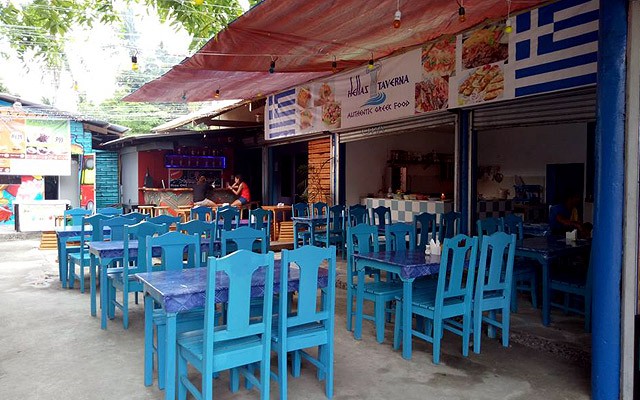 Hellas Taverna
MJ Square, Santa Fe, Cebu
Contact: 0917-453-0964
www.facebook.com/Hellas-Taverna-1128808220565568
Open daily from 9 a.m. to 10 p.m.
It's not Santorini, but this is the closest you'll get to Greece in Bantayan Island. Helmed by Chef Michael Syntichakis who has 36 years of Mediterranean experience under his belt, Hellas Taverna serves scrumptious Greek fare at an affordable price range. What really keeps folks—even the locals—coming back is their warm and friendly hospitality.
ADVERTISEMENT - CONTINUE READING BELOW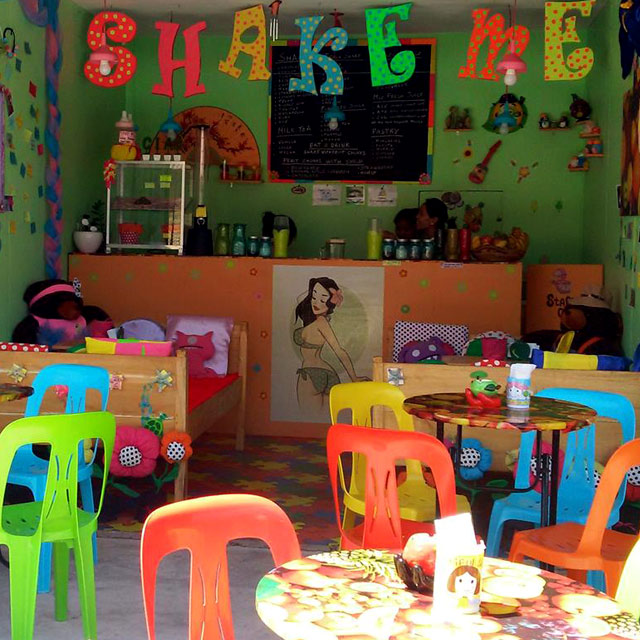 Shake Me
MJ Square, Santa Fe, Cebu
Contact: 0977-606-9277
www.facebook.com/shake8me
Open daily from 10 a.m. to 10 p.m.
You can't go wrong with a freshly made fruit shake to cool off from Cebu's sweltering heat. Beyond its drinks, however, you can also treat your sweet tooth to homemade fruity popsicles and ice cream. Their quirky interiors are as colorful as the desserts they serve, with walls fully covered in Post-it notes from happy customers.
WHERE TO STAY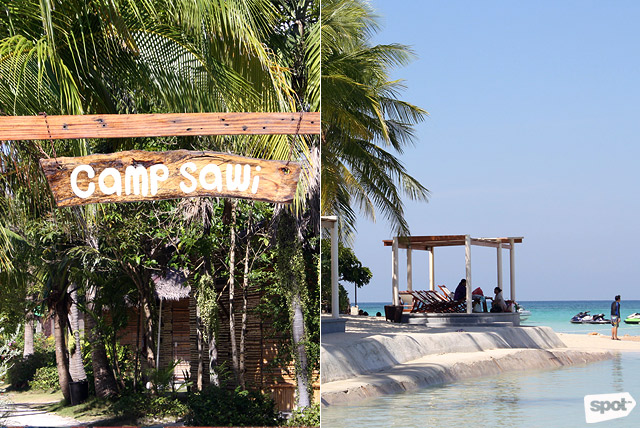 ADVERTISEMENT - CONTINUE READING BELOW
Kota Beach Resort
Duarte Street, Santa Fe, Cebu
Contact: (032) 438-9042
E-mail: kotabeach@gmail.com
www.kotabeachresort.com
Rates start at P900++
The first thing you see upon entering Kota Beach's driveway is a throng of tourists posing beneath the tall Camp Sawi sign. It's no surprise that the hit breakup-themed film was shot in the resort, especially when you see the breathtaking powdery white sandbar and clear, aquamarine waters. The cozy cottages are easy on the wallet, with air-conditioned room rates starting at just P1,400. Once nighttime hits, the tide is low enough that you can easily spread a blanket and lie back to stargaze. If you're staying in a different hotel, don't worry; you can still see the curved sandbars for a small entrance fee.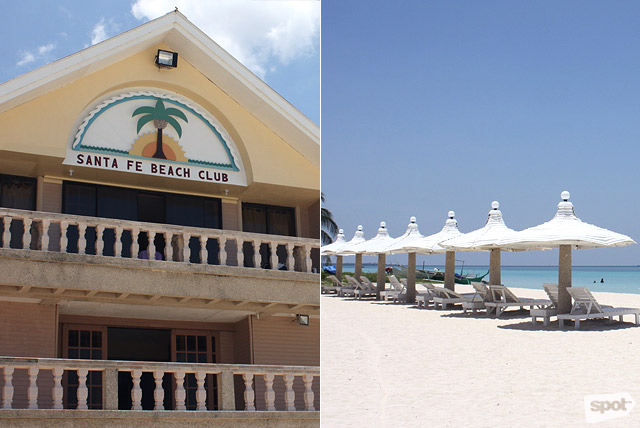 Santa Fe Beach Club
Santa Fe, Cebu
Contact: (032) 438-9090
www.stafebeachclub.com
Rates start at P1,300++
You wouldn't think this resort would be so close to the pier, considering how beautifully pristine its shore and waters look. Bask at their private beach, try your hand at some water sports, or enjoy a meal in their restaurant. Its best feature is its convenient location, offering easy access to the island's must-see tourist destinations.
ADVERTISEMENT - CONTINUE READING BELOW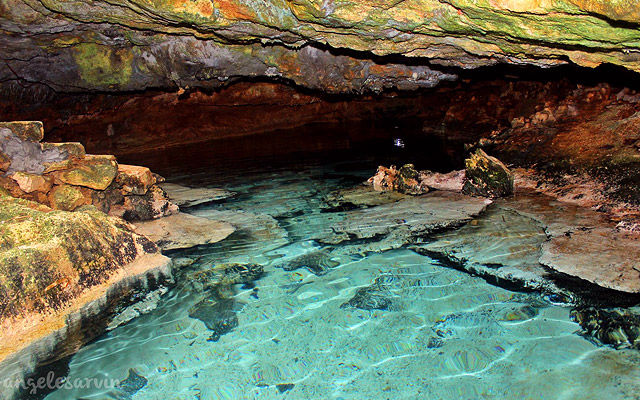 Ogtong Cave Resort
Santa Fe, Cebu
Contact: (032) 438-9129 or 438-9436
www.ogtongcave.com
Rates start at P1,200++
An extension of Santa Fe Beach Club, this resort draws crowds with its freshwater underground cave where visitors can take a quick dip. The resort itself is situated on natural limestone rocks, giving guests an Instagram-worthy view of the sunrise. You can head down to the beach at the foot of the overlooking rocks or lounge by their pools that still offer that fantastic seaside view. Non-resort guests can visit the cave and one of the pools for P100.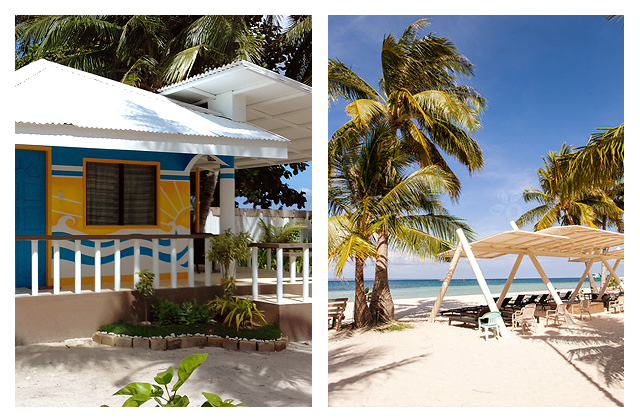 ADVERTISEMENT - CONTINUE READING BELOW
Anika Island Resort
Roska Street, Santa Fe, Cebu
Contact: (032) 438-9073 or 0917-328-4898
E-mail: anikaislandresort@yahoo.com
www.anikaislandresort.com
Rates start at P1,700++
This eco-friendly resort is especially unique because its air-conditioned rooms are fashioned from upcycled cargo containers and designed to withstand natural calamities. Their accommodations vary from comfy budget-friendly options to beach-front villas and rooms with views of the sunset or their lush gardens.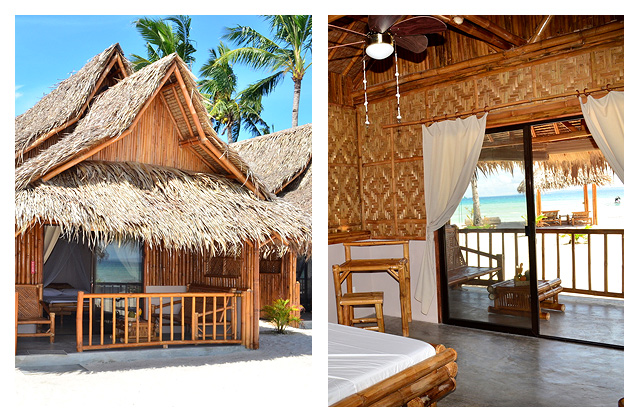 Amihan Beach Cabanas
Batobalonos Street, Bantayan, Cebu
E-mail: info@amihan-beach.com
www.amihan-beach.com
Rates start at P2,700++
You'll feel right at home by the beach when you stay at Amihan Beach Cabanas. True to their name, their breezy accommodations are made of bamboo and other local materials and equipped with a terrace that gives you the perfect view of the gorgeous sea. This resort is perfect for guests who prefer more privacy, as well as those who want a little adventure. You can rent a motorbike or scooter to explore the island, arrange an island-hopping tour with the resort, or if you're visiting from November to April, give kiteboarding a try.
ADVERTISEMENT - CONTINUE READING BELOW
HOW TO GET THERE
Commercial airlines have daily flights from Manila to Mactan-Cebu International Airport. From there, head to North Bus Terminal and take a three-and-a-half hour-long bus ride (P160) to Hagnaya Port. If you're a larger group, you can also take a bigger SUV Taxi or book an entire V-Hire van (both about P2,000 to P3,000) to Hagnaya Port. From there, take a ferry (P170) to Santa Fe Port.
Peak season is from March to May and off-peak season is from June to July.
Share this story with your friends!
---
Help us make Spot.ph better!
Take the short survey
Load More Stories