10 Visa-Free Destinations for Your Bucket List
Travel the world with just your passport.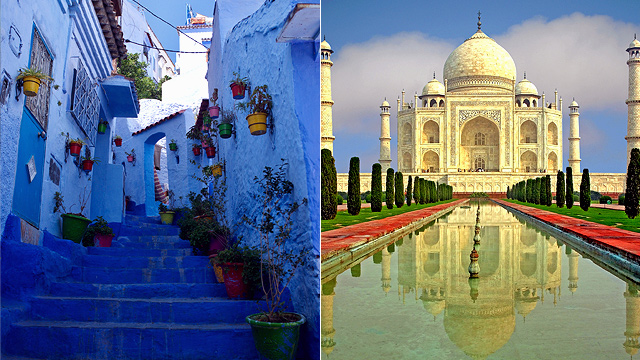 (SPOT.ph) Most people dream of traveling the world and ticking off every item in a very long bucket list. But aside from the expenses, there's the visa problem that stops you from achieving this #lifegoal. Fortunately, there are a number of countries that you can visit without having to apply for a visa. We round up some tourist spots you should check out—from a beautiful city that's as blue as the heavens to a haunting shipwreck in the deepest waters.
ADVERTISEMENT - CONTINUE READING BELOW
CONTINUE READING BELOW
Recommended Videos
Photo by Jovi Mirabueno (Flickr)
Macau Tower (Sé, Macau)
Conquer your fears and jump from the edge of the Macau Tower. Recognized by the Guinness World Records as the Highest Commercial Bungy Jump, this attraction measures at 764 feet above ground and uses a specially designed bungy cord and guide cables. There's even a Night Bungy which gives you a beautiful lighted cityscape of Macau while suspended midair.
ADVERTISEMENT - CONTINUE READING BELOW
Photo by Aleksandr Zykov (Flickr)
Chefchaouen (Morocco)
Chefchaouen (a.k.a. Blue City) is an out-of-this-world sight tucked away in the mountain ranges of Africa. It was founded in 1741 as a refuge for Moorish exiles from Spain, but later welcomed both Jews and Christian converts. It is a Jewish belief that prayer shawls and thread colored with tekhelel (an ancient natural dye) are powerful religious tools. This color was eventually painted on the buildings and houses in the community. Nowadays, tourists can go on food trips and bazaar-hopping in Chefchaouen.
ADVERTISEMENT - CONTINUE READING BELOW
Photo by Rinaldo Wurglitsch (Flickr)
Swing at the End of the World (Baños, Ecuador)
What do you think it would be like to ride a swing over a 1,000-foot cliff drop? Well, a tree house in Ecuador lets you experience swinging "at the edge of the world" while enjoying a view of the active volcano Mt. Tungurahua and the forests surrounding it. But it's not just all fun because the structure was actually built by Carlos Sanchez to serve as a seismic monitoring station that keeps an eye for any imminent volcanic eruption. The hike to the swing takes about three hours.
ADVERTISEMENT - CONTINUE READING BELOW
Photo by Hans Johnson (Flickr)
Rábida Island (Galápagos)
You may have first heard of the Galápagos Islands in science class while discussing Charles Darwin's theory of evolution. It's known for its vast number of endemic species—from the rare giant tortoise to the small Galápagos penguin. But one distinct island comprising this archipelago is Isla Rábida (a.k.a. Jervis Island), which has red-colored and highly ferrous sand on its coast. Expect a colony of sea lions playing on the beach when you arrive.
ADVERTISEMENT - CONTINUE READING BELOW
Photo by Matt Kieffer (Flickr)
Chuuk Lagoon (Micronesia)
During World War II, more than 60 Japanese warships and 200 aircraft sank to the floor of Chuuk Lagoon (a.k.a. Truk Lagoon) after American forces launched a two-day attack against the enemy's base in the South Pacific. This makes it one of the world's best wreck diving destinations, especially if you don't mind seeing human skulls, broken porcelain dishes, and even a whole tank covered in barnacles while in the deep.
ADVERTISEMENT - CONTINUE READING BELOW
Photo by Yair Aronshtam (Flickr)
Dead Sea (Israel)
The landlocked salt lake between Israel and Jordan is a favorite among tourists because of its interesting story and breathtaking beauty. It is the lowest place on the face of the earth, the fifth saltiest body of water in the planet, and a great natural spa for vacationists.
ADVERTISEMENT - CONTINUE READING BELOW
Photo by Republic of Korea (Flickr)
Jeju Island (South Korea)
You actually need a visa to go to South Korea, except if you're flying direct to Jeju Island. Hikers can choose from climbing to the peak of Seongsan Ilchul-bong, a dormant volcano, or taking the Halla Mountain challenge, which requires a five-hour hike to the summit. The more laid-back crowd can enjoy a quiet afternoon on Hyeopjae Beach, famous for its soft white sand, surrounding black lava rock, and fascinating sunset.
ADVERTISEMENT - CONTINUE READING BELOW
Photo by David McKelvey (Flickr)
Hoi An Ancient Town (Quangnam Province, Vietnam)
Declared a UNESCO World Heritage Site in 1999, Hoi An Ancient Town brings us back to the 15th Century when it was still a bustling small-scale trading port. The decline in exchanges in 19th Century, though unfortunate, was beneficial in preserving its traditional charm—from the timber frame buildings to red brick walls, and a wooden Japanese bridge.
ADVERTISEMENT - CONTINUE READING BELOW
Photo by Dennis Jarvis (Flickr)
Machu Picchu (Cuzco Region, Peru)
Machu Picchu, a 15th Century citadel, is proof of the artistry and architectural skills of the ancient Inca Empire. It lies on mountain slopes and valleys found more than 2,400 meters above sea level and is comprised of 200 structures of ruins. Expect an influx of tourists especially from May to September.
ADVERTISEMENT - CONTINUE READING BELOW
Photo by Dennis Jarvis (Flickr)
Taj Mahal (Uttar Pradesh, India)
You stilll need a visa when you go to India, but you can get that online and that's it. The slight technicality is worth it because the Taj Mahal stands out from the rest of the structures in India not only because of its design but also because of its origins. This UNESCO World Heritage Site was built by Mughal Emperor Shah Jahan to serve as a mausoleum for his late wife Mumtaz Mahal. The all-white marble structure has four minarets to frame the tomb, walls designed with calligraphy of Persian poems, and other intricate decor such as the plant motifs on the tiles.
ADVERTISEMENT - CONTINUE READING BELOW
Are you sure you want to delete this list?

Load More Stories