The SPOT.ph Guide to Guam
Ship yourself to an island full of shopping, sights, and clear skies.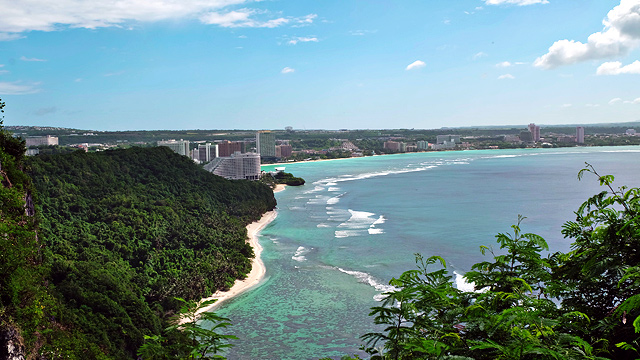 (SPOT.ph) Guam, a 540-square kilometer island to the east of the Philippines, has been a U.S. territory since the 1950s. While it carries the American flag, its history and culture is parallel to our own. The Chamorros are the indigenous people of Guam who have been on the island for 4,000 years. But since Magellan's arrival and the Galleon Trade of the 1500s, the Spanish colonization, the post-Napoleonic era, and the Japanese occupation during World War II, their numbers have easily dwindled through the centuries.
After a series of efforts to rebuild and repopulate the island under the U.S., today's incredibly multi-racial Guamanians are 40% Chamorro and 30% Filipino—making it a familiar, warm, and welcoming place to visit for Filipinos seeking travel.
Guam offers Filipino vacationers the perks of a U.S. trip without the long layovers and extended plane hours. Popular big-box shopping destinations in the mainland are available on the island, as well as the benefit of shopping tax-free (a perk if you're looking for luxury goods). Coupled with freeways, coastal views, and beautiful skies all year round, you're in for the best of both worlds when you go on a Guam vacation—the comfort of friendly Filipino faces, the natural sights of island life, and the rush of all-out American-style shopping.
WHERE TO GO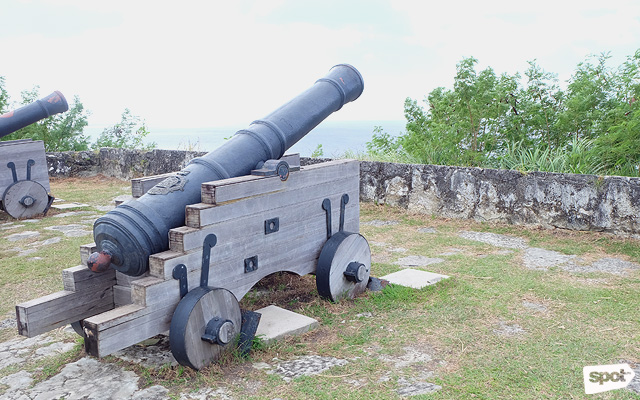 ADVERTISEMENT - CONTINUE READING BELOW
Fort Santa Agueda
Tutuhan, Agana Heights, Fort Ct, Hagåtña
The only surviving Spanish fort in Guam, this 200-year-old structure overlooks the Philippine Sea and Guam's sheer cliffs. Fashioned out of rubble called mamposteria, Santa Agueda is a clear reminder of Guam's colonial past. Utilized until the fall of the Galleon trade, the fort next became a signal station for American ships pre-WWII.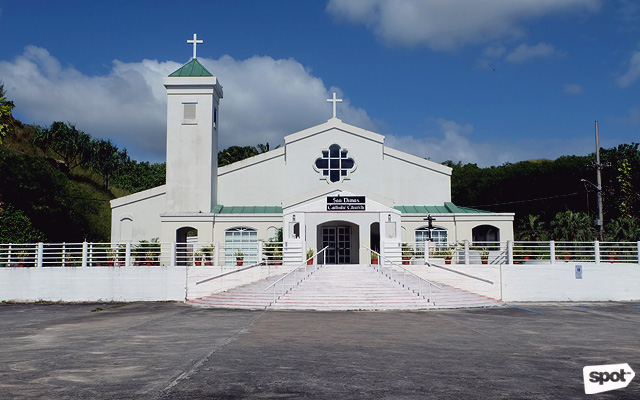 CONTINUE READING BELOW
Recommended Videos
Merizo (Malesso')
The southernmost village in Guam shows the territory's strong link to Spain as well as its transition towards modern times. The Merizo Bell Tower and Convent were constructed in the early 1900s by the same mamposteria used in Fort Santa Agueda. Built to honor Father Cristobal de Canals, both structures show Guam's allegiance to the Roman Catholic faith.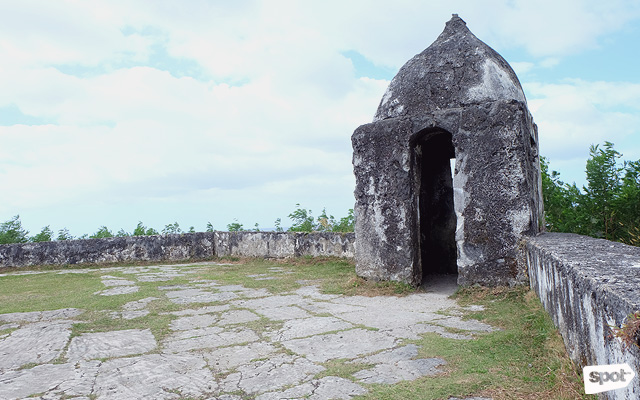 ADVERTISEMENT - CONTINUE READING BELOW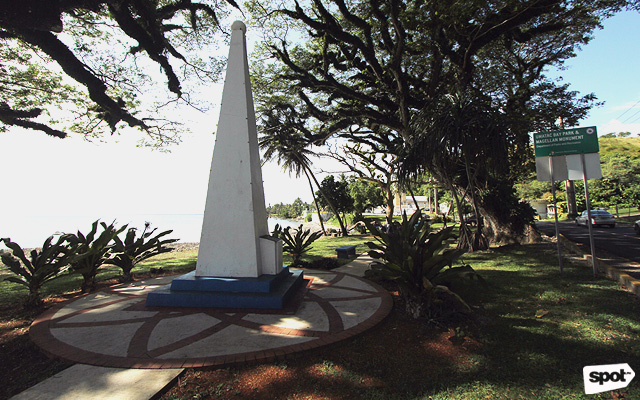 Umatac Bay Park and Magellan's Monument
Just two weeks before he came to Philippine shores, Ferdinand Magellan first made his way to the island of Guam. Worth a short stopover, the lookout affords tourists the opportunity to reimagine the Age of Exploration and what the famed Portuguese explorer may have felt once he landed on tropical shores.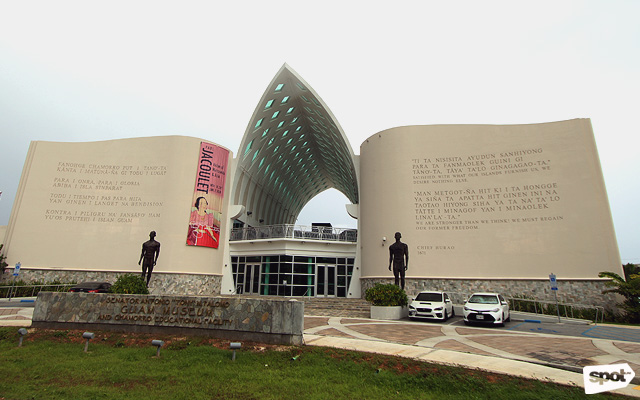 ADVERTISEMENT - CONTINUE READING BELOW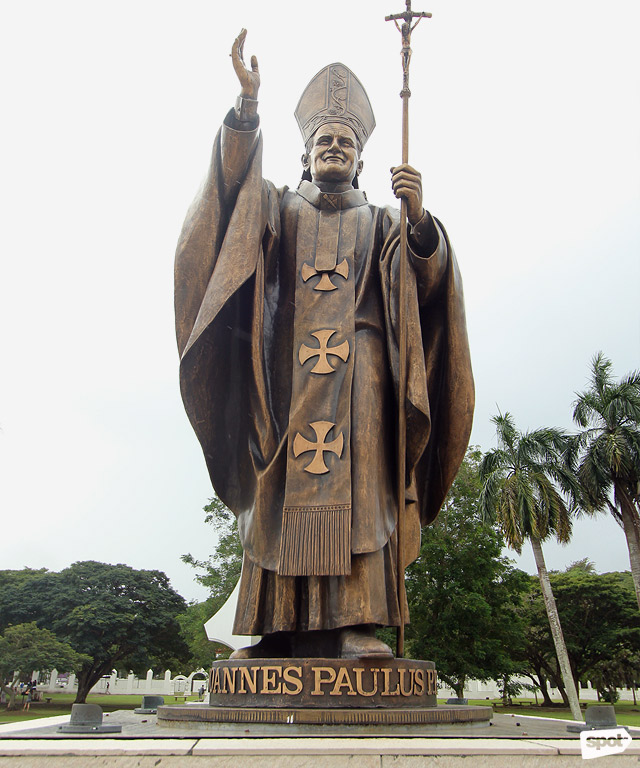 Guam Museum
193 Chalan Santo Papa Juan Pablo Dos, Hagåtña
www.guammuseum.org
Open from 10 a.m. to 5 p.m. (Tuesday to Sunday)
Rates start at U.S. $3
History buffs may want to take a pit stop at this modern museum, which tells the story of the island. If you're looking for a memorable photo op, the distinctly modern structure is also a picture-perfect place. Fronted by a statue of Pope John Paull II, its unique architectural feature is the open-book facade guarded by two Chamorro figures.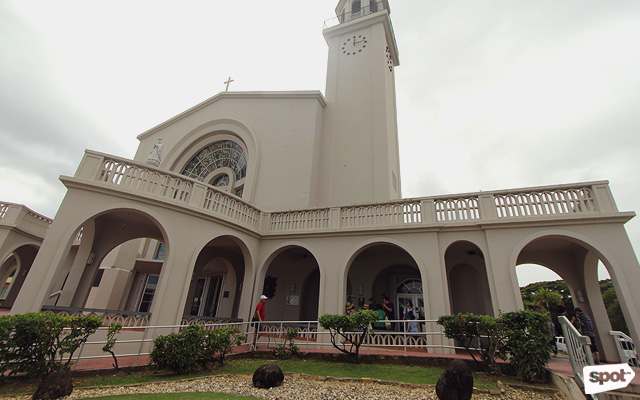 ADVERTISEMENT - CONTINUE READING BELOW
Dulce Nombre de Maria Cathedral Basilica
207 Archbishop FC Florest Street, Hagåtña
Just a stone's throw away from the Guam Museum, The Cathedral of the Sweet Name of Mary is centrally located within a plaza—another remnant from Guam's Spanish colonial past. The island's first Roman Catholic Church was built on the same location in 1669 and underwent a reconstruction in 1959.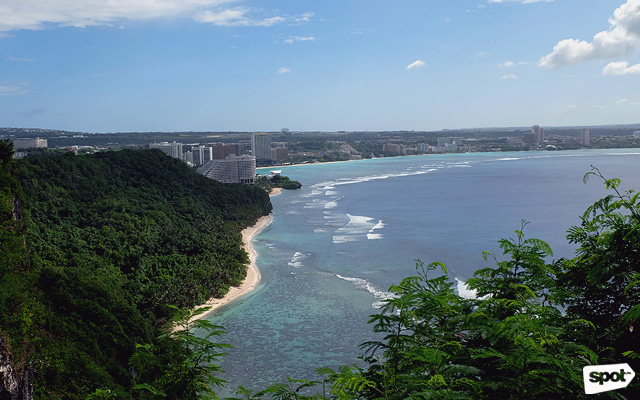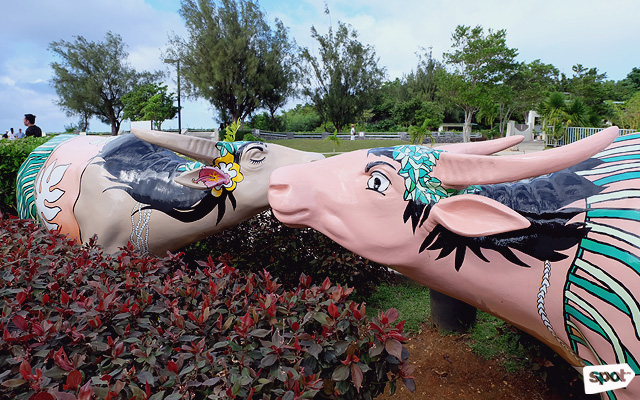 ADVERTISEMENT - CONTINUE READING BELOW
Two Lovers Point
Tamuning, Guam
Rates start at U.S. $6
Lookouts and scenic vistas abound in Guam but this cliff line is perhaps the most famous of all of them. Puntan Dos Amantes depicts the legend of an ancient Chamorro romance, where the daughter of a rich Chamorro chief escaped marriage to a Spanish captain in order to be with her love, a Chamorro warrior. The story has it that the lovers tied their hair into a single knot, kissed, and leaped over the edge of the cliff as they were pursued by Spanish soldiers.
WHAT TO DO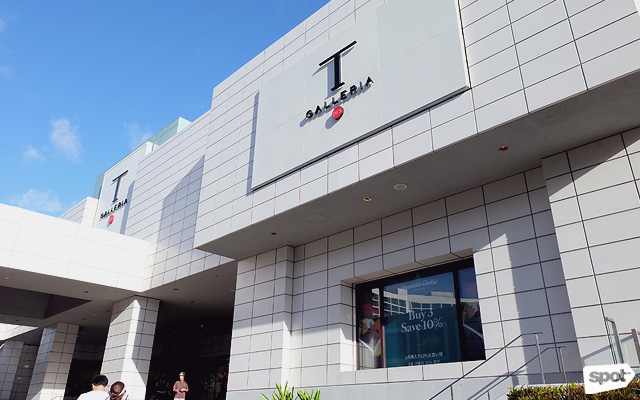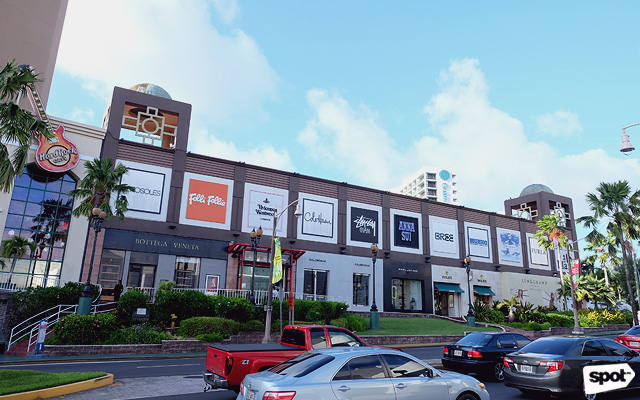 ADVERTISEMENT - CONTINUE READING BELOW
Shop
Guam is currently drumming up its place as a shopping mecca. Because of its tax-free, America in Asia status, everything from high-end luxury shops to bargain basics is available almost all hours of the day. T Galleria and Tumon Sands Plaza offer designer wear, while Guam Premium Outlets in Tamuning (with the ultra-popular Ross Dress for Less' largest branch in Guam) brings jaw-dropping prices straight to your shopping bags till 11 p.m. If you wake up in the middle of the night and get a hankering for some U.S. brand snacks, toys, cosmetics, or Little Caesar's pizza, Guam's KMart branch along North Marine Drive in Tamuning is also open 24 hours.
The annual Shop Guam E-Festival, which runs from November to February, offers huge sales for months on end. Download the app and get discount over discount over discount in select shops.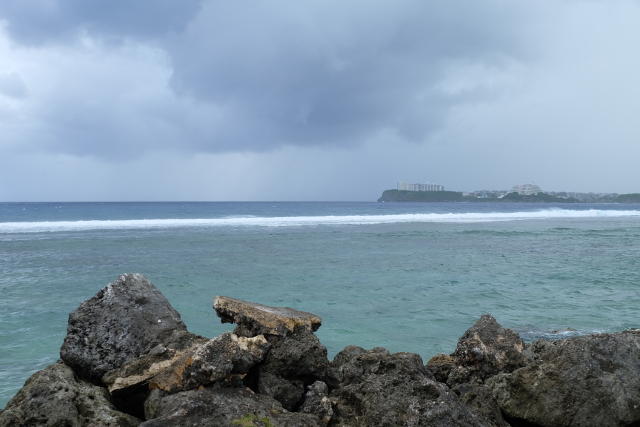 Surf
One of Guam's best-known secrets is its surf spots, including Talofofo Bay, Umatac Bay, and Paseo de Susan Park. Best visited towards the end of the year, newbie surfers need to watch for rocky reefs—while there is a lack of sandy beaches that make for smoother landings, experts at riding waves will revel in these surfing challenge spots. Best relegated for those who know their way around a surfboard, Guam's coastlines are great for the adventurous at heart.
ADVERTISEMENT - CONTINUE READING BELOW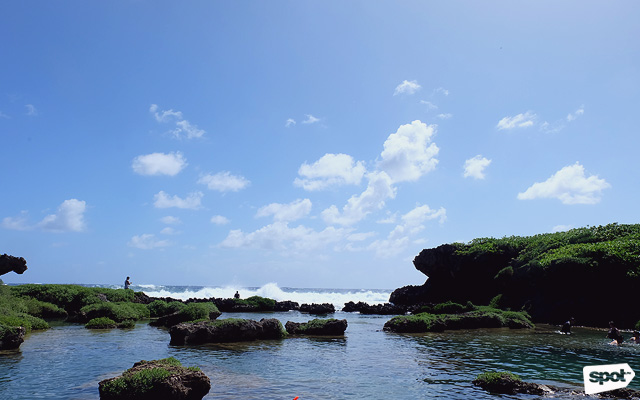 Inarajan Natural Pool
Just a stone's throw away from the ocean, these natural pools are great for taking a dip in. They are open to the public and while you may run the risk of a crowd in the middle of the day, there are enough pools to go around to allow you some chill-out time without too many distractions.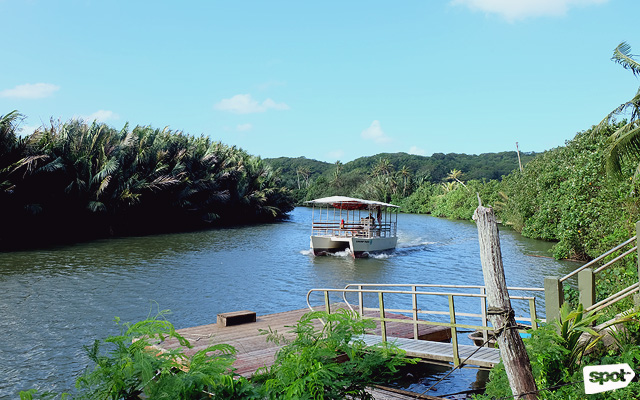 ADVERTISEMENT - CONTINUE READING BELOW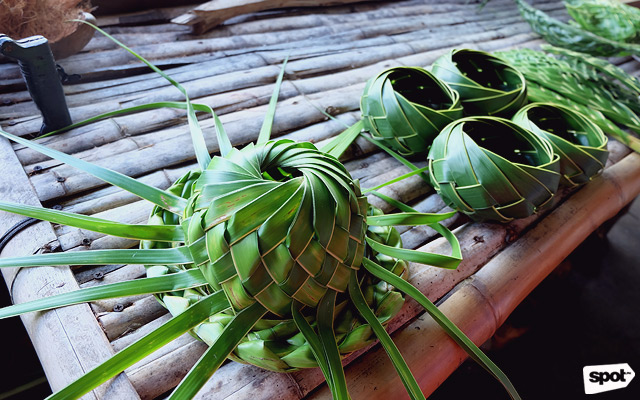 Valley of the Latte
Talofofo River
www.valleyofthelatte.com
Rates start at U.S. $85
Take a relaxing guided tour down the Talofofo and Ugum Rivers as you make your way to an ancient Latte site. Latte are old stone pillars prominent in Chamorro culture. A symbol of Guam's indigenous people, the Valley of the Latte gives tourists a firsthand look at the old stones and a recreation of a Chamorro village. The river ride commences with a walk through an animal sanctuary, a basket-weaving demonstration, a fire-making activity that allows travelers to try their hands at starting their own Chamorro fires, and a barbecue lunch.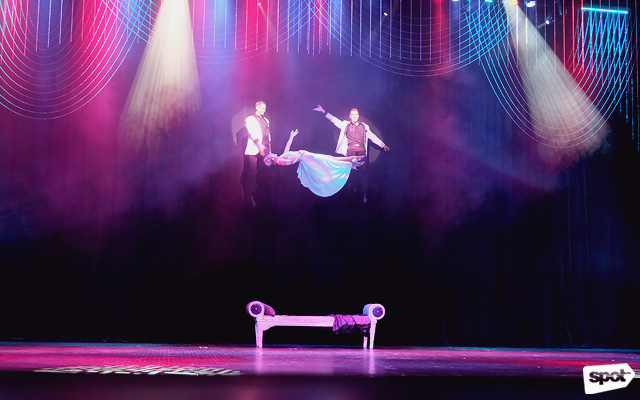 ADVERTISEMENT - CONTINUE READING BELOW
SandCastle Dinner Theater
1199 Pale San Vitores Road, Tamuning
www.en.guam-bgtours.com
Rates start at U.S. $59
Voted the best attraction by the Guam Visitor's Bureau, SandCastle features a Las Vegas style show that merges magic by illusionist duo Zubrick, incredible acrobatics, and stunning dance routines. If you're looking for a family-friendly activity, this spectacle is hard to miss. (Try scoring seats near the stage to get the absolute best view of the dangling acrobats).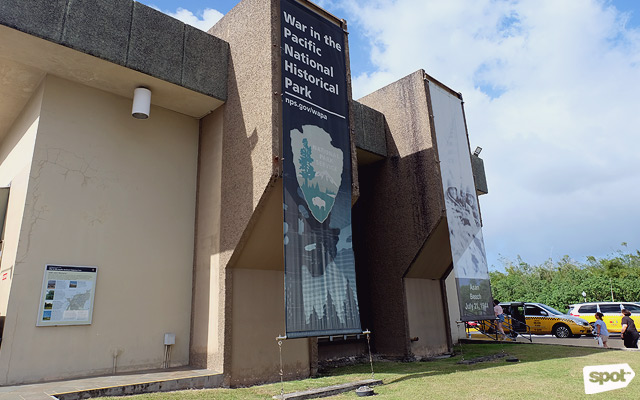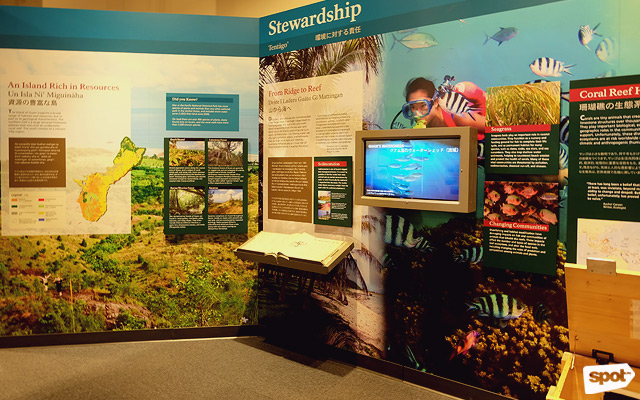 ADVERTISEMENT - CONTINUE READING BELOW
War in the Pacific National Historical Park
135 Murray Boulevard, Ste. 100, Hagåtña
Open daily from 9 a.m. to 4:30 p.m.
Entrance is free
Though small in size, this branch of the National Parks Service offers a deeply meaningful look at Guam's part in the Second World War. The T. Stell Newman Visitor Center holds an interactive exhibit supplemented by a 10-minute short film giving visitors a walk through the history of the War in the Pacific. Also devoted to preserving nature and wildlife, the visitor center gives a closer look at Guam's rich reefs and how they are being looked after year after year.
WHERE TO EAT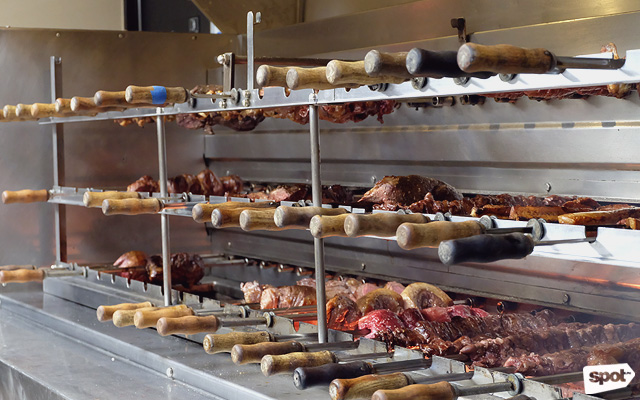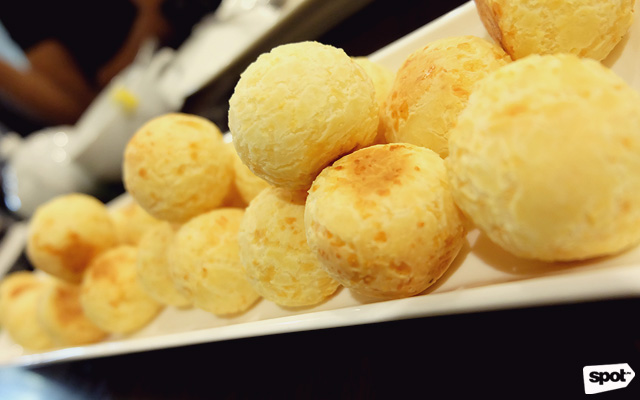 ADVERTISEMENT - CONTINUE READING BELOW
Churrasco
1000 Pale San Vitores Road
www.churrascoguam.com
Rates start at U.S. $38
Guamanians take their grilled meat seriously, and nowhere is this more evident than this Portuguese-style buffet. All-you-can-eat meat, salad, sides, and fruit make for a positively juicy meal. The fraldinha (outside skirt steak) and the costelinha de boi (boneless short ribs) should not be missed. Carb lovers will also like their gooey, warm Cheese Rolls. If you've got a sweet tooth, their Molten Dulce De Leche, and Signature Trio of warm, molten chocolate cake, espresso flan, and vanilla ice cream with hazelnut powder both rank high.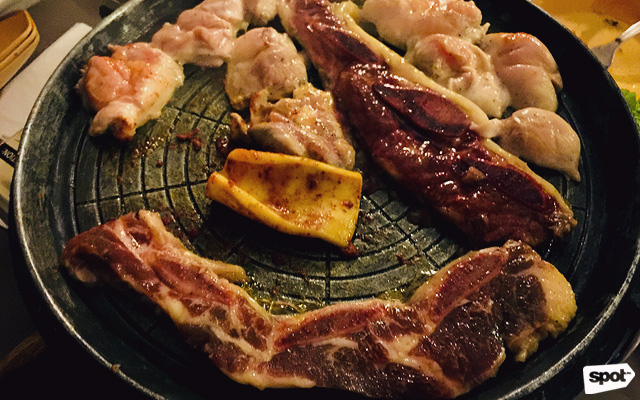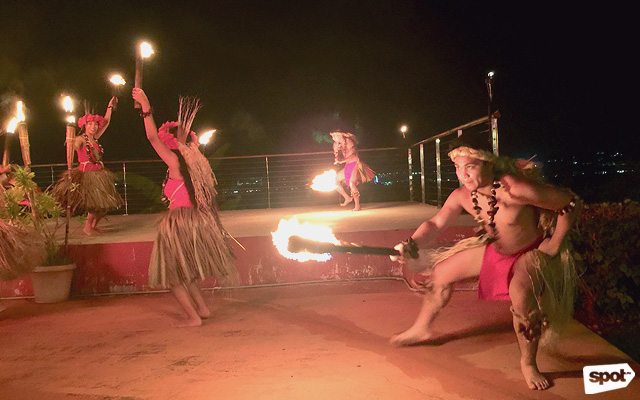 ADVERTISEMENT - CONTINUE READING BELOW
Bayside BBQ and Show
Sheraton Laguna Guam Resort
470 30A, Tamuning
Rates start at U.S. $60
There is no shortage of cultural shows around Guam and the Bayside BBQ offers an al fresco experience packed with grill-at-your-table bites, friendly Filipino staff (you won't miss them!), and song and dance numbers. Try the chef's selection of thinly sliced beef for a grill you won't forget!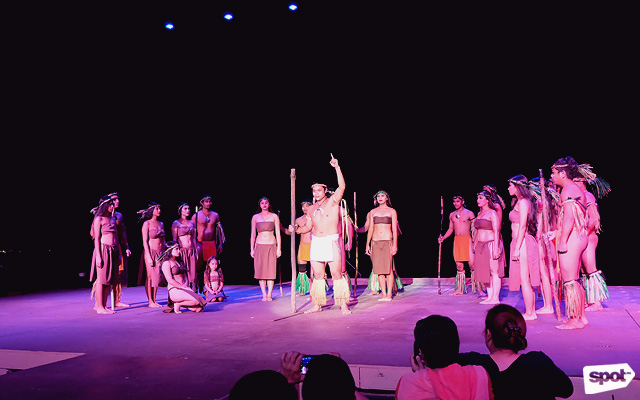 Taotao Tasi Guam Beach BBQ Dinner Show: Fire Dance and Buffet
Gun Beach, Tumon
Rates start at U.S. $41
Fill up your plates with a classic Guam barbecue dinner (meat and seafood lovers will delight in this!) and get ready for a wild ride through Pacific Island songs, traditional dances, and amazing stunts. Something the kids will surely fall in love with, this beachside show doesn't just thrill the senses, it also showcases the story of the Chamorro people right on the shore.
ADVERTISEMENT - CONTINUE READING BELOW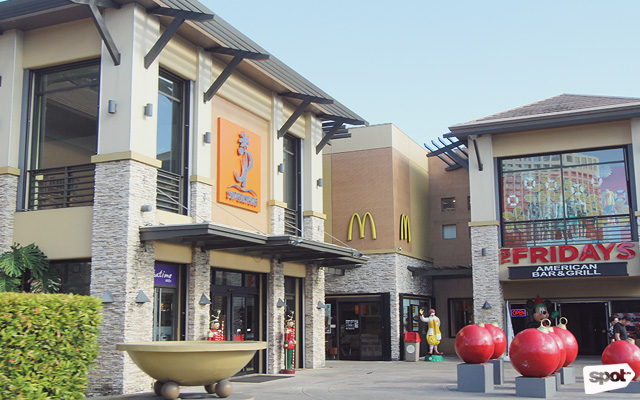 American chains
Tamuning
Being a U.S. territory, you won't be hard-pressed to find classic American restaurants in Guam. Denny's, IHOP, Chuck E Cheese, Chili's, TGI Friday's, and fast food joints like McDonald's, Burger King, and Wendy's can be found just a stone's throw away from some of the island's most frequented shopping areas.
WHERE TO STAY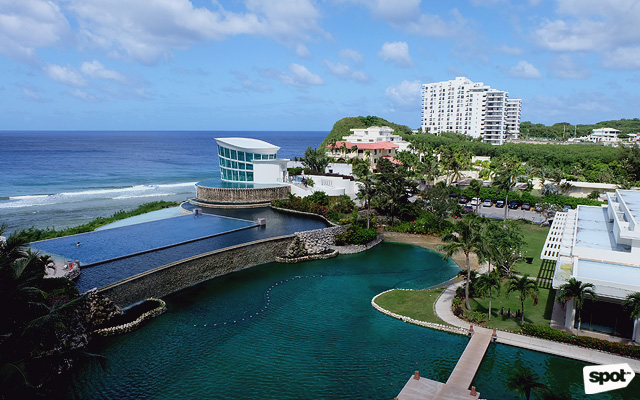 ADVERTISEMENT - CONTINUE READING BELOW
Sheraton Laguna Guam Resort
470 30A, Tamuning
starwoodhotels.com
Rates start at U.S. $171
With unbridled views of Hagåtña Bay and the Pacific Ocean, this resort offers a serene and scenic stay in Guam. With an infinity pool that overlooks the ocean, a well-ventilated atrium, and activity areas to keep both kids and adults happy, you're assured a comfortable tropical vacation. Sheraton Laguna Guam also offers a free shuttle to Guam's top shopping spots and is just a few minutes away from Guam Premium Outlets.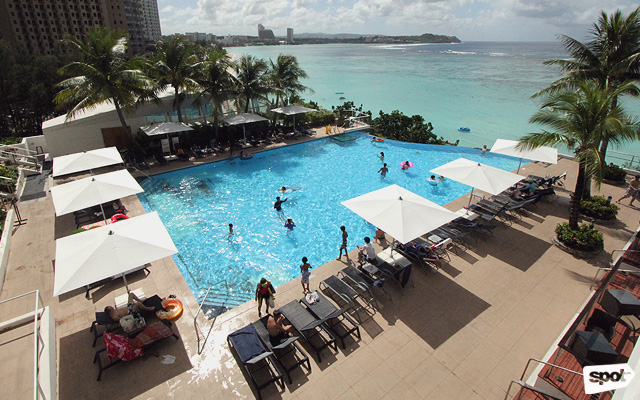 Guam Reef and Olive Resort
1317 Pale San Vitores Road, Tamuning
www.guamreef.com
Rates start at U.S. $185
There's something for everyone at this hotel, which is smack in the middle of Guam's downtown shopping area and is also situated right by the beach. If you're looking to take a rest in between marathon runs at the T Galleria, Guam Reef's ideal location is a must.
ADVERTISEMENT - CONTINUE READING BELOW
WHEN TO GO
Guam's weather makes it a pleasant place to visit all year round. Thunderstorms are rare—as far as rains go, showers only last a few minutes before the sun comes out again. The island's location by the equator makes it a premier vacation destination no matter the season; and its proximity to the Philippines makes for an easy transition for Filipino travelers.
HOW TO GET THERE
Cebu Pacific Air flies from Manila to Guam thrice weekly, every Tuesday, Thursday, and Saturday. Fly aboard the 180-seater A320 aircraft and get to Guam in roughly three and a half hours. Guam's AB Won Pat International Airport is a quick five to 10-minute drive to the city center. As Guam is a U.S. territory, a U.S. visa is required for travel to Guam. Non-immigrant visas are typically priced at U.S. $160.
Share this story with your friends!
---
Help us make Spot.ph better!
Take the short survey
Load More Stories