(SPOT.ph) With its barreling waves perfect for board tricks and numerous surf spots along its coast, Siargao in Surigao del Norte is regarded by many as the Surfing Capital of the Philippines. Pro surfers from around the world even fly to this small island on the eastern seaboard every September just to battle it out with fellow riders and experience the exhilaration that the wind and the sea bring. But don't let its title fool you—because at the Surfing Capital of the Philippines, you don't really have to surf to just have some fun. 
We round up other activities that can convince travelers of all kinds to visit Siargao Island.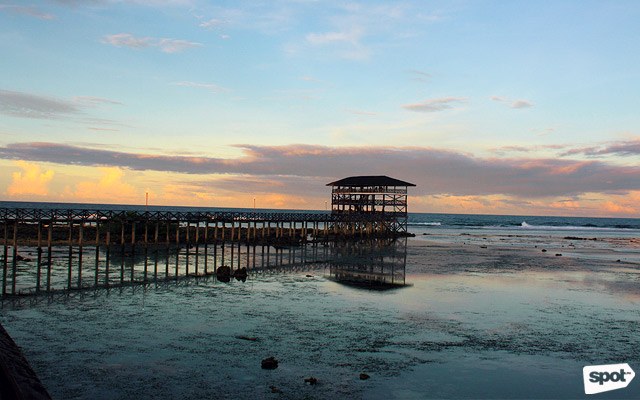 ADVERTISEMENT - CONTINUE READING BELOW
Enjoy the view from the boardwalk as the sky changes colors
The boardwalk right in front of Cloud 9—one of the island's many surf spots—is the perfect place to watch the break of dawn. You may also catch early-morning surfers seeking their first wave of the day.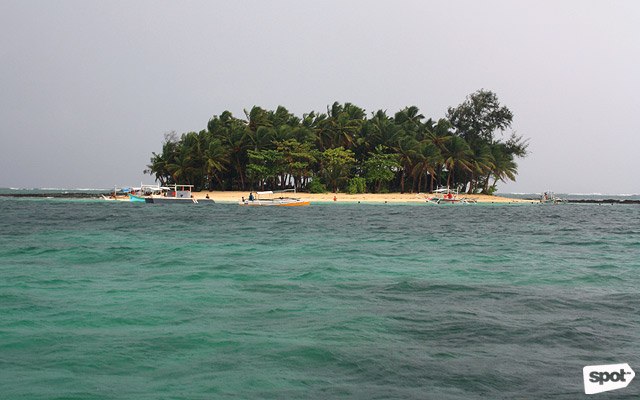 Go island-hopping off the coast of General Luna
You can get on a boat from the municipality of General Luna and visit nearby landforms—Naked Island, a sandbar that changes its shape with the shifting of the tide; Guyam Island, a small island covered with about a hundred coconut trees; and Daku Island, which is a popular spot for lunch. Daku or dako is a Visayan word for big, an apt name for the largest island of the three. The island-hopping rate is at P1,000/head for groups of more than five.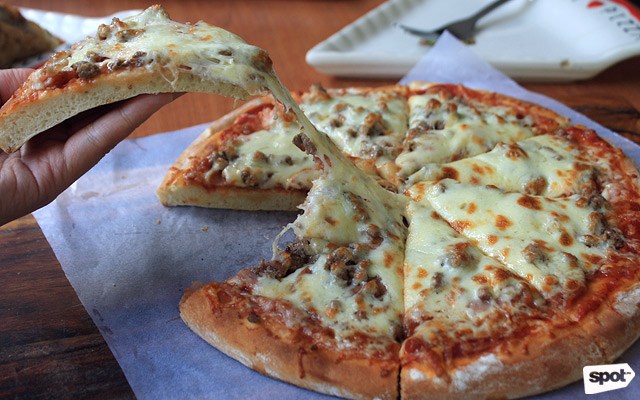 Indulge in all types of dishes while on a tropical island
You can get a smoothie bowl (P250) made of fresh fruits at Shaka Siargao for your early-morning fill of fruits. For lunch, you can drop by Aventino's for their oven-fresh pizza (starting at P215). There's even the double-decker Tricia Pizza, which will surely satisfy your hungry stomachs. If you're craving Spanish cuisine, Bravos Restaurant has the best menu for tapas (starting at P150). Of course, there's also the ever-popular brick-oven pizza (starting at P250) at Kermit Siargao. 
ADVERTISEMENT - CONTINUE READING BELOW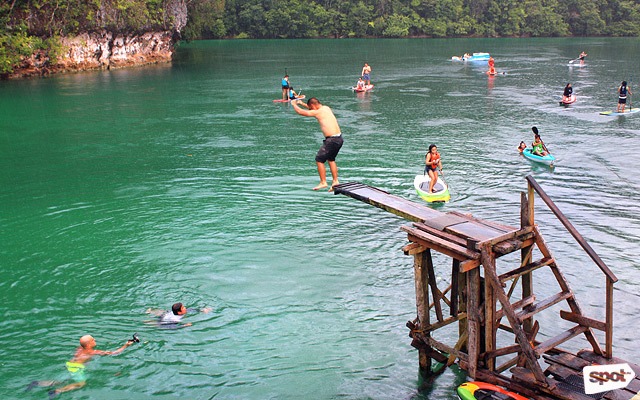 Find your Zen while paddleboarding at Sugba Lagoon
Sugba Lagoon in the municipality of Del Carmen is known for its calm waters surrounded by limestone cliffs. It's ideal for kayaking, paddling, and snorkeling; but, if you're up for a thrill, you can try jumping off the diving board and into the clear turquoise water of the lagoon. There's also a two-storey pavilion where you can rent a table for a sumptuous lunch. To get there, you can book a boat from the port of Del Carmen and go to Caob Island where Sugba Lagoon is located. Tour fee is around P2,000, which is often inclusive of van transfer from General Luna to Del Carmen, boat transfer to Sugba Lagoon, lunch, entrance fee, and board rental. 
ADVERTISEMENT - CONTINUE READING BELOW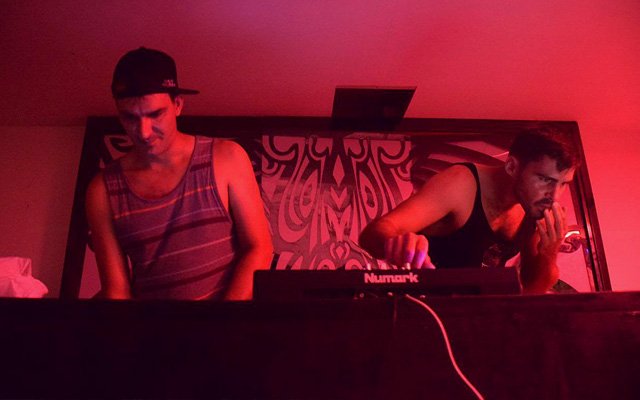 Party with the rest of surf town
Clubbing is a bit different in Siargao compared to beach party spots like Boracay. For every day of the week, there's only one bar or restaurant that hosts an event; and you have to depend on word-of-mouth or by asking a Siargaonon where the night's gathering is. This gives tourists a chance to party with local surfers and expats. 
ADVERTISEMENT - CONTINUE READING BELOW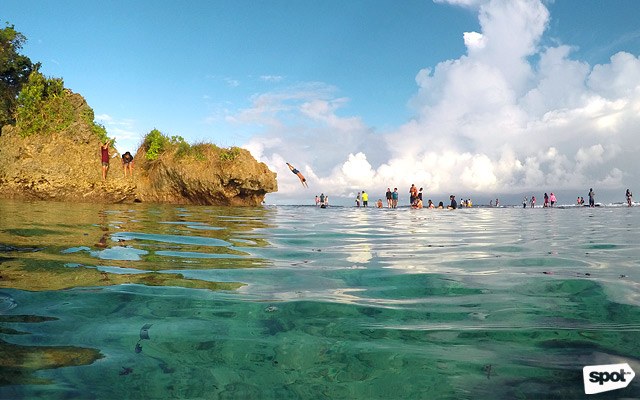 Try rock-diving at the Magpupungko Tidal Pool
Locals say that magpupungko means "sitting on top" or nakapatong, a fitting name for Magpupungko Formation which looks like a huge rock sitting on top of a flat one. During low tide, one side of the beach turns into a natural sea-water pool with underwater walls separating the blue-green crevice from the Pacific. The side nearest the rocks is also deeper than the rest of the tidal pool, creating a good spot for diving. 
ADVERTISEMENT - CONTINUE READING BELOW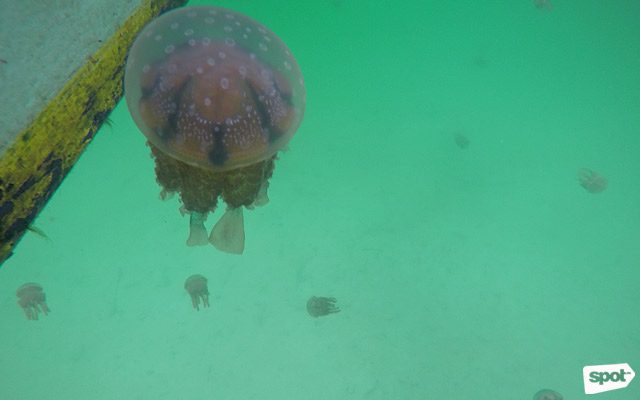 Touch a stingless jellyfish at Tojoman Lagoon
Siargao's neighboring group of islands called the Bucas Grande is a sight to behold for nature-lovers. It is home to the Sohoton Cove Natural Park, which is riddled with underwater caves, placid lakes, and lagoons. One of the tourist destinations in the area is the Tojoman Lagoon, named after the local word tojom or sea urchin. It is also a sanctuary for a huge population of the Lagoon Jelly and a few Blue Moon Jelly. Both species are stingless so you can actually touch them (but be careful not to lift them out of the water). The local tour guides say that the number of jellyfish actually dwindled when more tourists came to Sohoton Cove. Travelers slathered with harmful sunscreen would swim with the marine animals, causing the creatures to die because of the lotion's chemical content. 
ADVERTISEMENT - CONTINUE READING BELOW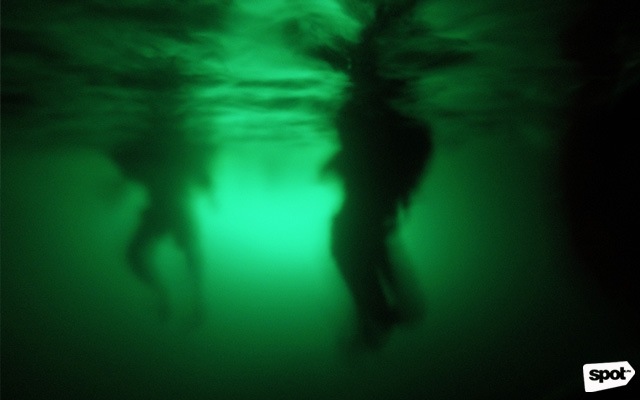 Swim in the emerald waters of Hagukan Sea Cave
Hagukan in Sohoton Cove can only be reached by swimming and duck-diving through a small opening underwater. The fear while holding your breath for eight seconds is worth it, though, because there's an otherworldly sight inside. The water appears to be green in color, which is the result of the minimal light entering the cave and being reflected off the calcium-rich stalactites above. You can create ripples yourself and see how the droplets seem to be glowing in the dark. Hagukan is a Visayan word for snoring, a sound caused by the crashing of the water that you can hear when inside the sea cave. 
ADVERTISEMENT - CONTINUE READING BELOW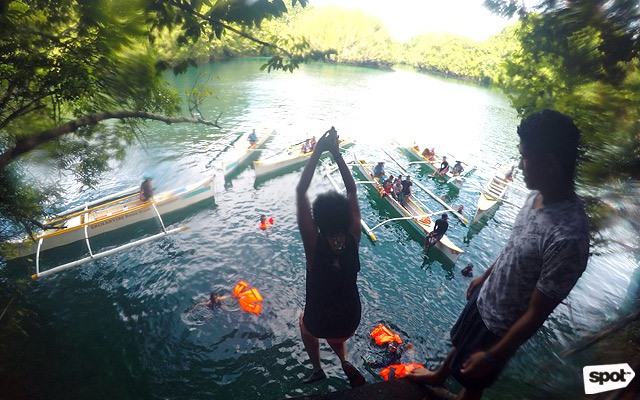 Jump off a cliff at Magkukuob Cave
To enter Magkukuob Cave, you have to wade in waist-level water. To exit, you have to climb some rocks and jump off a platform that's suspended at 12 feet. Pro tip: Don't run then dive because you might slip and hurt yourself. Just look straight, admire the view in front of you, and step off the piece of wood. Never mind that the water below is more than 50 meters deep. 
ADVERTISEMENT - CONTINUE READING BELOW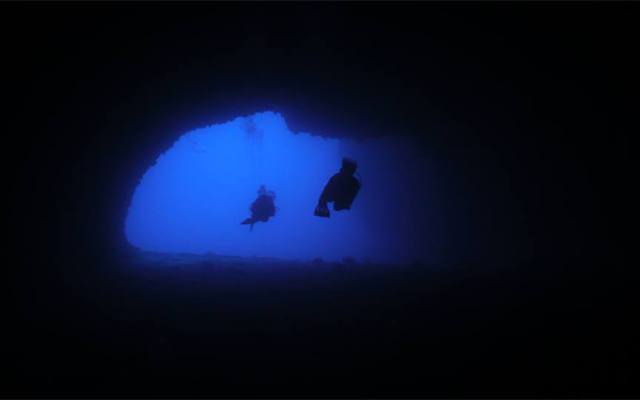 Explore the rich marine life of Siargao Island
Blue Cathedral is one of the most popular dive sites not only in Siargao but the world. To enter this underwater rock formation, you have to descend into a vertical hole that's about 20 meters in diameter. It has the size of a large church, thus the name. You can also try snorkeling near Daku Island, La Janosa Island, and Sohoton Cove and marvel at the beautiful underwater world of Siargao. 
ADVERTISEMENT - CONTINUE READING BELOW
How to get there: Cebu Pacific (via CebGo) offers affordable direct flights from Ninoy Aquino International Airport Terminal 4 to Siargao Domestic Airport in Sayak from Thursdays to Tuesdays, with more flights to be added by March 25. 
Share this story with your friends!
---
Help us make Spot.ph better!
Take the short survey
More Videos You Can Watch
Load More Stories