10 Gorgeous Venues for an Intimate Wedding in Antipolo
Perfect if you're celebrating with 20 or 50 people (or even just 10!).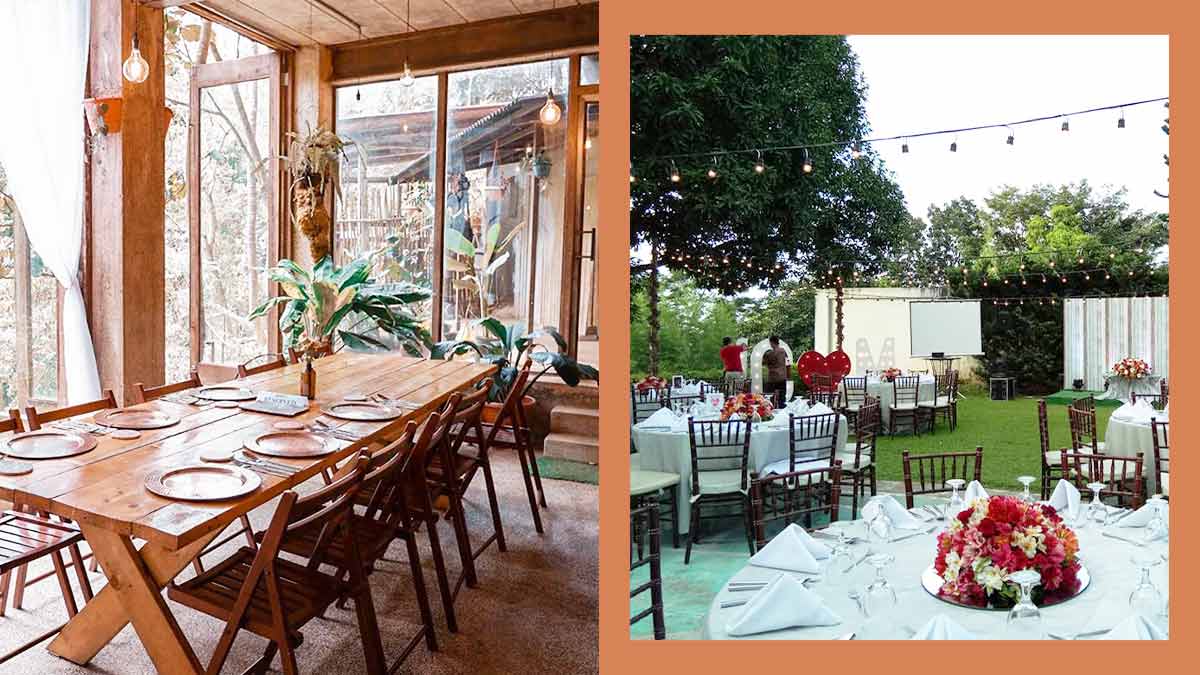 (SPOT.ph) The community quarantine that started in March put a hiccup in all plans for most of 2020, especially those that require gathering a crowd. Concerts, theater shows, and travel tours were all postponed. This was also bad news for couples who had been planning a big destination wedding, only to see canceled flights, closed-down venues, and guests backing out especially with the pandemic still looming.  
But come to think of it, weddings are all about celebrating with your special someone, family, and closest friends. You can still push through with your special day after striking out about 200 names off your guest list, then enjoy a simple dinner with about 20 people in a gorgeous venue near the Metro. 
Also read:
10 Great Venues for the Wedding of Your Dreams
10 Picture-Perfect Beach Resorts for Destination Weddings
10 Beautiful Churches for Weddings in the Philippines 
If you're tying the knot soon, here are 10 wedding venues in Antipolo for an intimate celebration:
Burrow Café at Antipolo Beehouse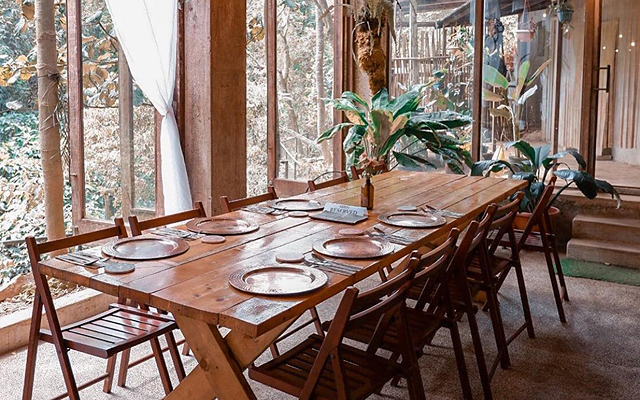 ADVERTISEMENT - CONTINUE READING BELOW
113 Beverly Hills Avenue, Beverly Hills Subdivision, Antipolo City, Rizal
Contact: 0917-622-9795
E-mail: burrowcafeph@gmail.com
www.antipolobeehouse.com/burrowtogo
Package starts at P2,500/head for 20 pax 
One of Antipolo's best-kept secrets (it's literally a secret hideaway located underground), Burrow Café is a coffee shop and restaurant that also serves as a venue for intimate events and weddings. The restaurant has huge windows that open to verdant surroundings, perfect for couples who just love being close to nature.  
Their Small Celebrations package (P2,500/head), which is crafted especially for a gathering of only 20 people, includes plated meal service (with three four-course menu options), three hours use of both the indoor restaurant for reception and outdoor garden for the ceremony, indoor tables and chairs, and use of wireless microphone and LCD projector. They can also accommodate groups ranging from 35 to 40 people, which is their 50% capacity during the imposed modified general community quarantine in Rizal province. Deals start at either P1,800/head (buffet service) or P2,000/head (plated service). Couples can also book the main Beehouse for a half-day photo shoot starting at P9,500. 
CONTINUE READING BELOW
Recommended Videos
The Mango Farm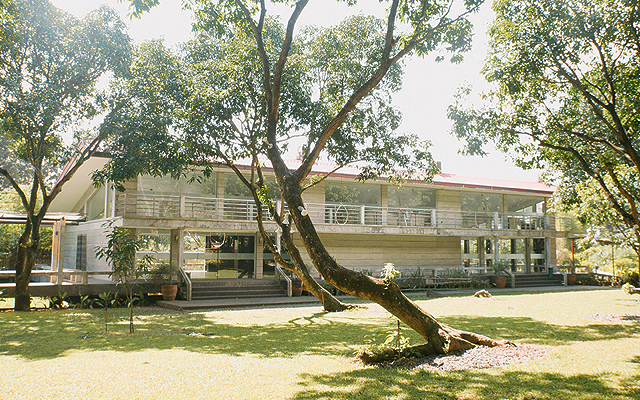 ADVERTISEMENT - CONTINUE READING BELOW
22 Shield Street, Kingsville Court, Antipolo City, Rizal
Contact: 0908-882-3929 
E-mail: themangofarm@gmail.com
themangofarm.com
Package starts at P119,400 for 20 pax 
On normal days, The Mango Farm can accommodate around 200 to 250 guests at their air-conditioned glass pavilion, which is nestled in a tree garden designed with capiz drop lights. But with current quarantine protocols, they now offer intimate wedding packages with their partner catering services. A 20-person plated meal service with Passion Cooks' menu starts at P119,400. This is inclusive of five-hour exclusive use of the pavilion, free use of garden for cocktails and/or wedding ceremony, set-up with only five guests each table and Tiffany chairs, welcome drinks and cocktail hour, floral centerpieces, couple's backdrop, table tags and menu cards, sound system, LCD projector, and crew meals. Passion Cooks also has packages for 30 pax at P135,900, 40 pax at P152,400, and 50 pax for P170,000—all for plated meal service. 
Other accredited caterers are Hizon's Catering, which costs P135,000 for 50-pax buffet service; K. by Cunanan Catering, which costs P157,500 for 50 pax; and Madriaga's Catering, which costs P115,000 for 30 pax.  Their venue-only rate is at P99,500 for 200 guests for a reservation of seven hours. 
L' Aquinum Garden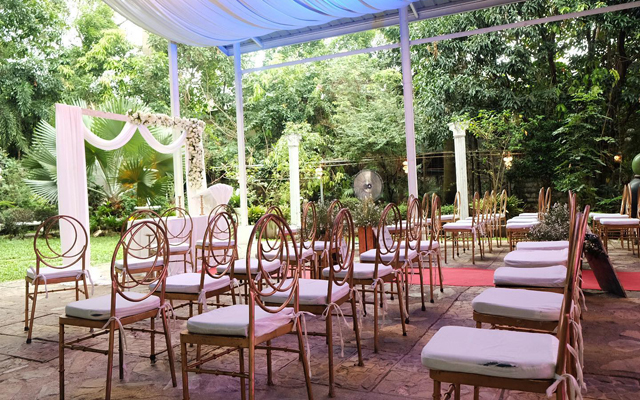 ADVERTISEMENT - CONTINUE READING BELOW
Charlemagne Street, Kingsville Executive Village, Antipolo City
Contact: 0917-316-7517
E-mail: antipoloeventvenues@gmail.com
laquinumgarden.wordpress.com
Venue-only rate starts at P30,000 for 30 pax 
L' Aquinum Garden is a sprawling garden venue with a covered courtyard for ceremonies and banquets. Their venue-only rate starts at P30,000 for groups from 30 to 80 guests. This is inclusive of an eight-hour exclusive use of garden venue, one air-conditioned dressing room, covered hall, industrial fans, and lights and sounds system. You also get free use of the venue for photoshoots. Their partner caterers are Hizon's Catering, M. Catering, Sweet Onion Catering, Richgold Weddings, Madriaga's Catering, CVJ Catering, and Densol's Catering. 
BHMK Antipolo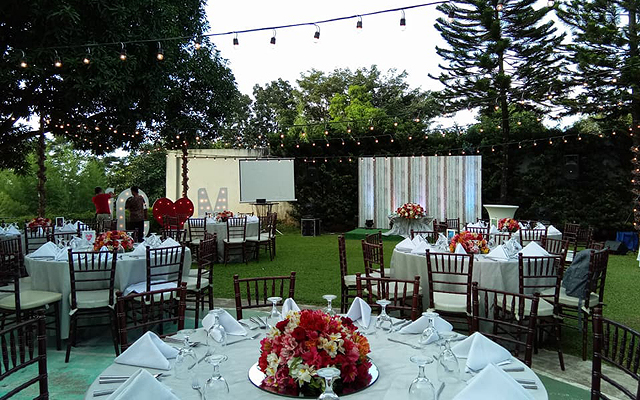 Unit 7, Pagrai Hills Subdivision, Cupang Lower, Antipolo City, Rizal
Contact: (0977) 267-5102
E-mail: customerservice.bbbevents@gmail.com
www.facebook.com/BHMKAntipolo
Package starts at P99,000 for 50 pax
A garden venue with a view of the city, BHMK's rental fee ranges from P20,000 to P40,000 depending on the number of guests. Areas include an outdoor garden reception, a charming space under a mango tree, their skydeck, a mezzanine, and a holding area. They can accommodate from 80 to 100 people. The ceremony area, which can be rented at an additional cost of P6,000, can accommodate 70 pax. 
ADVERTISEMENT - CONTINUE READING BELOW
From November to early December, they offered a special package for intimate weddings with a maximum of 50 guests. The promo, which costs P99,000, includes four-hour use of the space, a holding room, styling by R.I. Design (stage backdrop, VIP tables, and centerpieces), catering by Madriaga Catering and Food Service, and a lights and sounds system. 
The Garden Hive Events Place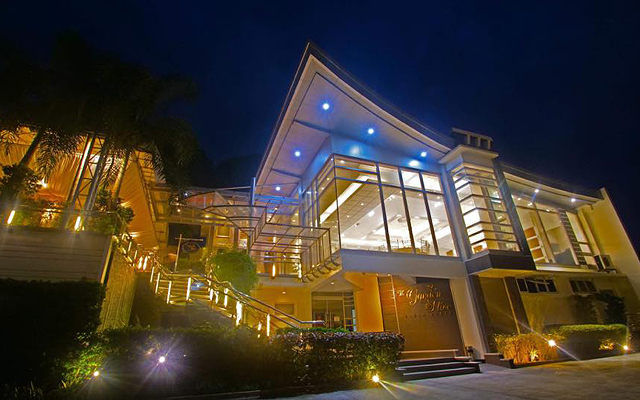 ML Quezon Street Extension, San Roque, Antipolo City, Rizal
Contact: 0927-642-6706
E-mail: management.gardenhive@gmail.com
www.gardenhiveeventsplaceantipolo.com
Package starts at P150,000 for 50 pax 
The Garden Hive Events Place has an indoor air-conditioned venue with glass walls that can accommodate up to 180 guests and a garden venue for 100 guests. You can book both spaces for an intimate wedding for 50 pax (P150,000), which is inclusive of four-hour use of the venue, two hours ingress and one hour egress, sound system, overnight stay for two with breakfast at The Citywalk Suites, two food carts or a milk-tea/coffee bar, hair and make-up for bride and groom, two-hour use of photobooth, on-the-day wedding coordinator, a host, and plated catering service. 
ADVERTISEMENT - CONTINUE READING BELOW
La Huerta Estate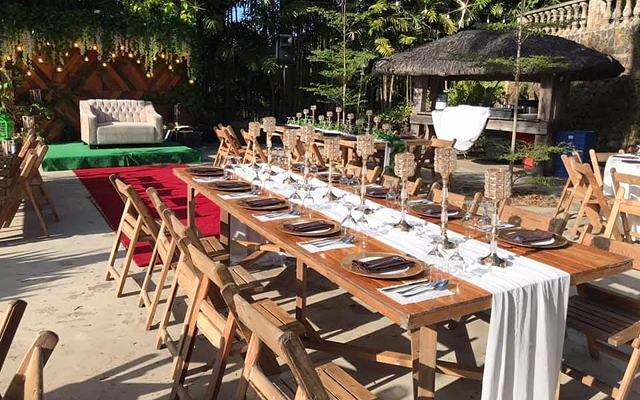 Marigman Road corner Ahon Road, Barangay San Roque, Antipolo City, Rizal
Contact: 0917-892-0020
E-mail: info@lahuertaonline.com
lahuertaonline.com
Package starts at P1,150/head for 50 pax (plus P50,000 for venue)
La Huerta Estate was originally built as a vacation house in 1969 by Jovino and Luz Lorenzo. The family moved in permanently in 1972, until the kids moved out in the '90s. The place eventually became a sprawling rental space for events attended by as many as 300 guests. Couples who want to have intimate weddings can also find the place attractive, especially with its beautiful spots for photo shoots, open-air courtyard for reception, and a beautiful staircase for the bride's grand entrance.
Small wedding packages for 50 pax start at P1,150 per head with a fee of P50,000 for venue rental. Catering is provided by Diana's Catering, which also offers a round table set-up with five guests each, centerpiece, Tiffany chairs, and uniformed waiters with face masks. Guests have exclusive use of the whole estate up to 11 p.m., including the bridal suite and a scheduled day for photo shoot.
ADVERTISEMENT - CONTINUE READING BELOW
The Emerald Events Place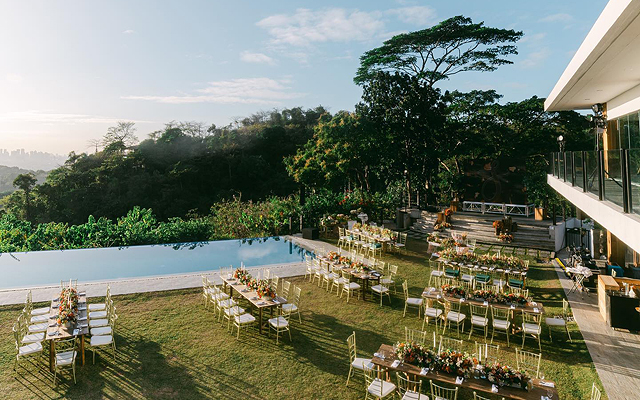 Cabrera Drive, San Roque, Antipolo City, Rizal
Contact: (0998) 586-7839
E-mail: info@emeraldeventsplace.com
www.emeraldeventsplace.com
Venue-only rate starts at P100,000 for 50 pax 
The Emerald, which is operating at 50% capacity, offers their venue for intimate events at P100,000 from 50 to 90 guests. This includes four-hour use of their glass-walled main hall that's nestled on top of the hill, garden, and pool for the reception and both the Master Suite and Deluxe Room as holding rooms; four hours ingress and two hours egress, and housekeeping and security staff on the day of the event.
The Emerald currently doesn't have event packages, but you can get in touch with their accredited caterers: One Two Eight Catering, K By Cunanan, Albergus Catering, Madriaga Catering, Hizon's Catering, Passion Cooks, Juan Carlo the Caterer, and Richgold Weddings. 
Casa Fuente Events Place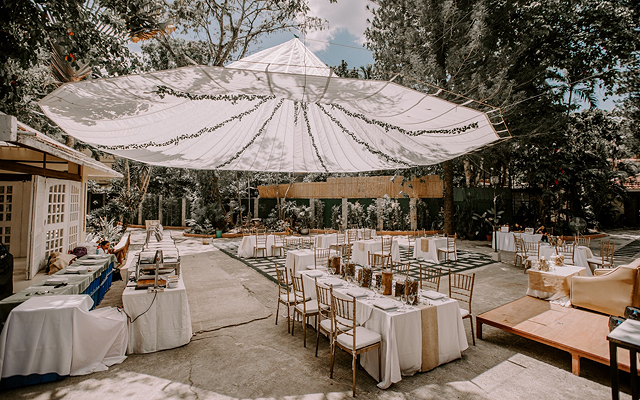 ADVERTISEMENT - CONTINUE READING BELOW
1390 Sitio Maagay, Barangay Inarawan, Antipolo City, Rizal
Contact: (0999) 587-9275
E-mail: bookings@casafuenteeventsplace.com
www.facebook.com/casafuenteeventsplace
Package starts at P149,000 for 30 pax 
Originally a family rest house, Spanish-inspired Casa Fuente Events Place has a sprawling 1,800 square meters of space for a wedding ceremony, small reception, and photo shoots surrounded by rows of pine trees. You have two options for bookings: Basic Wedding Essentials and Premium Wedding Essentials; and package options with three accredited caterers: CVJ Food Catering, Madriaga Catering, and 128 Catering.  
For 30 guests, they have an Intimate Banquet package with One Two Eight Catering. This starts at P149,000 (or P4,966.67/head), which includes hors d'oeuvres, buffet menu of choice, wait staff, unlimited drinks (iced tea, coffee, and tea), backdrop and sofa for couple's area, floral centerpieces, dressed tables and rustic chairs, photo area, holding rooms (separate rooms for the couple and three family rooms), on-the-day coordinator, lights and sounds set-up, and three-hour use of the reception.
Timmy in the Woods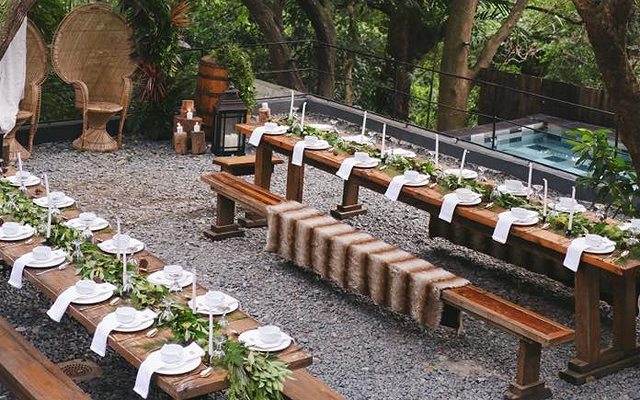 ADVERTISEMENT - CONTINUE READING BELOW
3 Mount Everest Avenue, Goldenhills Subdivision, Antipolo, Rizal
E-mail: timmyinthewoodsph@gmail.com
www.facebook.com/timmyinthewoods
Venue-only rate starts at P18,000 for 10 pax
Timmy in the Woods has always been a crowd favorite for staycations since it opened to the public in January 2018. But the place also serves as an events venue, intimate weddings included. They're available for rent from P18,000 (10 pax) to P46,000 (50 pax). This is inclusive of private use of the 14-meter infinity pool, veranda, brickhouse, and garden area for three hours (with two hours ingress and two hours egress). You'd have to pay corkage for catering (P5,000), sounds (P3,000), lights (P3,000), and other add-ons.
Tahanan Bistro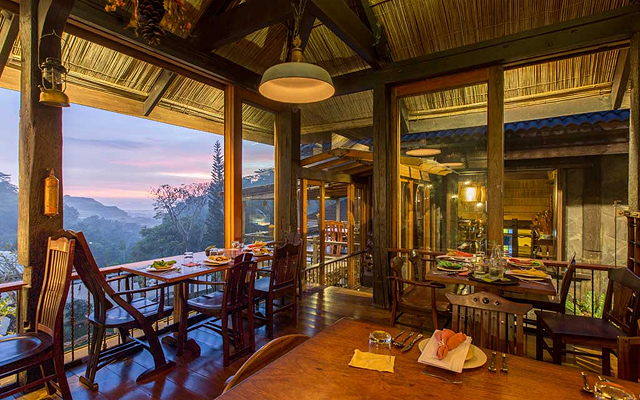 22 Loresville Drive, Lores Farm Subdivision, Barangay San Roque, Antipolo City, Rizal
Contact: 0925-880-1487
E-mail: events@tahananbistro.com
www.tahananbistro.com
Package starts at P12,500 for 10 pax
Family-run restaurant Tahanan Bistro, as the name suggests, looks like your traditional Filipino home. It's built from reclaimed wood salvaged from old houses and bridges and designed by wood sculptor and furniture maker Benji Reyes, who also happens to be the owner. They offer special packages for private gatherings: A simple wedding reception for 10 guests is at P12,500. This includes two-hour use of a private area within the venue, five-course meal per head, and choice of either a nine-inch cake or one round of lemongrass iced tea for your guests.
ADVERTISEMENT - CONTINUE READING BELOW
For bigger groups, they can accommodate up to 12 people with four-hour use of the place for P25,000; and up to 20 pax for P35,000. Photo shoots are also welcome with rates starting at P8,500 for four-hour use of the garden with Koi ponds and waterfalls.
Share this story with your friends!
---
Help us make Spot.ph better!
Take the short survey
Load More Stories