Arguments for Bombing Boracay off the Face of the Earth
Let Boracay retain whatever is left of its powdery dignity.
In the 1980s, when this was the building code and the Bayanihan spirit
lived in Boracay.
There are times when old, diseased animals should be put out of their misery- to prevent infecting the rest of the herd. There are times when some houses should be demolished to ensure that no other occupant would be injured by falling posts and creaking planks.
Despite the P45,000-a-night suites at the new Shangri-La, Boracay is increasingly becoming a modern Babylon of atrocious taste. The island, considered the crowning glory of Philippine tourism with its shimmering white sand, is suffering from a never-ending siege of crass commercialism. No longer the gleaming paradise in the imagination of a previous generation but an alarmingly tacky extension of ugly, ugly Metro Manila where at any given moment you're bound to run into your annoying neighbor and his even more annoying little friends.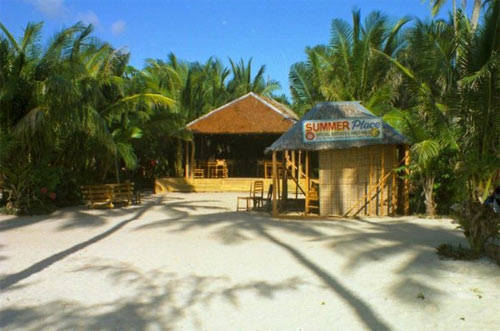 Back when Summer Place was just a place.
ADVERTISEMENT - CONTINUE READING BELOW
Let Boracay retain whatever is left of its powdery dignity. The time to end its misery is now. The nuclear missiles of North Korea are but a phone call away.
Those stupid parties and events. Blame the one-hour plane ride for spreading the notion of convenience and easy access-- the notion that anytime we feel like partying we can just hop on a plane to "Bora" (Digression: there ought to be a law prescribing the death penalty to anyone who uses the word "Bora."). Seriously speaking, the island can certainly benefit from legislative measures on a national scale. Generating millions of dollars in income, Boracay is simply too important to be left in the hands of mayors and barangay captains unschooled in the sciences of international tourism. Indeed, just because the San Miguel Corporation is in Ortigas doesn't mean we have to put it under the authority of the local officials. To paraphrase a famous cinematic quote, it can't afford to be like a carinderia where any customer is always welcome at any time of the day. The nature of paradise is exclusivity. But it's too late for that.
CONTINUE READING BELOW
Recommended Videos
The image of beachfronts being made to look like Makati clubs is both mindboggling and cringe-inducing. About as painful to look at as girls who don't know it's a right, not a privilege, to wear a neon bikini. But not as grotesque as the sight of a beach carpeted by crushed beer cans, plastic cups, cigarette butts, vomit, and unconscious twits. Then again you ask yourself, what's worse: this or those "environmentalists" who, after picking up trash in the morning, start patting themselves on the back. But this is nothing a Scud missile can't instantly solve.
ADVERTISEMENT - CONTINUE READING BELOW
Ugly architecture. Exhibit A. Hotel Seraph in Station 2, which looks like it was designed by a blind drug addict on his worst acid trip after being rejected from Las Vegas while listening to Liberace's Greatest Hits. I dare anyone to stare at any part of its façade and not suffer from vertigo after the first three minutes.
This angelic eyesore is simply one of the increasing number of crimes against good taste and ophthalmology. Did you know that there's actually an existing law in Boracay that says all hotels and resorts must conform to a specific design? And what that provision simply demands is an aesthetic that blends with or complements the look of the island. Is that so hard to follow? Is that an impossible, insensible rule? Then why must resorts insist on looking like they landed from some tacky planet?
The Best of Bob Marley and chill out music. There's a beach, therefore we should play reggae, right? Wrong. "No Woman No Cry," "We're Jammin'," and "Stir It Up" have polluted Boracay's airspace like so much stink that comes from unwashed dreadlocks and cheap weed. It is precisely this kind of clichéd thinking that is fast-transforming Boracay into a cesspool of awfulness. And speaking of dreadlocks, there ought to be a law against them-plus certain regulations against tattoos, ethnic-looking bracelets and anklets, percussions, boogie boards, and all other accoutrements adorning the sun-charred bodies of the Bom-Bom faithful. Dreadlocks are the breeding ground for different species of lice and should therefore be considered a health hazard.
ADVERTISEMENT - CONTINUE READING BELOW
Zips. It's the modern equivalent of mime, cheerleading and interpretative dancing-- involves significant amounts of physical effort but, in the end, totally useless. Becomes even more intolerable when said skill is picked up by washed-up celebrities who say, "I've found my destiny." Not only a fire hazard, but also a threat to everything that is good and sensible about humanity. So you want fire, mutherfuckers? General Kim, unleash the missiles.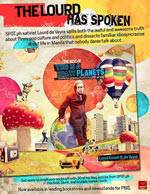 This is a Crazy Planets is available in newsstands, bookstores and supermarkets nationwide for only P195. For more information, click here.
Images from Monty Sakwa and Gerhard Walter.
Share this story with your friends!
---
Help us make Spot.ph better!
Take the short survey
Load More Stories