The National Artists Awards: An Alternative List
We present our list of nominees.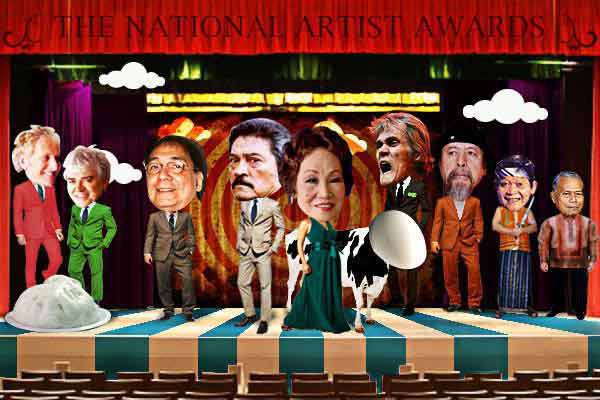 Again, controversy swirls above the National Artist Awards like flies around so much decomposing meat. More names added to the great pantheon of the titanically unread, the wondrously unseen, and the magnificently unheard of. Well, as far as the benighted 90 % of the Philippine population is concerned.
But the arts in this country have often been dictated by institutional fiat. Mostly it's the academic bodies that nominate, but the President of the Republic may also insert, er, suggest a name. Equally controversial, too, is the creation of new categories to tailor-fit "special" nominees. President Ramos named Carlos Quirino National Artist "for Historical Literature." In 2006, in the time of Great Leader Gloria Macapagal Arroyo, "Fashion Design" was suddenly whipped up for the late Ramon Valera.
Note one important criteria for selection "Artists who enjoy broad acceptance " Which means, these nominating groups must go beyond their immediate, incestuous environs and study the bigger picture. Because nobody asked for it, we present our list of nominees.
ADVERTISEMENT - CONTINUE READING BELOW
1. Paquito Diaz and Bella Flores (Film) -" For shaping the archetype of the cinematic villain, without the effective characterization of whom the hero's conflict would never be possible. Paquito's moustache alone has already entered the realm of myth. Without Paquito, FPJ would have been impossible. Paquito's female equivalent is La Bella, who has made life a living hell for generations of onscreen heroines. Both allow for the protagonist's gripping dramaturgy. The yin to the friggin' yang.
2. Ma Mon Luk (Culinary Arts) - They already made up categories like Theater Design, Historical Literature, and Fashion Design, so why not create one for cuisine? Mami is an invention that truly reflects the mongrel nature of Philippine culture. And I dare you to search any Hong Kong street for something as miraculous as Ma Mon Luk's jumbo pao, with its asado shreds, and slices of Chinese sausage and salted egg.
CONTINUE READING BELOW
Recommended Videos
Special mention:
Whoever invented tapsilog-"Because "silog" has evolved into an all-encompassing suffix for any dish that has fried rice and a sunny-side up egg-" a dietary combo of protein and carbohydrates that fuels the Filipino workforce. For a culture that demands speed and urgency without sacrificing flavor and satiety, the tapsilog together with its bastard offspring, is a work of art.
3. Yoyoy Villame (for Music-"And perhaps, literature.) No body of work can match the melodic grip and the lyrical brilliance of Yoyoy. Whoever lumped this work under the genre of "novelty" is a complete ignoramus who wouldn't recognize serious art even if it screwed him in the mouth. It takes a titanic imagination to sing about Magellan and Lapu-Lapu, or about the bizarre tale of animals taking over a village orchestra ("Hayop na Kombo").
ADVERTISEMENT - CONTINUE READING BELOW
4. Air Supply (Music) - I know I know, they're Australians, but for them we can make a special exception. But it seems as if more people know the words to "Two Less Lonely People in the World" than "Lupang Hinirang." With impossibly high-pitched choruses and romantic gravitas that could create cracks on the Earth's crater, they are the troubadours of the romantically forlorn Pinoy. From the sari-sari stores of Aparri to the last videoke parlor in Tawi-Tawi, the songs of Air Supply have very much become part of the Philippine airspace, like carbon monoxide and sewage odor. Altogether now: "Two less lonely people in the world/ And it's gonna be fine..."
5. Joey de Leon (Literature) -" His lyrics for Tito, Vic, and Joey's Tough Hits exude a bizarre sort of poetry. Satirizing the biggest OPM singles of their day, De Leon: the twisted genius who replaced the sentimental words of Basil, Haji, VST, The Beatles, among many others with disturbing narratives on body odor, degenerate gambling, transvestites and skin disease. For composing the psychedelic masterpiece "Longganisang Maong, Dagang Denim." For deploying that wonderful word "kurikong" to devastating effect. More subversive than any verse by Amado Hernandez. For being the evil brains behind Supermouse and the Roborats, the Starzan series, Elvis and James, and Alyas Batman en Robin (where he graciously he shares with Dawn Zulueta 'Bat Tea' and battles the villain Tio Paenguin).
6. Juan dela Cruz Band-" For saving Filipino pop music from the swamp of boredom and mediocrity. For lending to it a dangerous, subliminally pharmacological edge. For reworking the pentatonic blues and the sludge-heave of the Stones, Cream, and Led Zeppelin into something that reflected the zeitgeist-" Divisoria, Martial Law curfew, jeepneys, the burgeoning suburban life, and the pleasures and perils of, uhm, pharmacology. Something that not even those classical snobs with their European postgraduate degrees couldn't do. For Pepe Smith. Period.
ADVERTISEMENT - CONTINUE READING BELOW
7. Leonardo Sarao (For Architecture, or Vehicular Design or whatever. Just give him the goddamned award) - For the proliferation of the most prevalent form of transportation on Philippine streets, whose name Microsoft Word still refuses to accept. The jeepney-" for millions of commuters, the cheapest and most convenient; for motorists, the endless wellspring of stress and nuisance. Say what you want, but the airbrushed artworks kick ass and songs by Deep Purple and The Eagles never sounded better (probably because of the eerie black light). Jeepneys are also the eternal purveyors of cryptic wisdom i.e "God knows Hudas not pay," "Basta driver, sweet lover," "Pag may butas, pasok," and "Ligo na U, Lapit na Me."
To be continued.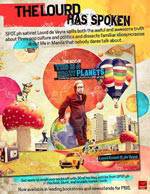 This is a Crazy Planets is available in newsstands, bookstores and supermarkets nationwide for only P195. For more information, click here.
Artwork by Warren Espejo.
Share this story with your friends!
---
Help us make Spot.ph better!
Take the short survey
Load More Stories