Selling the Drama: OMG, Save us from these awful political ads!
SPOT.ph Blogger Lourd de Veyra refuses to accept we're a country of idiots. So why do politicos and their informercial creators think that we are?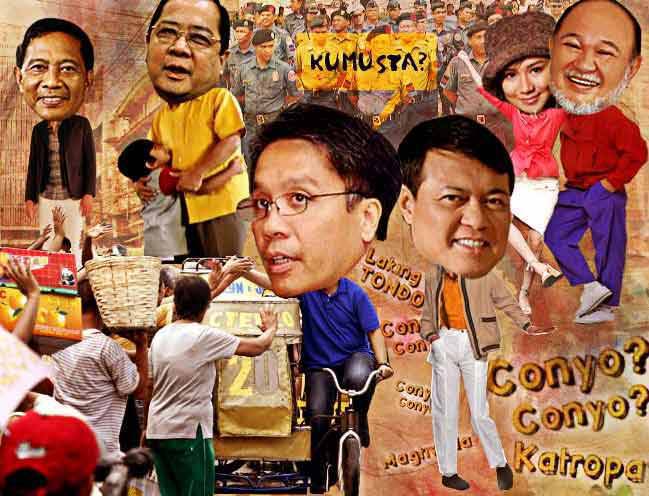 No, I refuse to surrender to the notion that we're a country of 80 million idiots. I refuse to believe that a people who grieved for Cory Aquino can be so. But these television commercials-along with Malacanang's excuses for elevating Caparas and Guidote into the ultimate paragons of artistry-are a testament to an undying contempt for the public's intelligence. Some of them are hilarious, others just insulting enough to spark a national bloodbath. And it's only August.
Manny Villar
"Akala mo conyo, yun pala hindi." Who sez he had the air of the Spanish-Mestizo elite? Not me. Never struck me as one, which is what I would've told the survey service he hired if they only knocked on my gates ("Hijo de puta, Jake, I don't think he's one of us at all...pare.") Anyone who owned Starmall and Manuela could never have a wonderfully exotic Basque-sounding surname. The director is Paul Basinillo and the agency handling this shtick is DM9 Jayme-Syfu, which likes to call itself "small and credible" and also counts Belo, Dole, Smart, Max's, Music One, Fuji Xerox, John Robert Powers, among others, as clients. The graphics, the vibe, the pacing, the V-shaped hand gesture, the Parokya ni Edgar-inspired jingle all designed to target the youth-a demographic broader than Villar's jowl.
As to the real Spanish denotation of conio I will discuss no further-lest he give vagina a bad name.
Jojo Binay
The biggest favor a politico can do for us is to refrain from committing public displays of melody and rhythm (or in the case of Augusto Syjuco, the total absence thereof). Maybe you can add to that, fake displays of sympathy. Binay himself doesn't eschew the drama in this Nap Jamir-directed ad, but he manages to give at least a logical, coherent, and most of all, dignified TVC. Binay- a.k.a "Jojobama , who just might become the first black man in Malacanang, as the joke goes" -at least provides us with snappy soundbites and factoids about the City of Makati. "Free tuition," "Subsidized healthcare," "Free books," etc. Whether or not they're true is beside the point. At the very least, it doesn't send your blood pressure to the moon. Placed side by side with those of Roxas and Villar, it almost seems like The Passion of St. Joan of Arc. And if only for sparing me the horrible acting and the infuriating jingle, I'm almost tempted to vote for him.
ADVERTISEMENT - CONTINUE READING BELOW
Ronnie Puno
One question: why does Secretary Puno look strangely bloated and puffy in this commercial extolling the virtues of the Department of Interior and Local Government? We'd like to hear Miriam Defensor Santiago's witty, polysyllabic retort. At this point, "100 police stations may women and children's protection desk" and "3000 bagong pulis taon-taon" is still better than "Koh-mooos-tah!" and "Akala mo conyo, yun pala hindi." In a Paris Review interview, Gabriel Garcia Marquez said that numbers are the only way to make the fantastic believable. When Puno announced his bid for the vice presidency a couple of months ago, the first thing that entered my mind was how his ad pitch would go. And somehow, somewhere in the deep, dark part of me privy to the advertising world's infinite capacity for lousy symbolism and evil, I knew that I was going to see a goddamn tree. Lo and behold.
CONTINUE READING BELOW
Recommended Videos
Boboy Syjuco
I thought I'd seen it all, but this just might be the single most cringe-inducing commercial I have ever seen in my existence. This man has been at it since a few years back, with radio spots where he is called "Tito Boboy Syjuco." True enough, being director general of TESDA may not exactly warrant as much media exposure as secretary of the Department of Health in the outbreak of a bubonic plague. You can only imagine him in a meeting with top level advertisers: "Goddamit! What does a guy need to do to get elected in this country?!!" Ad people look at each other, nervously searching for an answer: "Well, sir... sing and dance?" He bangs a hairy fist on the table and yells, "Well, GODDAMIT THEN I'M GOING TO SING AND DANCE!" His undergrad cum laude and Wharton MBA aside, nothing spells desperation like old Mr. Fuzzy in mechanics' overalls and chefs' whites singing and dancing arrhythmically. And my heart truly goes out to Sarah Geronimo.
ADVERTISEMENT - CONTINUE READING BELOW
His saving grace? Two words, especially to those seeing him for the first time: "Sino siya?"
Mar Roxas
And speaking of Wharton. Maybe its alumni know something we mere non-pandering mortals don't. Mar Roxas with his ludicrously patronizing 30-second soap operas is the worst offender. This time, he brings out the bigger guns, in this new TVC understandably directed by Joel Lamangan, with the most annoying pronunciation of "Kumusta" you'll ever hear (Ano ka, 'dong, French?). Like his previous ads, this one also doesn't bother to include facts and achievements, relying entirely on pure, unadulterated melodrama (even using professional though unknown actors). But don't be surprised by the depths to which he'll sink in the name of the bitch goddess ambition-this, after all, is a guy who proposed to his girlfriend on Wowowee, television's pinnacle of taste. Now the wedding's set in October at Sto. Domingo Church, but believe me, if Roxas had his way, he'd be doing it on a special Saturday episode with Monsignor Willie Revillame officiating. Alas, it's an imperfect world.
"... Do not pander, don't pussyfoot, and don't say bad words in public," the big lady remarked in her most recent SONA. She should've made the first more explicit: stop making those terrible, terrible ads.
"AFRAID" SCENARIOS: Atrocious campaign ads we hope we won't be seeing soon:
Sen. Chiz Escudero - He smiles, delivers his slogan, with a magnified chunk of camembert in the background. Sound on screen: a chorus from a song by Bamboo.
ADVERTISEMENT - CONTINUE READING BELOW
Bayani Fernando - "It's not easy being pink."
Sen. Jamby Madrigal - It's not really the visuals, not Judy Ann Santos possibly appearing. but the imminent threat of hearing that nightmarish jingle again. "Ja-ja-ja-jamby..."
Erap Estrada - "Spot.ph: Binangga ng Jeep ni Erap."
Gloria Arroyo - Saluting the troops, kissing babies, hugging the elderly, studying documents, praying in church, dancing the cha-cha, and eating French food. All in a 30-second TVC directed by...Carlo J. Caparas.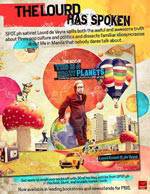 This is a Crazy Planets is available in newsstands, bookstores and supermarkets nationwide for only P195. For more information, click here.
Artwork by Warren Espejo
Share this story with your friends!
---
Help us make Spot.ph better!
Take the short survey
Load More Stories