Lourd de Veyra: Love in the Time of Leptospirosis
SPOT.ph blogger LOURD DE VEYRA returns with a commentary on the magic of Magic Sing.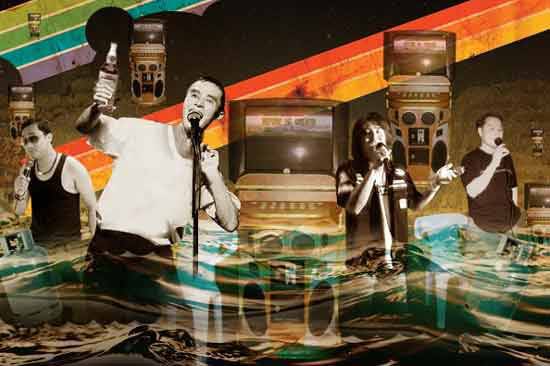 As soon as electricity was restored, the singing started again.
"Oh my darling tell me wheeen...!" This blasted from almost a block away, as the entire neighborhood remained a moshpit of damaged furniture, mud, broken appliances, and a flotsam of Orocan (The Philippines is Orocan nation. Call it tacky, but then again, best of luck to your moldy Ikea). Tom Jones' deathless paeans to desire resounding in rhythmic dissonance to the sound of wood being hammered and sawed. How they were able to make the damn machine work again beats the hell out of me (Then again, they could tap into Meralco and cable TV wires as well as make taxis run on, I don't know, muriatic acid). I could imagine those revelers sitting on monobloc chairs, their ankles half-submerged in lingering floodwaters stretched above which is a careful clothesline of electrical wires and audio-video cables. I could imagine one of them balancing a bottle of Tanduay over a plastic stool, with microphone in hand and a menthol cigarette on the other. Maybe sharing a small plate of leftover innards of some four-legged animal. I imagined them huddled around that huge, fantastically colored box-like contraption, that big bass sound engulfing them all like a scandalous metaphor. Maybe the karaoke machine was the first thing they saved, along with the Gasul and the microphone. After what had just happened, this was definitely not what you wanted to hear.
ADVERTISEMENT - CONTINUE READING BELOW
I do not mean to question God's infinite wisdom. The Bible reminds us of His ability to obliterate great cities and empires, to part oceans in half and turn mountains into ash, and even ruin April Boy Regino's career.   But why, oh, why did He choose to spare the neighbor's karaoke machine?
Of all the infernal machines he could have destroyed with raging mud and water, this one ought to have been first on the list, along with... nah, maybe just this one. Or, well, maybe Magic Sing and those Dance! Dance! Revolution arcade consoles. Understand: karaoke is like playing with firecrackers: it's only fun when you're the one doing it, when you're the one commandeering the mic, after heroic quantities of Scotch plus an assortment of prescription pills.
CONTINUE READING BELOW
Recommended Videos
Then I realized, on that day, karaoke might be their way of asserting the triumph of the mind over Ondoy.
Never mind that their renditions of Air Supply and Tom Jones were enough to once more invoke the wrath of 10 more typhoons. Karaoke on the days that followed September 26 was an affirmation of life, regardless of how horribly they twist the melodies to "Cuando, Cuando." It was the comfort of the familiar, even though you knew that things would never be the same again. Even though you knew that on the other side of the city, a lot more people were still busy trying not to drown in shit-colored water. Even though you know you would be a hapless accomplice to this heinous crime against melody. This time, "My Way" did not reverberate with homicidal undertones. This time, the song seemed like an unironic expression of its words: a barbaric (literally) yawp of defiance in the face of a force bigger than all of us.
ADVERTISEMENT - CONTINUE READING BELOW
Music. Bad music. Just as the memory of the typhoon starts out as sounds of disturbing strangeness: The inordinately loud drumming on the roof. Distant sound of screaming. Cacophony of car alarms and horns, including the neighbor's old Toyota FX whose reverse alert (the "Lambada" tune) has been driving me mad for the past year. Windshield wipers and hazard lights taking on a life of their own. Then the sound of a street-one that has never seen any flooding, not even ankle-deep-swelling into an angry river. The thud of washing machines and garbage cans swept away by the current, slamming into trees and lampposts. The rustling of leaves of the caimito tree after the rain. The ensuing silence that slowly drapes everything. The hum of a mind trying to make sense of it all.
The same mind, trying to decipher the now-alcoholically garbled words to the next song: "Love is a Many Splendored Things." The mind reels at the sheer absurdity of it. Then again, before the rain, you thought you knew everything about absurdity-until you see news footage of refrigerators balancing atop telephone poles, families hanging on to water lilies for dear life, and the possibility of cars as accordions. So you just let the singing go on. All these people and their beautifully drunken voices. Oh, sorrow and its entitlements to dissonance. Those disfigured harmonies. And there is nothing else to do but listen. Listen: "Once on a high and windy hill..."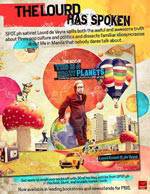 ADVERTISEMENT - CONTINUE READING BELOW
This is a Crazy Planets is available in newsstands, bookstores and supermarkets nationwide for only P195. For more information, click here.
Artwork by Warren Espejo.
Share this story with your friends!
---
Help us make Spot.ph better!
Take the short survey
Load More Stories