Lourd de Veyra: The October Country
SPOT.ph blogger Lourd de Veyra thought that the deluge that drowned all his books was the world's way of punishing him for the things he wrote about Kris Aquino.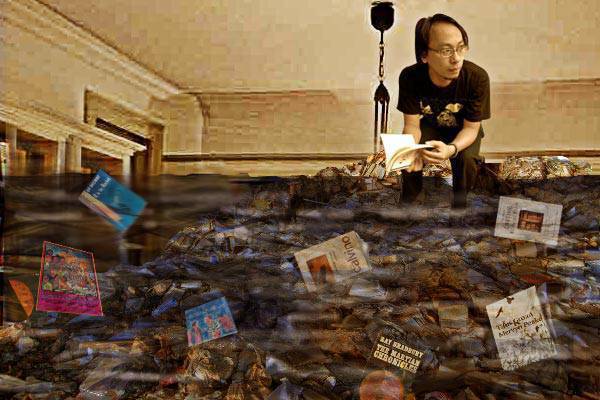 "This tower, patched unevenly with black ivy, arose like a mutilated finger from among the fists of knuckled masonry and pointed blasphemously at heaven." This is off the opening page of Titus Groan by Mervyn Peake, considered the third great English fantasy novelist of the century along with Tolkien and T.H. White. I wrote this passage down before tossing the book into the black garbage bag where it joins the company of other books that I had deemed beyond repair: impossibly warped, soaked, ripped, shredded pages, cracked spines, books with covers hopelessly stuck to each other like a teenager's secret copy of Penthouse. There were others that looked perfectly salvageable except for the supremely vile odor. And there are those that you couldn't even touch anymore because they're covered in all sorts of weird gooey stuff. The bad part: I had only been four pages into Titus Groan.
Two days after the flood, on the wall of my house where the floodwater level left its ugly mark I wrote, "September 26, 2009." Partly to remind myself of the futility of material accumulation. But there are sights that could make grown nerds cry.
There's a saying that a man only needs nine books in his life. I am not that man. I am not one of those people who can commit to a monogamous relationship with their books.
Italo Calvino, in If On A Winter's Night a Traveler (my copy I stole from my ex-boss Teddy Boy Locsin), famously categorized books as, to name a few:   the Books You've Been Planning to Read for Ages, the Books That If You Had More Than One Life You Would Certainly Also Read Unfortunately Your Days Are Numbered, Books That's Everybody's Read So It's As If You Had Read Them, Too, Books You Could Put Aside Maybe To Read This Summer.
ADVERTISEMENT - CONTINUE READING BELOW
After the long, grueling days of cleaning up after September 26, I came up with my own: Books That Are Too Important To Throw Away So You Hold On To Them Even If They Smell Like Shit, Books That You Never Even Thought You Owned, Books You Hail As Masterpieces But Can't Even Remember A Single Passage, Books That Have Water Lilies Between Pages How The Hell Did They Get There?, Books So Unbelievably Moldy They Should Be Donated To A Bio Lab, and Books So Filthy You Get Sick Just By Looking At Them.
Oscar Wilde once said that if one cannot enjoy reading a book over and over again, there is no use in reading it at all. I do not claim to have read each and every book on my shelf, nor do I lay claim to total comprehension. My modest collection isn't exactly Shakespeare and Co. Understand: it's a collection built throughout the years by invoking the gods of serendipity and pilfer. These are little purchases made from innumerable garage sales and, of course, the almighty Booksale. Some books I stole from the library of my good friend, Homer Novicio. Most of them are cheap–dirt-cheap–paperbacks. But it's not really the price but the element of fate and memory attached that makes them significant. Gone: Martian Chronicles, R is for Rocket, The Illustrated Man, and those Ray Bradburies that kept me through bad nights during high school. All the Vonnegut paperbacks–gone. Denis de Rougemount's Love in the Western World that made me daydream about tragic adulterous trysts. That copy of Necronomicon and a collection of stories by H.P Lovecraft I picked up from a creepy Kamuning antique shop. Those Woody Allens and Donald Barthelmes that make more sense when read under psychotropic influence. A ten-peso copy of James Joyce's Finnegan's Wake that I promised to myself I'd read and try to understand before I reach senility. And what about Clifton Fadiman's Lifetime Reading Plan that I fantasized following? Gone. Like countless others.
CONTINUE READING BELOW
Recommended Videos
ADVERTISEMENT - CONTINUE READING BELOW
There are books that affirm the beauty of the world. At the same time there are also books that celebrate the idea of destruction. Books may screw with your brain, but they'll be the only true friends you'll have. Books don't borrow your books and CDs and forget to return them. Books don't talk shit about you behind your back. Books don't borrow money from you, nor do they drink all your beer and puke all over your couch and steal your girlfriend and your blotter acid. My friend, the Cebuano writer Januar Yap, provided one of the best descriptions of a great book: you can't help but hurl it across the room in a burst of pure joy. I know what he means. On my shelf used to dwell dog-eared titles with injured spines and creased covers–casualties of effervescent displays of appreciation.
Weeks after Ondoy, I deliberately postponed grief for all the stuff I had lost. After all, these were things that you could replace by just a quick trip to the mall. Well, at least most of them. Only recently did the realization of permanent loss sink in. For a while I thought it was the world's way of punishing me for the things I wrote about Kris Aquino. Or maybe it was God's way of saying we've got too many books.
"The most effective weapon of any man is to have reduced his share of histrionics to a minimum," says Andre Malraux, who knew, according to the great critic and book reviewer Michael Dirda, that "our natural tendency is to exaggerate our sorrows, anger, and desires. But deep within we know that we are overreacting, indeed overreacting. We get caught up in the situation, carried by our own pleasure in personal melodrama." In this the Zen masters certainly knew the power of mental clarity, stillness, and detachment.
ADVERTISEMENT - CONTINUE READING BELOW
Maybe we're just being hyperbolic about the demands of our so-called minds. Maybe we should all reach that stage where we've reduced our collection to a single shelf. I remember my visit to Hanoi many years ago, and was dumbstruck to find out that Ho Chi Minh had spent the last few years of his life in an absurdly small room, with a tiny bedside shelf containing only less than a handful, mainly tomes on poetry and engineering. That's how I want to be in my old age: a collection reduced to six, nine, ten titles. Books you know by heart, which you have studied with Talmudic devotion. But how does one reach that stage except through a process of elimination that entails the reading of thousands of books?
The Roman philosopher-emperor Marcus Aurelius spoke of an "interior citadel." The mind later shifts to contemplation as you stare helplessly at the overturned cabinets, the wrecked piano, and boxes upon boxes of wet vinyl records. You will ruminate on the senselessness of worldly possessions, until you see all the damaged manuscripts. Your thoughts turn to the vast indifference of the cosmos. Then you step on a clump of dog shit. What doesn't kill you makes you stronger–but might give you athlete's foot and moldy books.
Illustration by Warren Espejo
Share this story with your friends!
---
Help us make Spot.ph better!
Take the short survey
Load More Stories