Lourd de Veyra: A short history of showbiz in Pinoy politics
Our SPOT.ph blogger on the celebrity invasion in local politics: "Politics and showbiz go together like the Malabanan family and sewage."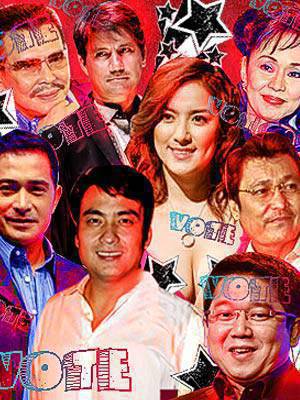 "Madali lang tumakbo. Paano kung manalo?"
- Dolphy
Jamby Madrigal has that distinct ability to effortlessly hurt other people's feelings in the most minimal of sentences. "I have seen the folly of my ways," she said during the Inquirer debate at UP. This, when she was asked to respond to charges that she herself had once upon a time shamelessly utilized celebrity fairy-dust. Under her employ during campaign season circa 2004 had been Judy Ann Santos, box office princess, whose admission of hurt over Madrigal's statement made primetime headlines. "Next time na may i-e-endorse ako," the actress said, "kikilatisin ko muna mula ulo hanggang paa." Madrigal has since apologized to Juday (though not in person), explaining that she was simply making patutsada against Villar. But is there any other way at reading "I have seen the folly of my ways."
Bill Clinton once said: "Politics is like show business, only with ugly people." You can't get any uglier than this display of ingratitude from someone who was a relative unknown during the 2004 elections. But bolstered by superstar power plus a jingle infuriatingly dumber and still more evil than "Dagat ng Basura" ("Ja-ja-ja-Jamby!"), Madrigal is now a member of the senate and a trash-talking presidential contender.
Politics and showbiz go together like the Malabanan family and sewage. Villar's radical shaving of Aquino's lead is credited to non-stop ad placements and use of bigshot celebrities. In the headlines a few weeks back was the thorny issue of the Comelec proposing that celebrities choose between their jobs and their candidates. Less than a week after, Comelec was singing a different tune, and even asked for the help of artistas in its voter education drive–although the Sex Bomb Dancers already beat them to it with "May Bilog na Hugis Itlog." But it was Mo Twister's disastrous interview with sexy star Ara Mina–who's running for councilor in QC– that showed yet again a shockingly unflattering side of her ilk.
ADVERTISEMENT - CONTINUE READING BELOW
The Sexbomb Dancers' video "May Bilog na Hugis Itlog"
This ought to force us to examine more closely the underlying context at hand. Electoral exercises in our corner of the planet are not scenes for ground wars–they happen more in the ozone of mass media and technology. As such, it's the nature of the medium. It's a market-driven exercise, and who are better vendors–or cockfighters and athletes–than those who appear on television, right?
"Notwithstanding their less than brilliant electoral performance, celebrity candidates are here to stay," concluded Gladstone Cuerteros of the Institute for Popular Democracy (IPD) in the article Celebrity Politicians: How They Fared. "More celebrities ran in 2007 than in 2004 and their 40+ percent winning average is nothing to trifle with. Until political parties can seriously perform their role in recruiting new blood, new politicians   from their ranks, being a celebrity will always be an avenue in entering the enticing and complex world of Philippine politics."
CONTINUE READING BELOW
Recommended Videos
In the   2007 elections, the Filipino people did not find Cesar Montano, Tito Sotto, Richard Gomez, and Victor Wood fit to become senators of the republic (Victor Wood? What is wrong with you people?). Marco Sison, on whom my mother has a maniacal crush, also lost as Laguna vice-governor. In a non-literal sense, Nadia Montenegro just couldn't fit into Caloocan's congressional seat. Two action legends had tragic showings in the mayoralty battles: Rey Malonzo was olats in Caloocan. Lito Lapid didn't stand a chance against Jojobama Binay.
ADVERTISEMENT - CONTINUE READING BELOW
Action star Roi Vinzons and Chinggoy Alonzo lost their bid to become board members of the Baguio city council. Not making it to Laguna's provincial board were Leandro Baldemor (filmography: Sariwa, Tukso Layuan Mo Ako, Patikim ng Pinya, etc) and Angelica Jones, intellectual titan in the Ara Mina mold, though with smaller bra size. Matt Ranillo III, who's now more known as the father of Krista Ranillo, unsuccessfully tried to become congressman of the third district of Zamboanga del Norte. And way down south, Manny Pacquiao found out that while the people of GenSan may worship him as a boxer, they think he'll be a crappy congressman.  

These defeats may have told us: you can fool people sometimes, yada yada yada. But how do you explain the frighteningly high surveys of people like Bong Revilla and Jinggoy Estrada, along with, of course, Lito Lapid? There is an explanation. The IPD article points out that unlike Gomez and Montano, the three aforementioned names have had cultivated images as   "public servants" in local government prior to their stint as senators.
It should force us to re-examine the entire ensemble of characters– both endorsers and candidates– in this forthcoming black comedy called the May 10, 2010 elections.
***
It's not a new thing. It was believed that as far back as the America-era elections, poets, novelists, orators, and theater actors have always sought public office. But you see, every time someone sings, dances, declaims,   in a campaign rally, it already evokes the spirit of spectacle.
ADVERTISEMENT - CONTINUE READING BELOW
But in the era of mass media, it began with Rogelio dela Rosa, the super suave and golden-voiced leading man of the pre-and postwar era. In 1957, he became the first show business personality to be elected senator. He ran under the Liberal Party and won the #4 slot with 1,715, 123 votes. In the fourth senate of the Republic of the Philippines, dela Rosa was in esteemed company–Claro M. Recto, Francisco "Soc" Rodrigo, Lorenzo Tanada, et al. This was the time when they did not debate on stupid sex video scandals). In 1961 polls, he decided to run as an independent against two other presidential contenders: the incumbent President Carlos P. Garcia, of the Nacionalista Party, and Liberal Party bet Diosdado Macapagal. But he withdrew.

Teodoro Benigno in 2004 wrote: "It was Rogelio de la Rosa who pioneered the movie celebrity itch to crash into politics…Roger was very unlike today's inane and idiotic movie celebrities who have the brains of an amoeba, the chatter of a baboon, and the imagination of a toadstool." De la Rosa, a prizewinning student orator, spoke fluent French and became ambassador to Cambodia, Netherlands, Poland, Bulgaria, and Czekoslovakia. De la Rosa again tried returning to politics but lost in the 1984 Batasang Pambansa elections. He died in 1986.
The questions remain: what if Rogelio de la Rosa–or even FPJ–won? But there is a saying, "There are no 'ifs' in 'history.'"
***
In the first free elections after the fall of the Marcos dictatorship, Joseph Ejercito Estrada ran under the KBL banner, which still bore the stain of Marcos. That he managed to land sixth place given the political mood was testament to the infallible charm of his bigote. Of course, he had been a much loved mayor of San Juan for 17 years. He was not exactly a shining star in the upper chamber, but he was a rockstar vice-president, appointed by Ramos to head the Philippine Anti-Crime Commission (PACC). For every successful operation, his swaggering image often occupied the front pages. Then he became the 13th president of the republic of the Philippines. You know the rest of the story.
ADVERTISEMENT - CONTINUE READING BELOW
But in 1987, Erap wasn't alone.
Kris wasn't the first Aquino in show businesses. Her uncle, Agapito "Butz" Aquino–head of the August Twenty-One Movement (ATOM)-- had appeared in films like She-Devils in Chains and Desire. In 2008 he was cast in the ABS-CBN series Palos. His campaign jingle ("Butz Butz Butz, Butz Aquino… Kapatid ni Ninoy/ kapatid ng bawat Pilipino") was also the stuff of LSS. So you see, Noynoy was not the first to capitalize on the idea of family relations.

Broadcast personality Orlando Mercado first entered politics in 1984–when he was elected to the first regular Batasang Pambansa as an opposition member of Parliament in Quezon City. Before that, he was a police reporter for ABS-CBN and later as head of the Radyo Patrol program from 1969 to 1971. The man was detained during Martial Law and two years after his release in '73, he co-hosted Kapwa Ko, Mahal Ko for what seemed like 10,000 years. Mercado later on became Erap's defense secretary, who decided to turn his back on his commander-in-chief on that fateful day in January 2001. In 2008, President Arroyo appointed him the new Philippine ambassador to China. My generation remembers him in that unforgettable Pepsodent commercial ("... Matamis... parang bebelgam").
***
Joey de Leon is my favorite of the three, but it was Tito who gave the most exaggerated therefore delightfully silly exclamations ("Tonight… tonight.. will be the greatest performance of my wife! Acheche!"). In 1992 Vicente "Tito" Sotto III overwhelmingly topped the senatorial elections with more than 11 million votes. He had been vice-mayor of Quezon City and founder and very first head of the Vice-Mayors League of the Philippines.
ADVERTISEMENT - CONTINUE READING BELOW
In 2004, he became part of another notorious triumvirate: ASO or Angara, Sotto, Oreta–all former Erap diehards who slithered to the opposing camp when the going got tough. To the trio a very special jingle was dedicated: "Magkano ang ASO sa Senado." Now this biting ditty–released to the media by Rez Cortez–did not exactly swell into "Dagat ng Basura" proportions, and it may or may have nothing to do with Oreta and Sotto's defeat in the last elections. But it seems to show that if there's one thing worse than practitioners of the world's oldest profession, it's traitors. This year Sotto again attempts to return to the senate. This time, he's running under Danding Cojuangco's National People's Coalition.
In the winners' circle with Tito in the Ninth Congress were Ramon Revilla and Freddie Webb, former basketball superstar and known to my generation as the horny Nova Villa's husband in Chicks to Chicks ("Honey, shower na tayo!"). Chair of the Senate Public Works Committee, Revilla, it was said, was also the original chairman of the so-called senate committee on silence. Revilla also shepherded   S.B. 1959 which gives tax rewards–through the Film Development Board–to "quality" films. Reports have it that the formal interpellation with Kit Tatad was a comic classic. Asked by Tatad about the definition of a quality film, the gentleman from Cavite replied, "Yung mga pelikula ko!"
In the 13th congress, Revilla's place was taken over by his son, Ramon "Bong" Revilla Jr. "Anong software ang ginamit mo?" his memorable question during the Hayden Kho investigations, is also the stuff of legend.
ADVERTISEMENT - CONTINUE READING BELOW
***
Ralph Recto, former senator of the 12th Congress, is taking another stab at the senate. Technically he's not showbiz, but anyone who provides   "Vilma Santos" or "Mr. Vilma Santos " as his nicknames/alias is guilty in my book (And that also goes for the rest of those who got elected by virtue of their famous spouses). Right now, Recto should be the object of national hatred, if only for being the architect of that evil 12% VAT increase. Recto and his wife, Batangas Gov. Vilma Santos have jumped ship, from the decaying Lakas Kampi CMD to the yellowing Liberal Party. So far, no bitter but catchy jingle has been issued yet by Malacanang. May I suggest, "Where's the Party?"
I am writing this paragraph and a short Lito Lapid ad flashes on TV. I cannot believe my eyes. I am fully aware that this is a godamned campaign ad, and that campaign ads in recent years are not exactly the distillations of wit and intelligence. But this one beggars comprehension. There are old clips from   Leon Guerrero, where he's in costume and on horseback, with the whistling theme song playing in the background.
He's been a senator since 2004, but only had his first bill–in the form of the proposed Legal Assistance Act of 2008–pass in the Senate on third reading. In 2009, he was deeply disappointed when, joining president's entourage to the US last year, he did not get a photo-op with President Obama. And was reported to have complained, in the midst of the public furor over the $20,000 dinner bill, that Le Cirque's food and service suck ass. ("Palit sila nang palit ng plato!")
ADVERTISEMENT - CONTINUE READING BELOW
Recently he asked to have the senate rules of procedure be translated into Tagalog.   "Para maintindihan ng ating mga kababayan, isa na ako roon," he told reporters. "Kasi Inglesan nang Inglesan dito. Matagal na rin ako dito pero marami pa rin akong hindi maintindihan na matataas na Ingles."
***
For the senate, the celebrity roster, so far.
Lakas Kampi-CMD has Rey Langit, Lito Lapid, Bong Revilla, who's also a guest candidate of the Nationalista Party. Erap's Pwersa ng Masang Pilipino (PMP) has Jinggoy Estrada. Bangon Pilipinas has two broadcast personalities: Kata Inocencio and Alex Tinsay. The Kilusang Bagong Lipunan has Imelda Papin.
Note that we haven't even discussed the athletes. That's reserved for another blog.
***
Thanks to German Moreno, I now live in a city that's called the City of the Stars. If only for this, I spit on his grave. Oh wait–he's still alive. I spit on his luminous mustard-yellow tuxedo then.
Maybe because it's "the city of the stars," the Quezon City Hall seems to have always exerted a strong magnetic pull on showbiz folk. Many have tried and many have been brokenhearted. The first that comes to mind is the late action star Rudy Fernandez and his unsuccessful excursion for the mayoralty in 2001.
Then there's Bistek, of course, a.k.a Herbert Bautista, vice-mayor of Quezon City who's only counting three more months till the "vice" gets finally struck off his title. Right now, survey shows he's way ahead of the pack.
The thing is, Bautista has stopped becoming just the fellow who starred in Flor de Luna, Bagets, Estudyante Blues, Captain Barbell, Puto, and many others. To paraphrase Cecile Guidote-Alvarez's phrase, he was not a moron before he becomes mayor. Aside from many, many years of hands-on experience from Kabataang Baranggay chair to councilor to vice-mayor (1995 to 1998 and 2001 to present), he holds a philosophy degree from San Beda and has   master's degrees in Public Administration from UP Diliman and in National Security Administration from the National Defense College of the Philippines. But for some reason, he remains my favorite Bagets character. There's something about bespectacled, geeky underdogs.
ADVERTISEMENT - CONTINUE READING BELOW
And there's the celebrity councilors. We had Dingdong Avanzado, whose hit song "Tatlong Bente Singko" would sound completely cryptic and primitive to today's iPhone-toting teenagers. Avanzado was also behind the "City of the Stars" schtick so I'm spitting on his grave as well. And not to forget, Anthony Castelo, who has the voice that could create icicles in your coffee. As to what their political legacies are to their respective districts I have yet to find out. And while we're at the subject, in my district, Franz Pumaren, former PBA pointguard and longtime councilor whose legacy might be basketball courts, wants to be congressman.
Which now brings us to Dennis Roldan. As an actor back in the early '70s, he was sexy, menacing, and hairy (perfectly cast in Laurice Guillen's Salome). But he's particularly fascinating to me because he was our Representative in the third district of Quezon City. In 2005, he was charged with masterminding the kidnapping of a 3-year-old Chinese-Filipino boy in Pasig City but walked out after posting a P500,000 bail and allegedly some voodoo from Malacanang. The question remains: wasn't the pork barrel enough to make you a happy retiree? It was rumored, though, that the dude has some serious gambling problems.
Actress Ara Mina (born Hazel Klenk Reyes) is running for Quezon City's second district Monday. The daughter of former Quezon City councilor Chuck Mathay will run as an independent candidate. "Independent of intelligence," the cruel joke goes.
Entertainment columnist Ogie Diaz (real name: Roger Pandaan) is also running as councilor for QC's fourth district. But it's hard to be taken seriously when your literary ouvre consists of tracts with such titles as "YOUNG STAR, NAKIPAGLAPLAPAN KAYA HINIWALAYAN NG DYOWANG AKTOR?"
ADVERTISEMENT - CONTINUE READING BELOW
***
It's only been 53 years since the first mass media star was elected to public office. Fifty-three years is not a long time. That's in comparison to other democracies. Maybe in the next 50 years, we'll find another Erap with a genuine heart for the poor, or another Ara Mina who seriously knows the value of private armies and the perils of premarital sex. Or a Judy Ann Santos who knows the folly of endorsing candidates who would realize after six years "the folly of her ways."
If not, all we have to do is just turn off the TV. But then again, we'd be bored to tears.
Artwork by Warren Espejo.
Share this story with your friends!
---
Help us make Spot.ph better!
Take the short survey
Load More Stories