Words and Phrases a Real Man Must Never Use Part 2
More terms that must be erased from the manly man's vocabulary.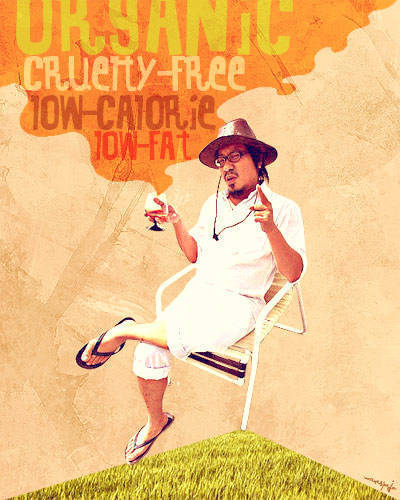 As we have written in a previous post, the spirit of the manly man is under siege from all sides. It is under assault from an alarming wave of health consciousness, emotional sensitivity, and renewed appreciation for the "finer" things in life. Dark forces in the universe have conspired to transform red-blooded, steak-chomping, unwashed, beer-swilling potbellied males into helplessly delicate doilies. Here are some terms that must be erased from the manly man's vocabulary:


"ORGANIC" - Remember: The soil is the domain of rich, New Age-types. The hideous factory operated by evil multinationals is where the manly man derives his nourishment; MSG and preservatives are on top of his daily nutritional requirements. The proper synonym for "organic" is "fucking expensive." The only time the manly man should be using the word "organic" is when referring to drugs.


"LOW"- ANYTHING- "Low-fat," "low-sodium, "low-calorie," "low-sugar," etc. All products containing such ghastly labels contribute to a dishonorable age where all you do is drool and whine to the nurse about your unchanged diaper. Also interchangeable with any deceitful phrase ending in...
ADVERTISEMENT - CONTINUE READING BELOW


"-FREE"- i.e. "cruelty-free," "guilt-free," "lactose-free," "caffeine-free." How about freeing yourself from all this silliness?


"BULLY"- More often than not used by the bullied and not the bully. No bully ever refers to himself as a "bully." But such is life. The school ground is a microcosm of the animal kingdom. There's the hunter and there's the hunted. Through evolution, animals learn to protect themselves from predators, thus developing natural defense mechanisms. The bullied should stand up for himself by stabbing the bully in the neck with a fork (The Columbine Massacre, on the other hand, is taking things too far). Calling on Mommy and Daddy for backup eventually does more subliminal damage to the kid's sense of self-worth.
CONTINUE READING BELOW
Recommended Videos
There are unverified studies announcing that bullying eventually results in criminal behavior, alcoholism, drug use and similarly erratic behavior-on the part of the bullied. What a load of crap. Most of the bullies I knew back in school are now in jail or rehab, if not confined to shitty jobs. Sometimes life has a way of balancing out things. Geeks get bullied, but they eventually grow up to be titans of industry or Silicon Valley barons. The fate of bullies? Well, they can be overworked and underpaid security guards of the office building of some remote branch.


"PERSONAL TRAINER"- A natural extension of such unmanly phrases as "abdominal exercise," "Healthy Options,"  "aw shucks," and "scarf." Enrolling in a gym is one thing, but paying extra for someone to motivate you is another. How about taking it easy on those cheeseburgers and those choco-strawberry sundaes?
ADVERTISEMENT - CONTINUE READING BELOW


"FRO-YO"- Yogurt is about as masculine as Jennifer Lopez's "Let's Get Loud." Yogurt swerved in swirls and embellished with candied fruits, nuts, caramel syrup, and, the most absurdly ironic topping of all, muesli (as if it could add more years to your life) is the dessert equivalent of a Richard Simmons workout video. Bonus: "MILK TEA"


'THE NOTEBOOK"- The ultimate chick flick by way of existentialist sap. The element of "death" appears to lend a sense of gravity in this book-slash-movie. Shame on any guy who shed copious tears over this melodrama (thankfully unwatched by me; and basing on the stories, I have no plans of buying the DVD). If you really want genuine emotional catharsis, go see Marley and Me. Neil Young said, "Only love can break your heart." He forgot to say dying dogs.
Also read: Words and Phrases a Real Man Must Never Use Part 1
Artwork by Warren Espejo
---
Help us make Spot.ph better!
Take the short survey
Load More Stories