Maynila in the Gates of Hell
SPOT.ph blogger Lourd de Veyra on Dan Brown's "gates of hell" comment: "We don't need a Dan Brown or any other hack to remind us that Manila is one big shithole."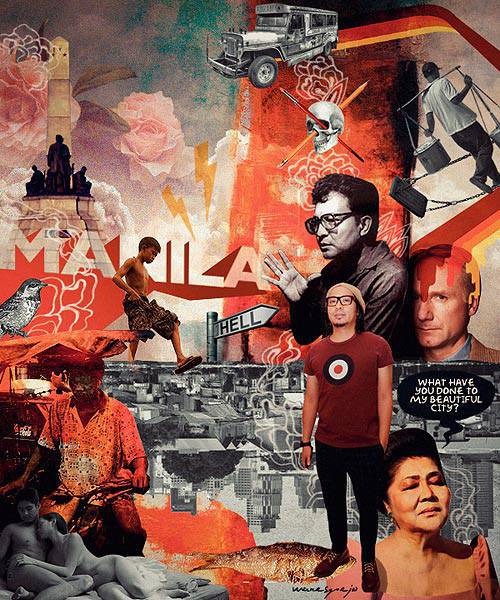 (SPOT.ph) Since we're outraged by Dan Brown, the next logical step would have been to stop the Cannes screening of the remastered version of Maynila sa mga Kuko ng Liwanag.
Indeed: if Cannes is the center of world cinema, if we're so goddamned sensitive about our image, then it makes no sense to allow the showing of a classic that exposes the city for what it really is: dirty and oppressive. A scathing social realist masterpiece, with Satan as production designer. But what truly disturbs is that from the time the movie was made and up to now, nothing much has changed. Except that everyone now has a cell phone.
But that's the thing: name me one Filipino film that's been invited to a foreign screening that is NOT set in slums. It's as if the slum and other signifiers of grinding poverty are now some of our major aesthetic exports. "Poverty porn," the critics sneer. But let's face it: we all operate under the convenient mechanisms of clichés.
Let's look at it from a larger perspective: we worry about what Dan Brown wrote but Maynila sa mga Kuko ng Liwanag (1975) is still considered the finest Filipino film of all time. It certainly doesn't portray the city as a shimmering portal to paradise.
If you haven't seen it, do your ignorant self a favor. While the idea of "best" Pinoy movie of all remains a subject of much debate, sometimes we tend to believe the opinion of foreigners. For instance, Maynila is the only Filipino entry in the 1001 Movies You Must See Before You Die.
ADVERTISEMENT - CONTINUE READING BELOW
It speaks volumes, that the most internationally renowned Filipino movie is a tragic 1975 melodrama set in a decaying landscape of slums, construction sites with exploitative labor policies, a city where squatter neighborhoods burn down all of a sudden, and where people fall in a downward spiral of prostitution. The misery enveloping the characters is claustrophobic, providing no alleyways and side streets to redemption.
"Liwanag here refers to the neon signs which attract the provincials like moths to the flame," Brocka explained, in an interview with the late great critic Agustin Sotto. "The provincial is seduced by the city and the city shits on him."
Funny thing was, the Filipino-Chinese community protested the characterization of Ah Tek, the scrawny Chinese character whom Julio Madiaga brutally stabs in the end. "In the Philippines, the Chinese have servants whom they turn into concubines. I have nothing against the Chinese. A year after the film was shown, they were still protesting." We truly can't please everybody.
Note that in the four times that Brocka went to Cannes (Insiang, Jaguar, Bona, and Kapit sa Patalim) and other prestigious festivals, not a single one was a rom-com where everyone, beachside, breaks into song. The other Filipino works screened in Cannes were not exactly in the mold of John Lloyd-Sarah Geronimo movies. At the 1982 Director's Fortnight were Mike de Leon's Kisapmata and Batch '81. Brilliante Mendoza's Kinatay (2009) drew polar opinions while Serbis (2008) showed to the world the Pinoy way of curing butt boils (not to mention Coco Martin's butt).
CONTINUE READING BELOW
Recommended Videos
Brocka's first ticket to Cannes was Insiang, shown at the Director's Fortnight in 1978. Agustin Sotto's article "Lino Brocka-The International Director" noted how the movie's producers in Manila had no idea who Pierre Rissient was, and it took some prodding from Sidney Pollack ("What Pierre tells you to do, you do it!"). Insiang got instant critical raves, but it seemed the bigger deal for some Pinoys was Hilda Koronel making it onto the front page of France Soir magazine.
Insiang, to some myopic Pinoy critics at that time, was a simple lurid love triangle involving a mother, a daughter, and a butcher set in Tondo slums. But the French saw something far larger and more valuable than that. I suspect that fascination started from just the film's OBB, which was an in-your-face montage of a slaughterhouse and hardcore slum scenery: toddlers defecating on top of garbage piles, hovels pasted out of scrap wood, strips of spare aluminum like a bad Klee or Mondrian, tiny huts rising out of rivers choked with trash. Yes, dehumanizing Third World conditions-all these must be exotic alien landscapes for Cannes audiences, I guess. In the same way we Filipinos lose our breaths over the sweeping landscapes of Iceland or New Zealand. Imagine how-before Google and YouTube- we must have appeared in the eyes of the world.
Brocka owes it all to a man named Pierre Rissient, the French programmer responsible for the French's rediscovery of American noir and according to the recently departed Roger Ebert, essentially prepared the ground for the invention of the auteur theory. Rissient was also assistant director to Godard in Breathless. Not only that: he introduced Chen Kaige and Zhang Yimou to the world.
ADVERTISEMENT - CONTINUE READING BELOW
Sotto also noted that Brocka's idea of Cannes was celebrities and naked sunbathers. The director also wasn't interested in deep discussions on politics and aesthetics nor did he bother to immerse himself in the works of international directors. Instead, he would switch to scandalous fan mode at the sight of Alain Delon and Isabelle Adjani. During one forum on the changing structures of film narratives (chaired by no less than Alain Robbe-Grillet), Brocka-not a big fan of fancy theories-protested the use of critical jargon and a "wave of laughter engulfed the conference."
Brocka's second Cannes entry Jaguar almost didn't make it after being denied an export permit thrice. According to Sotto, "The censors had been reprimanded for allowing Insiang to participate in Cannes; according to Imelda Marcos' advisers, it had projected an ugly image of the country." It took a circuitous appeal from Sean Connery (upon Rissient's instigation) to the Philippine censors. In a few days, Jaguar was in competition in Cannes, but lost to Kurosawa's Kagemusha and Bob Fosse's All That Jazz.
Hayup lang sa mga ka-level, 'no?
••
Of course, it is unfair and admittedly, quite a stretch to compare this Dan Brown controversy with the screening of a Brocka masterpiece.
Painful irony. When MMDA Chair Francis Tolentino's retort to Brown was on primetime TV news, it was sandwiched among news reports: a woman randomly shot by a "riding-in-tandem" (only in the Philippines does it become a noun), a slum community on fire, a speeding bus ramming into an EDSA concrete barrier, and teenage boys raping a four-year-old girl.
ADVERTISEMENT - CONTINUE READING BELOW
Not the first time Tolentino wrote a letter to the author, it turns out. Apparently, he admitted that he also fired off a protest against The Da Vinci Code-because it offended the Catholic faith.
And you wonder why our city's in deep shit. Apparently, some of our officials, if not having poor literary tastes, have too much time on their hands.
But the argument: well, we know it is dirty and oppressive and full of shit. "But does someone really have to say that? Just because someone's fat and ugly doesn't mean you have to say it to his face, right?" Dan Brown hasn't been to Manila? Fuck that argument. Has Ray Bradbury ever been to Mars? You don't have to dip your finger in boiling oil so you can say it's hot. That's the problem when people don't read a lot of books.
My problem with "gates of hell" is its utter lack of sophistication. It's cheap, prosaic, and amateurish. Any five-year-old these days can write "gates of hell." I'm not a fan of Dan Brown and his prose especially. I've read The Da Vinci Code and I am in no way gripped by the urge to re-read it for depth and rejuvenation of spirit.
If-paraphrasing a quote by Brian de Palma-a Brocka film is truth at 24 revolutions per second, Dan Brown is bullshit at 543 words per page (less, if the fonts are larger for beginning readers). "Gates of hell?" A song by Slayer has more gory wit and sophistication. If you're gonna read something titled Inferno, just read the original by Dante, the Robert Pinsky translation. It is-to use Goethe's description of the Dante epic-a work of "repulsive and often disgusting greatness." I would also use that phrase to describe Manila.
ADVERTISEMENT - CONTINUE READING BELOW
Better works of fiction have depicted Manila. No need to look outside. From Nick Joaquin to F. Sionil Jose to Gamalinda, our own writers have done a much more sterling job, though in no ways worthy of a Department of Tourism brochure. Jessica Hagedorn, in the intro of the recent anthology she edited, Manila Noir, likes to "think of Manila as a woman of mystery, the ultimate femme fatale. Sexy, complicated, and tainted by a dark and painful past, she's not to be trusted. And why should she be? She's been betrayed, time and again, invaded, plundered, raped and pillaged...." Hagedorn describes the place of her birth as "a city of heat and shadow and secrets."
Those who say otherwise may be spending way too much time at High Street and Serendra. And they're the kind of people whose idea of lower middle class is SM Megamall. Let's ask MMDA Chair Tolentino if he's ever tried riding the LRT during rush hour and if he's ever walked underneath the Delpan Bridge after 8 p.m.
"What have you done to my beautiful city?" Who asked that question? MMDA Chairman Francis Tolentino? Alfredo Lim? Nope. That was Imelda Marcos.
Let's face it: no amount of cheeky tourism slogans will change the world's perception of Manila overnight. Manila may be called Satan's playground for all we care, but as the Hotdog song goes, we keep coming back to it and we call it home. Its "imperfections," to use a euphemism, are what provides us material for our art. Manila is a city of tremendous character; it has, to say the least, a phantasmagorically deep pozo negro of history, with enough fecal energy to power 10,000 more Insiangs and Bonas.
ADVERTISEMENT - CONTINUE READING BELOW
Look at Scandinavian fiction. Their countries constantly rank among the world's most "liveable" countries but nice places don't normally inspire rich material. Since they don't have slums, their authors and filmmakers constantly have to plum their social underbelly: Nazis, divorce, serial killers, cold, calculating fascists, the homicidally cheesy music of Abba, etc.
Bottom line: we don't need a Dan Brown or any other hack to remind us that Manila is one big shithole. Our artists and filmmakers are doing it, although in artfully gritty ways. And are we complaining? No, because Martin Scorsese and the French are never wrong. It's either that or our officials don't know shit about Cannes. Besides, it's an awkward cultural double-standard as bizarre as black people finding no problem with the "N" word as long as it's said by another black but militantly froth at the mouth when Tarantino says it.
If only we responded to better-written, worthier books. If only we watched more Brocka and Lav Diaz than Vic Sotto fantasy-comedies or Bong Revilla CG epics. Wait: who's in charge of the Metro Manila Film Festival again? Oh, that's right.
It's the MMD-Fucking-A.
Share this story with your friends!
---
Help us make Spot.ph better!
Take the short survey
Load More Stories