The Hand That, er, Rocks the Cradle
SPOT.ph blogger Lourd de Veyra on Freddie Aguilar and his relationship with a 16-year-old: "His will be a name that shall be invoked by every Prof. Humbert seized by his own Lolita."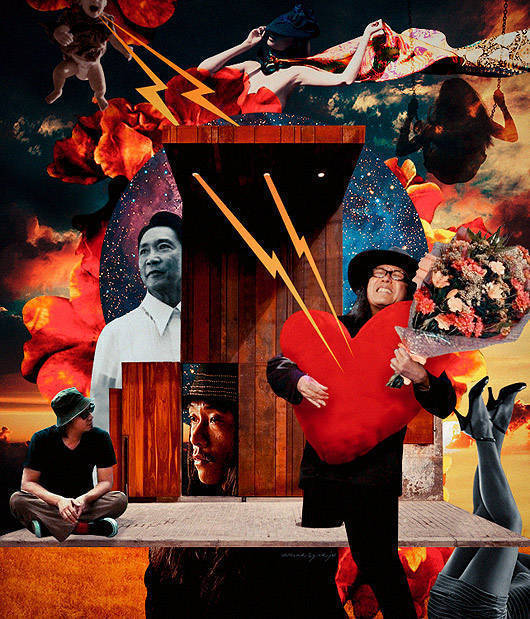 (SPOT.ph) One of the worst jokes I've heard on American late-night TV (This was on Conan): "Q: What do a treasure chest, a museum, and Catherine Zeta-Jones have in common? A: They all have old things inside them."
Freddie Aguilar has been the moving target of similarly awful social-media jokes, the gut-wrenchingly worst of them all being: "What is Freddie Aguilar's favorite chord? A minor."
I would like to believe that this whole Freddie Aguilar-as-pedophile issue has not in any way been orchestrated as to draw public attention away from Janet Lim Napoles and the Pork Barrel controversy. But it sure stole the spotlight away from Ma'am, Sexy, Pogi, Tanda and the rest of the cast of the Philippine version of Swine Lake. A creepy version of Wag-the-Dog.
As a modern society, May-December affairs shouldn't really shock us.  But this is a country where the highest-paid entertainers are gay but we all bristle at thought of same-sex marriage. News of Aguilar dating a 16-year-old was met with howls and vitriol more vicious than Adele after being tricked into a salad bar. The common reaction is that Aguilar's riding a one-way bus to a town that starts with "S" and ends with "Tatutory Rape." Some men in their sad mid-lives are secretly shaking their heads and silently applauding.
Aguilar did the overgenerous rounds of all the networks. Oh, you could see his reluctance, appearing in everything, from morning shows to late-night news. He didn't just provide his spirited defense, as well as the facts of how they met (Backstage after a gig in Mindoro, he gave her his business card. My thoughts exactly: People still hand out business cards?).
ADVERTISEMENT - CONTINUE READING BELOW
And since it was impossible not to listen to him (the only channel he was not on was the Home TV Shopping  network) here are some of his quotable quotes:
• "Ito lang ang gusto kong sabihin sa DSWD: mas maraming problema ang mga bata sa Pilipinas." True, that. Getting boned by grandpa isn't as bad as getting addicted to glue and robbing jeepneys.
• "Iba ang 16 ngayon sa 16 noong panahon nila. Yung 16 ngayon mas marami nang alam." True that, too. Now they have Cam Frog and You Jizz.
• "Wala namang humihingi ng tulong. Bakit siya tutulong?" he said, referring to Atty. Fernando Perito, a member of the Integrated Bar of the Philippines who filed the case of qualified seduction against him. In the complaint, Atty. Perito even descibed Aguilar as a "sex-hungry child predator" and a "cradle snatcher." Following Aguilar's logic of "Why help when no one's hollering?" we shouldn't be stopping people from jumping in front of trains or climbing billboards.
CONTINUE READING BELOW
Recommended Videos
• "Hindi ko naman alam na 16 siya eh. Nung sinabi nga sa akin ayaw kong maniwala. Ang laki ng bulas eh." Traci Lords was 14 when she did porn. Even for an industry that celebrated genitalia and an assortment of bodily fluids, it was a huge scandal when they discovered her real age back in the '80s. Today's pornography has a genre that flirts with teens, with cringe-inducing video titles like The Young and the Breastless.
• "Hindi ako natatakot makulong- kahit noong panahon na kumakanta ako laban sa diktadurya." Disturbing shit. In his interviews, the folk singer after all was invoking the same spirit of militancy that fueled his protest songs and anti-Marcos persona of yore. "Kung noon may diktadurya ay hindi ko natakot makulong.... Ngayon pa kaya?" That is like subtly begging the public's indulgence: "So I'm dating my granddaughter. But in the past I'd written stuff that none of you fuckers could ever have the balls to do. Now cut this old man some slack."
ADVERTISEMENT - CONTINUE READING BELOW
My concern is this: That this Aguilar issue might set a new standard for May-December affairs. It lowers the bar- literally, in terms of age. Got a young new girlfriend? "So? Bakit si Freddie Aguilar?" His will be a name that shall be invoked by every Prof. Humbert seized by his own Lolita.
Time was when, in the post-Jalosjos and Leo Echegaray era, you couldn't even make jokes about the subject (i.e. "Your honor, sabihin niyo sa akin... mukha bang kinse anyos lang ang ganitong katawan?").
Remember the furor that brought down that naughty Napoleon Brandy billboard that asked: "NAKITIKIM KA NA NG KINSE ANYOS?" Now, really, is there such a galaxy of difference between the age 15 and 16? Paging Atty. Katrina Legarda and Maria Isabel Ongpin! Or the witty brains in Distelleria Limtuaco, under this renewed sense of defiance of social taboos, might want to tap Aguilar for a new campaign.
Walang basagan ng trip. Remember how shocked we were decades ago when Dolphy ran away with Zsa Zsa Padilla? And that's just in our part of the planet. Hollywood, on the other hand, is rife with May-December affairs. Harrison Ford, for instance, was 22 years older than Calista Flockhart. Donald Trump married a Slovenian model 24 years his junior. Michael Douglas and Catherine Zeta-Jones, 25 years. Paul McCartney and ex-wife Heather Mills: 26 years. Right now, the biggest age gap for Hollywood couples is 35 years. That (dis)honor belongs to Woody Allen and Soon-Yi Previn (The scandal that had ensued seems to have been forgotten now).
ADVERTISEMENT - CONTINUE READING BELOW
Still, they have nothing on the age difference between Aguilar and young girlfriend: 44 years.
Tao lang ang may gawa ng batas na 'yan. In a way, he's on to something. The history of the world shows a seemingly more profligate view of such relationships. Until 2006, child marriages were being officially practiced in India. A Time.com article reports that the country now has 240 million child brides, accounting for 40 percent of the world's child-bride population, and has been under fire for refusing to be a signatory to the UN Human Rights Council's resolution to stop the practice. By child brides, we mean one- to two- to three-year-olds-babies, for chrissakes!-in pre-arranged marriages.
But that's culture, you may ask. Can you argue with culture? Is culture the perpetual beacon of morality? Oh, but once upon a time, India also had suttee, or the practice of burning widows immediately after their husbands' death (Sitti, on the hand, is the practice of burning your ears with endless bossa nova remakes. Just kidding!). Once upon a time, the US had slavery and racial segregation. Once upon a time, Jewish civilization condemned homosexuals and non-virgin wives to death by stoning.
So do we leave Freddie Aguilar-who has been thrice married-alone? Will his young girlfriend grow up to be a wicked pervert who will roam the streets selling drugs and drinking the blood of babies and granddaddies?
But then again, we have to remember. This is the brother of Marlene Aguilar, the mother of Jason Ivler. He fathered Maegan Aguilar. That family may or may not be operating with its own distinct sense of logic.
ADVERTISEMENT - CONTINUE READING BELOW
Then came chirping the choir of bishops, the ultimate beacons of morality and spirituality: "Age doesn't matter but wait till she's 18."
What I would like to know, dear bishops, is this: Does the same apply to cute young altar boys?
Just kidding. Labyu.
Share this story with your friends!
---
Help us make Spot.ph better!
Take the short survey
Load More Stories