M is for MAR
SPOT.ph blogger Lourd de Veyra ponders the meaning of the statement, "You are a Romualdez. He is an Aquino."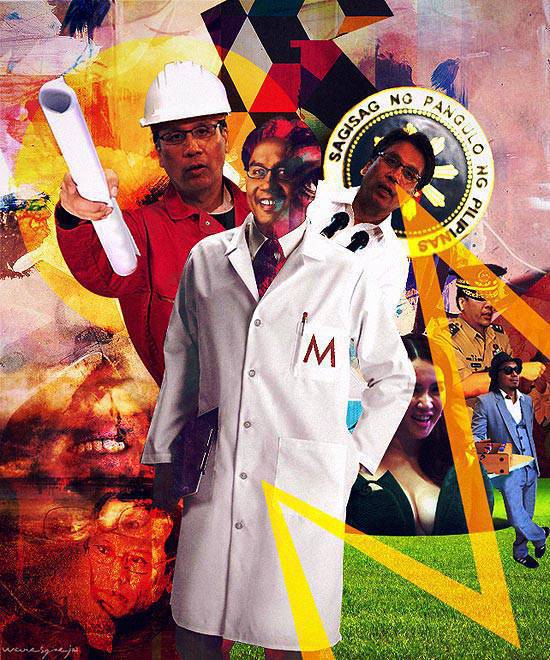 (SPOT.ph) In these past few months, I have developed an unhealthy obsession for Interior Secretary Mar Roxas. My daily news television experience would be incomplete without seeing that seemingly unremarkable face, those tentative, unremarkable glasses, that hair nearing salt-and-paper stage, that self-conscious baritone that cannot hide the trill of urgent ambition. For every current affairs issue, I find myself contemplating: "What would Mar Roxas do?" It turns out he would do anything. I am helplessly drawn to his image and his narrative-a tragic figure unfolding in front of national television. Every time he opens his mouth, he commits public seppuku, but without the imperial dignity. The more he appears on televison the more he takes on a higher level of annoying- whether in a press conference explaining how his words were misconstrued or in a shopping mall, with the President of the Republic, in the aftermath of a robbery. The more he talks, the more he sinks in the quicksand of public opprobrium. Every word issuing from his mouth is a dagger to the chest of his 2016 ambitions.
ADVERTISEMENT - CONTINUE READING BELOW
CONTINUE READING BELOW
Recommended Videos
But now I am the host of a show called History (plugging: Wednesdays on TV5, 10 p.m. or whichever time the PBA games decide to end) and as all people involved in the study of the past, I have difficulty moving on. I'm still fascinated by that YouTube video showing him meeting with Tacloban Mayor Alfred Romualdez. That is one fascinating scene, its myriad historical implications and symbolism intersecting like the plotlines of the movie Crash, which perfectly describes Mar Roxas' presidential dreams.
These days he may be making pronouncements about the banning of sales of Thor's favorite tool, as well as crowbars, and whatever the fuck you use to crack open glass- or an idiot's skull. But many times I have caught myself staring blankly into the distance, meditating on this Zen koan-like statement:
"You have to understand, we are talking very straight here. You are a Romualdez. He is an Aquino."
ADVERTISEMENT - CONTINUE READING BELOW
No doubt, while this (along with "But you did not die, right?" and "I can buy you, your friends, and this club") is a prime candidate for Most Notorious Statement of the Year this also vies for the haziest and most vague.
What could this possibly mean? This has never really been analyzed much in the media. Let us list down the options by attempting to paraphrase:
"I want you to admit that you're a dumbass for seeking refuge from the most powerful typhoon in history inside a beach house."
"We takin' over this joint, yo. You gotta sign this shit first, saying you can't do shit no more. 'Cause you know, we gotta chill the fuck out first and straighten out shit, 'cause you two fuckers' families playa-hate each other so we gotta legalize so people won't talk shit. If we don't legalize, you're left to your own shit. "
ADVERTISEMENT - CONTINUE READING BELOW
"I have to name drop. So I can justify this sneering tone of voice and my vaguely abrasive banging on the table."
"I don't care if you're the elected official. I got my job because the President owes me big time and he can't do shit even when I put words into his mouth."
"Yes, I have such a malicious mind I can think about politics and unnecessary bureaucratic red tape even in the middle of a catastrophe."
"If a man bleeding from multiple stab wounds came crawling to me for help, I'd also ask him to sign a document. I'm just being careful here. He might think I'm trying to run his life."
"I'd do this to a girl dying of thirst. That glass of water has to be delivered after coordination with the proper agencies: the Local Water Utilities Administration, the DSWD, etc. If it's not legalized, then you find your own water. Bahala ka na sa buhay mo."
ADVERTISEMENT - CONTINUE READING BELOW
"Your cousin's the guy who paid for GMA's $20,000 dinner at Le Cirque? I'm the guy GMA appointed but I later resigned and during an anti-chacha senate privilege speech wore a garland of garlic and screamed, 'Putangina, ano ba ito!?'"
"The Chinese symbol for 'crisis' is the same for 'opportunity.' I will not lose again in 2016."
"Get this shit done real quick. In a month's time I have to rush back to Manila to recommend the ban on the selling of hammers and crowbars in malls."
"Give me a break, dammit. My wife just got owned by Anderson Cooper."
The good thing is that Romualdez did the correct thing by not retorting (the mayor might still be suffering from post-traumatic stress disorder, according to the eminent psychiatrist Dr. Mar Roxas M.D., who can also be called Maj. General Mar Roxas, or Engineer Mar Roxas or Architect Mar Roxas depending on the situation). Romualdez was also right not to sign any document rescinding his authority.
ADVERTISEMENT - CONTINUE READING BELOW
Otherwise, he could have said, as suggested by Philippine Daily Inquirer columnist Conrado de Quiros in his piece titled "Postscript to a Farce," "OK, let's talk straight here. Please understand that I am an elected official and you are not. We have to be careful because you want to become the next president of the country and relief is precious fuel for that ambition. We don't want anything to be misconstrued, so let's be clear: You are not the president, you are not even the vice president, you ran as vice president and lost. So where do you get off acting as the President's alter ego?"
Might we suggest our own modest menu of rejoinders:
"So, wait, President Aquino is just the president of all parts of the Philippines except Tacloban? What am I, the head of a sovereign state?"
"Wait, did Cesar Sarino or Rafael Alunan do the same to Pampanga mayors in 1991 when Pinatubo erupted?"
ADVERTISEMENT - CONTINUE READING BELOW
"The last Interior Secretary to become President was Erap. Lookie what happened to that one."
"It's not my fault people here elected me mayor and not the candidate endorsed by P-Noy and Kris Aquino."
"God help Ilocos Norte should a supertyphoon hit and you're still there."
"You're gonna be in charge? You and your Aquino boss just embarrassed yourselves to the rest of the world via CNN."
"He's an Aquino, I may be a Romualdez, and you're an idiot. An ambitious, malicious idiot."
"Four words: Ping Lacson, Rehabilitation Czar."
"I am a Romualdez, you are a Roxas. At least I did not propose to my wife on Willie Revillame's game show. Wow, that sure is classy."
"You have to understand: I am a Romualdez, you are a Roxas, pero mas hot pa rin si Kring-Kring kesa sa kay Koring."
"Whatever you do, you'll never be president, bitch."
Load More Stories