Anak ng Teteng
SPOT.ph blogger Lourd de Veyra on Bong Revilla's privilege speech...and what it says about the Philippine Senate.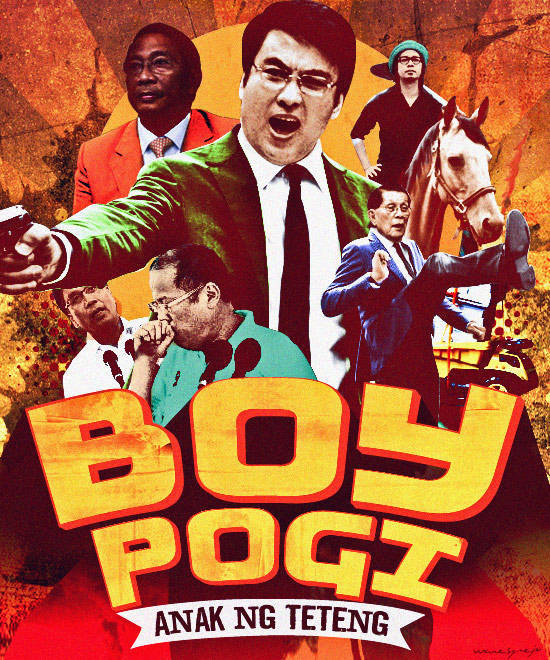 (SPOT.ph) "I have nothing to do with this scum!" Ah, pota, I thought to myself. He just called Benhur Luy scum.
Then after a few seconds, it hit me: he meant "scam." But oration and English elocution, it seems, might not exactly be one of Bong Revilla's strongest virtues.
***
TERROR shot through my veins upon hearing these words: "Utang ko po sa 16 million na bumoto sa akin noong 2004 at halos 20 million na bumoto sa akin noong 2010 na marinig ang aking sagot at putulin na ang kanilang paghihintay." If you want to know what is fundamentally wrong about Philippine politics, look no further.
Let it be known that I do not belong to the 20 million of Revilla's faithful. It should also go without saying that I am not even a fan of Bong Revilla the actor and his movies. I, however, am a dutiful taxpayer and whether or not I voted for him is immaterial.
The Constitution guarantees my right to bitch.
Bong Revilla-one of Ramon Revilla Senior's 72 children by 16 women-has been accused by the National Bureau of Investigation of pocketing 224.5 million worth of pork. His supposed take puts to shame those of his co-accused, Jinggoy Estrada, (P183.79 million) and JPE (P172.8 million).
In September 2013, Jinggoy Estrada's "defense" turned out to be a sort of suicide grenade that really did nothing to deny his involvement in the scam but did everything to incriminate everyone else around him, including poor Jollibee.
In Revilla's equally kilometric privilege speech (clocking in at over 53 minutes), he spent the first 13 minutes refuting specific allegations and the rest praising himself and spraying opprobrium on Malacañang as well as uncovering Mar Roxas' fetish for clandestine motoring. He also raised the level of wit-laden performance art in the senate. When he took out that toy truck, you could see him silently grinning, congratulating himself for such rapier wit.
ADVERTISEMENT - CONTINUE READING BELOW
Here's the interesting part. If we were to gauge the reactions on social media, no one believed him.
From the moment he took to the podium everyone was tweeting about it as one big acting job-that glaring demeanor like he's about to gun down Paquito Diaz and goons. Revilla, after all, is not an actor of multiple dimensions. At one point in his speech, he used the expression, "Anak ng teteng!"
I have asked around for the exact definition of "teteng." Nobody seems to really know. The answers vary wildly and are mostly the subject of speculation. "Teteng" does not appear in the UP Diksiyonaryo, but it did gain prominence in his movie Alyas Pogi 2 (where he goes head to head with Nardong Kalabaw played by Bomber Moran), at a time when people were still making action films and clever punchlines. Revilla is the star of movies with such enlightened titles like Mahal Kita: Final Answer, Walang Matigas na Pulis sa Matinik na Misis, Onyok Tigasin, Alyas Pogi: Birador ng Nueva Ecija, Kung Marunong Kang Magdasal, Umpisahan Mo Na, Ang Titser Kong Pogi, Isusumpa Mo ang Araw na Isinilang Ka and a hundred others that, shall we say, would not exactly be the subject of Manunuri discourse.
CONTINUE READING BELOW
Recommended Videos
It also did not help that one of his shows is named Kap's Amazing Stories. For nasty netizens, it was just all too easy. But take note: those nasty netizens may also not be part of Revilla's 20 million adoring fans. To which he stresses: "Hindi po ako magiging Bong Revilla kung hindi dahil sa kanila."
ADVERTISEMENT - CONTINUE READING BELOW
But Bong Revilla's blatantly theatrical delivery is just indicative of our politicians' regard for the public's taste and intelligence-easily swayed by copious displays of emotion.
And then there were the issues. Like Jinggoy's speech he attempted to divert the controversy by pointing out the moral foibles of the Aquino administration, everything from Mar Roxas to the bunkhouses to poverty stats to Mar Roxas. And did I mention Mar Roxas? The term ad hominem perfectly describes this speech, attacking the administration's character instead of directly answering the argument.
The issue of the president personally persuading senators for a Corona conviction is long dead. After all, the public still doesn't like Corona-look at how the former Chief Justice was booed upon arriving at the Luneta anti-pork rally.
"Judge not lest ye be judged." The biblical verse from Matthew came to mind while I listened to the speech. My thoughts returned to the senate investigation of the Hayden Kho scandal of 2009 where the good senator-a puffing like a towering paragon of morality-interrogated like Torquemada and Pope Benedict combined. If Revilla were to be believed, Kho was the pure embodiment of moral corruption, the cause of the suffering of millions, Lucifer himself. Revilla asked philosophically probing questions like, "Anong software ang ginamit mo?" and "Saan mo nilagay ang kamera?"
As Revilla gave his privilege speech, seated behind him was his father, former Senator Ramon Revilla Sr. a.k.a Jose Bautista, looking weak and wheelchair-ridden. A fine prop, if there ever was one, perhaps intended to elicit sympathy from the millions who had thought of Nardong Putik and Pepeng Kuryente as the zenith of Filipino cinema. The speech ended, as expected, with tears in the eyes of both Revillas.
ADVERTISEMENT - CONTINUE READING BELOW
And how does the cold, diabolically heartless Philippine Daily Inquirer respond? With a headline that screamed: "LUY: REVILLA SR. ALSO DEALT WITH NAPOLES" with the subhead, "Bong's father among Janet's earliest clients." Cruel, heartless, heartless publication.
Because of Bong Revilla, everyone is now a "boy" (he calls Benhur Luy "Boy Pirma," "Boy Xerox"). Juxtaposing the name "Boy" with any one word that embodies that person's essence has become a hallowed Filipino tradition, and has become the fertile source of action movie titles, from Boy Negro to Boy Chico: Hulihin si Ben Tumbling. If we go by Bong's schtick, our governmental hierarchy would be:
PNoy - Boy Ubo
Binay - Boy Uling (He himself said he doesn't mind these skin-color jokes so STFU.)
Drilon - Boy Lechon
Belmonte - Boy Kyusi
Enrile - Boy Tanda
Sadly, this is what the Philippine senate has been reduced to. Time was when our senators debated on lofty issues, like the Rizal Law in the 1950s and the extension of the US Bases Treaty. Time was when our senators could quote Zola (Teofisto Guingona invoking the spirit of J'accuse in a privilege speech, signalling the start of Erap's impeachment).
Now? You hear shit like "may asim pa si Tanda," "Langhap-sarap," "obsessive hater," "hypersexualized serial womanizer." But this is just one part of it.
And that's just the past year alone.
When Miriam does stuff like that, somehow it's okay-at least we know she's a million times smarter than all of us. Miriam is always great entertainment. She's funny. She's demonically witty as well. And you know Miriam could quote Zola if she wanted to. But "Anak ng teteng?" Bong Revilla's speech is like his movies. It's not funny at all. Revilla's lame attempts at wit include the terrible "That's very A-Bad!"
ADVERTISEMENT - CONTINUE READING BELOW
Revilla's toy-truck gimmick is nothing new. In 2009, then-senator now-Boy-Pickup Mar Roxas delivered a privilege speech condemning constitutional assembly efforts by Malacañang and the House of Representatives. He called the issue "con-aswang" for its refusal to die. But here's the clincher: Roxas wore a garland of garlic and, in fact, handed out the same to every senator. Remember, this was 2009 and he had not been modest about his presidential ambitions. Revilla's speech signals the complete evolution of Roxas from Mr. Palengke to Boy Padyak to Boy Bawang and now, Boy Pickup.
Perhaps it's the natural consequence when politicians get elected by virtue of entertainment (i.e., campaigns utilizing artistas, cheap slogans, gimmickry pandering to the lowest common denominator). But more than that: it's probably the most convenient and practical method of addressing a generation that has become entirely dependent on visuals, the punchline, and the quick, easy soundbite.
But then again, what would be the alternative? A boring speech full of platitudes and polysyllabic words that only Miriam Santiago understands? But who's gonna talk about it?
The paradigm shift had happened a long time ago. An Arturo Tolentino or a Helena Benitez would probably have a tougher time getting elected in this day and age. Once upon a time, we had orators, not actors. There is a vast ocean of difference.
And we thought Caligula was mad when he appointed his favorite horse to the senate. On second thought, it did not seem like an act of an unsound mind but rather a powerful statement: Tangina niyo, kahit kabayo kaya iyang ginagawa ninyo.
ADVERTISEMENT - CONTINUE READING BELOW
As of this writing, the senate is preoccupied with a myriad issues. There's Enrile cautioning against premature jubilation over the Bangsamoro Peace Deal, which he claims could raise a hundred constitutional problems. Miriam Defensor-Santiago wants further study on a particularly sensitive section of the accord, the wealth-sharing annex. Sen. Antonio Trillanes IV of the defense committee describes the MILF deactivation as "a good start" in the otherwise long road to peace. In meantime, we're awaiting Bong Revilla's privilege speech on the Vhong Navarro mauling incident.
Share this story with your friends!
---
Help us make Spot.ph better!
Take the short survey
Load More Stories