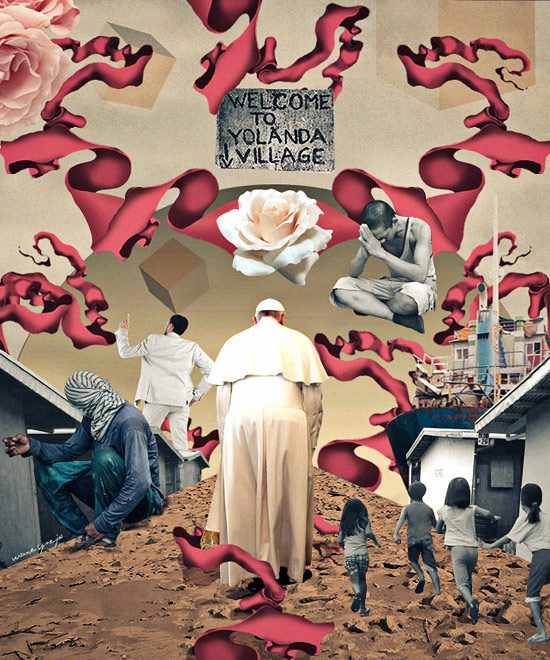 (SPOT.ph) Your Holiness,
YES, it's been announced in the papers as early as August: "VIPS, POLITICIANS NOT INVITED TO POPE'S LUNCH." If Palo Archbishop John Du is to be believed, those are your words. True to image, Your Holiness only wishes to be with the poor.
But this is the Philippines, Your Holiness, where you are bigger than the biggest rockstar. In this land of weeping statues of saints and faith healers, you are sort of God Himself. In one Chinese restaurant in Quezon City, they preserve as a kind of talisman the utensils used by Pope John Paul. This might happen when you arrive here, Your Holiness: Everyone will literally want a piece of you.
Everyone will want to kiss your hand. Everyone will want to have their heads touched. They will maim, rape, and pillage for a selfie-from TV reporters to students to Ilocos Norte congressmen to security and airport personnel to limo drivers to your valets and waiters and, of course, every bishop, monsignor, parish priest, sacristan, choir member, church parking boy, sampaguita vendor, and paraplegic beggar. And did we mention overeager politicians? And that's just Manila alone. Imagine 90 million Rudy Fariñases. Remember him? Never mind.
ADVERTISEMENT - CONTINUE READING BELOW
In short, madness of apocalyptic proportions.
A massive diplomatic circus will surround you. Every cabinet secretary, governor, mayor, councilor, and barangay captain will try to pull every possible bureaucratic string to break bread with you and shove their best native delicacies down your throat. Our bishops have ordered the crafting of standees of you to satisfy the whims of this photo-op/selfie-obsessed nation. With that rate of social engagement, I seriously doubt if you, Holy Father, would still have sufficient time to commune with Haiyan survivors.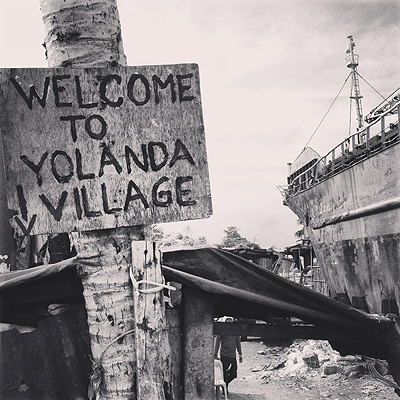 ADVERTISEMENT - CONTINUE READING BELOW
Recommended Videos
Which brings me to my point: I propose you break protocol and just go at it gung-ho.
Here's a suggestion, Your Holiness: Arrive a day or two before the publicized date and walk the streets of Tacloban and the neighboring municipalities. Hang out in the stores, have coffee and bread with the locals. Better if you try the tuba, the native palm wine. Ditch the papal garb and wear a disguise that would make you look just like any ordinary "Hey-Joe." Grow a beard, wear a cap, a Hawaiian shirt, tennis shoes, any pair of those really ugly shorts favored by American tourists. A small pillow 'neath the shirt gives you that instant potbelly effect. And for realism I suggest getting yourself a "lady companion"-exotic peanut-butter skin, long, bleached hair, you know, the kind advertised on those websites offering, uhm, eternal friendship (they also make for terrific gene-pool improvement as evidenced in Anne Curtis and the Younghusband brothers). Tell any one of your bishops to drop by Burgos, Makati.
ADVERTISEMENT - CONTINUE READING BELOW
But don't you get any ideas beyond clandestine reconnaissance.
That way you'll be free to move around.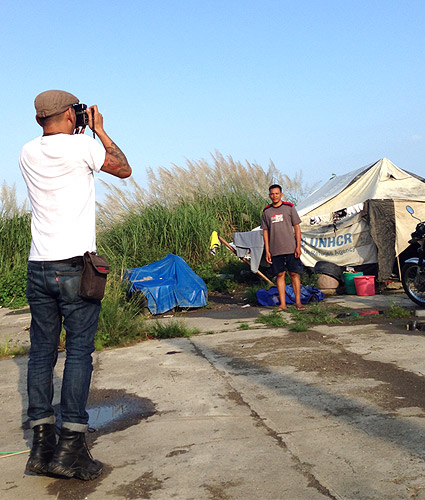 By the time you exit the airport, in the district of San Jose, you'll see a sign that says "Welcome to Tacloban City." There's a pole jutting out from the center island about 15 to 20 feet high-that's also how high the water rose. Look to the left side and you'll see a lone tent with a UNHCR logo. A father lives there with his two daughters. His name is Felipe R. Placiego, Jr., 41. He is a part-time electrician but ironically his tent-which is not part of the tent city proper-has no electricity. It does not even have running water. Perhaps Your Holiness can order any one of the local politicians to give his daughter a college scholarship-she's now in her senior year of high school. Placiego has no idea where to get the money. Maybe you can also tell everyone to give the guy a decent house-whether it's made of cardboard or wood or cheap concrete. Any solid structure with the least semblance of dignity. You will of course know what is wrong with that picture. How any human riding BMWs and Land Cruisers to and from the airport, talking into their expensive smart phones can just ignore that sight. Jesus Christ-sorry, about that-there's even a Jollibee a couple of kilometers away.
ADVERTISEMENT - CONTINUE READING BELOW
But I doubt if Placiego and his tent will still be there. Here's the thing: Filipinos will want to show you their best side. Even the poorest pauper will offer his best piece of dried fish. That's a Filipino thing. We will slaughter our fattest pigs, blow a year's worth of harvest on one festive night just to present our best faces to our guests. It's happened before. Marcos lifted Martial Law just in time for Pope John Paul II's visit in 1981.
There will be a Potemkin veneer to the whole post-disaster tableau. I'm sure the local pols have done everything in their capacity to "sanitize" traces of the typhoon.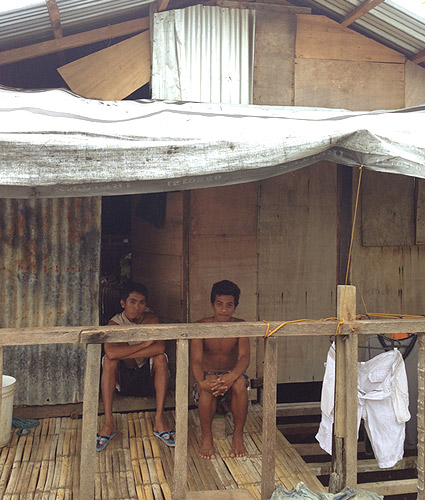 ADVERTISEMENT - CONTINUE READING BELOW
So expect that to happen on your visit. I bet you will be met by song and dance. You will be swept away on motorcades. I hope you stick to your true agenda.
Which would be truly sad. You must hear their stories.
You must hear the story of Anita, the grandmother who earns less than a hundred pesos a day selling cigarettes and candy from her bunkhouse in Palo. But I doubt if you'll still find her there-the local government has ordered the bunkhouses transferred to make way for a parking lot. The parking lot is not for a mall. It's for your visit. They're expecting a Yolanda of cars. Anita will tell you of the oven-like temperatures at midday. But in terms of space, Anita and her grandson are some of the lucky ones. Some bunkhouses have seven and more family members squeezing together. A sardine can has more dignity.
ADVERTISEMENT - CONTINUE READING BELOW
You must hear the story of Evelyn Dulay, who shares the same surname with 14 other people on a marble marker to the entrance to Barangay Solano in San Joaquin. She lost her two-year-old baby Josh Raven in the storm and only found his skeletal remains last September. But she was pregnant at the time of Haiyan and gave birth last February. You must meet her new daughter. She's impossibly adorable. Also, do have a beer or two or maybe tuba at her store.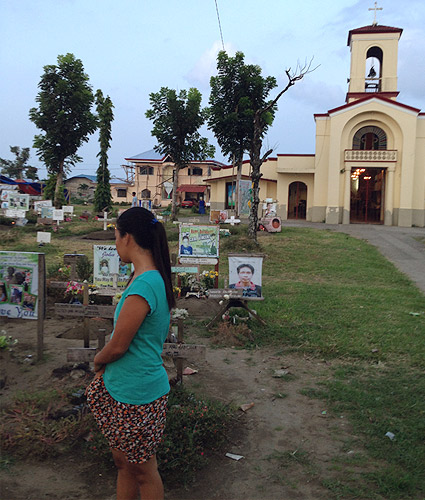 ADVERTISEMENT - CONTINUE READING BELOW
There are many others in San Joaquin. Do bless the mass graves. Do bless the one in front of the San Joaquin Church. The photographs on the graves might pose serious theological questions: babies. Especially this one.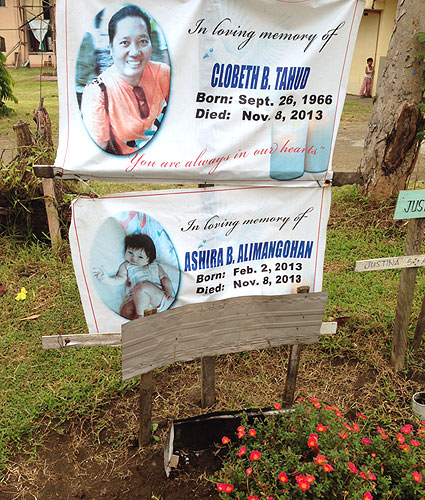 There are stories of barangays with no children left. And while you're in San Joaquin, try to look for those who lost all their family members to the typhoon. In barangay Cogon, you can tell by the houses-they're made from the more expensive kind of nipa. They're gifts from international aid agencies. Holy Father, they're the real heroes. I suggest you sit down with those who have lost their fathers, mothers, sons, daughters, wives, and husbands. And maybe explain to them how a merciful God can do such a thing.
ADVERTISEMENT - CONTINUE READING BELOW
The World Health Organization suspects that 800,000 survivors might be suffering from mental disorders. While my recent jaunt to Tacloban did not seem to point to a future province of psychotics, what is certain is that a death in the family is never easy. But what Yolanda has done was excessive rationing of deaths per families. A year is too short a time to process all the narratives of grief. The loss of a spouse is one thing, the loss of a child another. But it's another thing to lose your wife or husband, with your children-all at the same time-and witnessing their corpses in advanced states of decomposition as they await the arrival of body bags. Not even in a million years will we understand the sort of psychic wounds they are nursing.
Which is why your communing with them will mean a lot, Holy Father.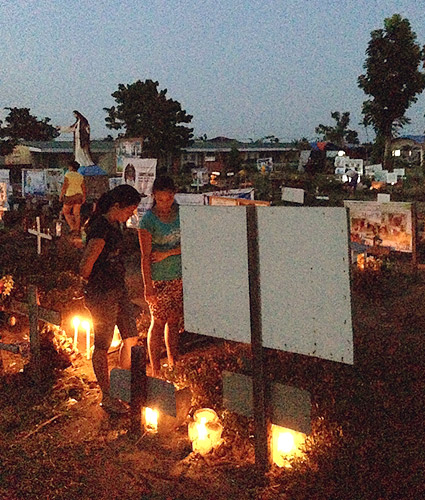 ADVERTISEMENT - CONTINUE READING BELOW
I know that the Church teaches compassion and forgiveness. But, Holy Father, may I suggest shaming those government officials who have shown criminal negligence and homicidal stupidity. Be warned, many of them will be among those lined up to welcome you. For instance, mayors who chose to remain in their beachside mansions-in defiance of what all the news and weather agencies cautioned was the strongest typhoon in recorded history. Inevitably you will shake hands with many scoundrels: those who have pocketed aid money, those who have replaced cans of donated Spam with cheap sardines. There is a mayor, a veritable drama queen, who likes to play hapless victim-whenever a constituent would walk up to him to say, "Mayor, we lost our house," the mayor would reply, "Well, I lost two houses." "Mayor, we lost our jeep." He'd reply: "Just one? I lost five cars!"
You will shake hands with incorrigible liars-those who had announced to the world that they have done their job while in truth hungry survivors resorted to looting.
ADVERTISEMENT - CONTINUE READING BELOW
You will know them by their sulfurous odor.


Your fan,
Lourd de Veyra
P.S. Congrats on the Big Bang Theory and Evolution. Nice move. Thomas Aquinas the Dumb Ox must be proud.
P.S.S. By the way, here is Felipe Placiego's number: 0949-402-8062. Sometimes he is able to charge his modest mobile phone. But I'm pretty sure it's not in his tent. And just one more thing: It's just a stone's throw away from the Tacloban mayor's house.
Share this story with your friends!
---
Help us make Spot.ph better!
Take the short survey
Load More Stories