10 Things You Need to Know to be a Guest Speller at The Bee
SPOT.ph tested our spelling smarts with the cast of The 25th Annual Putnam County Spelling Bee (T-H-E R-E-P-E-A-T). Plus, how to win free tickets!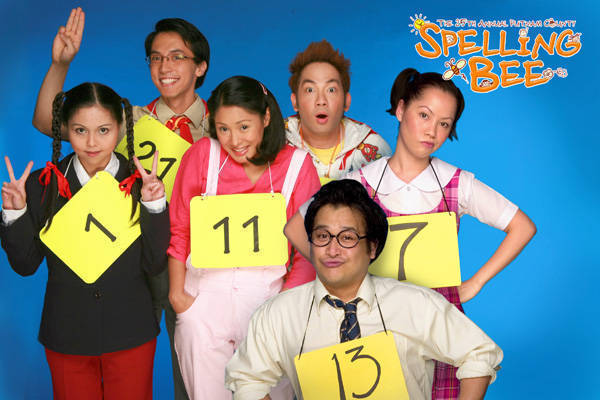 SPOT.ph was invited to watch the rehearsals for the second run of The 25th Annual Putnam County Spelling Bee (The Repeat), Atlantis Productions' musical about a fictional spelling bee with six talented kids on the throes of puberty and who are about to learn that winning and losing are not the be-all and end-all of life.
Every performance will be different because of the audience and celebrity guest spellers, according to the cast. "Every show is always fresh for the audience and for us," enthuses Cathy Azanza, who plays Rona Lisa Peretti, one of the spelling bee moderators. "We're probably like nine people in the cast but the tenth character is really the audience."
SPOT.ph was game to be part of the 'Bee' and put our spelling skills to the test as we joined the rehearsals as guest spellers:
1. You will get the chills. Even without the airconditioning, the anxiety over the actual spelling test and the possible embarrassment over wrong answers were amplified once we joined the cast onstage. Add that to the flurry of actions happening all at the same time (should we sing and dance too?), makes botching up a perfectly easy word to spell possible.
2. You will have fun. It's a playful production, from quirky characters to the colorful songs. The adlibs are mostly for the four guest spellers, they're only picked a few minutes before the show so the cast has to do a lot of thinking on their feet. "It keeps me up at night. It's very, very hard," confides Joel Trinidad, who plays Vice Principal Douglas Panch, one of the spelling bee judges.
ADVERTISEMENT - CONTINUE READING BELOW
3. You need to know public embarrassment is okay. You will dance with the cast and make funny poses, but it's all in good fun. Find comfort in the fact that you're not the most ridiculous-looking one, at least you're not wearing a cape like the character Leaf Coneybear.
[svgallery name="spelling-bee-new"]
4. You don't need to study beforehand. One of SPOT.ph's guest spellers reviewed but all that studying of 'occurrence' and 'occasion', 'harassment' and 'embarrassment' boiled down to a very difficult word: d-o-g. On the other hand, another word was 'carboy'. You never know what word you're going to get but you'll know if your stage time is up when the words get weirder and harder. "I have extra words," admits Joel. "Occasionally we get really good spellers."
CONTINUE READING BELOW
Recommended Videos
5. It's okay to make mistakes. You're only human after all. In one rehearsal, someone was asked to spell 'cow' but spelled 'how' instead. "During rehearsals, the acoustics are not amplified so you can't hear the nuances," explains Joel. Much more embarrassing though was when a celebrity spelled soprano as s-o-p-r-o-n-o in an actual show. You could hear the collective gasp of the audience, the cast said. None of the cast wants to say which celebrity it was. Do you know?
6. It's fun to just let it go. After a while, the anxiety goes away and you'll realize it's just a show. Even if the cast throws you a hard word that signals it's time to leave the stage to them, you can still try your hand at spelling it. Who knows, you just might surprise yourself and get it right.
ADVERTISEMENT - CONTINUE READING BELOW
7. You'll end up learning a new word or two. When one cast member was asked to spell 'Agouti', your mind will try to figure out what it means, or if it's even a real word at all. At the end of the show, you will have at least one word you'll remember to look up in the dictionary just to quell the curiosity.
8. You'll end up liking at least one of the characters. The quirky characters have their own stories and their nuances makes the Spelling Bee fun. "I don't think there's a single character not to like in the show to begin with. It's very well written, " shares Felix Rivera, who plays Chip Tolentino. Joel adds, "At the risk of sounding artsy and pretentious, it's very, very difficult to play a character if you don't find something to like about him. On the outside, I don't like my character but you have to find something or you won't be able to portray him well. Even the biggest villain in the world likes himself, doesn't think he's a villain."
9. You'll want to watch it again. Even those who saw the first run of The 25th Annual Putnam County Spelling Bee will have something new to see. For the cast members who were part of the first run, revisiting the show is fun. "If it's a nice show, you get a chance to do new things, discover new things about your character."
10. You need to sign up or be a celebrity to be a guest speller. Before every show, there's a sign-up sheet outside from which the crew will pick out the guest spellers. Sometimes, they have kids as guest spellers. "It's actually very endearing to have kid spellers especially when they get it right; they really look fulfilled and happy," muses Felix. As for the celebrity spellers, the cast wants to keep the list under wraps. Among the celebrities they had in their first run were Lea Salonga, Jett Pangan, Jon Santos, Cherie Gil, Senator Chiz Escudero, Sitti, Gina Alajar, Rajo Laurel, Teresa Herrera and Eula Valdez.
ADVERTISEMENT - CONTINUE READING BELOW
Celebrity speller Jett Pangan during the first run

The 25th Annual Putnam County Spelling Bee (The Repeat) will return for a limited repeat run from July 3 - 12, 2009 at the Carlos P. Romulo Auditorium, RCBC Plaza, Makati. Spelling Bee is directed by Bobby Garcia.
To win free tickets to the show, click here.
Photos from Atlantis Productions
Share this story with your friends!
---
Help us make Spot.ph better!
Take the short survey
Load More Stories