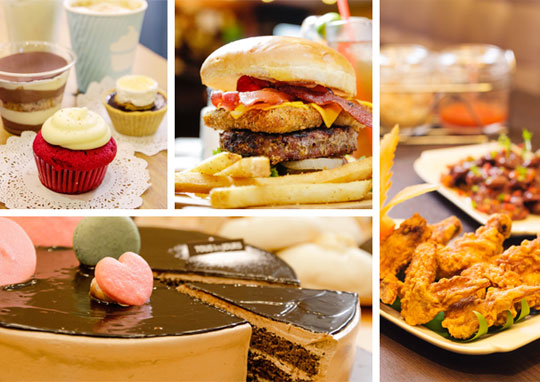 The internet is crawling with websites and blogs about native and undiscovered food like modern day conquistadores sailing for the three Gs: glorious stories to share, golden memories to treasure and, of course, good food to eat.

Thing is, like the Kastilaloys of old, one needs to have an adventurous spirit to be able to search for these hidden gems. Food trips done by these adventurous people are, sadly, in hard to find holes-in-the-wall and in places far from the city, thus inaccessible to most people. Until now.

Why travel far from the city when you can have the authentic and very much adventurous experience right here in the heart of Quezon City? Yep, you read that right, there's a foodie mecca thriving here in the metro.

That accessible foodie mecca we're talking about is TriNoma and here are ten reasons why: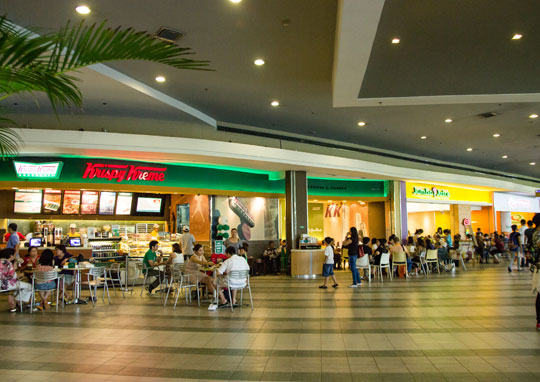 ADVERTISEMENT - CONTINUE READING BELOW
1. It caters to ALL

From budget friendly restaurants to more upscale ones, TriNoma doesn't disappoint. People from all walks of budget will enjoy a good grub in any of TriNoma's numerous restaurants. For those who are on a budget, there are a couple of options at Food Choices located at the second floor of TriNoma and the row of restaurants beside the cinema lobby at the fourth floor.
For those who are in the mood for fine dining, one can check out the TriNoma Garden Restaurants located on the third and fourth floors. Pubs like the Mango Tree Bistro offer a more relaxing atmosphere with its dark interior and bossa nova music emanating from the live band at the center stage.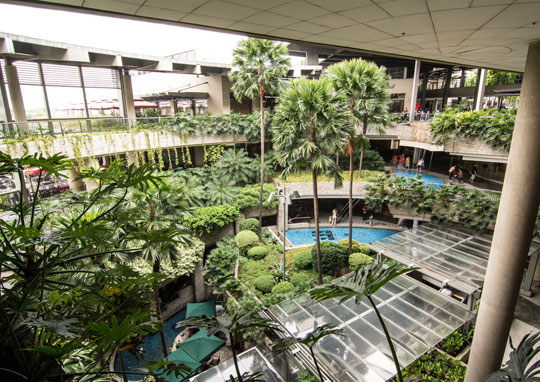 2. The views are breathtaking

Needless to say, TriNoma has created a lush surrounding with the Garden Restaurants. This is a four-level and a two-hectare rooftop park that contains some of the mall's restaurants, set against a backdrop of landscaped surroundings and fountains. These features make this  place the perfect location for alfresco dining.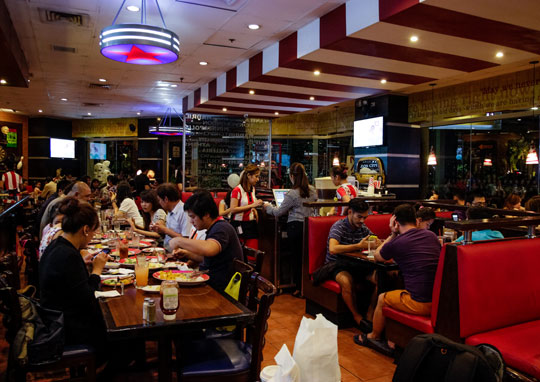 ADVERTISEMENT - CONTINUE READING BELOW

3. It's the ultimate Friday night location

Sometimes, we feel the need to get some drinks or bond with friends and officemates on a Friday night or a sweldo night. The problem is that streets are often jam-packed during these nights and malls everywhere usually close somewhere around 9pm to 10pm. Basically, you won't have enough time for celebrating in this case.

Things are different, though, in TriNoma's Garden Restaurants. They don't follow usual mall hours. While the mall closes at 9pm, they are open until 12mn daily. How's that for a night out with your friends? Unwind after a particularly long day and have no worries about the mall closing or being caught in snarly rush-hour traffic!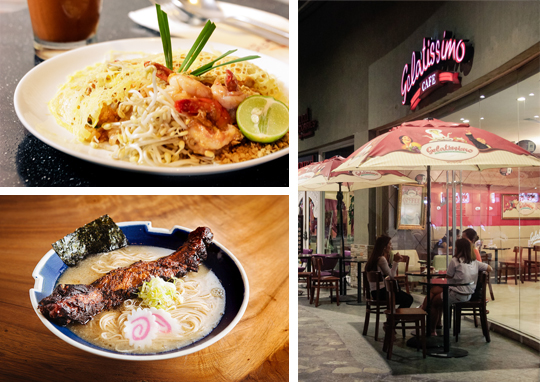 ADVERTISEMENT - CONTINUE READING BELOW
4. Test your palate with the restos found only here

A foodie mecca does not give justice to its name if it doesn't have a sense of exclusivity or if it doesn't have restaurants or food selections that can't be found in other malls or other so-called foodie joints. For TriNoma, it has several restos that it can claim as the only ones existing in Quezon City to date: Hanamaruken Ramen, Mango Tree Bistro, Gelatissimo, and Parvati.
Mango Tree Bistro's trademark dish, Pad Thai Shrimp is best paired with a glass of Thai Iced Tea. It is seasoned perfectly and comes in large servings. For Gelatissimo, its signature dessert, Death by Chocolate, is simply divine. C'mon, who in his right mind would not want to eat chocolate, anyway?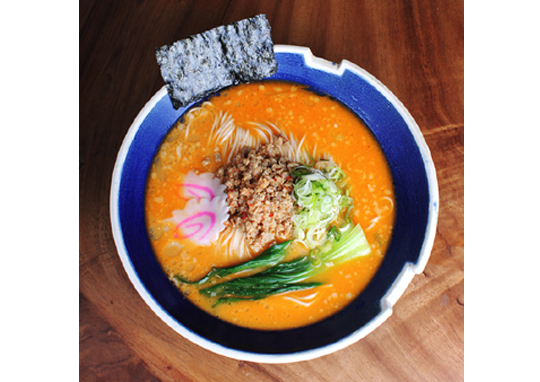 ADVERTISEMENT - CONTINUE READING BELOW
TriNoma isn't short of trendy options, it being a foodie mecca. Those who want to get into the ramen trend might also enjoy sampling Hanamaruken Ramen, a new ramen franchise from Osaka. They serve Curry Tan Tan Mien ramen and Happiness-- literally (their most famous dish is called Signature Happiness Ramen).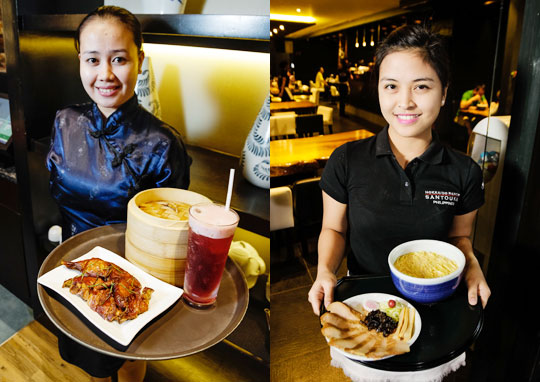 ADVERTISEMENT - CONTINUE READING BELOW
5. Flavor explosion with the newly opened restos we all loved from the south of Metro

Another staple for foodie meccas is the continuous opening of new restaurants. While there will always be some sort of brand loyalty for customers, given time they will surely want something new. Fortunately for TriNoma frequenters, there are a bunch of restaurants that opened recently: 8 Cuts Burger Blends, Pearl River Cafe, Ginza Bairin, Tous Les Jours, Hokkaido Ramen Santouka, Katsu Sora, and Mochicream Cafe with a lot more on the pipeline.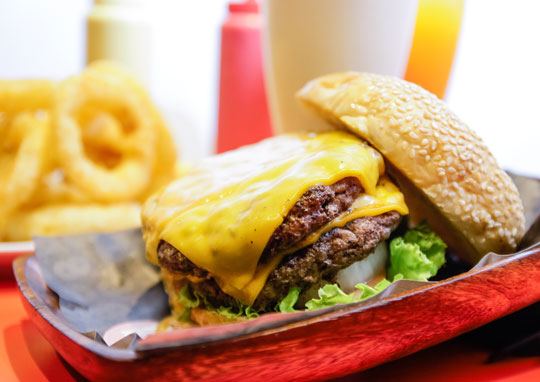 ADVERTISEMENT - CONTINUE READING BELOW

The newly opened 8 Cuts Burger Blends is sure to draw the meat-lovers crowd with their large serving of hulking burger patties. Their Double Cheese Burger is a carnivore's delight and adding a generous serving of Onion Rings and Speculoos Shake is sure to bring out anyone's inner fat kid. It's also a fun project for barkadas and families to bond over. At 8 Cuts Burger Blends, you can actually make your own burger by choosing between eight different patty blends custom-made from eight different cuts of beef-- chuck, rib eye, short rib, sirloin, brisket, hanger, flank, and ox tail.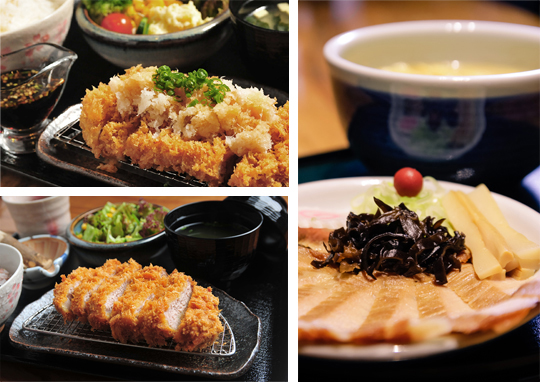 ADVERTISEMENT - CONTINUE READING BELOW

On the other hand, the authentic Japanese flavors of Hokkaido Ramen Santouka are sure to find a large following in this Japanese-food-crazy country. Try their Tokusen Toroniku Ramen with Roasted Pork Cheeks to have a taste of authentic Japanese ramen. Trust us; it's like the Japanese equivalent of the Greek ambrosia. Another newly opened section worthy of checking is Katsu Sora, which serves four kinds of premium pork tonkatsu namely Spanish Iberico, Spanish Shimofuri, Japanese Kirobuta, and Canadian Sakura pork.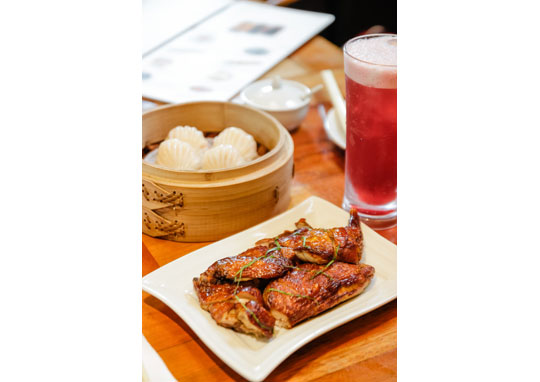 ADVERTISEMENT - CONTINUE READING BELOW

The simple and minimalist design of Pearl River Café is very much reminiscent of Cantonese restaurants back in China's Guangzhou region. The Crispy Chicken, for one, looks so simple at first but could take you to China and back with just one bite of the salty and savory white meat. The Steamed Shrimp Dumplings are also bursting with flavor and it is best paired with the Passionberry Fruit Tisane which goes from pink to red over time and offers a refreshing contrast to the rest of the meal.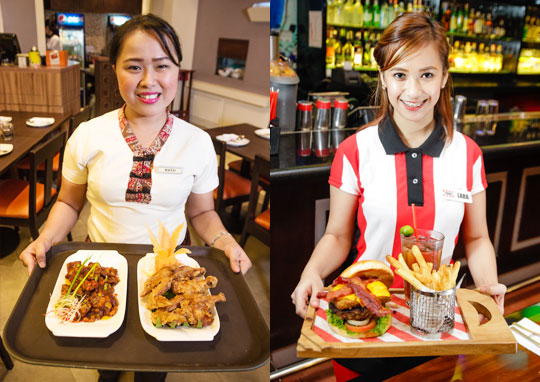 ADVERTISEMENT - CONTINUE READING BELOW
6. An international gourmet adventure for all

A foodie mecca that does not have restaurants that offer international cuisine is no foodie mecca at all. As such, TriNoma does offer an interesting mix of restuarants that offer the following cuisines: American, Mexican, French, Italian, Greek, Persian, Chinese, Japanese, Thai, Malaysian, Singaporean, Vietnamese, and a whole lot more.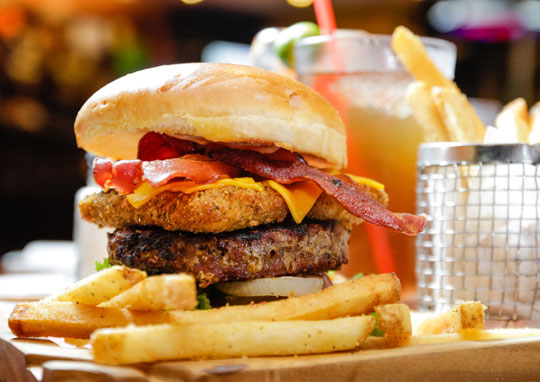 ADVERTISEMENT - CONTINUE READING BELOW
Nothing says American more than a large slab of beef patty tucked between two buns and other garnish. If you're craving for burgers that reminds you of the stateside, check out T.G.I.Friday's special Bacon Mozzarella Burger with Fries. Health buffs would probably have to say goodbye to their diets for the meantime but it might just be the ultimate dream for meat lovers.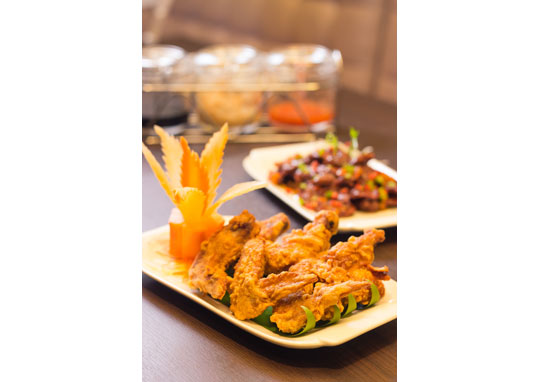 ADVERTISEMENT - CONTINUE READING BELOW
Wee Nam Kee is a hidden jewel in TriNoma's fourth floor. Their Prawn Paste Chicken Wings and Saute'd Beef Fillet in Sate Sauce are a must-try and you get to enjoy a relatively inexpensive meal in the perfect-for-convos cranny of the mall.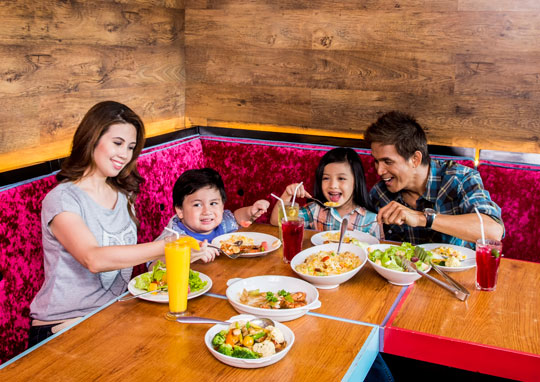 7. Bond with family over food
ADVERTISEMENT - CONTINUE READING BELOW

Filipinos are known for close family ties and as such most of us still treat Sunday or the weekends as family time. What better way to bond with the family than over good food? Bring your family over to TriNoma and enjoy the alfresco dining without breaking your budget. The good thing is you're getting lots of food choices along with the family-friendly ambience.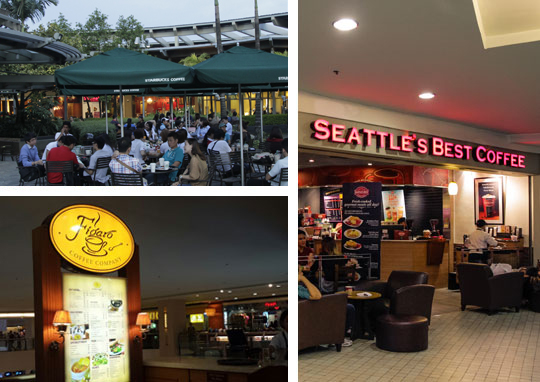 ADVERTISEMENT - CONTINUE READING BELOW

8. Be alone with your thoughts... and coffee.

There are days when you want nothing more than to relax and just ponder the complexity of life here on this pale blue dot, the tiny speck that's humanity in the vast ocean of inhabitable space. Or you just want to lounge in an easy chair while sipping iced coffee, munching on some delicious pastries, and reading a book.

There are 10 coffee outlets under TriNoma's large roof as well as various other dessert hubs, such as Seattle's Best, Coffee Bean and Tea Leaf, Figaro, and Starbucks. Pair Seattle's Best's Java Chip Blended Iced Coffee with their French toast and imagine yourself communing with the likes of Hemingway or Sartre. Or just stay inside Starbucks' or Figaro's place and smell the wonderful aroma of coffee. Who wouldn't be inspired to write their own magnum opuses with that?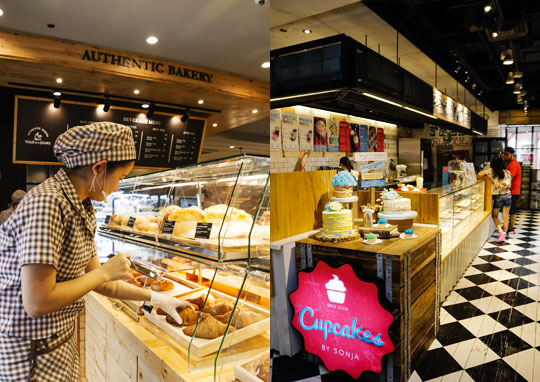 ADVERTISEMENT - CONTINUE READING BELOW

9. You're in Dessert Wonderland

We all know that Filipinos have an inherent sweet tooth and that could be seen in the multitude of desserts that we have here in our country. Knowing that weakness, TriNoma has fitted its food arsenal with a large amount of desserts ranging from cakes, cupcakes, doughnuts, cookies, mochi, frozen yoghurt, etc.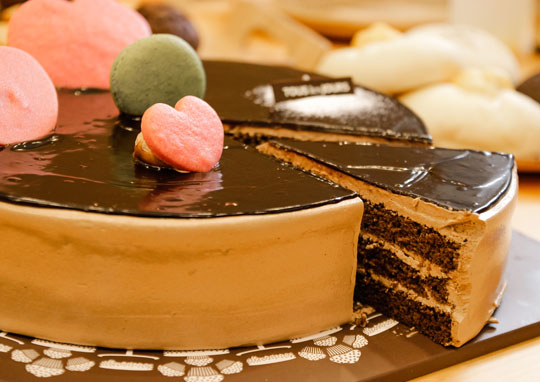 ADVERTISEMENT - CONTINUE READING BELOW

The French-inspired bakery Tous Le Jours is a wonder to behold. It mimics a French boulangerie that also serves iced and hot beverages. Upon entering, buyers are greeted with the aroma of baking bread and brewing coffee which is addictive enough but the moist and fluffy bread they make inside seals the deal. You must try their Pure Cheese Bread and Chocolate Langue De Chat Bun. We also fell in love with their signature bread called Sweet Black Rice with Black Sesame Cream Cheese because of its rich cream cheese filling that strikes a balance with the sweet black rice bread it is snuggly nested in. These breads are best paired with the Tous Le Jours' excellent Iced Café Mocha or Citron Tea.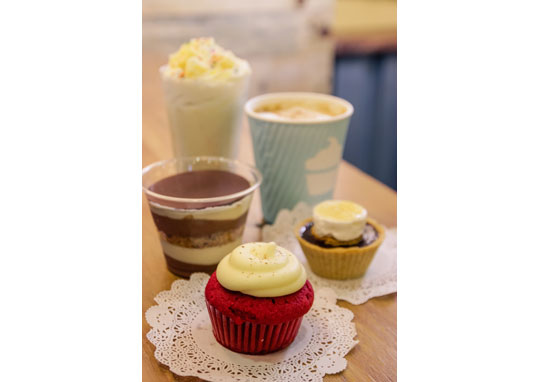 ADVERTISEMENT - CONTINUE READING BELOW

Next on the list is Cupcakes by Sonja. Who doesn't want cupcakes, anyway? Tucked in a cute store, Sonja's best-selling cupcakes include: the Red Velvet Cupcake and the Smores Cupcake. These cupcakes are best paired with either the Milk Chocolate Hazelnut Praline or the Birthday Cake Milkshake.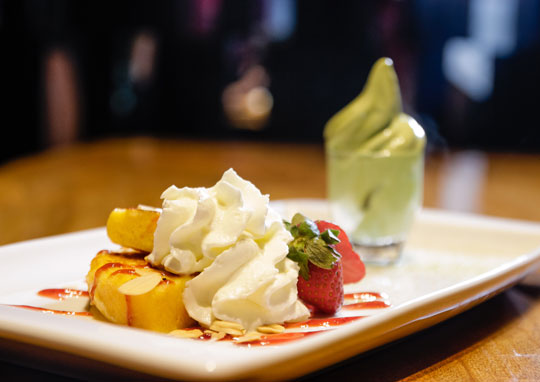 For the hardcore Japanese food fans, Mochicream Café is set to give you your fill of Japanese dessert. Try their Cappuccino and Matcha Latte which can be paired with either of the following desserts: Matcha Dacquoise, Baumkuchen, and the Ichigo To Kurimo.
ADVERTISEMENT - CONTINUE READING BELOW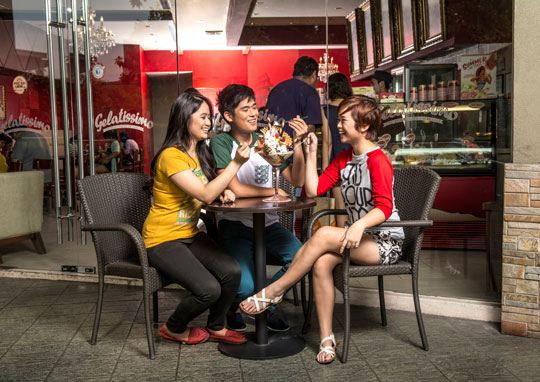 10. A relaxed and social atmosphere pervades here

For the most part, dining is a social experience. There's nothing more rewarding than the experience of enjoying good food while trading funny encounters and updates on each other's life with your family or friends. And of course, finish the day with one big groupie with the people you love most in the world.
ADVERTISEMENT - CONTINUE READING BELOW

After that, upload the pictures! For that, TriNoma has Wi-Fi access all around the mall. With this connection, and the amount of snap-worthy food available right at your fingertips, you can upload priceless moments on your social media accounts.
---
Since you're on social media anyway, you might as well showcase your photography skills and take your chance on getting featured on SPOT.ph! If you are a budding foodie or just someone who enjoys good food, TriNoma has a mission for you!  The quest will run from September 19 to October 19 and all you have to do is to take a picture of an undiscovered food that you would like to share to the world.
Post your drool-worthy photo on Instagram and include the name of that food and the restaurant. Use the hashtag #SpotMyFoodTriNoma and tag @ilovetrinoma. The ten best entries will be published on a SPOT.ph special for TriNoma and will win a Php 500 gift card from TriNoma Cinemas. To learn more about the mechanics, visit TriNoma's Facebook page.
ADVERTISEMENT - CONTINUE READING BELOW

Excited now? Go forth and EAT!
Share this story with your friends!
---
Help us make Spot.ph better!
Take the short survey
More Videos You Can Watch
Load More Stories