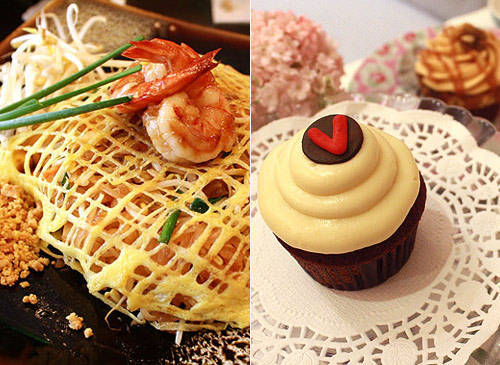 (SPOT.ph) It's huge and bright with a sun roof that allows natural light to bathe the space with a vivid white glow. The place, with its shiny-new quality, looks like a dazzling oasis compared to the rest of Glorietta which lately feels a little too familiar and a little too dim now that there's a fresh area to explore. Yes, truly the only way to come back after a tragedy is to be better, bigger, and brighter.
In the five years that it took for them to reopen shop, the New Glorietta has redefined itself to cater to the new generation of mall-goers with updated shopping (Bershka, Vince Camuto), easier accessibility (bridgeways, taxi hubs, terminals); and of course, the primary motivation of our adventures, the quintessence of Manila lifestyle, great food.
We scoured the 34,000-square-meter expanse and picked out our five new food finds worth trying.
Hokkaido Ramen Santouka
Tel. No. 728-1381
Open daily from 11 a.m. to 11 p.m.
ADVERTISEMENT - CONTINUE READING BELOW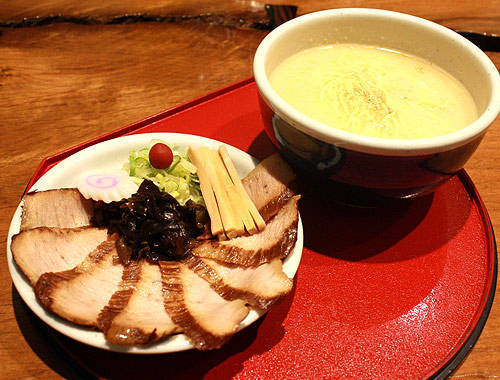 It's Shio time!
The lines are long but be patient. Build up your appetite and wait. Because the ramen at Santouka-where even Anne Curtis, Solenn Heussaff, and Vice President Jejomar Binay had to stand in line-is the kind of encounter that, like love, heartbreak, and child birth, is best understood through actual experience.
Take for instance, the Shio Ramen (P280, P320, P380). It's popular for its simplicity: salt and pork ramen that's familiar and easy enough to imagine. A mid-sized bowl with mid-sized noodles and an unusually select amount of toppings: pickled plums, bamboo shoots, spring onions, and slices of pork back ribs. Oh the pork back ribs! Fat and meat in faultless proportions gracefully dissolve inside your mouth as you chew, simulating an effect of savory succulent heaven. Everything else gives way to the charsiu: bamboo shoots and pickled plums counter the excessive tenderness with a muffled crunch, spring onions lift it with a biting layer; and the unctuous and milky tonkatsu-based broth which will have you licking the bowl to the very last drop complements the savor with salt. Fact: VP Binay asked for seconds.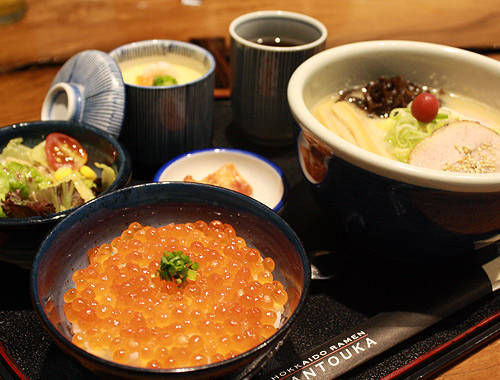 ADVERTISEMENT - CONTINUE READING BELOW
That's the delicious salmon roe paired with more Shio Ramen.
The Shio also comes in set dishes complete with a side salad, salmon roe rice, and miso paste (P620). The rice is an interesting picture: think giant sushi where a bowl of sticky rice is topped with a layer of salmon roe, which, at a bite, pops and releases a sticky, salty, fishy juice. The usual miso soup evolves as a sort of custard in a cup but with the same salty and nutty tones you've gotten accustomed to.
With the bar set high, dessert doesn't disappoint. Coin-sized mochi (P75 to P100) in over 20 flavors are imported to give this fast-rising cold treat a different approach. The rice cake bun is plusher, softer, and thicker but without overwhelming the filling, which, in this case, is flavored cream instead of ice cream or bean paste. Each flavor has character of its own: the Caramel Pudding brings to mind custard that's only lightly sweet; the Raspberry features tangy jam interspersed with raspberry-flavored crystals; the Apple Pie is a grainy pulverized pie with hints of cinnamon.
ADVERTISEMENT - CONTINUE READING BELOW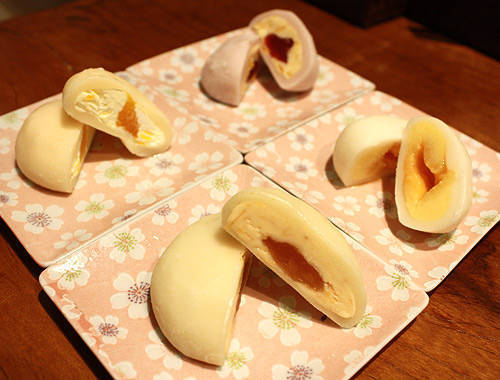 Imported mochi cream
The secret of Santouka's success is no secret at all-rigid quality control and top-notch ingredients which a Japanese chef inspects every day meticulously without fail. Any bowl that falls even an inch from the standard is redone until perfection is achieved.
Other recommendations: Chicken Gyoza (P180), Kara-miso Ramen (spicy!) (P300, P340, P400)
ADVERTISEMENT - CONTINUE READING BELOW
Soi
Tel. No. 553-0001
Open daily from 10 a.m. to 9 p.m. (mall hours)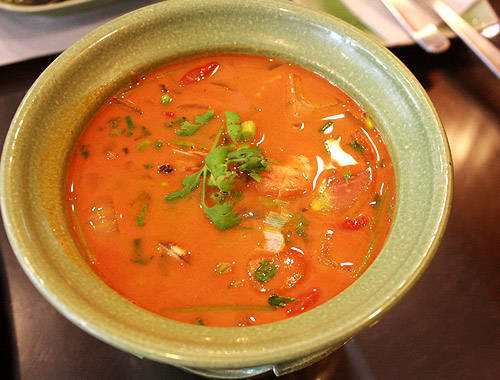 We like it with coconut milk: Tom Yum Talei
Soi has a lot to live up to. It is the latest endeavor of the Cabalen Group which already has Cabalen, Oody's, Mangan, and Ebun under its belt. With 70% of their ingredients shipped straight from Thailand, their cuisine is authentic Thai though owners operate under the notion that not every Thai dish is spicy. Don't worry, your favorite Tom Yam Goong and Pad Thai are all in the menu.
ADVERTISEMENT - CONTINUE READING BELOW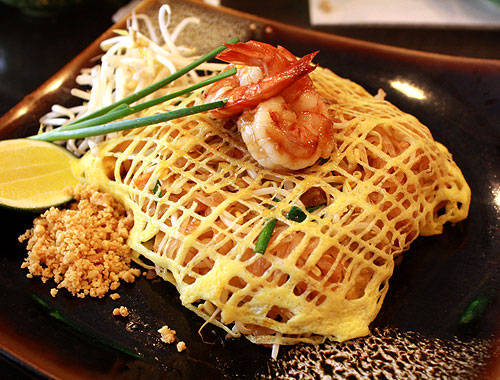 The egg cage is there to prevent the yummy Pad Thai goodness from crawling out.
But live a little and get the Tom Yum Talei (P348) instead. Goong's less-known little sister is virtually the same, but with shelled shrimp and a coconut milk base. Each sip is milky and rich with that characteristic fire kicking your throat as it comes down. Soi takes special considerations with the Pad Thai which comes in three varieties: shrimp (P298), chicken (P248), and vegetarian (P198). A web of scrambled egg packs the lustrous noodles as if trapped in cage. The noodles are chewy, but the flavor as a whole is almost a little too mild. A bit of straining is required to make out what constitutes the subtle profile: the nutty mung bean sprouts; even nuttier notes from crushed peanuts; the peppery slivers of garlic chives; the briny crunch of small shrimps; the savory magic of spongy tofu; and just a tiny shade of sugar-almost as if you imagined it. Like a ballet full of careful movements which, as a whole, are utterly enchanting, the Pad Thai teases the palate with a softness that paves way to a hidden intricacy.
ADVERTISEMENT - CONTINUE READING BELOW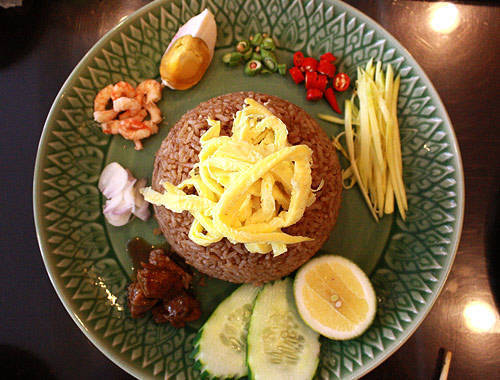 Choose your own spicy adventure, but the bagoong rice is pretty good on its own.
Rice, of course, is always a fail-safe option in Thai restaurants and the Bagoong Rice (P198) is, perhaps, our most viable bet. Only mildly salty, best pair it with the aromatic Chicken Pandan (P248). Chicken fillets marinated in pandan extract feature an extra touch of sweetness while the pandan-leaf wrap traps a delicious smoke underneath.
ADVERTISEMENT - CONTINUE READING BELOW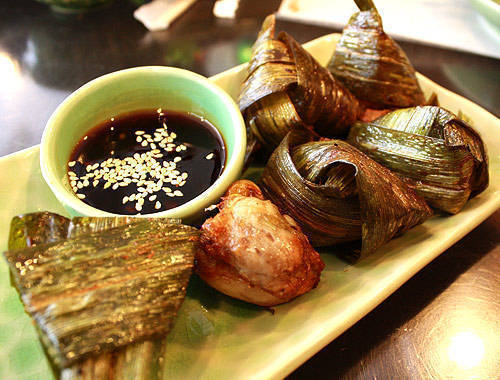 Subtly sweet Chicken Pandan just the way we (and everyone else) like it
Traditionally believed to have healing powers, the Sukothai (P298), meanwhile, is a broth with firm rice noodles, shrimps, tofu, coriander, and onions. While we haven't tested its effects against cancer (or even a cold), the fresh-tasting warm soup is a panacea for stress and exhaustion.
ADVERTISEMENT - CONTINUE READING BELOW
Other recommendations:  Prawn Cakes (P260), Pad Kee Mao (P178), and Crispy Catfish with Mango Salad (P258)
Big City
Tel. No. 556-5595
Open daily from 10 a.m. to 9 p.m.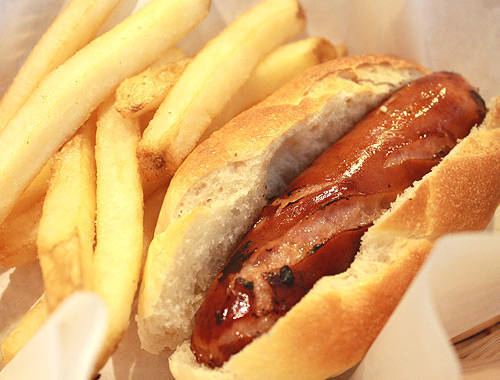 Hotdog straight up, no frills
The hotdog squirts and we don't mean that in any gross way. A bite and gooey delicious cheese and succulent juices ooze out. That's how compact the sausage is. Even with lashes for cooking, it's still bursting to explode. Of course Big City uses only the best brand for their bangers: Johnsonville, a 68-year-old Winsconsin-based company with the largest bratwurst revenue in the United States.
ADVERTISEMENT - CONTINUE READING BELOW
The hotdogs (P170 each) are pretty bare bones: the sausage, marred by a few messy cracks with lightly charred edges, is tucked away on a crackly miniature baguette. It's hot and juicy and smoky with a muffled crunch, just how franks should be. Adornments only go as far as pickle relish, onion, or chili which you'll have to ask the server for. Mustard and ketchup are on the table, should you need them, but don't use too much that you'll mask the natural savor of sausage.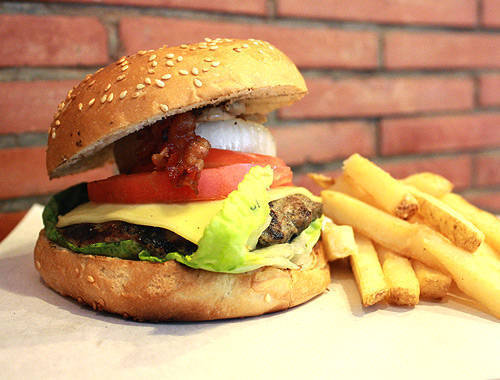 ADVERTISEMENT - CONTINUE READING BELOW
Catch that strip of bacon before it escapes!
Good ol' American food is the practice here and they do it well. The burgers (P145) are huge in a way that's comforting. For a sandwich this size, the patty's on the small side, nearly as thick as the fat slices of onion and tomato. It's initially disconcerting to see the supposed centerpiece overshadowed by all that plus cheese and mushrooms, but after a bite, the equation presents a harmonious trio of savor, sweet, and zest instead of the latter two serving as mere complements. It comes with forks and knives, but let yourself go and eat it with your hands. That's what napkins are for.
Fries, which seem perennially relegated to the sidelines, should have their own shining moment here. They're long and thick-not Belgian-wedge-chunky but thicker than the average McDonalds' fry-with a firm exterior and a soft, steaming, potato-ey core. It accompanies the burgers and bangers, but we wouldn't hold it against you to order a separate bowl.
ADVERTISEMENT - CONTINUE READING BELOW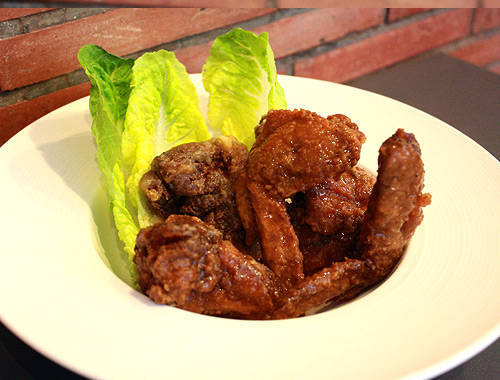 The bestselling sampler platter for the curious palate
Then we have the Wings. The sampler (P220) is a six-piece basket featuring a pair each of the garlic parmesan, barbecue, and buffalo. The chickens are big and juicy with a bubbly-crackly skin that's magically soggy-proof but doesn't impede the flavor from seeping through. The heat slowly builds up with each wing: the garlic-parmesan is rough and sharp with a generous parmesan rub that'll make you want to lick your cheesy fingers after every bite. A lack of sauce puts the barbecue down slightly, but the flavor is still a tasty tongue-tingling deliciousness that sets the mood for what's next-the buffalo. Perhaps the most famous variation in the wing kingdom, Big City's doesn't have that jerky spice that makes you want to gulp down water after every few bites. Instead it's a gentle fieriness that tickles rather than kicks, the kind that makes you guzzle to the last wing, to the last bone.
ADVERTISEMENT - CONTINUE READING BELOW
Other recommendations: The Johnsonville franks which you may buy frozen at Big City.
Mu
Tel. No. 556-8739
Open daily from 10 a.m. to 9 p.m. (mall hours)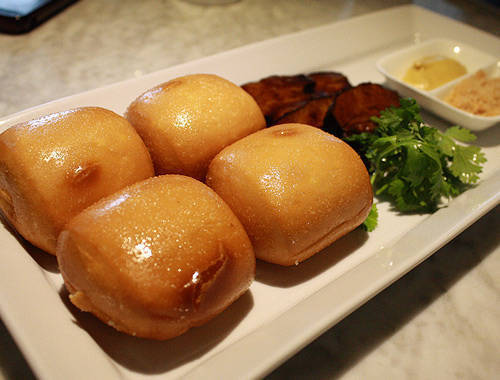 The pork seems slight at this angle, but there's enough of that to go around.
Mu has a way with buns, particularly cua pao. Here the white, plush rolls are toasted golden with a crackly shell concealing the yummy downy bread inside.  The Dong Bo Bun (P240), for instance, features the golden beauties sliced open and ready for accompanying slivers of saucy pork-beautifully braised pork with enough fat to make them melt in your mouth, dissolving into the sweet and salty sauce. Like patatim but more manageable. The dish comes with saucers of crushed peanuts and mustard; the piquancy of the latter is a fascinating extra, but do yourself a tremendous favor and have it plain before adding anything else.
ADVERTISEMENT - CONTINUE READING BELOW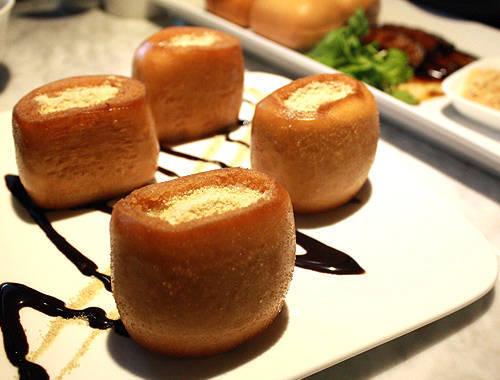 We'd visit Mu for the Cua Pao Custard alone.
We're skipping to dessert, but only because we can't have enough of their cua paos. Four of them are fried, hollowed out, and standing like four chubby totems in the Cua Pao Custard (P120). Each is stuffed with salted egg custard and malted chocolate then finished with more malt powder.  The effect is a squashy crackling bun cushioned by leche-flany goodness that's further textured by sweet malty grains; it's saccharine but just enough to be delightful-divine, even.
ADVERTISEMENT - CONTINUE READING BELOW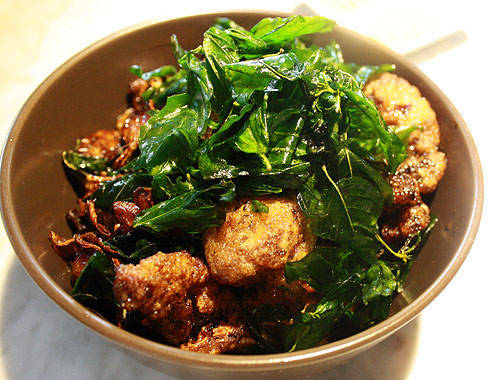 The sum of a winning formula of three cups of chicken, three cups of spinach, and three cups of ginger
The Three Cup Chicken (P240), however, will send you back to reality: three cups of ginger, three cups of chicken, and three cups of spinach combine into a yummy earthy peppery goodness that could only be real. This interpretation of Asian flavors puts the usual lemon, orange, and salt and pepper chicken cowering in the background. Wash it down with the cool Tarragon Tea (P80), an icy refresher that takes away the heat of summer with a single sip, until you head outdoors that is.
ADVERTISEMENT - CONTINUE READING BELOW
Mu, which means mother in both Japanese and Chinese (the culinary bases of the restaurant), is owned and operated by a trio of barely-30s who created the recipes themselves. None of them mothers. But maybe mom doesn't know best all the time. Not in this case, anyway.
Other recommendations: Charsiu Noodles (P240), Mu Milky Cup (P90)
Vanilla Cupcake Bakery
Tel. No. 519-6774
Open daily from 10 a.m. to 9 p.m. (mall hours)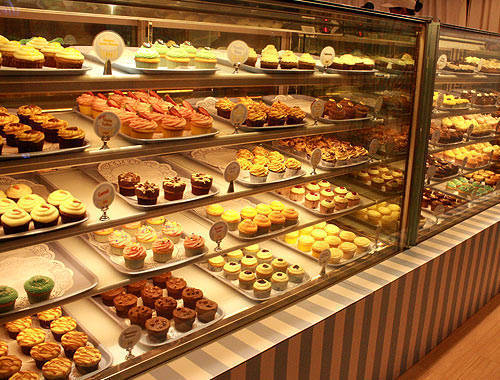 ADVERTISEMENT - CONTINUE READING BELOW
And this only half of the display
This place is pretty. A baby-pink-baby-blue pretty with soft patchwork, Heima furniture, tiny teacups, mini chandeliers, white things, and flowers-plastic flowers, flowered teapots, floral utensils, flowery trays. It's what Rachel Ashwell would proudly call "shabby chic." In fact, it's almost like Ashwell designed it herself. There's a yellow light that, as in a Stephen King novel, draws you in mysteriously. The light is coming from a giant glass case where nearly a hundred cupcakes in over 60 flavors are displayed mercilessly leaving both hungry and non-hungry passersby salivating.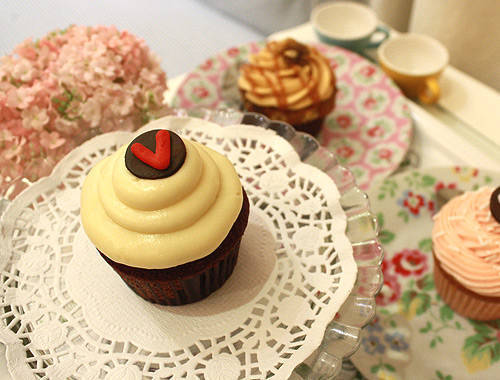 Photogenic cupcakes in a photogenic place
ADVERTISEMENT - CONTINUE READING BELOW
Cupcakes are a persistent crowd-pleaser, of course. Girls can't help themselves and boys, well, they just like to eat. It's sweet in every sense of the word, quaint, and portable, with lots of room for imagination. This cupcake-emporium-cum-tea-party capitalizes on that fact, mixing different favorite and fail-safe flavors into new permutations. No, you won't get a squid-ink pizza cupcake, but you'll find a three-in-one Banana Choco Chip Peanut Butter. That's the most complicated Vanilla gets, but we're not complaining. In a place where pinkies should be sticking out and napkins should be made of lace, anything "weird" does not belong.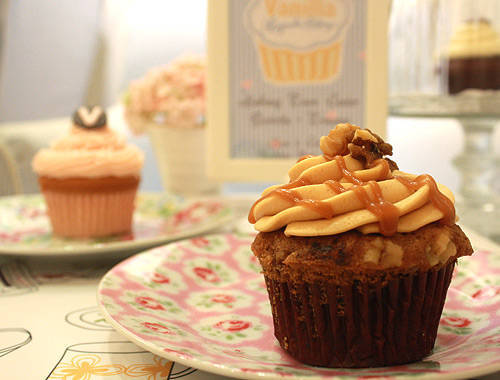 ADVERTISEMENT - CONTINUE READING BELOW
The beauty of Vanilla Cupcake Bakery is that their cupcakes are not overflowing with insane amounts of frosting, making them easier to eat with a more balanced level of sweetness.
Instead, we settle for the Red Velvet (P85). Settling is an understatement, of course. The deep-red cake itself is on the crumbly side but thick butter cream glosses things over. The result is a revelatory not-too-sweet, not-too-rich just-right confection that the Red Velvet gods would give a nod to. Texture plays out in the Coffee Walnut (P85). That now-characteristic crumb is given extra dimension with the huge chunks of walnuts, which, when chewed, releases a bold nutty flavor that highlights the rather mild notes of coffee. The Red Velvet is the draw, but it's the Coffee Walnut we want with our tea (Twinings' Chamomile and in the flowered blue pot, please).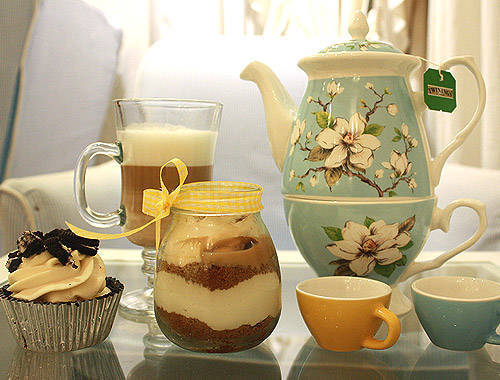 ADVERTISEMENT - CONTINUE READING BELOW
Tea time!
Vanilla Cupcake Bakery has other treats too. Cakes-in a cup, which is pretty much just a fancier, more literal derivation for a cupcake. The Banoffee (P95) is a cool demonstration of both ratio and presentation. Deconstructing the classic pie, crushed grahams, whipped cream, bananas, and caramel are served in mouthwatering layers inside a small jar. We had to dig deep to get all the layers in one bite, but it's the same cold, moist, creamy sweet decadence that makes us feel warm inside.
Other recommendations: Oreo Cheesecake Cupcake (P95), Vanilla Pink (P75)
Share this story with your friends!
---
Help us make Spot.ph better!
Take the short survey
More Videos You Can Watch
Load More Stories