Food Crawl: Your Ultimate Alabang Restaurant Checklist
You'll never run out of food choices.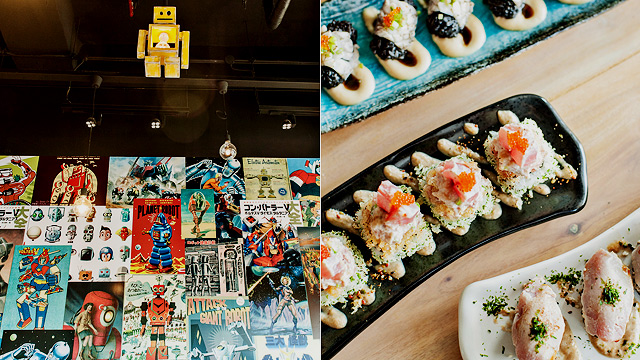 (SPOT.ph) Alabang's laid-back vibe and string of dining places is a haven for foodies who don't mind the extra toll fee. There's a world of culinary gems to uncover in this urbanized fraction of Muntinlupa that was once a farming village. Read on to find out what's cooking in this part of the south—from upscale diners to unique holes-in-the-wall.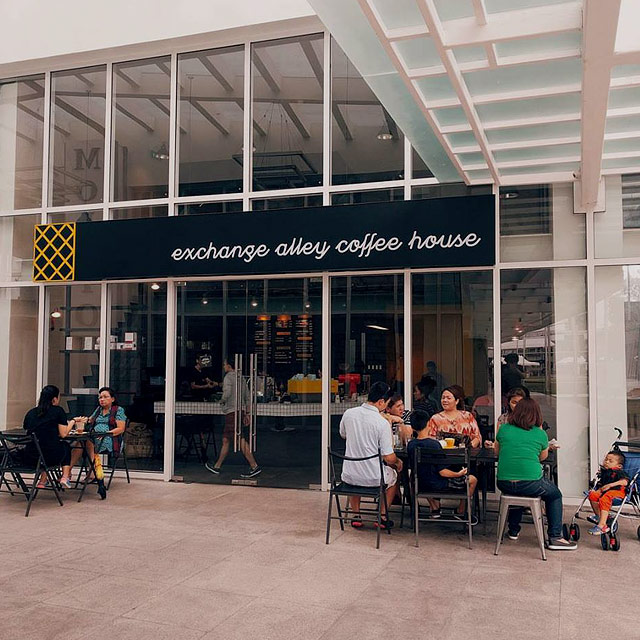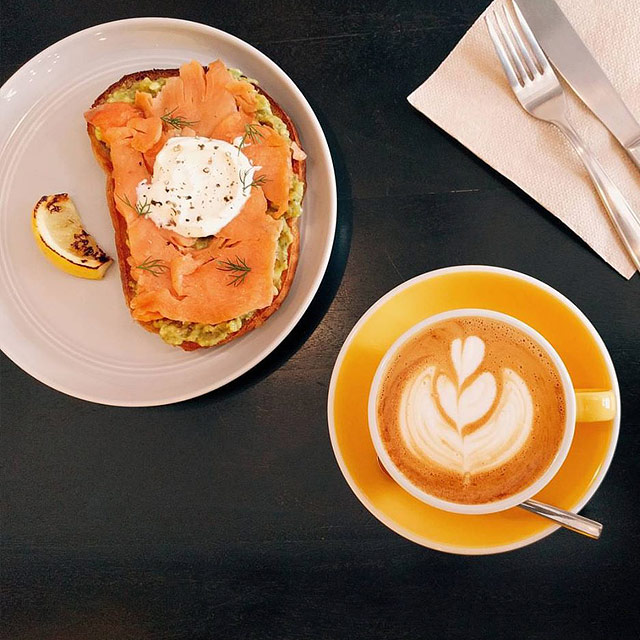 Exchange Alley Coffee House
Molito Commercial Complex
Contact: 809-1009
Open daily from 7 a.m. to 11 p.m.
To sate your handcrafted-whatever hankerings, look no further than Exchange Alley Coffee House, also known as EACH. From the same owners of Magnum Opus Fine Coffee in BF Homes, Parañaque, EACH is a specialty café with coffee beans that are sustainably grown. Aside from their excellent roster of coffees, this is also a place where you can reward your palate. Their crowd-favorite Avo Toast (P180) has a perfectly made sous-vide egg sitting on a bed of creamy, smashed avocado. For a heartier meal, don't hesitate to order the EACH Breakfast (P450), a traditional English breakfast plate made with two eggs, crispy bacon, sausages, and beans.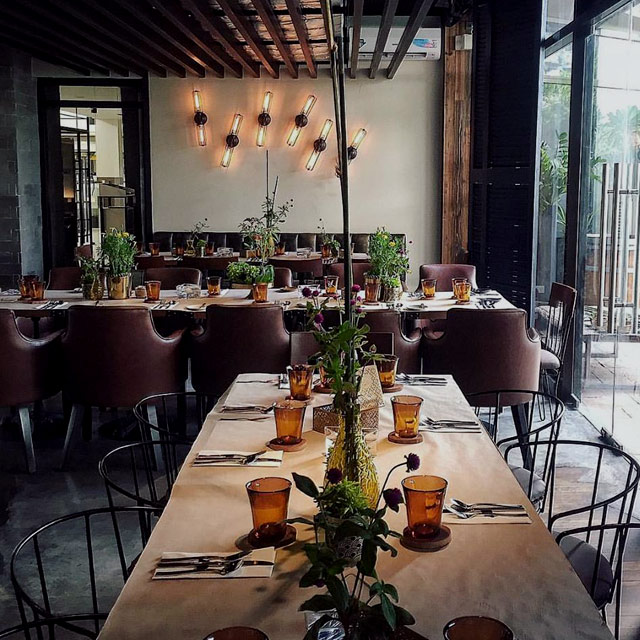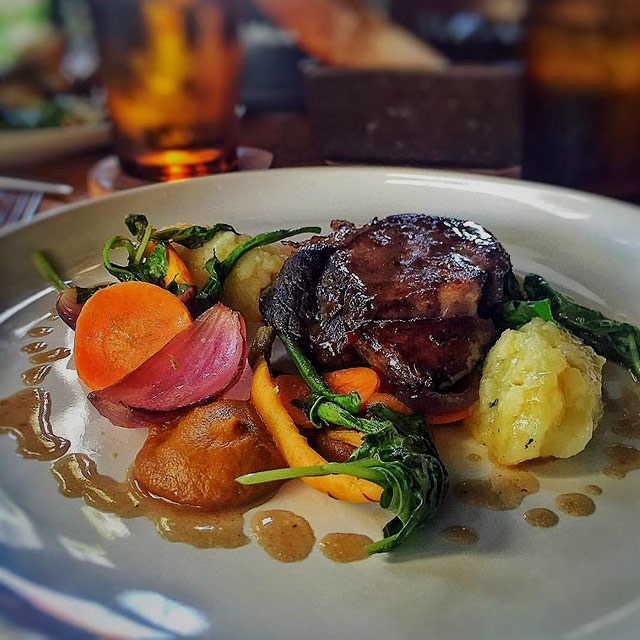 2/F Commercenter, Commerce corner Filinvest Avenue, Filinvest City
Contact: 246-9072 local 481
Open from 5 p.m. to 12 a.m. (Monday) and 10 a.m. to 12 a.m. (Tuesday to Sunday)
Helmed by Chef Carlos Garcia (of The Pigpen in Makati and Nuvali), this chef-driven gastronomic destination takes its inspiration from the numerous Michelin-starred restaurants that Chef Carlos has worked in over the years. The modern-casual restaurant and bar brings in fresh ingredients and recipes from Europe. Don't miss The Black Pig Charcuterie Board (P950), which has different variations of the all-time favorite jamon iberico. For mains, you can't go wrong with the Braised Blackmore Wagyu Beef (P820) a mouthwatering, marbled slab of stewed beef served with bone marrow, roasted carrots, garlic, and potato purée. Pair your meal with the bar's selection of curated wine, craft cocktails, and micro-brewed craft beers on tap for a truly satisfying meal.
ADVERTISEMENT - CONTINUE READING BELOW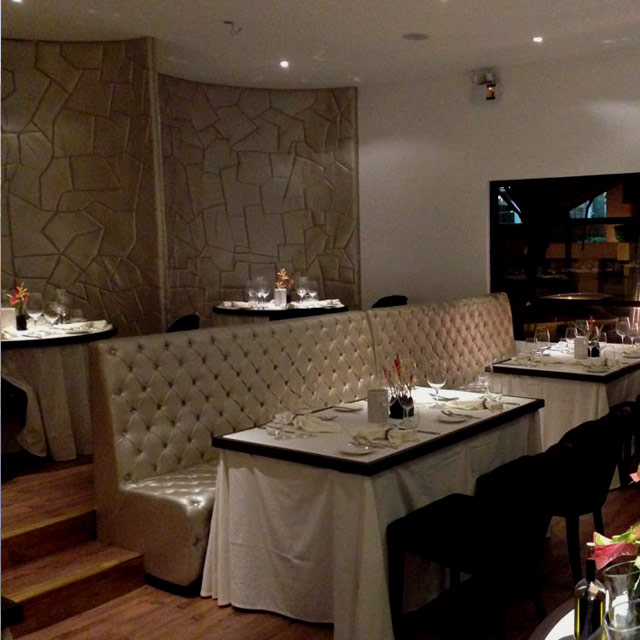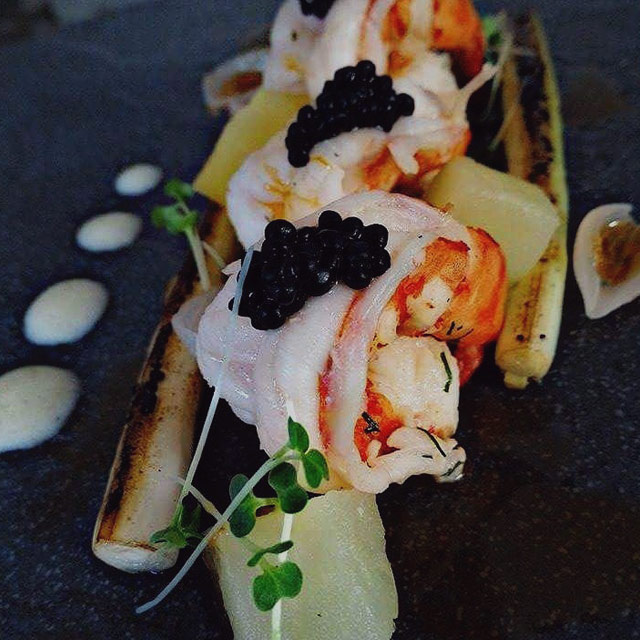 Caviar Restaurant and Champagne Bar
Westgate Center, Filinvest City
Contact: 0915-623-7277
Open from 11:30 a.m. to 2 p.m. and 5:30 p.m. to 10 p.m. (Monday to Saturday), and 10 a.m. to 4 p.m. and 5:30 p.m. to 10 p.m. (Sunday)
Impress a date at Caviar Restaurant and Champagne Bar, Alabang's ultra-luxe restaurant, which features an interesting marriage between excellent European food and fine wine. The duo behind this epicurean spot is executive chef Frank van der Walle and sommelier and general manager Bastiaan van der Walle, who both believe that "good mood brings good food." The restaurant's interior is a study in beauty and balance, which sets the mood for an unforgettable meal—the centerpiece is an intricately designed glass cellar that showcases their extensive collection of fine wines, while the champagne bar represents exclusive signature whiskeys from the six regions of Scotland.
For a taste of France, the Roasted Duck Leg Confit (P890) hits the spot. The tender, flavorful duck is served with red-cabbage marmalade, fried potatoes, beans and espresso-pomegranate sauce. The menu's pièce de résistance is the 14-ounce Jack's Creeks Wagyu Striploin MB7 (P4,500), an opulent serving of sublimely tender Wagyu beef.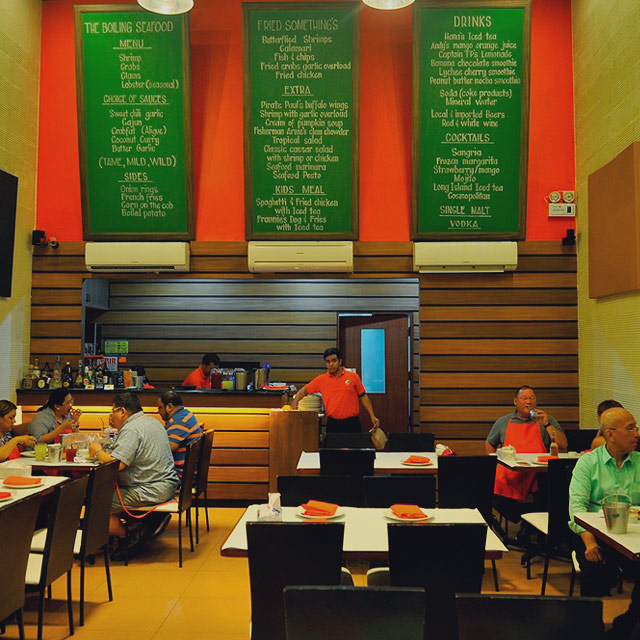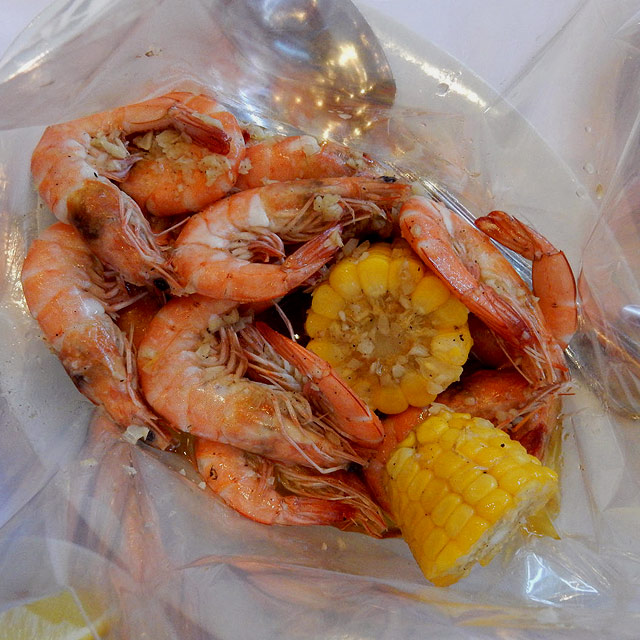 The Boiling Seafood
G/F Alabang Town Center
Contact: 511-8232
Open from 11 a.m. to 10 p.m. (Monday to Friday) and 10 a.m. to 10 p.m. (Saturday and Sunday)
ADVERTISEMENT - CONTINUE READING BELOW
Get ready to get your hands dirty at The Boiling Seafood, which has the same style and concept as the famous The Boiling Crab in the U.S., where they serve freshly cooked seafood in a plastic bag. Flown in daily from Roxas City, the selection of seafood range from Crabs (P200/100 grams), Mussels (P325/400 grams), Clams (P325/400 grams), and Shrimps (P595/350 grams). To cater to the Filipino palate, you can choose from their different sauces such as Aligue (crab fat), Coconut Curry, and Sweet Chili Garlic. Since customization is key, you can opt how "hot" you want your seafood to be: Tame, Mild, or Wild. Pair them with your favorite sides, too, from Corn on the Cob (P50) to the spicy Andouille Sausage (P140).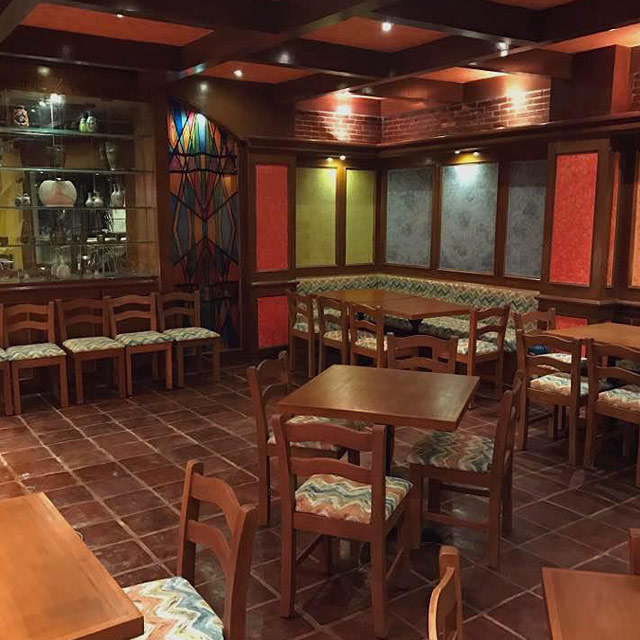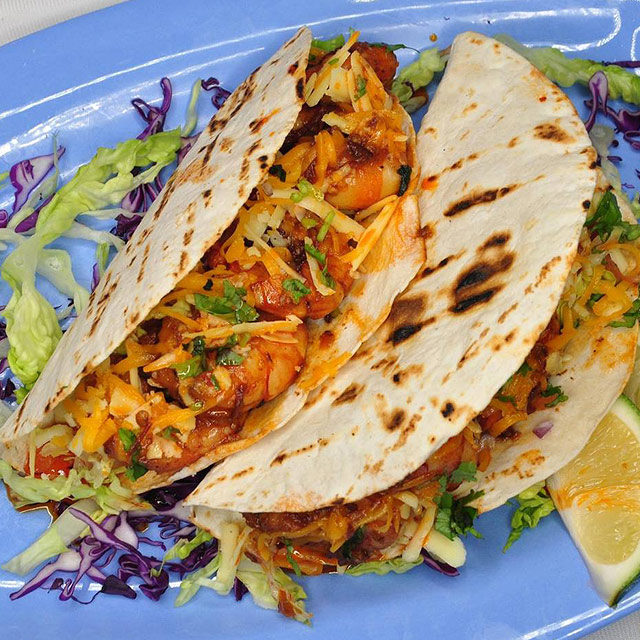 El Torerro 
2/F Corte de las Palmas, Alabang Town Center
Contact: 807-3595
Open daily from 11 a.m. to 10:30 p.m.
El Torrero, a Latin-American restaurant and bar serves a mishmash of Mexican, Brazilian, Cuban, and Peruvian cuisine, with Indian, Spanish, Portuguese, and African influences. For appetizers, it's best to start with the Bolinhos with Shrimp (P335), which comes from Portugal. Bolinhos are sublime, fluffy potatoes mixed with tasty shrimps, and deep-fried to produce a delightfully crisp, golden shell, best enjoyed with hot chili sauce and an ice cold beer. One of the crowd-pleasers includes Pochero Santafereno (P485), a lively dish which contains beef, chicken, pork, plantains, cachapas, potatoes, corn, chorizo, hogao sauce, cabbage, white rice, and avocado slices. Head over to the bar at happy hour to sample some of their eclectic drinks.
ADVERTISEMENT - CONTINUE READING BELOW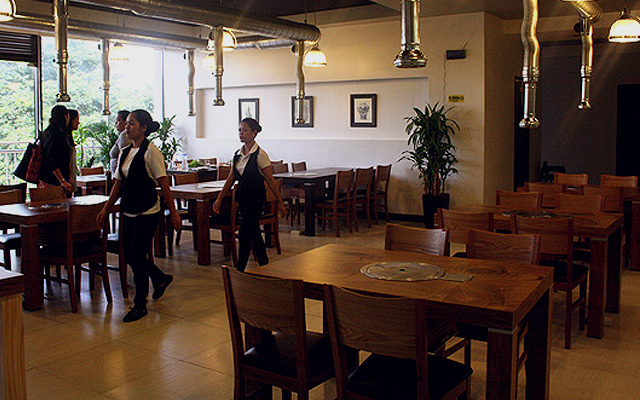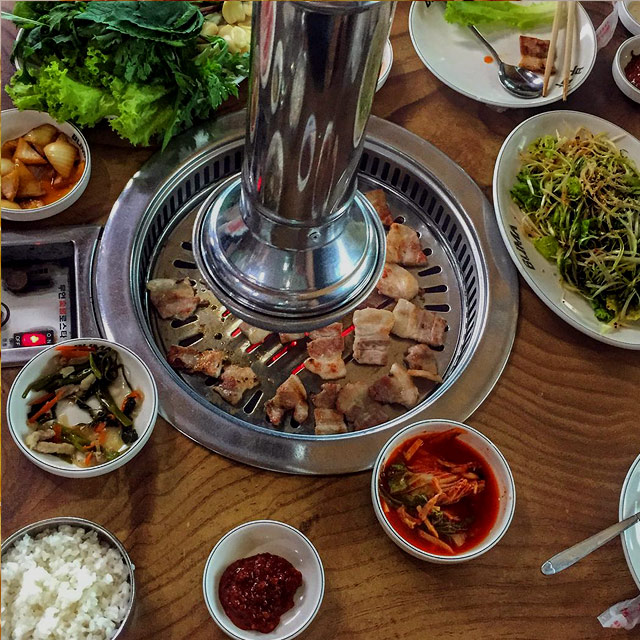 A-Won
2/F Commercenter, Commerce corner Filinvest Avenue, Filinvest City
Contact: 246-9072 local 879
Open daily from 10:30 a.m. to 10 p.m.
Since 2014, this homegrown Korean restaurant owned by Ruth Kim has been grilling quality barbecue to give diners their much-needed Korean food fix in the South. There is an abundance of complimentary banchan or side dishes here, and their meat list is extensive. Let the server guide you in cooking the Samgyeopsal (P300) or Yangnyeom-galbi (P750) or marinated grilled beef ribs with A-Won-style sauce. Mix it up with hot soup like the Kimchi Jiggae (P300) or the sweet-and-salty Korean stir-fry noodles Japchae (P300). To satisfy your Asian-pancake cravings, don't forget the Haemul-Pajeon (P400). These are classic Korean dishes that are guaranteed to give you a #happytummy any time, any day.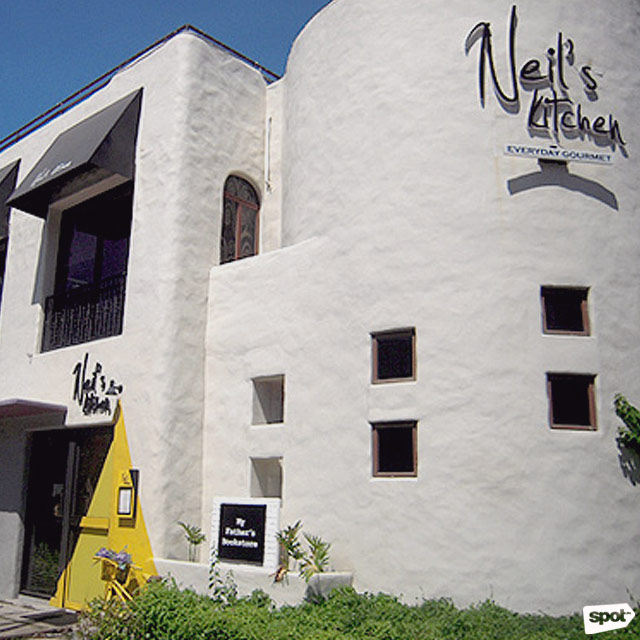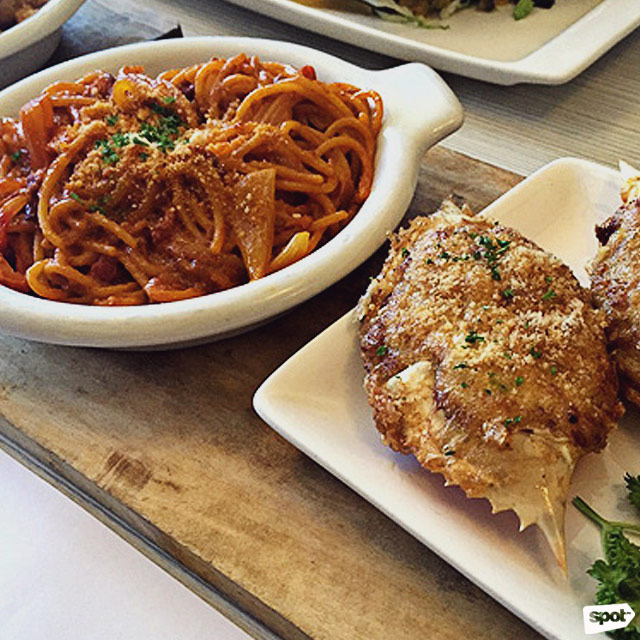 Westgate Center, Filinvest City
Contact: 810-5017
Open from 11 a.m. to 9 p.m (Monday to Thursday and Sunday) and 11 a.m. to 10 p.m (Friday and Saturday)
Since 2014, the eponymous Neil's Kitchen has been churning out the best of modern Filipino cuisine through Chef Neil Ramos' wealth of experience in the catering business. The menu features quirky local creations with international flair, such as the Escargot de Gata (P295), Grilled Chicken and Crispy Pork Dinuguan Fondue (P395), and Crab Fat Palabok (P350). Chef Neil's specialties also include the Sinigang Paella with Grilled Pork Belly (P350), where the paella rice is slow-cooked in sinigang broth, making it burst with a tangy, tamarind flavor. The pork belly is also boiled in sinigang broth prior to grilling, giving it a fresh twist. It's served with crispy kangkong, which makes it a deconstructed and reconstructed sinigang. Pretty cool, huh?
ADVERTISEMENT - CONTINUE READING BELOW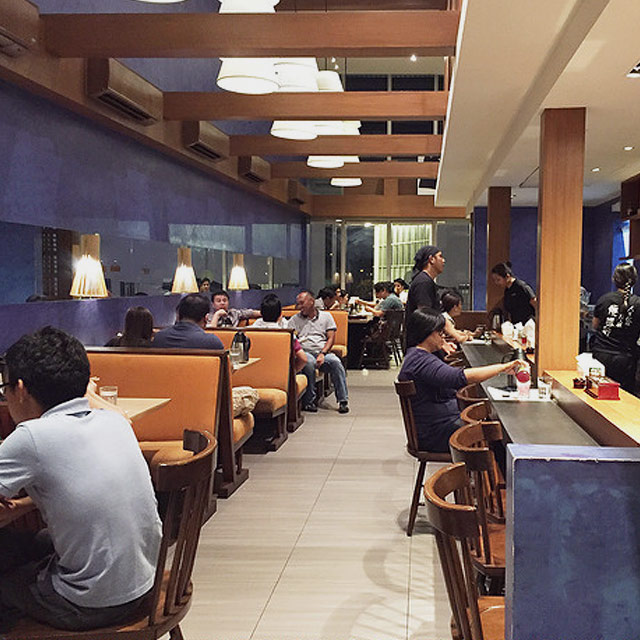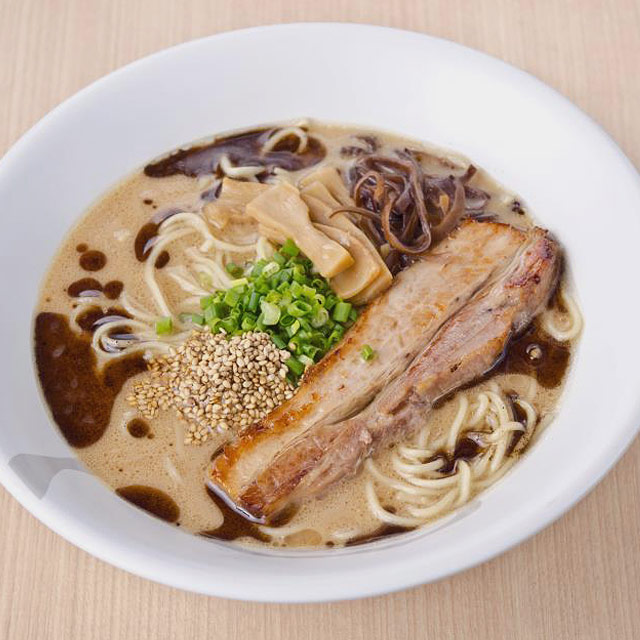 Molito Commercial Complex
Contact: 808-7424
Open daily from 11 a.m. to 11 p.m
With countless ramen restaurants sprouting everywhere in the Metro, it's hard to know if the piping-hot bowl of noodles you're getting is the real thing. With a staff trained by Koji Tashiro, the "Son of the Ramen God" Yamagishi Kazuo, you're sure to get the real deal of tsukemen and ramen here. Business partners Ryan Cruz and Elbert Cuenca's obvious love for ramen can be seen through the joint's no-frills menu. Start off with the Shoyu Tonkotsu Ramen (P380), which is seasoned to perfection with soy sauce and garlic oil. It's topped with a gooey aji tamago and slices of char-grilled pork chashu or pork belly. If tsukemen is more your thing, order the Tonkatsu Tsukemen (P410) for a pork-heavy and lip-smacking meal.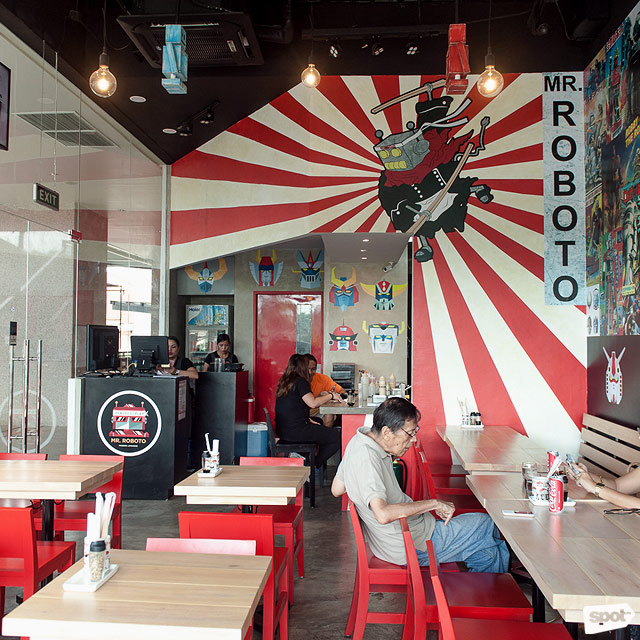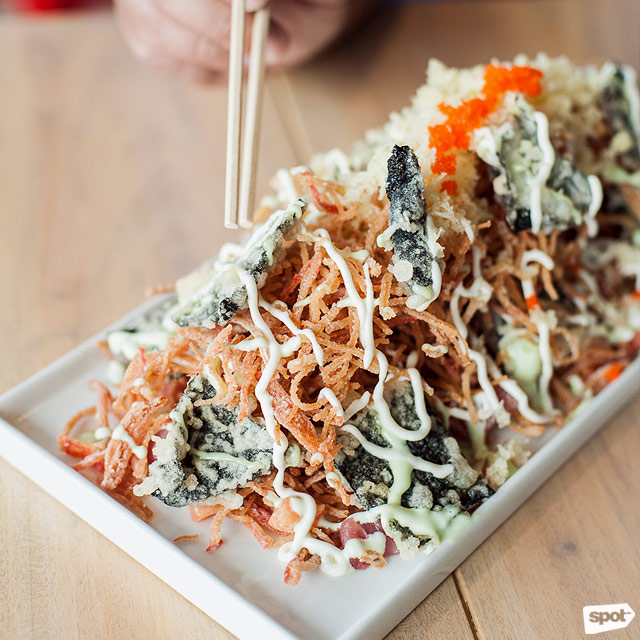 G/F ATC Corporate Center
Contact: 246-9072
Open from 11 a.m. to 9 p.m. (Monday to Thursday and Sunday) and 11 a.m. to 10 p.m. (Friday and Saturday)
Owned by second-generation restaurateurs of Neil's Kitchen at Westgate Center, Daniella Ramos and David Mendoza recently opened an Asian robot-themed restaurant for millennials. The hip resto pays homage to robot-genre heroes like Voltron, Voltes V, Daimos, and Mazinger, while the interiors scream everything fun and Japanese. For poke bowl fans, the Mr. Roboto Chirashi (P695) is not to be missed. It's full of assorted special sashimi with furikake rice and an aburi egg yolk in the middle. The golden-crisp Lamb Katsu (P525) is also a must-try.
ADVERTISEMENT - CONTINUE READING BELOW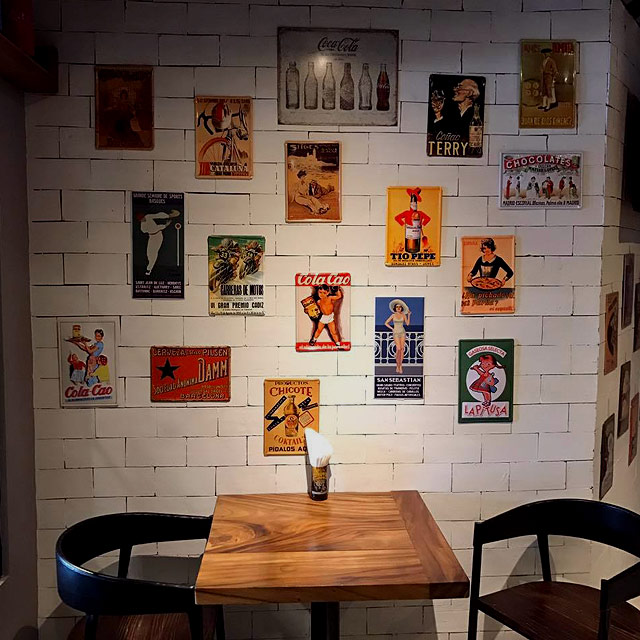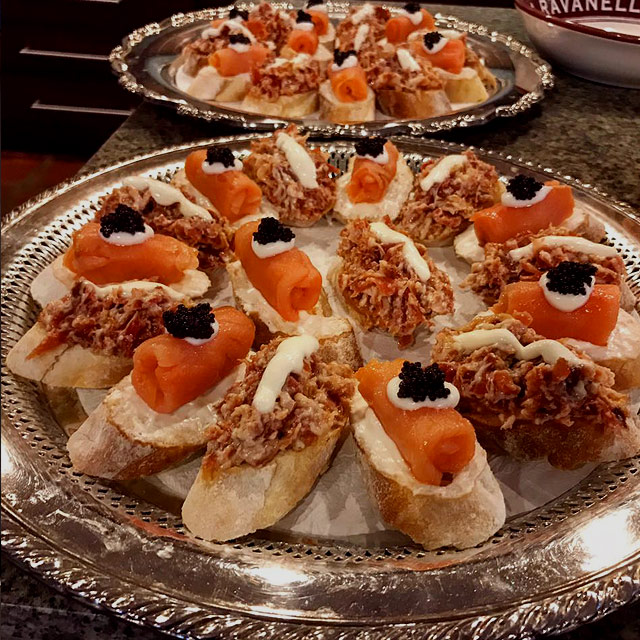 Bar Pintxos Tapas Y Mas
G/F Gesu Building, Don Jesus Boulevard
Contact: 831-0065
Open from 11 a.m. to 12 a.m. (Monday to Thursday), 10 a.m. to 2 a.m. (Friday and Saturday), and 10 a.m. to 3 p.m. and 5 p.m. to 10 p.m. (Sunday)
Although this hole-in-the-wall now has a branch in BGC, we still recommend you try their main branch on the ground floor of Gesu Building for a more intimate vibe. A pintxo is a small snack popular in Basque and is typically eaten in bars while hanging out with family and friends. The subtle difference it has with tapas is it's usually held together with a skewer, often on a piece of bread. Go for the umami-packed Boquerones Uni (P160), where every bite must be savored, thanks to its precious caviar topped on delicate, milky slices of raw sea urchin. Splurge on the Foie (P290), which is seared foie gras with sweet apple compote and Pedro Ximenez wine reduction. Meanwhile, refresh yourself with their bar's version of the fruity Sangria (P250).
Load More Stories