Spring Awakening: Let's Talk About Sex
Based on one of the most banned plays in history for supposedly being "pornographic," the Spring cast tells SPOT.ph it's about more than just sex.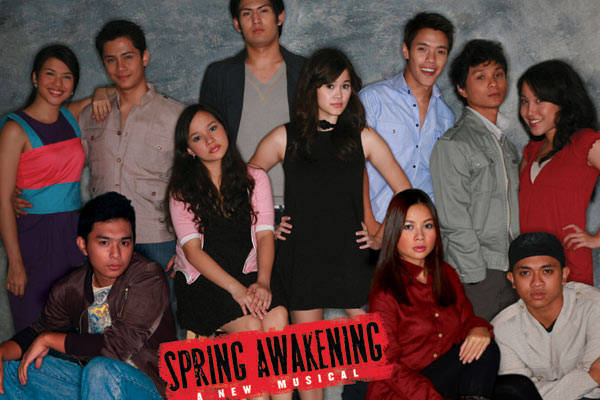 Back row, L-R: Yanah Laurel as Thea, JC Santos as Hanschen, Miguel Mendoza as Georg, Joaquin Valdes
as Melchior, Nicco Manalo as Moritz, Bea Garcia as Ilse. Front row, L-R: Inno Martin as Otto, Ava Santos
as Anna, Kelly Lati as Wendla, Sitti Navarro as Martha, Nar Cabico as Ernst
It's not about the sex. Not completely.
The cast of Atlantis Productions' staging of Grammy- and Tony-award winning musical Spring Awakening are quick to come to the defense of the rock musical that tackles teenage angst, rebellion and sexual discovery in late 19th century Germany, describing it as more eye-opening than shocking.
Spring is about more than "human sexuality," says director Chari Arespacochaga. It's about the "journey of growing up and finding yourself in whatever time you're living," she adds, and that sexuality is just a part of the trials, the discovery, the challenges of growing up.
Singer Sitti Navarro, who is credited with popularizing bossa nova in the Philippines, sheds her signature singing style to play Marta, a girl sexually abused by her father. Navarro says the play runs the whole "gamut of feelings" that comes with being a teenager: the thrill of first crushes, the confusion and indecision about what to do.
The musical is based on the 1891 play by German dramatist Frank Wedekind. The original play is one of the most banned plays in history and was closed by censors after its opening performances in Berlin (1906) and New York (1912) for supposedly being "pornographic."
With music and lyrics penned by Steven Sater and "Barely Breathing" singer/songwriter Duncan Sheik, the musical resonates among the MTV generation with its rock 'n' roll edge. MTV's John Norris gave his nod to the production in 2007, comparing it to Jonathon Larsons' bohemian-rock Rent. That same year, Spring Awakening walked away with eight Tony awards, including one for Best New Musical.
ADVERTISEMENT - CONTINUE READING BELOW
If you didn't know any better, you would swear that Wedekind had the current Gossip Girl generation in mind when he wrote the play over a hundred years ago.
It's a lot less shocking than Gossip Girl and other seasonal teen dramas though, quips castmember and Bagets 2 alum Cheska Inigo, who takes on the challenge of playing all the female adult roles. "Our issues are nothing compared to what you see on TV," she says.
The cast hopes that parents, who are notoriously tight-lipped   and awkward about talking to their kids about the birds and the bees, will let Spring Awakening open doors for discussion.
"We've made sure everything has been handled tastefully, that nothing is there just for the effect. We've made sure that it's all in the context of the story, and we've also made sure that people know what the show is about and it's [their option] whether to watch or not, which I hope they'll still do," she said.
Direk Chari also hopes that the edginess of the show will draw in the younger crowd and win over a new generation of theater-goers.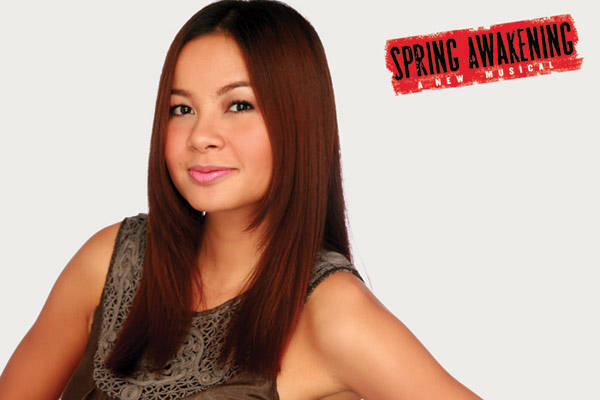 Bossa nova singer Sitti Navarro as Martha
Spot.ph sits down and asks Sitti Navarro, The Dawn frontman Jett Pangan and veteran film and television actress Cheska Inigo about rocking out, that three-letter-word and everything in between.
Spot.ph: How difficult was it to adjust your style in singing?
Sitti: For this production it was more of straight singing. With bossa, there are a lot of embellishments that are playful takes on the songs, but for this a lot of the songs that I'm doing are part of the chorus, we're just backing them up, mas straight lang 'yung approach, mas gospel, walang arte at all involved. And there's only one solo that I'm gonna to do, which is 'yun nga "The Dark I Know Well."
ADVERTISEMENT - CONTINUE READING BELOW
The difference really is, while I'm singing, there's a lot of emotion I have to convey through the song and through my facial expression, through [the] whole body. I'm playing a physically and sexually abused girl who is afraid to [tell anyone about what happened], she would rather [stick with] the status quo. So all that I have to convey in that one song. 'Yun 'yung main difference.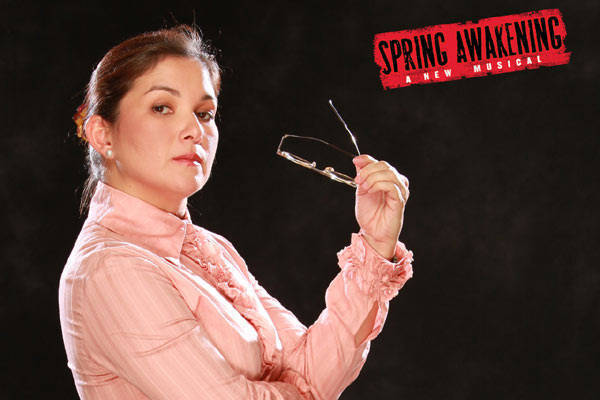 Cheska Inigo plays the adult female roles
Spot.ph: When was your "spring awakening"?

Sitti: When was that? "Spring awakening," as a whole, it [means] a lot of things, not just the s-e-x. It's about having crushes, having first loves. High school siguro. Siguro 'yung first crush ko nga, grade one yata ako, eh!
Cheska: I was fifteen! I was fifteen and I got pregnant! 'Di ba I have a 21-year-old daughter and I can't deny that, I was fifteen and I got pregnant, I didn't know anything, 'di ba? So it for me is very important, to have that discussion with kids, and that's why I think more than anybody else in the cast, and parents might not like me for it but I am really for parents that have kids [to come and watch the play] kasi ang laking bagay eh, 'pag nakita nila 'yung content, kapag napanood nila 'yung play ang daming opportunities to talk to them [about it]. It's not embarassing, it's not awkward. My intro to my daughter was "I overheard your friends talking about this, are you having sex?" I mean, I could say it but it was difficult.
ADVERTISEMENT - CONTINUE READING BELOW
Jett: I found out about sex as early as nine years old, and I had to find out, you know, by myself. I didn't know a lot about, I didn't even know how a naked body looked like, a female naked body, I didn't know what it looked like. First sexual experience I would say I was in high school. A friend of mine, a classmate of mine treated me so I could have sex, and that was my spring awakening and of course I remember that because it's the first time, and I kinda wished it was with someone I loved, you know, a girlfriend. It didn't happen that way, so, it was more the seedy kind of spring awakening for me. But I learned a lot, obviously, and um, those things stick to you, you remember them.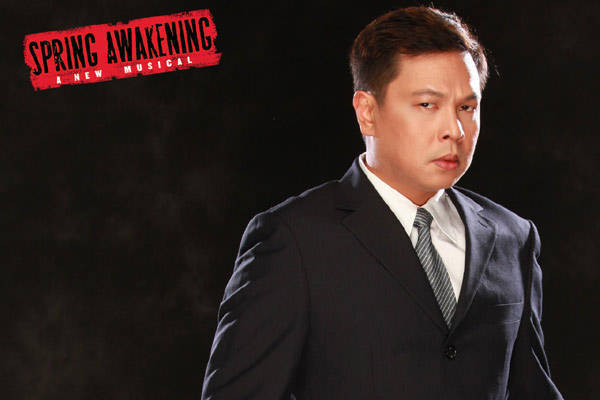 Jett Pangan plays the adult male roles
Spot.ph: Did your parents ever talk to you about sex?

Jett: No, that's why I relate to this play, [because] my parents are old school. And you know, you're a teenager, how do you ask that, you know? Not like here, the characters here, they're very curious, they ask. But it's the elders who don't want to talk about it. Mine was the reverse, I wanted to know but I wouldn't dare ask my parents. I had to find out, like I said, I had to find out by myself.
Spot.ph: Have you ever discussed this with your kids?

ADVERTISEMENT - CONTINUE READING BELOW
Jett: I have two kids, I have a 14-year-old daughter and an 11-year-old son, and we have at some point talked about it because it's the Internet age eh you know, and my kids they have their computers, they go online all the time, so I don't think I can ever police them a hundred percent. There will come a time when they will discover it even by accident, on a porn site, a sexually explicit site. So, as a parent how can I talk to my kids about sex, like what it can potentially do like get someone pregnant, or that it is something that you can experience at best with someone you love. So, by way of telling them that, you feel more at ease than if they're [surprised] via the Internet or via someone talking to them about sex. They know what it is about and it's not a bad thing. But another thing we tell our kids, that it's not a bad thing but it's not something you experience just like that, it's something that has to be dear to you. And it could lead to something beautiful or it could destroy your life if it happens way sooner than you expect. So yeah, it's a tough thing to talk about, but you know, you try to tell them about it without being graphic.
Spot.ph: Why do you think parents find it difficult to talk to kids about it?

Jett: Because kids are impressionable. They're at that stage where they don't have the maturity to understand something like sex, or drugs, or whatever. Kids are fearless, they'll try out anything. They don't quite know the consequences of their actions, especially with things like that so it's difficult for us to tell them without being graphic. Ang hirap nun 'di ba? Like sex happens when you insert the penis in the vagina, you know. And baka 'di pa nila maintindihan 'yun, so we're more of, as parents we're more of discussing with them the consequences more than the act itself.
ADVERTISEMENT - CONTINUE READING BELOW
Spot.ph: What would you say to parents who can't talk to their kids about sex?
Cheska: Take them to see Spring Awakening. No seriously, it's not, it's not just to promote the show. Seriously, take them to see Spring Awakening if they're old enough. [We're] very particular about that. Twelve years old I feel may be too young, um, but that's the parent's choice. If you decide to bring your children, really I would feel, really high school would be a more appropriate age to bring the kids. And bring the kids, don't let the kids go with their friends, because then what's going to happen is they'll go to eat merienda, they're gonna make kuro-kuro among themselves what's real and what's not. If your kids want to see the play, allow them to see it but go with them, that way if they have questions, there's an educated answer, hindi 'yung "I think this is how it goes."
Spring Awakening runs from September 25 until October 18 at the Carlos P. Romulo Auditorium, RCBC Plaza, Makati. Parental guidance is advised due to explicit content and some nudity.
Images from Atlantis Productions.

Load More Stories