JJ Yulo on Ba Noi's Vietnamese Restaurant: Worth a Taste
Our SPOT.ph blogger says Ba Noi's is the kind of restaurant he would love to have in his 'hood.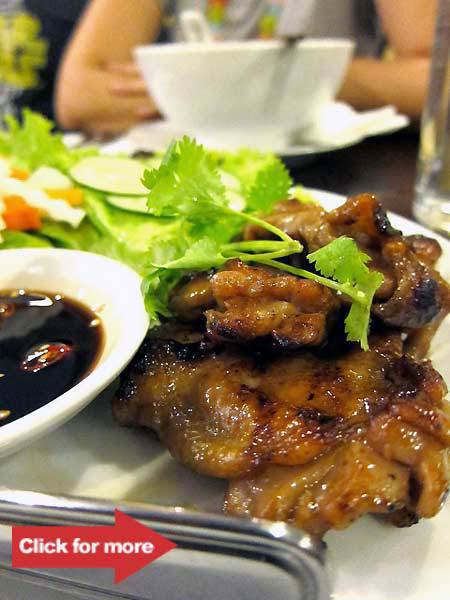 Ba Noi's Ga Nuong (Grilled Lemon Grass Chicken). Click for more photos.
G/F Greenbelt Mansions, 106 Perea St.,
Legaspi Village, Makati City
Tel. 893-7359, 6661083
Open Monday to Saturday, 11 a.m. - 9 p.m.
As a guy who obsesses over food and the culture that surrounds it, it goes without saying that sampling foods from unfamiliar countries always piques my curiosity. Having a peek at what's on for dinner says a lot about a people, and always seems to be a great springboard to jump off of when doing a bit of travelling-even if it's of the armchair variety. One of the great mysteries of the universe, as far as eating from a Filipino standpoint, is why the food of Vietnam hasn't taken off quite yet here in our fair land.
CONTINUE READING BELOW
Recommended Videos
I've had the good fortune of getting to visit Hanoi a few years back-and although it was pretty small, I found it fascinating. You could finish exploring almost everything here in maybe three days, I think. This certainly wasn't a mega city or anything, but one with many pockets of culture, of history, and most importantly, of yummy eats.
Healthful, inexpensive eating is the name of the game over there-with an emphasis on freshness of ingredients. Markets abound with all these beautiful greens and herbs, lovely piles of seasonal fruits, and little stalls selling treats, savories and sweets. Rice is omnipresent, and lots of dipping sauces mostly of which are based on their fish sauce called nuoc nam. I tried these awesome grilled meats-a dime a dozen over there, of course-as well as the ubiquitous pho, and spring rolls. The first thing that entered my mind was that they tasted like very clean versions of inihaw na baboy, mami and lumpia-albeit with more touches of lemongrass, ginger, coriander and mint. This would be a hit back home-but where could I get it?
Although it took a few years, thankfully I was saved once again by that wonder known as Facebook, as I chanced upon this brand new Vietnamese joint called Ba Noi's through a friend's status update. Ba Noi apparently means granmama on the father's side, to me a nod to the authenticity of their cooking, and a bit of a clue to the kind of cooking going on in the kitchen. Located in an unassuming corner of Perea St. in Legaspi Village, this is the kind of neighborhood gem that I think we need more of.
I'm not going to say that this is the best Vietnamese food I've ever had, because to be honest I don't think I've had enough of it to have a good benchmark, even if I've had excellent stuff in my travels (as an aside, I hear the food in the Vietnamese colony in Palawan is interesting, too), and even if I've visited Vietnam itself. But sometimes you don't have to be so fussy about it, and just carry on and enjoy it for what it is-which is exactly what we did. And if it says anything about them-we sat beside a table of what I could almost swear was a table of Viet businessmen having lunch with much gusto-always a great sign.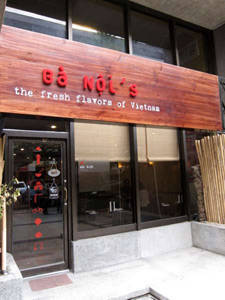 Ba Noi's facade
The first thing that struck me was how well all the elements of the room worked together. It had a quaint look to it, as most neighborhood joints do, and yet there were was a sort of cool prevailing over it. It helped that it was in some quiet area-it almost seemed like we were transported to a Saigon side street. Maybe it was the fun graphic little standees they had put in every table explaining-in informative little pictures with accompanying text-just how some of the dishes should be eaten. For example, a fried spring roll should be wrapped in some lettuce and dipped in some nuoc nam. Such a thoughtful touch, I say-an educational element that just enhances the whole meal and saves you from looking like a clueless fool. Whoever their graphic designer was, props to you-job well done. Even the whimsical little icons on the menu and the door worked effectively.
My hungry horde ordered some "greatest hits"-it was getting kind of late, and serious grubbing was called for. A slew of appetizers came quickly to fight off our hunger pangs: Goi Cuon (fresh spring rolls that were filled with vermicelli and shrimp), P165, came with a peanut based sauce, almost like a sate sauce, that was great with a dash of the house hot sauce. This was a Singaporean popiah's close cousin. Goi Ga Bap Cai, P200, a shredded chicken and cabbage salad, and Goi Buoi Tom Thit, P175, a shrimp and pomelo salad, were both accompanied by a nuoc nam dressing, tempered with a bit of vinegar and sugar. If you wanted fresh flavors, well, this was the perfect opener for your meal.
My main, a dish I fell in love with in previous Viet food explorations, was a bowl of Bun Cha, P200-Ba Noi's version being a bowl of rice noodles topped with fried spring rolls, grilled pork patties and some greens, pickles and peanuts for crunch. The versions I've tried had awesome marinated and grilled pork on top, like liempo, but hey, this was equally killer. Add a splash or four of nuoc nam dressing (like in the salads) and another touch of hot sauce, mix together, consume and wait for the fiesta in your maw. Its flavors are bright, refreshing, and refined, and perfect food for the kind of heat our summers bring. Fair warning, though: the patties may remind you throughout the day that you ate them for lunch (any Bun On The Run choribuger fans can explain this phenomenon to you).
I glanced lustily at my friend's bowl of Pho Bo (beef pho), P225, and wanted to at least give the soup base a taste. It certainly looked good: the beef was still pink, which meant it hadn't spent eternity stewing in hot liquid. Nice, as I've tried some dubious versions where the meat looked like it had spent hours in a hot tub-it became wrinkled and gray. A spot of fresh lime squeezed on top of the broth, some bean sprouts, and mint leaves add another flavor dimension.
We also ordered some other dishes to share, all of which were good for two: Ga Nuong (grilled lemongrass chicken), P205, which was a great standard grilled dish, if not a little short on the lemongrass undertone, but solid nonetheless. Bo Lac Lac, P320, which was described as honey spiced beef with fried basil, was another okay standard and good when kicked up with black pepper with some fresh lemon juice, or some more nuoc nam and hot sauce. Okay, I admit, this nuoc nam stuff is quite addicting. You can almost take a shot of it (does anyone remember this old toyo commercial with some dude chugging it down from a bottle? Yuck). I kid, of course. The only dish that didn't really do it for me was their Ca Basa Nuong Ngu Vi, or dory in garlic and spring onion oil, P280. A little too bland for my taste, but easily remedied by... you guessed it...nuoc nam. Then again, I don't expect much from the ubiquitous dory, flavor wise. Another preparation might work better, like maybe this super flavorful dish I got to try in Hanoi called Cha Ca, fish fried with turmeric, then topped with dill, scallions, nuts and topped on rice noodles. Yum. Anyway. Just a suggestion.
We ended the meal with a strong cup of Viet iced coffee, P95 (you may have seen this in North Park). In case you've never had, it's served in a special Vietnamese coffee maker. You pack some ground coffee into it, pour boiling water, then patiently wait for it to drip slowly into a cup with a bit of condensed milk. Be patient-the longer the dripping, the more solid the coffee. When that's all done, you mix it all up, then pout it onto a nice tall glass of ice. It tastes sweet, rich, and damn strong. So strong, in fact, that if can keep you up 'til maybe the next mealtime, where you can start eating all over again. Now there's an idea.
Ba Noi's is the kind of restaurant I would love to have in my 'hood. It's a great place to bring friends, or to stop by at night for a quick pho, or even in the afternoon for a picker upper of Viet coffee. Don't forget to peruse the standee-it adds to all the fun. Definitely worth looking into.
RATING: •••. 3.5 Spots.
ADVERTISEMENT - CONTINUE READING BELOW
Are you sure you want to delete this list?

Load More Stories