10 OMG Moments in Legally Blonde, The Musical
SPOT.ph collects 10 nuggets of blonde from the show's cast and crew.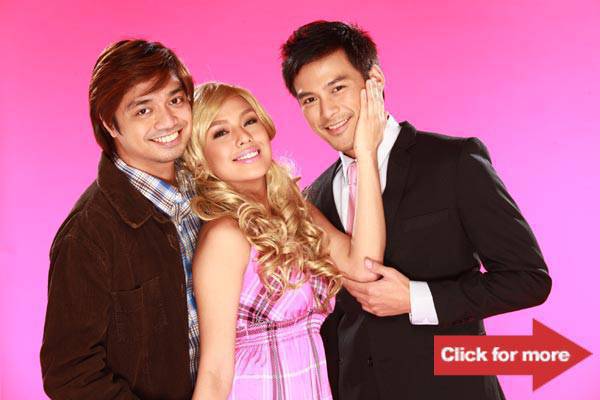 Left to right: Nyoy Volante as Emmett Forrest, Nikki Gil as Elle Woods and Guji Lorenzana as Warner Huntington III. Click for more photos.
Looks can be deceiving. But if you're prime sorority queen-turned-Harvard Law student Elle Woods, looks may very well be just the beginning of everything.
ADVERTISEMENT - CONTINUE READING BELOW
Eternally judged as a dumb blonde because of her natural hair color, Elle worked her way into Harvard law-foregoing trips to the mall for desk-bound studying-after being dumped by boyfriend Warner for not being "serious" enough. The character was immortalized by Reese Witherspoon in the hit Hollywood film Legally Blonde.
At Harvard University's Law School, Elle found a new love and a new direction in life. She also learned proved that nothing is impossible with an impassioned, firm resolve, especially when done in the name of love. The same life-changing vibe-plus all the sparkle and pink!-has been translated in its well-received staging on Broadway in 2007, with acclaimed theater actress Laura Belle Bundy as Elle.
Starting this June, local theater house Atlantis Productions flies Elle and her Greek Chorus in to Manila (along with her cute Chihuahua, Bruiser), with the much-anticipated local staging of Legally Blonde, The Musical. Quirky yet smart MYX VJ Nikki Gil slips into her glamorous pink heels as she fills in the shoes of the funny and witty character that is Elle Woods. Strutting alongside Nikki is a powerhouse cast made up of acclaimed local musicians such as Nyoy Volante, Jett Pangan, Cris Villonco, Guji Lorenzana, and Geneva Cruz, among others.
ADVERTISEMENT - CONTINUE READING BELOW
And just like the upbeat "Omigod, you guys!" number that opens the hit Broadway musical, SPOT.ph collected 10 nuggets of blonde that will make you gasp and go "OMG!" as the famous theater production shatters prejudices all in the name of fun and love.
The cast rehearses "Omigod, You Guys!"
1. Nikki Gil channels Elle Woods. After almost a year of voice lessons and dance training, Gil has become the perfect Elle Woods. The 22-year-old star revealed: "Along with my [physical and vocal] training, I had to train myself to be confident. It's like the world of Elle Woods, the journey of Elle Woods, is my journey now. The character is so close to my heart kasi I feel Elle's pain of wanting something so much and not getting the support for it."
The play marks Gil's theater debut. However, she's got the vocal prowess and experience to back her up. In 2005, she sang acapella in the heart-melting 2005 Coke commercial. Her collaboration with other Asian artists for the regional version of High School Musical songs-such as "Breaking Free" and "Gotta Go My Own Way"-was also a resounding success.
ADVERTISEMENT - CONTINUE READING BELOW
"Why not [Nikki], 'di ba?" quipped the production's director Chari Arespacochaga, who is credited for bringing to life well-received local staging of plays such as Altar Boyz, Avenue Q, Footloose The Musical, and, more recently, Spring Awakening. "Elle is a mix of charisma and smarts that is unique to her, so we really needed to find someone like that: may kakikayan pero smart. And Nikki fit the part."
2. Gretchen out, Geneva in. During the early days of publicity for the production, it was revealed that 40 year-old Gretchen Barretto would play the part of Brooke Wyndham, the fitness instructor alleged to have killed her billionaire husband for cash. It was all fine and dandy then, even if a lot of people raised their eyebrows and wondered if she could pull off the job. Nevertheless, there was hopeful anticipation. At least, until she was taken out of the production-due to conflicts in scheduling, according to an Atlantis production staff, as the famed actress is set to star in her own teleserye on ABS-CBN-and replaced by Geneva Cruz.
ADVERTISEMENT - CONTINUE READING BELOW
The cast of Legally Blonde, The Musical
3. The stars are wearing fab wigs. Most Caucasians naturally sport the blonde do, but how does it feel for an Asian to tote the blond wig? "Odd," Gil replied, in between laughs. "But apart from always wanting to be in theater, I've always wanted to be a Barbie doll. So it's the perfect opportunity!"
Aside from Gil, three other characters would have to don wigs in order to fit into the role: Brooke Wyndham (played by Cruz) with her fly-away do; Vivienne (played by Villonco) and her "Jackie Kennedy" brunette, one of the reasons Warner left Elle; and Elle's beautician-friend Paulette (played by Miss Saigon veteran Jinky Llamanzares), who taught her how to do the bend-and-snap.
4. There's a whole lot of sparkle! The very successful Broadway version, which has been touring since 2008, is also characterized by extravagant mobile sets. While the local production won't feature as many mobile sets as its Broadway counterpart, Arespacochaga promises that it would be "more stylized and conceptual." She explained: "It's a big musical, it's going to be stylized, and [presented] from Elle's point of view. So, you'll see a lot of pink!"
ADVERTISEMENT - CONTINUE READING BELOW
5. There's breathtaking choreography. One of the reasons that Arespacochaga wanted someone "who would commit to the role of Elle" is because Elle is in every scene of the play and she's either dancing or singing (or both) in most of them. "[From Laura Belle Bundy], I learned that I should preserve my voice and stamina," Gil shared. True enough, she needs to save her energy, especially because Elle's ticket to Harvard-and probably back to Warner's heart-is an exhilarating song and dance number which serves as her "personal essay" requirement.

Legally Blonde, The Musical features perfectly choreographed production numbers conceptualized by director Jerry Mitchell, who also serves as a mentor in the hit US TV reality show Step It Up and Dance. Judging by the performances shown to the media during one of their rehearsals, it looks like the local staging would keep most of the numbers. So, prepare to hold your breath.
ADVERTISEMENT - CONTINUE READING BELOW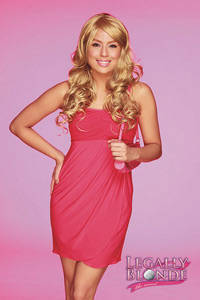 Nikki Gil
6. There's a promise of passionate smooches. The first time Warner came on stage with Elle in the Broadway staging was marked by a long, torrid kiss that had the audience going "Ooooh!" in amazement. Will we see the same lip-locking scenes in the local adaptation? Gil candidly answered: "All I can say is theater is different. There are some things that you cannot fake in theater. So, you all must watch and find out for yourself!"
ADVERTISEMENT - CONTINUE READING BELOW
7. There's a bunch of musical pros. The cast members have made a name in the music industry. Pangan's a known rocker, Volante's the acoustic guru, Cruz is a go-for-broke performer, and Villonco has been in various theater productions.
8. The music and lyrics are super. There's a lot of catchy tunes with witty wordplay in Legally Blonde, The Musical. Showstoppers such as "Omigod, You Guys!" and "Positive" are sure to induce LSS.
9. The cast is lovestruck. Just like Elle's undying love for Warner-and, eventually, for Emmett-the Legally Blonde cast admitted to being loyal advocates of love in their own right. Villonco, for one, shared that she recently returned to Manila in the hopes of strengthening her relationship with her current beau. Pangan stated that he makes it a point to show his affection to his wife. And what about Gil? "Well, I guess one of the craziest thing I've done out of love is be in a relationship with somebody who has tattoos all over his body," she related. Now that's real love for sure!
ADVERTISEMENT - CONTINUE READING BELOW
10. It's a fun, exhilarating, family-friendly show. Atlantis's last play, Spring Awakening, tackled S-E-X! Legally Blonde, The Musical, Arespacochaga assured, will be more family-friendly and fun. She explained that the play "is really about the noble thought of not judging someone, no matter how they look."
Photos from Atlantis Productions.
Are you sure you want to delete this list?

Recommended Videos
Load More Stories