Save for pork and beef, anything edible that comes from the cooked or processed flesh of an animal (frog, monitor lizard, and even pigeon) tastes like--you guessed it--chicken. But this only hardly explains why we Filipinos love fowl. Roast it, bake it, boil it, marinate it, mix it with vegetables, and, of course, deep-fry it we will eat it with much gusto. SPOT.ph went around Metro Manila to sample the tastiest Pinoy fried chicken dishes under P250.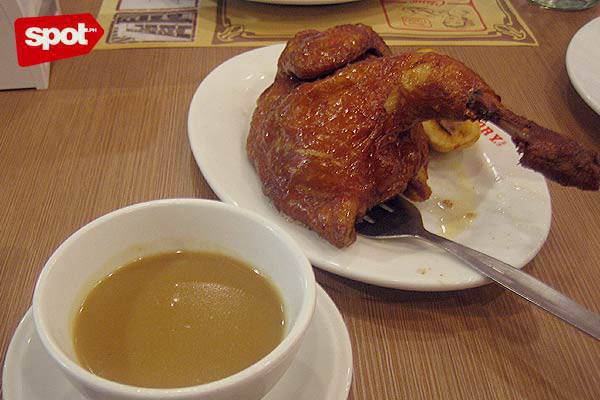 ADVERTISEMENT - CONTINUE READING BELOW
1. SAVORY
Upper Ground Floor, SM North EDSA with various branches
Tel. no. 928-3002, 926-7698, 0917-519 7806
Open 10 a.m. to 9 p.m., Monday to Thursday and Sunday and 10 a.m. to 10 p.m., Friday to Saturday
To this day, Savory restaurant management is mum about the sauce that accompanies its chicken. The less it talks about its gravy, the better. After all, it's one of the best kept and, perhaps, most profitable secrets in the Philippine food industry. Besides having the right combination of spice and flavoring, no one who dines at Savory skips the sauce. But it doesn't mean that its specialty, the Fried Chicken (P195 for half), gets second billing. Chicken served by Savory is both a visual and an olfactory feast, proving that what worked in the 1950s still works more than 50 years later.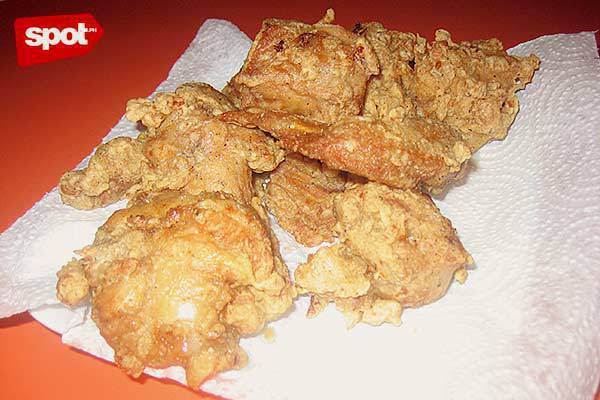 2. SINCERITY RESTAURANT
397 E. T. Yuchengco (formerly Nueva) Street, Binondo, Manila
Tel. no. 241-9991, 241-9972
Open 9 a.m. to 9 p.m., Monday to Saturday and 9 a.m. to 2 p.m., Sunday
Sincerity's Fried Chicken (P150 for half) is a little bit like jazz music: it allows for improvisation, however small. This is because every chicken order is accompanied with two sauces: ketchup and chili. You can't go wrong with either. The slightly sweet mix of its extenders--prudently applied on individually cut breasts, wings, and drumsticks--blends well surprisingly with the mild chili, bringing chicken meals to an entirely new level very few know about.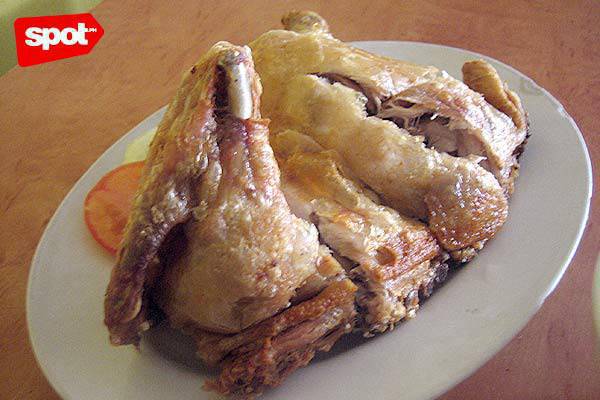 ADVERTISEMENT - CONTINUE READING BELOW
3. MYRADEL RESTAURANT
1401 Paz Street corner San Gregorio Paco, Manila
Tel. no. 561-3485 and 563-7232
Open 8:30 a.m. to 12 midnight daily
Don't be fooled by the looks of its Fried Chicken (P150 for half). While the house specialty may appear plain--devoid of any coloring or extender--it nevertheless is cooked only upon order and served fresh off the pan, accompanied by a sweet, thick, brown sauce in a large bowl. It reportedly has become so popular among patrons that management claims to be the Master of Fried Chicken. Perhaps, that's why Myradel has been endorsed by a beauty titlist: Binibining Pilipinas 2004 Jonah Cabrera. In fact, her photo is featured on a promotional tarp that hangs inside the restaurant's modest digs.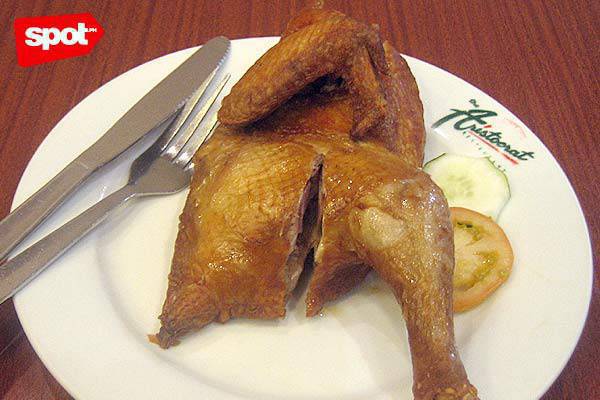 ADVERTISEMENT - CONTINUE READING BELOW
4. THE ARISTOCRAT RESTAURANT
146 Jupiter cor.Saturn Sts., Bel-Air Village, Makati City. Tel. No. 895-0101

Though the restaurant is more famous for its Chicken Barbecue, its fried version, the Chicken Honey (P212 for half), should not be underestimated. Aristocrat's fried chicken has a hint of lemongrass to complement the almost-buttery taste of the chicken skin. The chicken meat is, as expected, nicely tender and moist. You can skip the Java sauce that's served on the side. The fowl is tasty enough.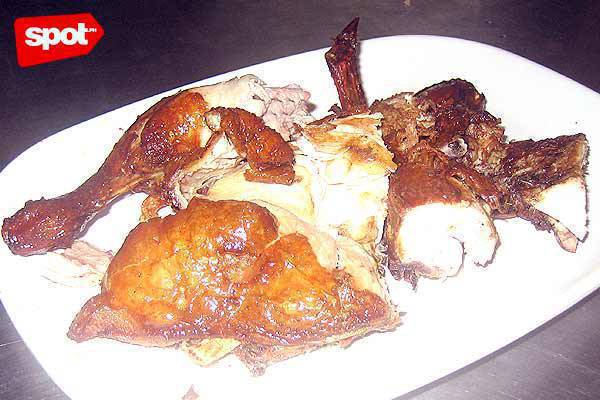 ADVERTISEMENT - CONTINUE READING BELOW
5. AROMA FRIED CHICKEN
1908 Dapitan St., Sampaloc, Manila
Tel. no. 741-1965 and 487-5964
Open 9:00 a.m. to 10:30 p.m. daily
Aroma's Fried Chicken (P110 for half) is thoroughly marinated and it shows. The chicken skin is reddish brown, whetting appetites just by sight alone. Meanwhile, its taste--both the skin and the white meat--never fails to meet expectations. Taken with nothing but hot rice, its chicken meal is one of the city's lesser-known treats, satisfying both the stomach and the palate. However, what it gains in taste is lost in the sauce. Served in clear ketchup dispensers, the brown concoction--which unfortunately ruins the chicken--is better used for siopao.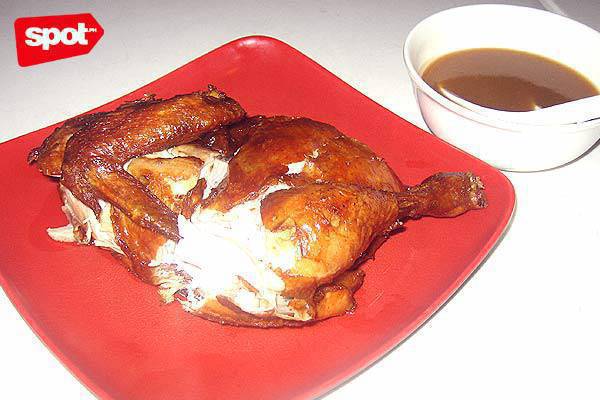 ADVERTISEMENT - CONTINUE READING BELOW
6. CHICKEN FOR THE ROAD
Ortigas Home Depot Complex, Julia Vargas Avenue, Pasig City
Tel. No. 706-1966 and 706-1965
Open 10 a.m. to 10 p.m. daily
Chicken for the Road carries two different signs on one establishment (the other being Mr. So's Chicken, also installed prominently in front of the restaurant). But the confusion is easily forgotten its Fried Chicken (P160 for half) stimulates the palate with flavor. The meat is pliable, allowing diners to quickly enjoy and savor the meal. To further enhance the dining experience, the chicken is served with a rich, thick brown sauce that offers a hint of honey.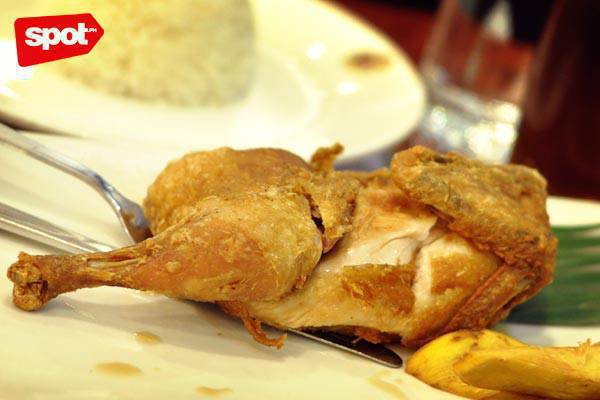 ADVERTISEMENT - CONTINUE READING BELOW
7. MAX'S
Elliptical Road, Quezon Memorial Circle, Diliman, Quezon City with various branches
Tel. no. 924-3392
Open from 7:00 am to 9:00 pm daily
Max's Fried Chicken (P217 for half, family size) strongest come-on is that it comes in three sizes (spring, regular, and family size) and that it's marinated in "secret ingredients." In any case, we don't mind if they never tell us what those ingredients are as long as their fried chicken maintains its unforgettable taste. This deep-fried treat has moist chicken meat coated with lightly crisp chicken skin. It's so good that the most avid chicken fans also munch on the bones.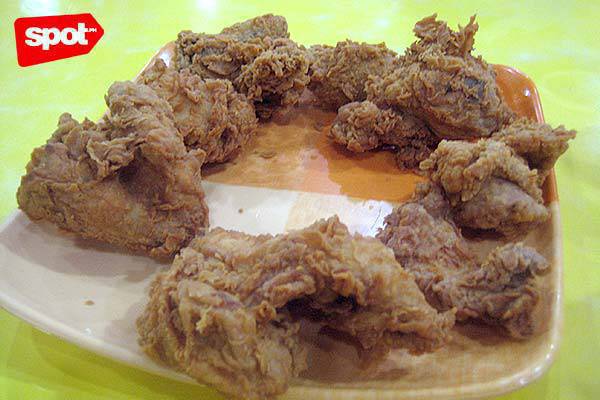 ADVERTISEMENT - CONTINUE READING BELOW
8. AMBER
1324 Filmore corner Emilia Streets, Barangay Palanan, Makati
Tel. no. 884-888
Open 9 a.m. to 9 p.m. daily
Admittedly, the silver-colored ketchup packets were a turn-off. These were served even before the Fried Chicken (P150 for half) arrived, which, for some reason or other, helped lower expectations about the restaurant's specialty. Whether the move worked or not is now irrelevant. After all, Amber serves a delicious fried chicken meal that may be considered just a notch above regular fare found in fastfood establishments. The generous servings are prepared with crunchy layer of a buttery-tasting mixture that make you reach out for wings, even though it may not be your most favorite part.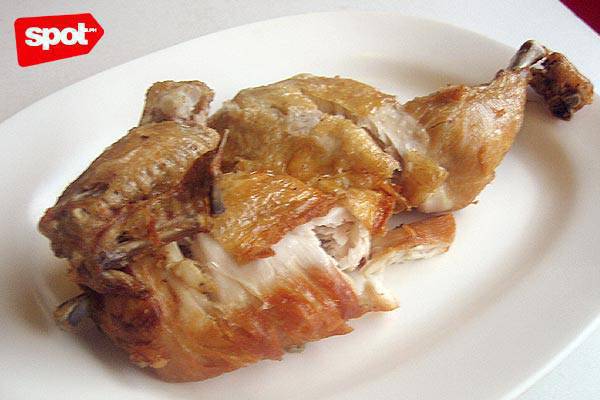 ADVERTISEMENT - CONTINUE READING BELOW
9. JOHNNY'S FRIED CHICKEN
W. C. Paz St., Barangay Sta. Elena, Marikina City
Tel. no. 682-0553
Open from 6:00 am to 9:00 pm daily
Johnny's Fried Chicken (P153 for half), which bills itself as the "Fried of Marikina," may prove to be a little pricier, compared to its counterparts in its niche. Rivals in its category offer lower prices and--arguably--slightly-better tasting products. While fresh, tender, and crispy, its meat is just average in the taste department. But it's nothing that can't be fixed by a dash of banana ketchup, which is available in copious amounts.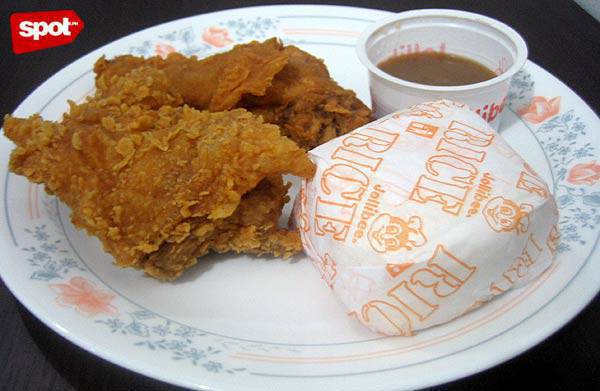 ADVERTISEMENT - CONTINUE READING BELOW
10. JOLLIBEE
with braches all over the country
Tel. no. 8-7000 (Hotline)
Jollibee's Chickenjoy (P122.10 for two pieces) has become a part of almost every Pinoy's dining experience. Chicken freaks say that this fastfood offering can hold its own among other fried chicken establishments. With a   light coating of batter providing that irresistible crunch, Jollibee's Chickenjoy is best eaten when it's just been taken out of the deep fryer.
Share this story with your friends!
---
Help us make Spot.ph better!
Take the short survey
More Videos You Can Watch
Load More Stories