10 Best Tsokolate Spots for a Rainy Day
When the rains come pouring down, know where to get steaming hot cups of <em>tsokolate</em> with our list.
A good cup of local hot chocolate used to be regular breakfast and merienda fare in most Filipino homes. In his time, National Artist Nick Joaquin considered it "a national art" because everyone's grandmother knew how to prepare native cacao tablets (tableya) into hot chocolate.

Cacao was imported into the Philippines from Mexico during the Spanish period and was first cultivated in Negros Occidental, writes Doreen Fernandez in her book Tikim. A popular drink among the "espanolas, mestizas, and principalias" of Intramuros, it soon found its way into the homes of the middle class. The tableyas were made by Chinese "chocolateros" who went from house to house to prepare it according to the family's specifications, notes Fernandez. In Ongpin St., Binondo, an old-fashioned tableya factory from the 1930s still survives and sells the aromatic chocolates under the La Resurreccion brand.

According to Felice Sta. Maria in The Governor General's Kitchen, the best way to prepare fine hot chocolate "was to mash solid chocolate tablets or balls as they heated up in a clay or brass (then later enamel) cooking pitcher called chocolatera, then to froth up the drink with brisk twirling of the batidor just before pouring the beverage into demitasse cups."

Native hot chocolate may be served two ways, as anyone who has read Rizal's Noli me Tangere knows: as tsokolate eh or as tsokolate ah. Tsokolate Eh (or "chocolate E") refers to thick hot chocolate. Its consistency ranges from pudding-like to drinkable as more water or less cocoa is used. The "E" comes from the Spanish word "espeso" which means thick. Tsokolate Ah (or "chocolate A") refers to the diluted or watered down hot chocolate. The "A" is from the word "aguado" which means weak, watery or thin.

While it may seem that tsokolate eh is considered as more authentic of the two, the thin version is the most common among the masses. The traditional beverage is prepared in most Filipino restaurants and cafes using native tableya from cacao in its purest form that results in an earthy, pleasantly bitter, and coarse drink. Other cafes use imported Spanish cocoa mixes which, although sweeter and finer, could still produce the thick chocolate good enough to dip churros (crullers) in.

Here's a serving of the 10 best steaming tsokolate spots that represent the thin and the thick, as well as the tableya and more refined Spanish cocoa:
ADVERTISEMENT - CONTINUE READING BELOW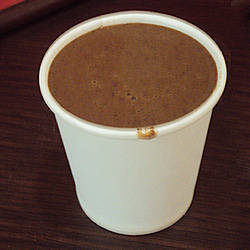 CONTINUE READING BELOW
Recommended Videos
1. NANA MENG TSOKOLATE
The drink: Tsokolate E (P45)

Tale of the tableya: Nana Meng Tsokolate is sold in jars as a creamy chocolate paste instead of the traditional round tableya. While one can buy the chocolate to be whipped into tsokolate eh at home, Nana Meng's drinks can be sampled right at the stall premises. It's cooked in a saucepan, then stirred with a batirol and poured into a miniature paper cup (or a taza, if you prefer). The tsokolate's surface glistens with tiny molecules of oil which indicates how rich this tsokolate is. It's as traditional as you can get because the cocoa recipe is from a revered grandmother from Sta. Maria, Bulacan.

Bittersweet notes: The chocolate of Nana Meng has balanced bitter and sweet notes. Very finely ground peanuts lend more texture and thickness to the drink (you can detect a hint of "grit" as you drink it). I love how the thickness is just right--it's the kind of chocolate I'd sip on a rainy day while curled up with a good book.

Nana Meng Tsokolate has a stall at Glorietta 4, Makati City and at Market! Market!, Bonifacio Global City, Taguig.



ADVERTISEMENT - CONTINUE READING BELOW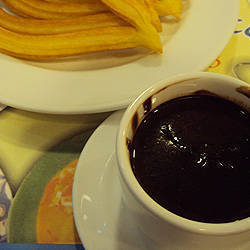 2. DULCINEA
The drink: Churros con chocolate (P98)

Tale of the tableya: Say Spanish chocolate and you'll most likely conjure the kind so thick that it's best served as a dip than as a drink. Dulcinea serves the dipping kind paired with churros. One could easily drown in this pool of the deepest darkest brown. A thin, shiny film continuously forms on the surface as it gets cold. Order this if you prefer to dip than to sip.

Bittersweet notes: Made from imported powdered chocolate instead of the native tableya, it's understandable how the chocolate leans more on the sweet side. There's no grit or bitterness you'd expect in an "indio's tsokolate" but if you like your chocolate refined and well-heeled, Dulcinea is a fine choice. The dominant taste is very, very sweet which matches with the savory and crisp churros.

Dulcinea is at 282 Roadrunner Bldg. Tomas Morato Ave. Sacred Heart, Quezon City. Tel. No. 920-7892



ADVERTISEMENT - CONTINUE READING BELOW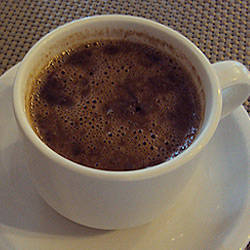 3. ZA's CAFE
The drink: Hot chocolate (P75)

Tale of the tableya: Like a code word for regulars, it's simply called "hot chocolate" on the menu. The tableya used in making it is from Pampanga. It's thick enough to leave stains on the sides and lip of the cup when you tilt it. Served hot and frothy, a few soft particles (perhaps ground peanut paste used as thickener) rest on one's tongue.

Bittersweet notes: The thickener rounds out any excess bitterness or sweetness. I always order a cup of this drink and draw on very pleasant memories of it so I was a bit surprised to find it less sweet than usual. I also noted a faint sour note from a nut about to go rancid. Still, I'd give it another try, if only because it has made its mark on regulars like Dolphy, Supreme Court judges and employees (the cafe is near their offices), and National Artist for Literature F. Sionil Jose who downs it with the Hizon's  ensaymada after tending to his iconic Solidaridad Bookstore in nearby Padre Faura Street.

Za's Cafe is located at 1197 Jorge Bocobo corner Arquiza Streets, Ermita, Manila. Tel. No. 524-8790.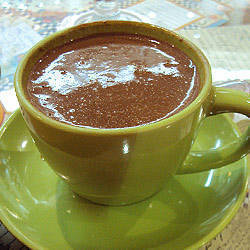 4. CAFE MARY GRACE
The drink: Traditional Tsokolate (P72.80), served with grilled ensaymada (P72.71)

Tale of the tableya: Made from "full-flavored fermented tsokolate," the Mary Grace version is thick but drinkable. Instead of a frothy surface, the traditional tsokolate has a nice sheen and speckled with minute bubbles suspended on the surface. It is served hot in a dainty lime green cup and saucer with a tiny teaspoon to stir and taste.

Bittersweet notes: With its full flavor, the emphasis is more on the cocoa's bitter notes instead of the sugar content. Pair a cup of this tsokolate (or any other variants made from spiced tsokolate or premium chocolate) with Mary Grace's famous fluffy ensaimada, grilled, and you'll have one cozy afternoon in an equally beautiful setting.
ADVERTISEMENT - CONTINUE READING BELOW
Cafe Mary Grace is at Serendra Piazza Ground Level, McKinley Parkway, Fort BonifacioTaguig City. Tel. No. 856-0858, 431-9786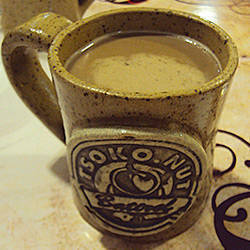 5. TSOKO.NUT BATIROL
The drink: Tsokolate Ah and Bibingka with kesong puti and itlog na pula combo (P138)

Tale of the tableya: The tableya used in Tsoko.Nut Batirol's tsokolate drinks were grown, roasted, and ground in Leyte. True to its name, the Tsokolate Ah has no illusions of being like its Eh counterpart. The texture is very thin, its color as light as coffee and almost blending with the earthenware cup. This is an easy drink that goes the length of a long conversation. It made me realize that although a thick cup of hot chocolate would be more authentic, in reality, we tend to build pleasant memories over the more liquid and more accessible tsokolate ahs.

Bittersweet notes: The drink has a mild cacao flavor so it's more sweet than bitter. It is served in a handmade, stone-fired cup with the cafe's logo molded on the front. The tiny flecks on the earthenware mimic the grainy sediment of hot chocolate. One can pair the tsokolate ah with the usual ensaymada, bibingka, or napoleones. The cafe also has tsokolate versions thickened with cashews or peanuts.

Tsoko.Nut Batirol is located at SM Makati, Makati City (816-4305) and at Shopwise Sucat, Paranaque.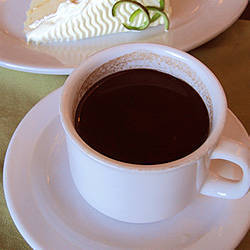 ADVERTISEMENT - CONTINUE READING BELOW
6. THE CHOCOLATE KISS CAFE
The drink: Tsokolate Eh (P75)
Tale of the tableya: This tsokolate eh is made with tableya from Cebu and is served scalding hot in a plain cup and saucer. The texture is smooth but with no froth on top. Although called   "tsokolate eh" on the menu, their version is very thin and watery. There was barely any chocolate sediment clinging on the sides and bottom of the cup which shows it's more of an aguado than an espeso.

Bittersweet notes: The drink is not too sweet so it emphasizes the bitterness of the tableya in a comforting kind of way. This lack of saccharine-sweetness complements any Chocolate Kiss dessert you pair with the drink. A sip of the tsokolate eh cuts through the sweetness of the icing. Before you know it, it's just crumbs on the plate and an empty cup on the saucer.

The Chocolate Kiss Cafe is located at 1/F Korben Place,91 A. Roces Avenue corner Scout Tobias, Quezon City (412-7876) and Ang Bahay ng Alumni, R. Magsaysay St., UP Diliman, Quezon City (433-3782).


ADVERTISEMENT - CONTINUE READING BELOW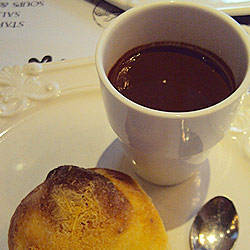 7. RESTAURANTE PIA Y DAMASO
The drink: Tsokolate Eh and Toasted Ensaymada (P250)
Tale of the tableya: Pia Y Damaso's tsokolate eh is as precious as the cacao from Davao used in its creation. It's so thick it momentarily coats the tongue as you drink it and if you let it linger on the palate, you could almost chew on the sediment left by the chocolate. Padre Salvi will be so proud to serve this to you, that is, if you're a favored guest. After a while the drink gets quite heavy like a drooping eyelid. So it's best sipped slowly while recalling the most memorable scenes and characters in Rizal's novels. Price-wise, it would be something Dona Victorina would order, just to show off. But like my friend and I did, she'd probably not hesitate asking for another cup to split, er, share this very rich drink.

Bittersweet notes: The Davao Malagos goat's milk gave it a complex layer of flavors. I could detect a very faint and fleeting sour note in there. The toasted ensaymada is a character on its own, playing so well with the tsokolate eh, in a simple but rich mound of baked dough, butter and finely grated cheese.

Pia Y Damaso is located at the 2/F Greenbelt 5, Ayala Center Makati. Tel. No. 729-5511.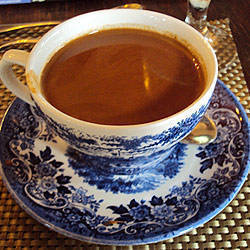 ADVERTISEMENT - CONTINUE READING BELOW
8. ADARNA FOOD AND CULTURE
The drink: Rico Tsokolate (P110)
Tale of the tableya: Hewn from the great mountains of Batangas, good quality tableya created this tsokolate eh. The texture is a perfect ratio of 1:1--thick enough to be an "eh" and thin enough to be sipped leisurely on a languid afternoon. The absence of the froth seemed irrelevant once you taste the hot chocolate. Adarna honors its richness with simple but elegant accoutrements and ritual. I felt like an haciendera as my waiter poured the viscous liquid from a copper pot onto a beautiful blue floral-patterned cup. If the mythical Adarna bird were a tsokolate eh, I must say I had found it.

Bittersweet notes: The bitter and sweet in this tsokolate eh is as properly tempered as its texture. It's rich but with subtle and harmonious layers--not a note out of place. It did not make the throat itch or choke. Unlike other chocolate drinks I've tasted, it did not provide a rude jolt or a flamboyant umay at the end. Instead, it tasted like a good conversation with a friend, quiet and comforting and goes on forever. The drink arrived a few minutes late on the table, which says it was made only when I ordered it and wasn't sitting on the sidelines waiting for a date (or the microwave). Pair it with their unassuming ensaymada (the bread was flaky, egg-y and buttery) or the cream-filled crepes (plantanilla) with mangoes. Sip after sip, the Adarna tsokolate eh's flavor and texture remained consistent and what a joy that is.

Adarna Food and Culture is at 119 Kalayaan Ave., Diliman, Quezon City. Tel. No. 926-8712.



ADVERTISEMENT - CONTINUE READING BELOW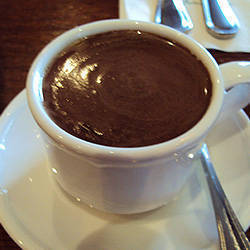 9. CAFE ADRIATICO
The drink: Chocolate Eh and Kesong Puti combo (P135)

Tale of the tableya: A hot chocolate drink made with native tableya and in the tradition of Rizal's time, which means it pleases the friars and the genteel society. The Chocolate Eh, served in most of the late Larry J. Cruz restaurants, is as thick and fluffy as a cloud of chocolate. You can feel the sediment settling briefly on the tongue then melts away just as quickly. This was my very first taste of tsokolate eh almost ten years ago, which came as a shock for somebody weaned on diluted Swiss Miss. As I grew older, I learned to appreciate its texture and authenticity.

Bittersweet notes: As expected of native chocolate, it's more bitter than sweet. In succession, I detected complex layers beginning with a subtle saltiness then bitter then sweet. It was served hot, almost tepid, on a white demitasse, which is as should be because the chocolate is rich and robustly flavored. The pan de sal and kesong puti paired with hot chocolate depicts how it used to be served for breakfast in the homes of old Manila.

Cafe Adriatico-Premiere is at M. Adriatico St., Remedios Circle, Malate, Manila. Tel. No. 738-8220.



ADVERTISEMENT - CONTINUE READING BELOW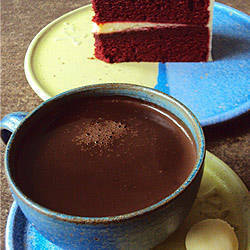 10. CAFE XOCOLAT
The drink: Taza de Xocolat (P145)

Tale of the tableya: Although it's made with imported Spanish chocolate instead of the local tableya, Taza de Xocolat is the tsokolate eh of the iPAD generation. It's thick enough to make your grandmother blush and as smooth as your debonair grandfather. There's a bit of froth and bubbles on top as if suspended in the taza's almost pudding-like consistency. You can drink it or dunk the tiny shortbread cookie it's served with and watch the cookie stay dreamily on the surface.

Bittersweet notes: It's 4 out of 5 on the sweetness scale so expect it to please your chocoholic desires. If you're faint-hearted, it's best to share. I consider it the ultimate, unapologetic indulgence especially since it's served on a beautiful earthenware cup wide enough to be a ceremonial bowl in a globalized chocolate ritual. Match it with a slice of the red velvet cake (thank goodness for the cream cheese which provides a respite to cocoa) and just as soon as you finish off the drink, you either melt in an embarrassing puddle of bliss on the floor or head off into sunlit Serendra with hope in your heart and fire in your belly.

Cafe Xocolat is located at Space 1, C05 G/F Serendra, The Fort Global City, Taguig City.
Tel. No. 856-2146.
ADVERTISEMENT - CONTINUE READING BELOW
Photographs by Jenny Orillos.

Share this story with your friends!
---
Help us make Spot.ph better!
Take the short survey
Load More Stories