Tweets of the Week: KC Montero a.k.a Cassandra Monteroid + more
KC Montero a.k.a "Cassandra Monteroid" looks fab in drag! Ladies, here's tough competition for you.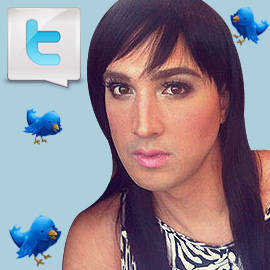 "Cassandra Monteriod" a.k.a. KC Montero
Tweets by KC Montero, Bubbles Paraiso and Ruffa Gutierrez on KC's drag look last Monday.
KC Montero, radio DJ and TV host
- For all who dont know, I will be in drag all week cuz I got Bieber to follow me. Ill keep my promise and it will be on ustream
- We just got pulled over, for having a commerative plate. I'm still in drag. I tried flirting, it didn't work
- Why do I have to dress up like a girl for the hot women to have crushes on me? Do I look better as a girl? Not gonna happen folks
- Can two days be enough? I have no makeup person tom. yes! Its a day off from drag

Bubbles Paraiso, model, who transformed KC into "Cassandra" with Ruffa Gutierrez as a peg
- Annnnd we're done for d day! I love my new live barbie doll @KCMontero! (photo)
- For the rest of d week can someone donate them jelly free bra boob thingys for @KCMontero? He's too flat chested as a girl....
ADVERTISEMENT - CONTINUE READING BELOW
Ruffa Gutierrez, TV host and actress: http://tweetphoto.com/32250167 @bubblesparaiso LMAO!!!! OMG....this is definitely not Ruffa G! Since when did I have bangs??? Great make-...

James Jimenez, Comelec spokesperson:
- The only time I shout 'Viva Espana!' is after a hard rain and I discover that the street in front of UST isn't flooded.

Lucky Manzano, actor and TV host:
- Sex ed should come from the driver and yaya so we won't hear the word p*nis anymore, just junjun and putotoy
Franco Mabanta, TV host and commercial model:
- So last night, we made a SERIOUS effort to have sex to a Justin Bieber song. Epic fail. Couldn't even make it past the 1st verse. WTF.

CONTINUE READING BELOW
Recommended Videos
Angelica Panganiban, actress:
- sana after 100 years alam na ng ibang bansa kung nasan ang philippines pag sinasabi namin...
Mo Twister, radio DJ and TV host:
- these ipis get so much credit for their ability to survive a nuclear fallout yet i can crush the shit out of them w/ my low quality slipper

ADVERTISEMENT - CONTINUE READING BELOW
Paolo Paraiso, model and actor:
- Whenever PagAsa suspends classes that means nothing's goin to happen.Nothing has changed since I was last in school..

Bianca King, model and actress:
- sana hindi na inimbento ang twitter para walang distractions sa life. joke.
Ricky Carandang, news anchor:
- Holiday economics trivialize our history and reduce important events to mere financial considerations. It insults our culture.
- In my opinion it doesn't matter. Holidays remind us of who and what we are as a nation. It shouldn't be about the economy. But thats just me
Artwork by Warren Espejo, photo of KC Montero from Bubbles Paraiso's TweetPhoto.
Share this story with your friends!
---
Help us make Spot.ph better!
Take the short survey
Load More Stories