Tito Sotto hates junkies, Bong Revilla hurt by Ralph Recto + more lowlights
Tito Sotto's out for junkie blood, Bong Revilla's got a bone to pick with Ralph Recto, and more lowlights.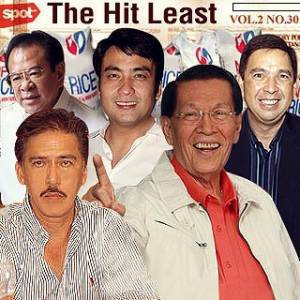 1. THE COURT TRIAL FOR THE CASE KATRINA HALILI FILED AGAINST HAYDEN KHO, JR. IS STILL ONGOING AT PASIG'S REGIONAL TRIAL COURT 159. If you watch this clip, you'd demand to be paid for losing one minute and 27 seconds of your life.
2. AFTER DENYING REPORTS OF SON RONALD'S DRUG-RELATED ARREST, ILOCUS SUR GOV. CHAVIT SINGSON THEN ADMITS IT'S TRUE, SAYS HIS SON FLED TO HONGKONG DUE TO SPAT WITH LOVI POE AND ADDS, "NASULSULAN LANG SIGURO 'YUN." So you're saying your 41-year-old son gets depressed when he allegedly gets dumped and gives in to peer pressure?
3. IN THE WAKE OF CONG. RONALD SINGSON'S DRUG-RELATED ARREST IN HONG KONG, SEN. TITO SOTTO PUSHES FOR COMPULSORY DRUG TESTING FOR GOVERNMENT EMPLOYEES. Quick, summon the Eraserheads back to the Senate for "Alapaap!"
ADVERTISEMENT - CONTINUE READING BELOW
4. JUAN PONCE ENRILE IS ELECTED AS SENATE PRESIDENT. As the saying goes, "The more things change, the more they stay the same." (See also: "Same shit, different day." or "Same dog, different collar.")
5. NATIONAL FOOD AUTHORITY'S RICE OVERSUPPLY GETS EXPOSED, BLAME GAME BEGINS. Look on the bright side: Maybe we can turn them all into ampao...almost 300 metric tons of ampao.
6. SENATOR BONG REVILLA FEELS BAD THAT SENATOR RALPH RECTO IS NOW CHAIRMAN OF THE COMMITTE ON PUBLIC SERVICE. To hell with the political stuff...it's Panday versus Darna's husband!
CONTINUE READING BELOW
Recommended Videos
7. BOXING CAMP MANNY PACQUIAO DELIVERS HIS FIRST PRIVILEGE SPEECH AS SARANGANI PROVINCE REP, FELLOW CONGRESSMEN APPLAUD HIM. Manny, you had us at "work itik." (It's at 0:49.)
8. TRICYCLE DRIVER DANILO ANTIPASADO SEEKS TO DISQUALIFY MIKEY ARROYO AS ANG GALING PINOY PARTY-LIST REPRESENTATIVE. Nice try, buddy--but Mikey's genetically programmed to be stickier than a...gecko.
ADVERTISEMENT - CONTINUE READING BELOW
9. MILITANT GROUPS CREATE HARRY POTTER-INSPIRED EFFIGY OF P-NOY INO IN TIME FOR THE SONA AND, FOR A CHANGE, THEY DON'T SET IT ON FIRE. Gee, thanks for ruining Harry Potter.
10. IN MANDAUE, CEBU, A BABY IS ABANDONED UNDER A TREE. For a change, the runaway parents didn't decide to leave their kid in a church.
Art by Warren Espejo.
Share this story with your friends!
---
Help us make Spot.ph better!
Take the short survey
Load More Stories