Profiling Imelda Marcos: 10 Reasons She's Still Here
Like hope, Imelda springs eternal. SPOT.ph plays pop profiler and attempts to analyze her staying power.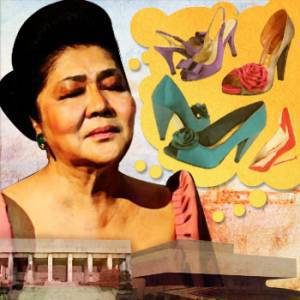 "The world is full of intolerance/ Greed, injustice, and dominance/ A woman, a woman knows, knows relationships/ That's why/ Why I make my little trips/ So if there's a problem/ It's really better this way/ Well, I don't need the president/ I'll get my little bag and say/ Please don't/ Don't let them look down on us/ Please don't/ Like they used to do to me..."
--lyrics of "Please Don't" by David Byrne and Fatboy Slim (featuring Santigold) from Here Lies Love, a concept album about Imelda Marcos
The "historical" music video of "Please Don't."
"There are six of these videos that have been completed for this project. Most, like (the "Please Don't" video) use news and archival footage to, well, show that every word of the song is true! Most of the lyrics on this one are lifted gently from interviews and quotations--the "Please don't" chorus especially. At some point as First  Lady, Imelda began to feel that she could help Philippine interests by charming world leaders into seeing things her way. 'Handbag diplomacy' she called it--as she liked to imply that to solve a problem, she could bypass President Marcos and just grab a handbag and hop on a plane with some of her assistants. It sometimes worked! There was, for example, an Islamic-backed insurgency rising in the south of the Philippine archipelago, and she thought that (Libya's Maumar Qaddafi) in this case, might help pull the plug on that support if he saw things her way. Apparently he did--the funding stopped and the insurrection lost momentum, and she later described him as a pushover, a Mama's boy."
ADVERTISEMENT - CONTINUE READING BELOW
--from an article by BoingBoing.net writer Xeni Jardin
Imelda Marcos cut a regal figure when she and former President Ferdinand Marcos visited then-US President Lyndon B. Johnson and his wife Claudia Alta "Lady Bird" Johnson in 1966.
Imelda Romuladez Marcos was First Lady to former President of the Philippines Ferdinand Marcos from 1965 to 1986. The two met in 1954--when Ferdinand was just a congressman of Ilocos Norte's second district--and got married in a civil wedding ceremony in Baguio after an 11-day courtship. In the beginning, Imelda was just her husband's dazzling consort. Later on, she herself became a force to reckon. Since she and her family were ejected from Malacanang via the 1986 EDSA Revolution, Imelda has made a comeback in politics. She is now the congresswoman of Ilocos Norte's second district. Ferdinand passed away in 1989--but it seems that Imelda is here to stay. SPOT.ph plays pop profiler and attempts to dig up the reasons behind Imelda's staying power.
CONTINUE READING BELOW
Recommended Videos
1. She's a Cancer. Born on July 2, Imelda is a Cancer. According to PsychicGuild.com, this sign "one of the zodiac's enigmas." The information on the site also adds, "It is fair to say that most Cancers are a bundle of contradictions. Compassionate and caring with friends, family and lovers, yet they can cut to the bone with their jealous remarks and ever-changing moods. Endearingly eccentric on one hand, and on the other, insecure about how others see them." To people born under this sign, "love and romance matter more than anything else" but this desire "occasionally shares first place with having lots of money in the bank." This could explain, among other things, the stories about Imelda impetuous antics. In fact, in an April 7, 1986 article, People magazine writer Roger Wolmuth wrote about an infamous incident: "On one of her European junkets some years back, Imelda Marcos made a terrible discovery just after her plane left Rome. No cheese. Not a nibble's worth anywhere on the plane. But no problem, at least for the high-flying First Lady of the Philippines; Imelda simply ordered the jet back to Rome, where the oversight was corrected.
ADVERTISEMENT - CONTINUE READING BELOW
2. She's into high-end brands. In her heydey, Imelda was known as a consumate fashionista. She favored shoes and accessories by Ferragamo, Chanel, Christian Dior, and Givenchy. (Though, at one point, she reportedly bought Marikina shoes to show her support for the local shoe industry.) Pop culture pundits usually tag this as "nouveau-riche behavior." The nouveau-riche are people who have just acquired money and want to prove that they're part of high society by buying things that would announce that they have, indeed, arrived. Though Imelda is a member of Leyte's famed Romualdez clan, biographies like Beatriz Romualdez Francia's Imelda: A Story of the Philippines depicts Imelda's side of the family as "poor relations."
On December 7, 1972, a man named Carlito Dimahilig attacked Imelda Marcos with a bolo. Dimahilig was shot to death by security police and Imelda's hands reportedly required 75 stitches.
3. She's tougher--and wilier--than she looks. Tagged as "beautiful yet Machiavellian" by pundits, Imelda was nicknamed "Steel Butterfly" or the "Iron Butterfly." But she brushed off this moniker. In Julio Silverio's Golden Quotations of Our First Lady, she says, "I was called the Steel Butterfly. I am neither steel nor a butterfly. What an image! I'm neither frivolous nor insensitive." But it was Imelda who finally convinced her husband's fiercest political nemesis, Benigno "Ninoy" Aquino, Jr., to seek asylum in the US just as things were heating up in 1980.
Blast from the past: Imelda Marcos and her family party with their friends and allies.
ADVERTISEMENT - CONTINUE READING BELOW
4. She embraces hedonism. There are people who feel guilty when they're showered with so much luxury and there are those who can do whatever they want without giving a hoot about what people think. Imelda belongs to the latter group, which means she has the capacity to be a hedonist. Hedonism, as we all know, is a school of thought that champions self-gratification and the pursuit of pleasure. This is in line with Imelda's constant emphasis on surrounding herself with all things "true, good, and beautiful."
5. She lives large. At one point, Imelda reportedly owned 1,200 haute couture dresses, 1,500 bags, and, of course, over 3,000 pairs of shoes. She was also fond of building mammoth buildings. In the book Edifice Complex: Power, Myth, and the Marcos State Architecture, author Gerard Lico writes about Imelda's "Edifice Complex." He theorized that since she didn't consider her roots spectatcular enough, she was attempting to build her own myth by having impressive structures put up. Bottom line: The lady loved living a super-sized life. Pinoys who were easily dazzled by the spectacle neglected to ask what went on behind the grand projects. These days, Imelda can still claim that it was because of her that places like the Cultural Center of the Philippines, the Philippine Heart Center, and the like got built.
Imelda Marcos explains the good that she sees in the bad.
6. She looks for the silver lining. In 2009, Newsweek named Imelda as one of the Greediest People of All Time. In a GMANews.TV article, she responded, "If they accuse me of being the greediest, then I plead guilty. I am greediest for the true, the good, and the beautiful. Everybody's aim is to be excessively good, extravagantly good and beautiful, because that is godly and saintly."
ADVERTISEMENT - CONTINUE READING BELOW
7. She goes for broke to put on a good show. When the Miss Universe pageant was held in Manila in July 1974, Imelda dealt with the threat of an approching typhoon by asking her husband to order the military to seed monsoon clouds so that the storm could be diffused. The event went on as planned, thanks to Imelda's idea. In any case, she has been villified for the Manila Film Center tragedy, where many workers were allegedly buried alive when its scaffolding collapsed while it was still being built in 1981.
Imelda Marcos and her mind-boggling diagram.
8. She believes in cosmic configurations and what-not. In his article "Five Things Donald Draper and Ferdinand Marcos Have in Common," Robert JA Basilio Jr. cites Charles C. McDougald, author of The Marcos File. McDougald writes, "Imelda had been known to use symbols, such as triangles, rectangles, circles, and hearts, when discussing her role in the development of her country. Such explanations, according to observers, tended to be somewhat hazy if not downright exasperating. She truly believed that God had blessed her country. She knew this because of the "hole in the sky." In all seriousness, she has shared with others on numerous occasions the belief that there was a hole in the sky directly over the Philippines from which God looks benevolently down on her people."
Imelda Marcos is portrayed as a maid in this spoof show.
9. She's pop culture fodder. Aside from being listed in the Guinness Book of World Records as the Woman with the Largest Shoe Collection and inspiring the word "Imeldific" (which refers to ostentatious antics), Imelda is a favorite subject of numerous documentaries, a musical (Imelda, The Musical), a TV movie (A Dangerous Life), with actress Tessie Tomas playing her), songs (all the tunes in the concept album Here Lies Love), and various comedy spots. It must be because she's so surreal. Of course, Imelda appears to love the attention.
ADVERTISEMENT - CONTINUE READING BELOW
10. She's a Snake. Born in 1929, Imelda is an Earth Snake. According to Tuvy.com, Imelda is "charming and romantic" and "often gets involved in larger-than-life causes." However, "the Earth Snake can be, in a word, snaky. Seductive and alluring, they can wrap their prey in a clever web almost impossible to escape." (Heck, we sure haven't escaped her.)
Art by Warren Espejo.
Share this story with your friends!
---
Help us make Spot.ph better!
Take the short survey
Load More Stories